As the Pacers huddled in the visiting locker room of AmericanAirlines Arena, trying to digest a painful and ugly Game 7 loss in the conference finals, Paul George delivered a message to his teammates: Everybody had to come back next season having made a major improvement to at least one part of their game.
"I just spoke up," George says as he recalls the scene, which unfolded in front of head coach Frank Vogel and the team's full coaching and training staff. "Everybody seems to have taken it to heart."
Perhaps no one more than George himself, who has come jetting out of the gates this season as one of the half-dozen best all-around players in the league. He's eighth overall in player efficiency rating after finishing tied for 87th (with Jason Smith!) last season. He's playing the best defense of his career, both as an on-ball menace and as a help defender capable of crashing into the paint and darting back out to challenge a shooter without losing his pinpoint balance. And most encouraging of all, George is using a much larger slice of Indiana's possessions to create his own offense, and he has managed that without the kind of hike in turnovers he suffered last season when he picked up Danny Granger's slack.
George has used nearly 29 percent of Indiana's possessions so far, and coughed the ball up on just 12 percent of those possessions. Only two players leaguewide soaked up such a large portion of their team's possessions last season while turning the ball over so rarely: Carmelo Anthony and Brook Lopez. One is a midrange gunner who lacks George's commitment to passing and defense. The other is a devastating post scorer whose job is to finish. For George to be scoring so efficiently with the turnover profile of a shoot-first type is remarkable.
Just a year ago, George looked like he was in over his head assuming Granger's alpha dog perimeter spot in Indiana's balanced, post-heavy offense. He turned over the ball on 22.7 percent of his pick-and-rolls, per Synergy Sports. Out of 120 players who ran at least 75 pick-and-rolls, only 22 lost the ball more often. He was so out of control trying to split traps on the play that Vogel banned him from trying. "Oh yeah," George says now, laughing. "I heard that from him countless times."
George spent all summer working on his sloppy ballhandling. He ran the hills in Southern California's Runyon Canyon in hopes of increasing the strength and endurance in his legs. A boost there would allow George to stay in a low crouch more consistently when dribbling through defenses. "I knew how to dribble," George says, "but I was always dribbling too high. This summer was all about staying low." George's trainer, Jerry Powell, would shadow George through ballhandling drills, with Powell holding his hand at the height he considered the healthy upper limit of George's dribble. If the ball bounced to that level, Powell would swipe it away and have George start over.
The results have been fantastic so far, though there are hints that the full package might not be totally sustainable. The Pacers have to hope it is, after handing George an unprecedented five-year max contract before the season that makes George their one-time-only "designated player." As they negotiated the deal, both sides understood that George could play his way into more money this season. Under the terms of the new CBA, George will be eligible for a special raise available to players who achieve one of three lofty criteria over their first four seasons. One of those criteria: make two All-NBA teams. George made his first All-NBA team last season, snagging one of the six "forward" spots by the skin of his teeth; he earned the least votes of the 15 All-NBA honorees, and just edged out LaMarcus Aldridge for the last forward slot.
A typical max deal for a player of George's experience level can soak up only 25 percent of the salary cap.1 Players who hit the super-raise criteria2 can ink contracts with an annual salary worth 30 percent of the cap level. The full difference amounts to about $3 million per season, or $15 million over the course of the contract. Every dollar counts for Indiana, which faces the possibility of leaping over the luxury tax to re-sign Lance Stephenson this summer — or making a painful cost-cutting move, such as buying out Luis Scola, to duck the tax.
The two sides struck an interesting compromise, according to several sources who have seen George's deal: If George makes an All-NBA team this season, triggering the raise, his salary will settle at 27 percent of the cap level, instead of the full 30 percent. That would set George's starting salary at about $15.8 million, given the league's projected cap for next season. That's about $1.75 million less than George could have earned had he fought for the full 30 percent. If the Pacers keep Scola at full cost, George's All-NBA salary would leave them with about $67.9 million in committed salary for next season — and about $7 million or so of space beneath the projected tax line for Stephenson's deal. That still won't be enough to keep Stephenson without jumping the tax, but it's close enough that the Pacers could get there without a single cost-cutting move.
The Pacers also gave George an opt-out after Year 4 of the new deal, which Mark Deeks of ShamSports.com has reflected in his salary database. Indiana was reluctant to do the opt-out, but ultimately yielded on the issue, per sources close to the talks. They'll have the advantage of George's Bird rights as long as he's on the team, regardless of the opt-out clause. The main point of the "designated player" provision is to give teams the chance to lock up a franchise player they drafted for a year longer than usual. George's deal subverts that principle, and allows him to hit the open market earlier than expected.
Indiana will take the trade-off if George continues to play at the level he has shown so far this season. There are reasons to think he can do that. Watching film of George's ballhandling last season and this season reveals a calmer, more patient player hunting his shot more aggressively.
Having George a bit less concerned with passing has, bizarrely, turned into a net positive for the Pacers — especially on the pick-and-roll. George was shaky as a distributor last season. When teams trapped him, he had a habit of picking up the ball in traffic near midcourt, leaping, and throwing wild cross-court passes that savvy defenders could see coming way ahead of time. He liked trying to lob impossible passes to his big guys rolling to the hoop, and to thread tricky close-range drop-off passes in crowded lanes when he got deeper into the paint. They often failed. "Coming off a pick looking to score has been effective for me," George says, "as opposed to always looking for the pass."
Perhaps the biggest difference is in George's ability to actually use the screens his big men set for him. George's timing just wasn't there last season. He'd take off too soon, or too late, allowing his defender to sneak around the screen untouched.
This season, George and his big men are working in perfect sync. George's defenders are ending up smushed into the chest of Roy Hibbert or David West much more often, giving George more space and a clean head start. "It's just me improving my IQ on the pick-and-roll," George says. "It's learning to time things right with the bigs."
The improved timing has allowed the Pacers to introduce some Spursian fanciness into their pick-and-roll game. George and his screeners are toying with defenses more often this season by disguising the direction of their picks until the very last second. Here's Hibbert approaching as if he's going to set a pick to George's right against Boston: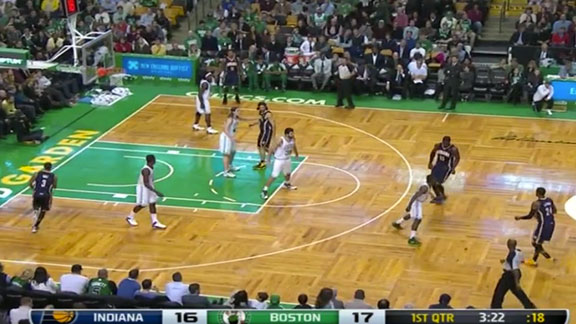 As the defense leans toward the pick, Hibbert flips the other way, with George in on the scheme:3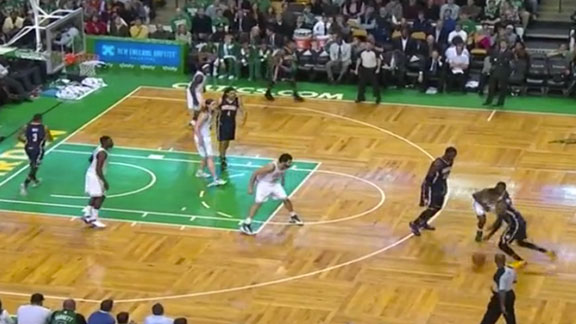 The Pacers didn't really have this stuff in their arsenal last season, even though they were using the same basic actions to get into their pick-and-roll stuff as they are now. When George tried things like this, he would often accelerate too soon, blowing past a pick before it was really set and careering into the lane with an out-of-control high dribble.
Traps don't seem to bother him quite as much as they once did, either. For one, he's better at picking his spots when it comes to splitting defenders. When the big man guarding the screener drops far down below the pick, as Boston's Vitor Faverani does in the play above, George will lean on his pet move: going around the pick in one direction, crossing back over in front of the big man and toward the middle of the floor, and then stopping on a dime to launch an easy midrange jumper. Look how much space he has for the little crossover move here: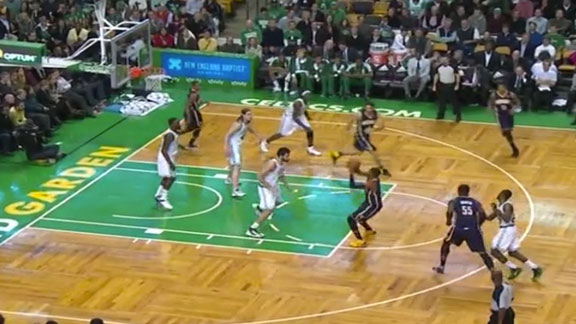 He pulled the same trick repeatedly in the Pacers' overtime win in New York last week once he understood that New York's big men, especially Andrea Bargnani, were sagging far enough back for George to cross them over without the threat of reaching arms: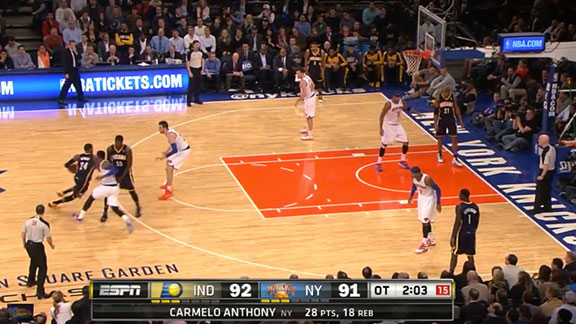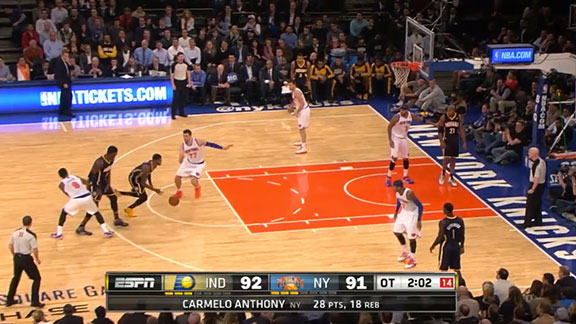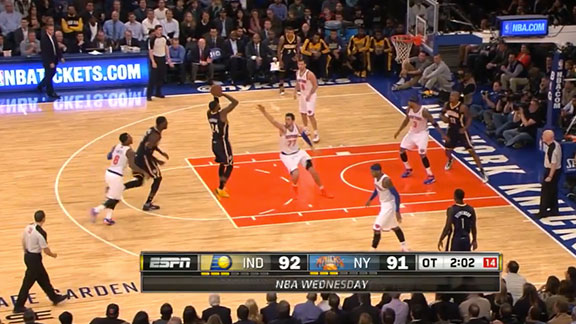 He forced that move way too often last season, even when big-man help defenders pressured him farther out. Look at him trying to squeeze through this Taj Gibson trap against Chicago last season: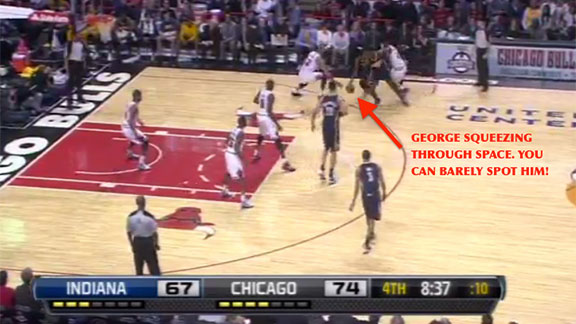 A 6-foot-8 dude with a 6-foot-11 wingspan trying to slither through that kind of space, with a high dribble, is basically toast in the NBA — especially if he can't run his man flush into the pick. When George has met traps this season, he has been more patient in pulling the ball out, keeping his dribble alive, and waiting for the trapping big to retreat into the paint — freeing George to attack one-on-one.
He's done that just fine, too, by the way. He's 14-of-31 on isolation shots so far, and he hasn't turned over the ball on such a play yet this season, per Synergy.4 He did so on nearly 15 percent of his isolations last season, the eighth-worst mark among 102 players with at least 75 isos to their name.
That's part of what makes George so good: He can score in so many ways. He's a killer coming off screens and a very good spot-up shooter off the ball, both in the corners and above the arc. He can post up smaller players and face up bigger guys on the block. He has advanced almost across the board, without sacrificing his defense. Think about that when you watch James Harden, Kobe Bryant, or some other all-offense player who exhausts himself scoring and leaves little in the tank for defense. Indiana's snail-like pace probably helps George in that regard; Harden, for instance, has struggled to run up and down at Houston's frantic pace and reserve energy for defense. Having two capable inside players also helps. Hibbert can cover up George's rare mistakes on defense, and the Hibbert-West combo can take over the scoring load for entire stretches of games.
Can this last? George is taking more midrange shots than he did last season, and hitting them at super-Nowitzkian rates. Only 22 percent of George's shots have come in the restricted area this season, down from about 27.5 percent last season.5
About 43 percent of George's shots have come via long 2-point jumpers and tricky shots launched in the paint but outside the restricted area, per NBA.com. Only 33 percent of his shots came from those spots last season, and he made just 35 percent of them overall. He's hit 50.4 percent this season, including 53 percent on long 2-point jumpers, insane figures that cannot possibly be sustained — especially since many of these shots are off-balance jumpers with defenders in his grill.6
A lot of these shots are cleaner looks than George was getting last season. Using screens better means his own defender is far behind the play instead of waving an arm near the ball as George rises to shoot. He's also smarter about settling for cleaner midrange shots instead of barreling into the paint for a contested floater in a crowd. If he can't get to the elbow or into the paint, George is often stringing the ball out toward the sideline, where he can glide into open space for jumpers like this one: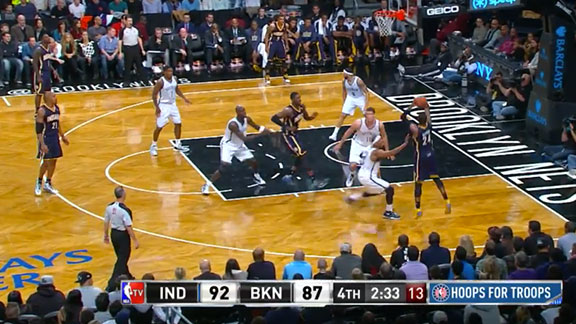 Still, George can't shoot like this from midrange all season, and his turnovers have already started creeping up over the last week. Indiana has played the league's softest schedule, with only three games against teams currently ranked in the top 10 in points allowed per possession. They've yet to face Miami or any of the dwindling number of teams that really like to pressure hard on the pick-and-roll. Anthony Davis presented some issues in an early game against the Pelicans, and you know a dialed-in Heat trapping machine will be itching to challenge George.7 The Pacers rank only 15th in points per possession despite the friendly schedule. They'll have to be better against the league's very best teams.
George is clearly more up for that challenge than he was last season. Stephenson has made a leap as a ball handler and passer. The bench is better. Hibbert has emerged as the most important defensive player in the NBA. The Pacers aren't the prettiest scoring team, and George isn't the prettiest scoring wing in the league. But George and his team are better than they were at the end of last season, and they're a real threat to win the title.
---
10 Things I Like and Don't Like
1. Ryan Anderson
It's wonderful to see Anderson back after a trying offseason, and he reminded everyone instantly how essential he is to a Pelicans offense that ignores the 3-point arc when Anderson isn't in the game. Anderson isn't just a stretch power forward. He's an accurate quick-release, high-volume gunner who happens to be large enough to play power forward. There's a difference.
Anderson unlocks entire portions of Monty Williams's playbook with simple actions that use his shooting as both an endgame and a decoy:
That's just Lou Amundson working a dribble handoff with Brian Roberts, via a double screen with Anderson, and then immediately moving into a pick on Anderson's guy — allowing Anderson to pop out for an unmolested triple. Boom.
Good luck defending this Anderson–Anthony Davis stagger screen for Jrue Holiday, which includes (watch carefully!) Anderson setting a subtle little back screen on Davis's man (Enes Kanter) as Brow rolls to the rim:
The combined threat of Holiday's drive, Davis's roll (and the lob dunk possibility there), and Anderson's pop is death.
Even simpler: a Holiday-Davis pick-and-roll out of a standard "horns" formation (NBA code for having a big man at each elbow), with Anderson popping out behind the play:
Eric Gordon, standing in the left corner here, is the beneficiary of the Anderson threat. Why? Some defender needs to crash the paint to protect against the Holiday-to-Davis lob, and the Jazz choose to have Gordon Hayward abandon Gordon rather than have Derrick Favors ditch Anderson.
There are many, many more little tricks Williams can pull now. The Pellies are fun.
2. Utah's Defense
The Jazz are in serious danger of Bobcatting — i.e., finishing last in both points scored and allowed per possession, a rare feat of suckiness the tanktastic Bobcats accomplished in their 7-59 season in 2012. The bad offense isn't surprising. Utah had almost zero talent at point guard before Trey Burke's return from injury, and Burke is a rookie. The departures of Al Jefferson and Paul Millsap left a bunch of young secondary options to take the reins, and this is generally what happens in that circumstance.
Regardless of those missing pieces, the defense should not be this horrible. The big men, especially Kanter, are a mess trying to contain pick-and-rolls up high, and this team has no clue once it gets in rotation. Multiple defenders fly at the same shooter, leaving another one wide open, and weakside help comes inconsistently. It was like this, though to a less dire degree, when the team had more veterans. The Jazz should be making teams work for it, and they aren't.
3. Rodney Stuckey's Resurrection
Stuckey missed 22 of his first 23 shots last season and was 6-of-40 from the floor at one point. It has been years since he seemed relevant. He clashed with multiple head coaches, and the league has regarded him mostly as a bricky shooter on an expiring contract this season.
That's all in the past, because Stuckey is looking explosive and mean again, bullying dudes in the post, getting to the line a bunch, pushing the pace, and even hitting an acceptable percentage from deep. Detroit has used him as a backup point guard in stints during Will Bynum's absence. Teams still don't respect Stuckey's shooting, and they shouldn't; he'll regress from outside, and defenses get more mileage ignoring him to clog Detroit's already clogged paint.
It has been nice to see Stuckey reminding everyone he can play.
4. The Downside of Shaun Livingston
Threatening Utah's attempt at Bobcatting: Brooklyn's defense, neck-and-neck with Utah for dead last in the league. The Nets' offense isn't much better, and though Livingston has generally been a bright spot, his total lack of shooting range hurts. Any point guard playing with Joe Johnson and Paul Pierce is going to spend time off the ball, and the Nets will have spacing issues if that point guard just hangs around in no-man's-land inside the 3-point line. Check out Livingston and Alan Anderson around the right block during this Johnson post-up from Sunday's loss against Detroit:
This is not an isolated thing. You can often spot Livingston chilling in the short corner when he doesn't have the ball: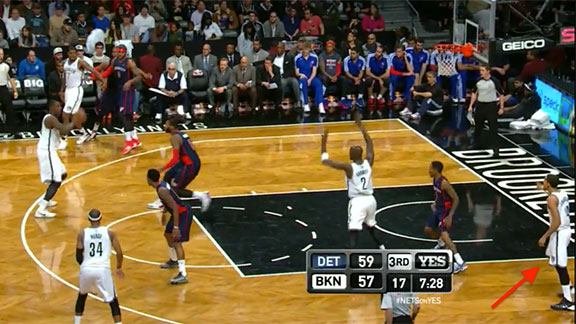 That's fine if you're a big man; teams love spacing one of their bigs along the baseline as the other sets a high screen. It's less fine for a guard.
5. Golden State, Catching You Sleeping
Pro tip: If you're playing the Warriors and Andre Iguodala is inbounding the ball along the baseline, don't lose track of the shooter standing way out there in the corner opposite Iggy:
6. Parachute Drops
T-shirt cannons are cool and all, but they are also noisy and unnerving. The shirt-blasting usually comes with screaming music, an annoying on-court MC, and overexcited dancer types urging fans to stand up if they'd like a shirt that probably doesn't fit. Plus, those damn things are coming out at you fast. The plexiglass in front of press row at Madison Square Garden's upper-deck press row — where, seriously, I can almost touch the ceiling — saved me from a near beheading a couple weeks ago.
The parachute drops are a nice, calming antidote that carries its own brand of excitement. They just flutter down there so softly, like feathers, without any fanfare. I sometimes don't even notice them until someone in my line of sight makes a grab at a descending T-shirt parachute. And you never know what path they are going to take! They're like little airborne Plinko chips, the way they zig and zag downward.
7. Isaiah Thomas's Creativity
The little guy has spent most of the young season in the top 15 in PER, and he's just a delight to watch. He'll never be even an average defender, and he remains just a so-so distributor, but teams just can't keep the dude out of the lane — and, this season, off the foul line.
His hesitation dribble is unfair, and he whips out an endless array of wacky layups and scoops, carrying all sorts of English, that help him to finish at the rim over big guys. He even unveiled a running lefty hook in a recent win over Phoenix!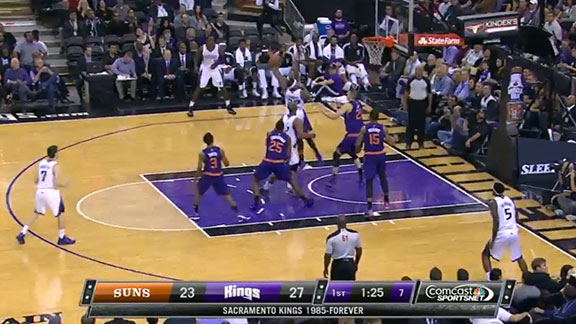 8. 'Tell
I generally enjoy the Wizards' announce team, but for some reason, I can't get behind "'Tell" — the nickname Steve Buckhantz, the team's ace play-by-play guy, has bestowed upon Martell Webster. I cannot explain my aversion to this one. Sorry.
9. Pero Antic's Pump Fake
Antic is shooting 35 percent, and just 6-of-21 from deep, but he's faking dudes out of their shoes with a delightfully deliberate, Bargnani-esque fake:
That thing is sloooowwww, and it comes with just enough foot-shuffling to be both suspicious and (if it's consistently legal) pretty darn precise. Antic has had trouble doing much of value once he dribbles like mad into the lane; he had a pump-and-drive against Boston over the weekend where he hit traffic, appeared to have no plan in place, and whipped the ball off the glass in an attempt to pass it back to himself.
Antic doesn't play much, but he's entertaining as hell.
10. Detroit's "Motor City" Alternates
Yeah, I'm giving Detroit two likes this week. Deal with it. It has been a depressing season, and a depressing half-decade; fans there deserve some good cheer. I'm all-in on the team's "Motor City" alternate jerseys. It's a cool nickname for the city on its own, and almost everything about the Pistons — their name, their heritage, their mascot (a horse), etc. — is linked in some way to the auto industry. A nice touch.