Welcome to November, hockey fans. The good news: We made it through the first month of the season, we're now just two months from the Winter Classic, and we're finally done with the incessant crowd shots of fans wearing Halloween costumes.
The bad news: There's a good chance you're now cheering for a team that's completely and utterly doomed.
That's according to an eye-popping stat that the CBC's Elliotte Friedman unveiled: NHL teams that find themselves four points or more out of a playoff spot on November 1 almost never recover to make the postseason.
On the surface, that seems like it can't possibly be right. Four points is just two wins. Teams can't make up two wins over the course of roughly 70 games?
Not really, as it turns out. Friedman took a deeper look in his weekly "30 Thoughts" column.1 In the seven seasons since the 2005-06 lockout,2 only three teams have managed the comeback: the 2006-07 Flames, the 2010-11 Sabres, and the 2011-12 Bruins. That's it. Every other team that was four points back when the calendar flipped over was a dead team walking.
As you may be aware, today is November 1. And a quick look at the standings shows that eight teams are currently in Friedman's danger zone, four points (or more) out of a playoff spot.3 Abandon all hope, ye who enter here.
Or maybe not. Here's a look at each of those teams and my best guesses as to whether they can beat the odds.
---
Buffalo Sabres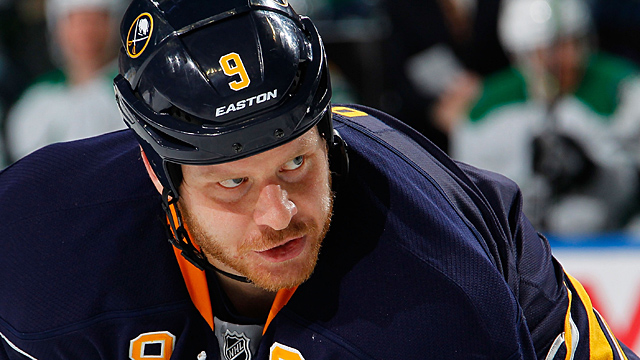 Current record: 2-12-1
Points back: 11
How they got here: The Sabres are awful. Buffalo spent heavily when new owner Terry Pegula came aboard in 2011, but has still missed the playoffs for two consecutive years. The Sabres fired longtime coach Lindy Ruff last season, and GM Darcy Regier may be next. Apart from star goalie Ryan Miller, the roster is a mishmash of terrible contracts, teenagers,4 borderline AHLers, and Cody Hodgson.
Buffalo was expected to struggle, and it has. So far this year, when the Sabres haven't been embarrassing themselves and the league with goon tactics, they've been losing. Or both. Come to think of it, mostly both.
Is there hope? No. At least not for this year.
The Sabres already traded Thomas Vanek this week. Miller, a pending free agent, will almost certainly be dealt at some point. Anyone else with a pulse and a tradable contract5 will follow. The Sabres are bad now, but by the time the trade deadline passes, the roster may look like an ECHL club.
And all of that is OK. The Sabres are rebuilding, and so far they're doing it fairly well.6 NHL GMs love to talk about staying competitive and fighting for every point and reloading instead of rebuilding, and that's great if a team can pull it off. But sometimes they just need to finish dead last for a year or two and hope the draft lottery goes their way. That seems to be the Sabres' plan right now.
Prediction: The Sabres contend for last place overall this year, and probably in 2014-15 too. By this time next year, every Buffalo fan has a Google alert set up for Connor McDavid.
Edmonton Oilers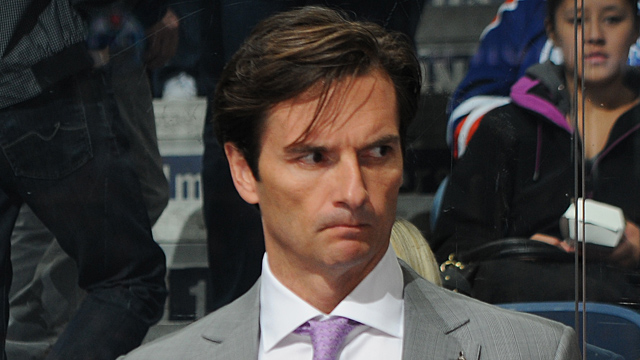 Current record: 3-9-2
Points back: 10
How they got here: The big story in Edmonton has been goaltending. Its team save percentage of .878 is the worst in the league, with both Devan Dubnyk and Jason LaBarbera posting ugly numbers.7
But it's not just goaltending. Special teams have been a major issue, with the power play clicking at just 13.0 percent and the penalty kill struggling along at 76.0 percent.
Is there hope? Oilers fans have suffered enough over the years, so let's start with the positive: A lot of what's wrong with the Oilers falls into the "streaky stuff that tends to even out over time" category. That includes goaltending — you can look at Dubnyk's nine starts this year and decide he's awful, or you can look at the 139 career games that came before that and conclude he's pretty good.8 While it's possible he has changed something in his playing style that has made him worse, and it's also true that even a stretch of bad luck can last for most of a season, there's still a good chance that Dubnyk will be better the rest of the way.
The same could be said for special teams. Although there's an element of team skill involved (not to mention coaching strategy), unless you think Edmonton will be historically bad in this area all season, you'd expect those numbers to go up.
Factor in a rookie coach who has only 14 games of NHL experience under his belt,9 a return to health for key players like Sam Gagner and (eventually) Taylor Hall, and the continuing development of a talented young roster, and an Edmonton rebound starts to feel almost inevitable.
So there's plenty for Oilers fans to feel good about, as long as they can ignore the part where it's probably already too late. The Oilers' rotten start has left them eight points out of a playoff spot already. Since the lockout, no team has fallen that far behind on November 1 and made it all the way back.10 While a comeback isn't impossible, their chances look awfully bleak.
And what's worse, the schedule only gets tougher. So far the Oilers have played 10 of their 14 games against the weaker Eastern Conference. They haven't even met the four best teams in the West right now — the Sharks, Avs, Ducks, and Hawks — but will have to face them a combined 16 times over the rest of the year.
Prediction: The Oilers get better, even looking downright scary in stretches, and we all look back on the season's first month as a product of bad luck. But they still miss the playoffs.
Florida Panthers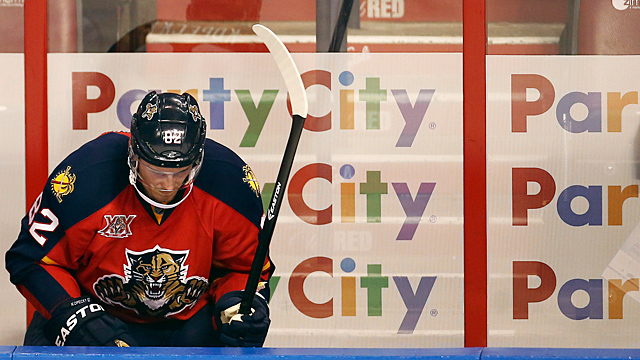 Current record: 3-7-2
Points back: 8
How they got here: The Panthers were the worst team in hockey last year, winning just 15 games while leading the league in goals allowed and coming in second-to-last in goals scored. But heading into 2013-14, there was at least some optimism that those results might have been misleading. After all, that team had suffered through a horrendous string of injuries to top players. If the Panthers could get better luck in the health department, some strong development from their younger players, and a decent comeback season from veteran goalie Tim Thomas, they felt like a sneaky dark-horse pick.
Needless to say, it hasn't worked out that way. Thomas has been an early-season bust, battling both injuries and the puck. The offense has been scoring at an even lower rate than last year, and only the Oilers and Flames are allowing more goals per game.
Is there hope? Probably not much.
There are a handful of positive signs. The team's PDO currently sits near the bottom of the league, suggesting it has at least partly been the victim of bad luck. Top pick Aleksander Barkov hasn't looked out of place despite turning only 18 in September. And the Thomas injury could give 23-year-old Jacob Markstrom a string of games to finally get on track.11
But they're still a mediocre team stuck in a division that features six very good teams and can offer, at most, five playoff spots. That reality may already be setting in — there's talk that the team may be ready to start unloading veterans.
Prediction: The Panthers improve enough to stay on the outer fringes of the playoff race into the new year, then have to decide whether to hold a fire sale. They do.
Dallas Stars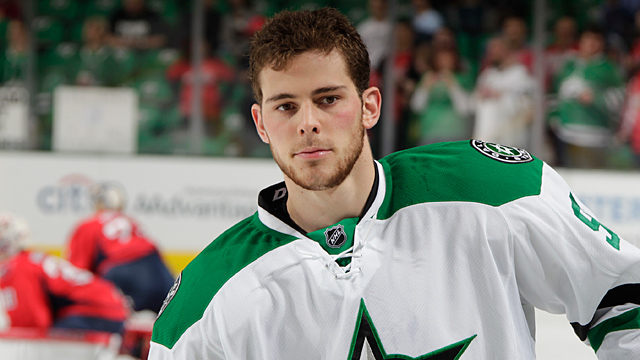 Current record: 5-6-1
Points back: 5
How they got here: After five straight years of missing the playoffs, the Stars tore it down in the offseason and started over. They hired Detroit assistant Jim Nill as their new GM, brought in Lindy Ruff as coach, and pulled the trigger on a blockbuster trade to acquire Tyler Seguin from the Bruins.
None of that was going to guarantee a playoff berth, as most season previews had them as a bubble team. And that's pretty much exactly what they've been, hovering just under .500 all season. Seguin and Jamie Benn have looked great, but the defense and goaltending have been shaky.12 In a very tough Western Conference, that hasn't been good enough.
Is there hope? The Stars have been a hard team to figure out. They're the only team to beat the San Jose Sharks, but also one of just three to lose to the Panthers. As you might expect from an organization that has gone through as many changes as Dallas has, we're just not sure what they are yet.
One source of optimism: While the overall team goaltending numbers are poor, that has largely fallen on backup Dan Ellis, who sports a save percentage south of .900 through five appearances. Regular starter Kari Lehtonen has been very good when healthy (he missed five games with a lower-body injury), and he's now back and playing well.
The Stars start November with five tough games. They host the Avalanche, head east for a three-game trip against a trio of 2013 playoff teams, and then return home to face the Blackhawks. It will be tough to make up much ground during that swing, but they can't afford to lose.
Prediction: The teams in front of them are just too good. Dallas improves as the season goes on but misses the playoffs by a few points.
Winnipeg Jets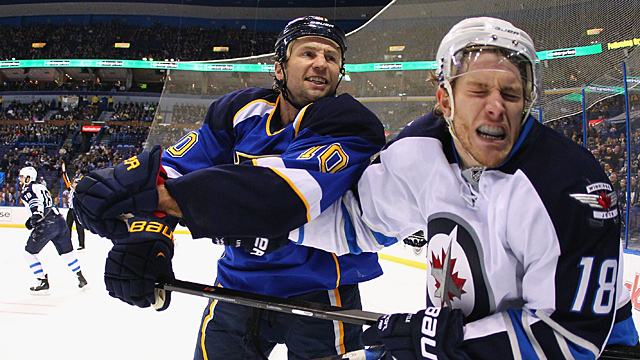 Current record: 5-7-2
Points back: 4
How they got here: Much like the Stars, the Jets were expected to be in the hunt for the third or fourth seed in the Central after a long playoff drought. Unlike the Stars, the Jets didn't undergo a major shakeup in the offseason, returning most of the same roster under coach Claude Noel and betting that incremental improvements would get them over the hump.
It hasn't happened so far. By just about any measure, the Jets look like a middle-of-the-pack team, nothing more. The offense started hot but has cooled off over the past week.13 The goaltending is just OK. Special teams have struggled. They're not a bad team, but it's hard to find any one area where the Jets really impress.
Is there hope? The biggest concern for the Jets has to be the teams ahead of them. They're four back of both the Kings and the Blues, two teams that are among the conference's best and that are unlikely to go through the sort of prolonged slump that would give Winnipeg a chance to gain ground. Given how many points the Ducks and Avalanche have already banked, the Jets' best bet might be catching the Coyotes for a wild-card spot, and Phoenix is six points up with a game in hand.
The Jets have shown they can play with good teams — they've beaten the Kings and Blues — and that's good news, because the November schedule is rough. Six of their next 10 games come against the Blackhawks, Red Wings, or Sharks.
Prediction: Winnipeg hangs around all season, just on the outside of the race, and eventually misses the playoffs by a single point.
Calgary Flames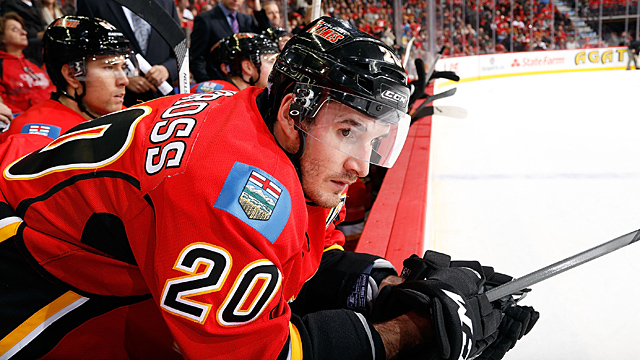 Current record: 5-5-2
Points back: 6
How they got here: The Flames had become a running joke among fans for their longstanding refusal to realize they weren't contenders. The team hadn't won a playoff round in the cap era, and hadn't even made the postseason since 2009. But despite a roster built around two aging stars in Jarome Iginla and Miikka Kiprusoff, the front office kept insisting it wouldn't rebuild.
Those days are over. Iginla and Kiprusoff are gone, and the Flames are moving forward with an eye on the future. If that means the team bottoms out for a year or two, they seem perfectly fine with that.14 Heading into the season, the question was whether they'd finish dead last and get the top pick in next year's draft. But then a funny thing happened early in the season: The Flames opened with points in each of their first five games and started to look like a nice little underdog story, and maybe even a fringe playoff team.
It hasn't lasted, as Calgary has lost five of seven. That still leaves them with a respectable 12 points in 12 games, which would be good enough for second place in the Metro. But in the powerhouse Pacific, it's nowhere near good enough.
Is there hope? For the playoffs? No. For that top pick? Probably not, given how bad the Sabres look. The Flames could be in danger of becoming the dreaded caught-in-the-middle team — not good enough for a playoff spot, but too good to earn the sort of draft pick that translates to elite talent.15
Prediction: The Flames quickly fall out of playoff contention, then get on with the business of rebuilding as the trade deadline nears.
Ottawa Senators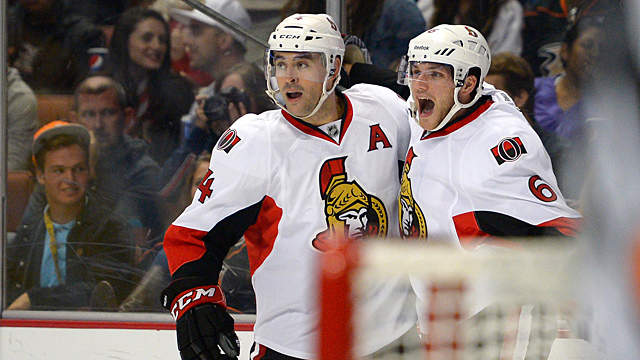 Current record: 4-6-2
Points back: 6
How they got here: The Senators are almost undoubtedly the most surprising team on this list. While expectations for the rest of our doomed teams ranged from utter hopelessness to cautious optimism, the Senators were expected to be a contender — not just for a playoff spot, but for the Stanley Cup.
And yet here they are, the odd team out in a top-heavy Atlantic Division. The team's offensive stars have been fine (and it looks like the long-awaited Kyle Turris breakout year has arrived), but that hasn't been enough to compensate for a surprisingly leaky team defense. One year after allowing the second-fewest goals in the league, the Senators are one of just seven teams giving up more than 3.0 per game so far this season, and they're currently allowing the most shots against per game by a wide margin.
There are any number of theories as to what's going on — Is Paul MacLean being tuned out? Is Chris Phillips done? Was Craig Anderson a mirage? Do they miss Daniel Alfredsson? But something doesn't seem quite right. And with the slow start already beginning to show up in the bottom line, the Senators need things to turn around quickly.
Is there hope? Yes, and it doesn't take much more than a glance at the schedule to find it. The Senators spent most of October on the road, and played nine of their first 12 games against teams that sit with 16 points or more. But things tilt the other way in November, affording plenty of opportunity to gain ground.
They're taking way too many penalties, but that should be fixable. And some of the underlying numbers still look good. The Senators have long been a darling of the advanced-stats world because they play an excellent possession game, and while they haven't been as good as in past years, they're still a positive Corsi team.16
On the other hand, they're losing despite posting some awfully high shooting and save percentages, and currently have the third-highest PDO in the league, even ahead of noted luckboxes like Toronto and Anaheim. That's troubling.
Prediction: The Senators rack up points throughout their cream puff November schedule and have moved back into a playoff position by the end of the month. They end the season comfortably earning one of the five spots claimed by the Atlantic Division.
Philadelphia Flyers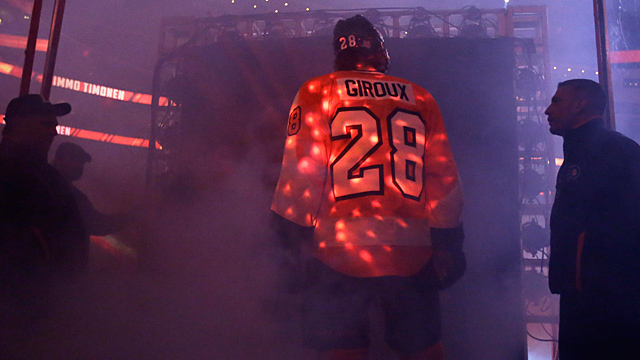 Current record: 3-8-0
Points back: 5
How they got here: When a Flyers team that had won five playoff rounds in three years missed the postseason last year, you could make the case that it could be an aberration. After a typically turbulent offseason that saw them buy out Ilya Bryzgalov and Danny Briere while adding Vincent Lecavalier and Mark Streit, there was a sense of hope that they could be right back in contention.
That hope lasted all of three games, as an 0-3 start cost coach Peter Laviolette his job. They've been slightly better under Craig Berube, but still struggle to score,17 thanks largely to early-season slumps from stars Claude Giroux and Scott Hartnell (who've combined for zero goals).
Is there hope? The most encouraging sign for the Flyers is that there have been no reports of the NHL considering a midseason realignment, meaning they'll be staying in the worst division in hockey. The Metro is terrible,18 so Philadelphia doesn't have all that far to climb. If they were in any other division we'd already be writing their obituary, but the Flyers still have a chance.
And there are other positives. Last week, the Flyers beat the Islanders and Rangers for their only win streak of the season, and they played the Ducks tough in a 3-2 loss Tuesday. The schedule will give them a chance to build on that — they play four straight against NPMTs19 and then host the Oilers. And like the Panthers, PDO says they're due for some better luck.
It's also worth noting that the much-maligned Steve Mason has been solid so far, which could mean the Flyers have finally found a goaltender who won't torpedo their season. Of course, it could also mean that when he inevitably comes back to earth, things will get really bad. Don't act like you weren't already thinking it, Flyers fans.
Prediction: Making predictions about the Philadelphia Flyers is a fool's game — if it's possible for an entire franchise to be in the Tyson Zone, the Flyers are it. Almost anything is on the table. Last-place overall? I could see it. Get back into contention by the new year? I could see it. Fire everyone and start over? I could see it. Trade Giroux to the Penguins? I could see it.
Come all the way back and make the playoffs? Um … look, I said almost anything.