A player's identity typically begins to crystallize in his third or fourth NBA season. Young players have learned the ropes, and veterans have departed or aged, vacating heavy-duty roles that need filling. Everyone involved — players, agents, executives — looks to see what emerges as a player nears the expiration of his rookie contract.
This is why so many fans and executives get all giddy when thinking about Player X entering Year 3 or 4: Is he ready to break out? What new skills will he flash?
But not every player follows the same trajectory. Some breakouts come early (get well, Brow!), some late, and some not at all. Here's a look at six players from the 2010 and 2011 drafts who are making fans wait a bit longer for the much-anticipated Leap.
Ricky Rubio, Minnesota Timberwolves
This will merit a deeper treatment at some point, but it's time to have a serious discussion about Rubio's shooting. The honeymoon has to end sometime — might as well be now. Rubio is shooting 36.9 percent, and through three partial seasons and 3,700 minutes, he's a career 36 percent shooter.
Let me stop here. Rubio is a gifted player, a great kid, and in many ways a basketball genius. He sees passes others don't, imagines passes that otherwise wouldn't exist, and conjures passing angles by dribbling in ways that warp the floor to his liking. He's a dynamite entry passer. He plays within a system that, to at least some degree, marginalizes the pick-and-roll in favor of having Kevin Love facilitate from the elbow area. He's been a decent low-volume 3-point shooter, especially this season, and he tore his ACL halfway through his rookie year.
Mitigating circumstances all. But his shooting is a problem. Rubio is on pace to be the worst shooter in the modern history of the NBA. Since the inception of the league, 61 total players have logged at least 5,000 career minutes and finished with a field goal mark of 38 percent or worse. Fifty-nine of those guys began their careers in 1965 or earlier; the other two are Eddie Griffin and Daequan Cook, who did not make it far beyond the 5,000-minute threshold.
Rubio's poor shooting has real consequences, and they go beyond the obvious "guys go way under screens on the pick-and-roll" stuff. In a broad sense, teams can overplay the pass when Rubio has the ball. On a pick-and-roll with Love or Nikola Pekovic, for instance, the guard defending Rubio might hang back in the passing lane between Rubio and Love/Pekovic instead of scampering hard after Rubio — as Jameer Nelson does here, on a play that ends with a panicky pass and ugly turnover: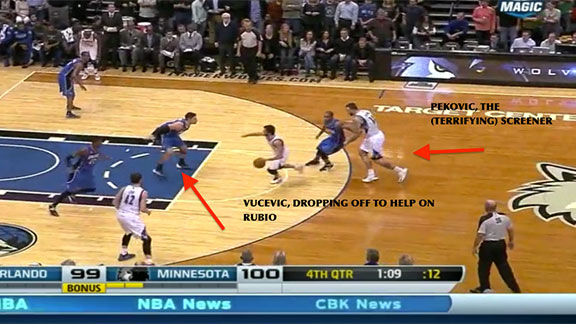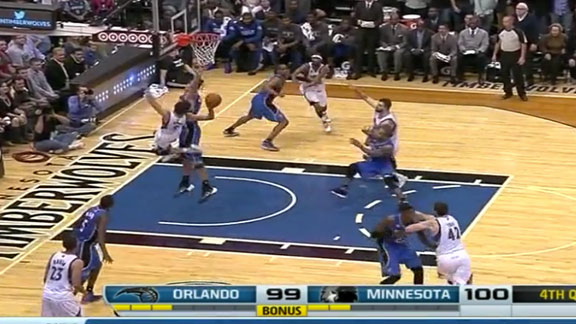 The big men in Nikola Vucevic's position here — the help defenders, basically — can lean toward Rubio's pick-and-roll partner, ready to pounce on the pass instead of worrying about a shot in the lane, as Timofey Mozgov does here: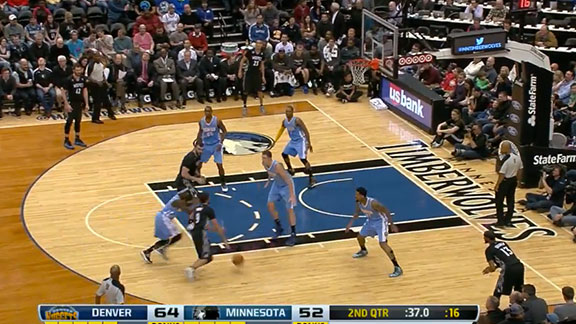 And in these two plays, Rubio's defenders — Aaron Brooks in one, and Prof. Andre Miller, PhD, in the other — lean so far from Rubio that they are able to disrupt his entry pass: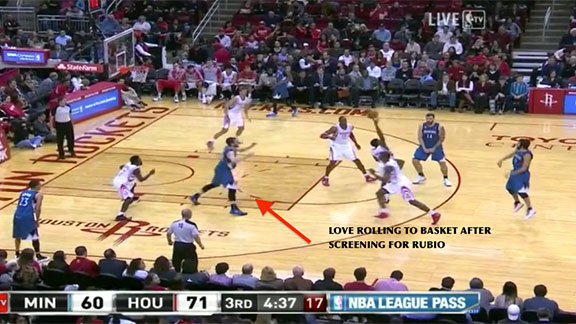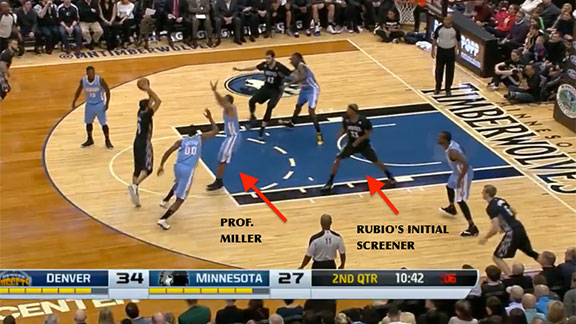 Rubio shoots in the mid-40s on attempts in the restricted area, a terrible mark, and he's not a willing shooter even from close range. There's a reason Rubio so often dribbles down one side of the floor, under the basket, and back out the other side: He can't find a clean passing lane and he's reluctant to shoot.
And when Rubio doesn't have the ball, his man can crash into the lane to muck up other stuff.
Rubio's a clear net positive for Minnesota — a savant passer who moves his feet beautifully on defense, drawing charges and snagging steals without over-gambling. He's so good he can squeeze passes through tighter spaces than most guys can manage. But I've talked to a lot of league executives who are very curious to see how Rubio and the Wolves would fare in a playoff series, against a defense and scouting army devoted entirely to stopping Minnesota.
Jonas Valanciunas, Toronto Drakes
I've tried to avoid second-year players here, but I'll make Valanciunas an exception, since he came via the 2011 draft and carried very high expectations into this season after hitting double figures in 14 of his last 15 games last season, flashing a polished post-up game in the process.
But Valanciunas's game had stagnated before a ferocious 18-point, 11-rebound effort against Denver on Sunday.1 His minutes are barely up, and Dwane Casey hasn't consistently trusted Valanciunas to play crunch time — mostly because of Valanciunas's struggles to execute Toronto's defensive schemes. He's using just 17.5 percent of Toronto's possessions, a below-average number for a high-profile starter, and barely above his rookie-year share.
One reason is simple: This team belongs to Rudy Gay and DeMar DeRozan, for better or worse. Even sets that don't start with those guys — a Kyle Lowry–Valanciunas pick-and-roll, for instance — probably will end with one of them isolating, curling around a screen, or taking a dribble handoff before dribbling a bunch and heaving a midrange jumper. Lots of Toronto possessions look great for 12 seconds, before devolving into hero ball for the last eight or 10. "He's third on the food chain," Casey says, "and sometimes even fourth. Our offense is built around Rudy and DeMar." Valanciunas is often left to simply get out of the way and prepare for an offensive rebound.
But it's not all on the wing "stars." The classic image of Valanciunas to this point is of him setting a pick, rolling down the lane, and raising both his arms in the air, convinced he's wide open — and then pouting when he doesn't get the ball: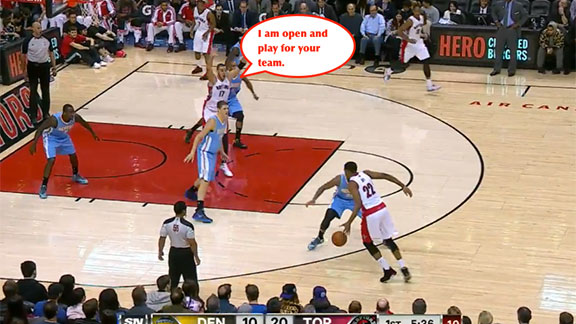 But Valanciunas often rolls to the hoop before making any contact on his pick, meaning he has provided Kyle Lowry, Gay, or DeRozan with no daylight — no space to penetrate, no clear angle to hit Valanciunas in the lane. "He feels like he's open," Casey says, "but he's not. He's just so far down there. He needs to learn the short roll."
Casey doesn't mind when Valanciunas cuts hard to the rim without really screening, but he'd prefer the big fella lay the wood on dudes much more often.
On defense, the Drakes employ a fairly aggressive pick-and-roll scheme that asks big men to jump out hard on ball handlers — or at least hang around the level of the pick. Valanciunas has the mobility to do that, and he's a hard worker. But the timing just isn't there. He'll often slide into help position just a beat late, leaving himself in no-man's-land — too late to cut off the ball handler or even get in the guy's way, but still far enough from his original mark that a dangerous passing lane is open.
"He's still learning the speed of the game at this level," Casey says. "He works his butt off. He has as much potential as any of the bigs I've ever worked with. But he needs to spend the summer in New York or L.A., playing pickup with guys that are 6-7 or 6-8 — to get used to their speed."
Here he is leaving Mozgov (on the left side) to contain Nate Robinson jetting off a screen, though he does so in such a way that he's too late to cut off the pass to Robinson, and yet still far enough from Mozgov to open up the possibility of a Robinson-to-Mozgov pass:2
It'll come. And if the Drakes decide to blow things up and trade one (or all) of their high-priced perimeter guys, Valanciunas will have plenty more chances to hone a promising post game — and a jump shot Casey wants him to take more often.
Iman Shumpert, New York Knicks
Shumpert may be dead, or at least missing, by the time you read this, having had the gall to question Carmelo Anthony's horrid defense against the Pelicans on Sunday. Iman: If you're reading this from a public library in Alaska somewhere, wearing a fake beard and glasses, please be well.
Shumpert has stalled out as a Knick. You could go entire 10-minute spans without even noticing he's on the floor, especially since he cut his delightful high flattop — probably because some member of James Dolan's band found it distasteful.
Shumpert has used 12.7 percent of New York's possessions this season. That is almost unfathomable for a perimeter player who can, you know, dribble the basketball. Over the last two seasons, only 14 guys have averaged at least 25 minutes per game while using so few of their team's possessions. Most of them are big men with zero range (DeAndre Jordan, Tyson Chandler, Robin Lopez, the ghost of Kendrick Perkins) or catch-and-shoot types on loaded teams (Jared Dudley this season, Jason Kidd last season, Thabo Sefolosha in both).
Basically, Shumpert never gets the ball. He touches the rock just 1.4 times per minute on the floor, according to SportVu tracking data.
Look: Shumpert isn't an ace pick-and-roll guy. He's uncomfortable on the play, prone to wild passes, and capable mostly of only the simplest stuff. He's been a bit of a ball-stopper when he's gotten the ball this season, dancing with it before hoisting a long 2-point jumper.3
But, man, you long to see this guy in a different offense. This season's Knicks are dreadful to watch. No team devotes a higher share of possessions to isolation plays, and when the ball sticks with Anthony or J.R. Smith, defenses can stop and set themselves. When the ball gets to Shumpert, his defender is usually right there, with no ground to cover, perfectly balanced in Shumpert's grill.
And that's a shame, because Shumpert has shown he can attack a defender scrambling to close out on him as he catches the ball. It's hard for defenders rushing at shooters to stop their momentum, and Shumpert can drive by them, slice into gaps, and either score or kick the ball elsewhere. He's a fundamentally unselfish player, happy to make the extra pass, though he has veered a bit toward me-first stuff at times this season — bad shots and highlight-reel dishes when something simpler would do. Stick this guy on the Rockets and you might have a player.
He's overrated as a defender. He fouls a ton, and he ball-watches, making him prone to back-door cuts along the baseline. He has played a role in the endless breakdowns in switching and communication that have plagued the Knicks. But he's feisty, and the foundation is there, waiting for a team who can teach better habits.
Gordon Hayward, Utah Jazz
Life as a first option on a bad team is cruel. Hayward shot a horrific 20-of-74 over his last six games before snapping out of it Monday against Houston, and he's shooting just 40 percent for the season — including an icy 29 percent from 3-point range. Hayward's turnover rate has jumped to its highest level since his rookie season, and he's been especially shaky on the pick-and-roll — a play the Jazz have Hayward running more and more as he ascends to the lead-dog role on a team no longer sporting a post-up threat that requires automatic double teams.
Hayward has turned the ball over on 23.8 percent of the pick-and-rolls he has finished, the sixth-worst mark in the league among 58 guys who have run at least 50 of those suckers, per Synergy Sports.4
There's nothing all that wrong with Hayward's off-the-bounce game. It just isn't worthy of undisputed top-option status, which is why Trey Burke's strong early play is such a good sign for Utah. Hayward is a bit predictable with the ball, and he doesn't have the change-of-pace calm or killer midrange pull-up every pick-and-roll guy must have. He either picks up his dribble too early, before he has really punctured the defense, or drives hard to the rim — and into a waiting crowd.
A hard drive is a good thing, but Hayward lacks either the speed to blow by help defenders or the trickery to go around them. And when he drives himself into tight spots along the baseline, defenders all over the floor can pounce into passing lanes as Hayward desperately tries to steady himself and find an out. Trap Hayward far out on the floor and he's likely to pick up his dribble in a panic, leap into the air, and toss a cross-court jump pass ripe for the picking.
Hayward has all the passes in his bag, and his assists are up as Utah's lead playmaker. And he has managed that on a team that had to move Marvin Williams into the starting lineup as a small-ball power forward to generate just a smidgen of spacing. Seriously: Nobody guards half of Utah's players, leaving Hayward zero space and no easy passing lanes. And forget those wide-open spot-up looks Hayward could count on in prior seasons. If the other Jazz men don't merit much attention, that means Hayward's guy is a step or two closer to Hayward.
Hayward isn't yet good enough to succeed in that kind of situation. He can take what a defense gives — the pocket pass, the kick to a weakside shooter — but he cannot yet create anything more.
Enes Kanter, Utah Jazz
This is not going well. The Jazz have scored just 84.2 points per 100 possessions with both Kanter and Derrick Favors on the floor, a mark so unthinkably awful that Tyrone Corbin had to swap Kanter out of the starting lineup in favor of the stretchier Williams. That's OK for now, but Utah has a lot riding on the Kanter-Favors duo. They've appeared in just one of four games since the lineup switch, for a total of nine minutes. Kanter's minutes have been down significantly of late.
Neither Utah big is a reliable midrange shooter who requires much respect from defenses, and the Jazz struggled to mesh Favors's pick-and-roll game with Kanter's post bullying — especially since Favors is also showing an improved post-up arsenal.
Kanter's free throw attempts are down, and he's threatening to become a DeJuan Blair–type rebounder — a guy who kills the offensive glass and vanishes on the other end. He's rebounding just 15.6 percent of opponent misses, a terrible mark for a big man, one that verges into the Andrea Bargnani Zone.5
Kanter has been a bit of a mess defensively. Corbin often has him jumping out hard on pick-and-rolls, and Kanter just doesn't seem equipped to handle that kind of movement. He has a bad combination of lumbering speed and happy feet that creates all kinds of positioning blunders.
There's a good NBA player here, especially on offense. I hope we see more of him this season.
Tristan Thompson, Cleveland Cavaliers
Thompson is by all accounts a delightful guy (he's Canadian, duh) and a hard worker, but you can't be a heavy-minutes NBA big man and shoot 42 percent — unless you're playing Roy Hibbert/peak Dwight Howard–level defense. Thompson is a nice defender, capable of blowing up pick-and-rolls far from the basket, but he doesn't offer nearly enough rim protection to bring that kind of value.
And he's indeed shooting 42 percent. This isn't all Thompson's fault. Cleveland's offense is unwatchable, a function of both personnel and coaching. The Cavs have zero reliable shooting on the wing, and the demise of both Tyler Zeller and Anthony Bennett has reduced their big rotation to one low-post guy (Andrew Bynum, shooting 36 percent in the restricted area and 15-of-34 from outside 10 feet, meaning we are living in the Bizarro World) and two rim-attacking pick-and-roll types in Thompson and Anderson Varejao.
Brown's offense has been predictably predictable. The Cavs run plays, even some fun ones with flare screens and screen-the-screener goodness, but the machine stops after one such action. That has left Kyrie Irving or Jarrett Jack to run a stagnant high pick-and-roll, which was effective in the 2007 NBA with LeBron James, but isn't effective in a 2013 NBA that has learned Tom Thibodeau's defensive principles.
This has all been terrible for Thompson, who can't find any space to work. When Varejao rolls, it's Thompson's job to curl up to the foul line as a release valve and catch the ball there. And when Thompson gets the roll assignment, something happening less often this season, there are too many bodies in the way. He can't get to the rim, leaving him to take midrange jumpers or chance it on face-up drives that don't go very far. Thompson spins and jukes and tries very hard, but ends up jacking floaters like this: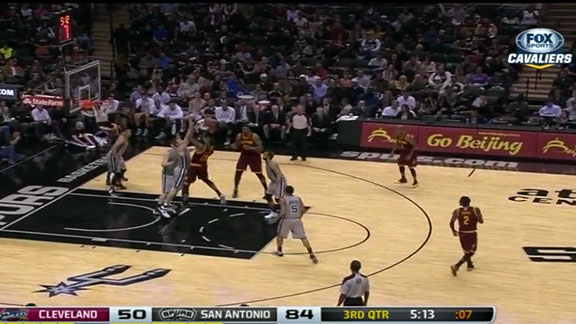 Thompson is a solid player, but the Cavs at least need him to return to the form he showed last season.
Honorable Mention/We May Have to Talk Further at Some Point: Jimmy Butler, Kyrie Irving, Alec Burks, Avery Bradley, Kenneth Faried, Jordan Hamilton, Ekpe Udoh, Ed Davis, Kawhi Leonard.
10 Things I Like and Don't Like
1. New York's defense
There I was, sipping my morning coffee last Tuesday, settling in to watch last week's New York–Portland game — a perfectly happy start to the day. On the very first Blazers possession of the game, Portland ran some simple off-ball guard-guard screening action, something NBA teams see several times each game.
The two New York guards involved, Shumpert and Beno Udrih, miscommunicated, botched a switch, and allowed Wesley Matthews an uncontested layup. It was the first fucking play of the game. At that moment, I decided I needed a hiatus from the Knicks. I'd keep watching them, of course, and going to their games when possible. But it was time to stop taking them seriously as a basketball team — will they figure it out? Can they still win 45 games? — until the Knicks did very basic basketball things correctly.
I'm still waiting.
2. Nene's mean dunks
Nene's contract was a bit of an overpay, in part because he has endless health issues that limit his court time. But he's a damn good overall player, and I'm not sure anyone dunks with as much anger and arm-to-rim acceleration. It's like he's channeling all the frustration he feels over nagging injuries and burbling criticism of his game and fitness into out-and-out attacks on the rim. I'm worried he's going to hurt his wrist on one of those babies.
3. Jermaine O'Neal post-ups
O'Neal is 11-of-33 on post-ups this season, per Synergy Sports, and he's not drawing many fouls, mostly because he likes to spin and pivot his way into turnaround jumpers. A lot of those post-ups have come with O'Neal as the focal point of bench-heavy units, but he just shouldn't get this kind of volume on a team with so many scoring threats.
Mark Jackson has done a great job at Golden State, and the Warriors have so much size on the wing that they're bound to have some post-up advantages at all times — especially when teams go small against them, as Oklahoma City has done in both meetings, sliding Kevin Durant to power forward. Golden State hurt Denver and San Antonio in the playoffs last season posting up smaller guards.
It's a tough line to tread with post-ups, and Jackson has crossed it a few times this season, taking his team out of its offense to exploit an apparent size mismatch on the block. It has backfired twice against the Thunder, and the Dubs cannot afford to give O'Neal too many scoring touches against good teams.
4. "From Downtown Far-Away Place X"
Kyle Lowry (I think) drained a long 3-pointer last week, and the Drakes' play-by-play guy (Matt Devlin), impressed at the length of the shot, exclaimed, "Lowry, from all the way in Mississauga!" And damn you, Matt Devlin, if I didn't crack a smile. I'm a sucker for that general trope: "He shot that all the way from Faraway Town X!" Or, in a recent Bobcats home game: "He shot that from South Carolina, I think!"
This expression has another close cousin in hoops talk: "His range starts when he enters the parking lot!"
They're clichés, but I chuckle every time. If I ever get on TV and some host asks me to discuss a killer long-range shooter, you better believe I'm going to say his range starts the moment he enters the gym.
5. Chandler Parsons's pump fake
I'm not sure any player comes closer to an up-and-down violation more often. Parsons sometimes goes into his shooting motion legitimately unsure if he's going to shoot or fake, rising to his tiptoes before bringing the ball back down. Just a fun player to watch.
6. DAY-O!
I enjoy Harry Belafonte's wacky tune. I love Beetlejuice, like any good American over 30. But we need a break from blasting the "DAY-O!" sound effect, suddenly and in seemingly random moments, over and over at every sporting event — including NBA games. Full disclosure: They do this a lot at Yankee Stadium, or at least they used to, and I get the shakes just thinking about that place. This could be a personal thing.
7. The overwhelmed Cody Zeller
Zeller's a rookie learning the speed of a new level, so some growing pains are understandable. But he's shooting 34 percent with an ugly turnover rate, and looking completely overwhelmed every time he catches the ball at the elbow — his sweet spot, should he desire a long NBA career. "OK, I have the ball. Omigod, omigod, omigod, I have the ball! Should I shoot? I dunno, that guy is pretty close to me. Can I dribble? Am I allowed to dribble? Maybe I should pass to that guy in the corner, the Swedish one or something, and, oh, shoot, they figured out I was looking over there. OK, gotta do something! Here goes!" (At this moment, Zeller typically takes one or two hard lefty dribbles toward the rim and then falls over.)
8. David Wesley, professional broadcaster
Amid too many screaming homers, Wesley stands out as a calm pro willing to teach the nuances of the game. During a Pellies game last week, Wesley went over the tape of an opponent dunk and illustrated which New Orleans players were supposed to rotate, and where, under Monty Williams's scheme. It was a simple thing, but it highlighted the on-a-string complexity of NBA defense, and Wesley does it often.
9. Kevin Durant–Reggie Jackson–Russell Westbrook–Thabo Sefolosha–Serge Ibaka
This lineup has logged 19 total minutes in six games, per NBA.com. Please play this lineup more often, Scott Brooks.
10. Jared Sullinger, jacking 3s
Sullinger has had a strong sophomore season, moving dudes out of the way in the low block, tossing some nice passes, and shifting around in smart ways on defense. He might be Boston's best all-around player right now, at least until Rajon Rondo returns.
He's up to 32 percent (14-of-44) from 3-point range, showing progress on a Brad Stevens experiment that had a lot of Boston fans — and their wonderful play-by-play guy, Mike Gorman — disgruntled early.
Sullinger jacking 3s is an example of great top-to-bottom organizational cohesion. Boston is going to be bad this season; why not spend some of it seeing if they can turn Sullinger into a kind of Kevin Love Lite? He'll be a nice NBA player for a long time even if the 3-point thing doesn't work out. But if it does, he's something more.