Nevada Smith, coach of the most innovative pro basketball team you've never seen, says almost all the criticism he hears about his chosen strategy comes from older fans and scouts.
"It's mostly those old-school basketball guys," says Smith, coach of the D-League's Rio Grande Valley Vipers, who have attempted 46 3-pointers per game over their 9-1 start to this season. "They ask why we're doing this. They say it's not basketball."
Smith just laughs it off. The Vipers, Houston's D-League affiliate, average nearly 112 possessions per game — about a dozen more than any NBA team. All that sprinting and 3-point gunning has produced 115 points per 100 possessions, best in the D-League and a number that would blow away the entire NBA. "If we could take a 3 every time down the court," Smith says, "we probably would. There's going to be a game where we shoot 60. I'm telling you. And people are going to think we're crazy."
No NBA team is doing anything close to what Smith and the Vipes1 are pulling in the D-League. But it's not an accident that the Rockets' D-League team is playing this way. Daryl Morey, Houston's GM, controlled the search for the Vipers' coach, and Morey made it clear he liked the run-and-gun style Smith's teams played at Ithaca College and Keystone College, Smith says. "They wanted someone whose teams would play in the 130s," Smith says. "I don't think they'd ever hire someone who played in the 80s."
About 34.7 percent of the Rockets' field goal attempts this season have been 3-pointers, putting Houston just behind the record-setting 35.4 percent share the Knicks put up last season. Threes have accounted for 25.3 percent of all field goal attempts league-wide, above last year's all-time record share (24.3 percent) — and well above the 16 to 18 percent shares the league averaged for most of the mid-2000s. The average team jacks just shy of 21 3-pointers per game, another record rate, up from about 19.9 last season. The Vipers and Rockets might be outliers, but the larger basketball landscape is trending in their direction. All of which raises the question: Are we nearing the point at which the 3-point shot will become too dominant a part of basketball? Is all the long-range chucking good for the game?
As Smith notes, there has always been grumbling among old-school types about the 3-pointer — our dads and grandpas lamenting how those impudent youngsters only care about 3s and dunks, since those highlight plays get them on SportsCenter. But new, more nuanced concerns are starting to bubble up about the dominance of the 3-pointer. One strain centers on the consequences of the idea that math has basically solved basketball. Analytics has won out in shot selection. Just about everyone in the NBA, from scouts to head coaches to GMs, understands that long 2-point shots are bad and 3s are good. There is a strong correlation between 3-point attempts and team scoring efficiency, and an even more specific correlation between the number of short corner 3s a team attempts and its overall points per possession.
The debate on this stuff is over. Math has won, though team-by-team personnel obviously still plays a huge role in a team's shot-selection profile. The triumph of math has produced a fear of standardization among some NBA observers. "We shoot too many 3s now," says Jeff Van Gundy, perhaps the closest thing the NBA has to a populist ombudsman. "We are out of whack. The numbers people have analyzed the game correctly, but we are eliminating a certain segment of NBA players."
In this view, the game is tilting toward uniformity, in both team strategy and the types of players each team will seek to execute that strategy. "As analytics people take control of more teams, you'd think there will be more and more of this," says Rod Thorn, the NBA's president of basketball operations. "Obviously, there are more 3s being taken now. But we're still in the infancy of this, in terms of deciding whether it is good or bad for the game. Remember, we've had people pontificating that the 3-point arc is bad for the game for as long as the 3 has been around."
Larry Brown, one of the game's great teachers, was long an opponent of the 3, says Billy King, the current GM of the Nets who held the same position in Philly when Brown was the coach there. "In the 1990s, everyone was concerned that we didn't have enough scoring," King says. "But now, I guess, some people are asking: 'Is the 3 bad for basketball?'"2
As Thorn's comments indicate, the league is watching the 3-point feast with some combination of curiosity, excitement, and fear. David Stern surprised reporters after a Board of Governors meeting in April by revealing that league officials, owners, and the competition committee had been "monitoring" the uptick in 3-point attempts. The timing was strange. Scoring efficiency had stabilized after a trough in the early 2000s, thanks to the evolution in shot selection and the ban on hand-checking. The abolition of the old illegal-defense rules freed the best defensive gurus to create all kinds of imposing systems, and offenses had finally responded with increased complexity, drive-and-kick schemes, and fast-paced motion offenses that led to crowd-pleasing 3s. What was there to monitor?
League officials are less concerned with uniformity and the triumph of math than they are with stylistic appeal, per several team sources who have discussed the issue with the league or attended meetings in which officials brought up the topic. The league does not want NBA basketball to look like a pickup game, and it is concerned that games with, say, 70 combined 3-point attempts would take on the feel of a ragged, me-first open gym game. This is what Stern hinted at during that April press conference: "When our teams are hot, it's a thing of beauty. And when they're not, they can go 3-for-41," Stern said.
Thorn is right; it's too early to do anything but watch for potential issues. There is no real evidence that an increase in 3-pointers leads to unappealing play. It might lead to a quicker overall pace, but fans seem to like a fast-paced game. A Grantland analysis of the last three seasons showed basically no correlation between the number of 3-pointers a team attempts and its turnover rate — an indicator of sloppiness. The 3-happy Rockets are the most turnover-prone team in the league, but last year's chucktastic Knicks recorded one of the lowest turnover rates in league history. This season's Blazers and Clippers both launch a ton of 3s while ranking among the league's half-dozen best at turnover avoidance, per NBA.com.
Coaches and analytics experts agree that NBA teams are not close to reaching the optimum upper limit on 3-point attempts, with the success of the Vipers perhaps serving as evidence. In strict mathematical terms, not even Houston is taking enough 3s. We're still in a place where the huge majority of 3-pointers are the product of the kind of fun ball movement the league sought to unleash by banning the handcheck, scrapping the old illegal-defense rule, and replacing it with the defensive three-seconds rule in the early 2000s. Those tweaks combined to give ball handlers more freedom of movement on the perimeter, and to declutter the lane of both interior defenders and post-up players.
"I really like the direction the game is going," says Terry Stotts, the Blazers' head coach. "It's exciting. When a guy takes a 3, the home crowd is on its feet, and the opponents are like, 'Oh no!'"
Three-pointers also enable comebacks, a huge thing for a league concerned about game-to-game predictability. "The 3 gives you hope of keeping a game close," says Arron Afflalo. "If you're down 16 or 18, and you could only get back into it with 2s — man, that'd be tough."
Even below-average 3-point shooters understand the triple's appeal. "It's just analytics," says Evan Turner, a career 32 percent 3-point shooter who has historically preferred midrange shots — not exactly what his new analytically oriented GM, Sam Hinkie, wants for the Sixers. "Analytics is really popular, so you have to worry about all that smart stuff now. I was never a fan of the 3, but everybody loves it. Fans love it. You don't hear fans saying, 'Yo, another 3? Come on.'"
The league is also far from the kind of uniformity that Van Gundy and others fear, for reasons both real and perceived. Utah has only recently discovered that shots from behind that arc thingy are worth one more point than other shots. Chicago and Memphis are among the league's most 3-phobic teams for the second straight year, mostly because they lack multiple capable shooters. Not everyone is playing like the Rockets, or the Vipers, and most people aren't close to that model. Variety persists. "What I think you want," Thorn says, "is some people playing fast and shooting a lot of 3s, and some people playing slow."
Lots of folks are skeptical that Rocket-ball will ever be the norm. "I don't think there's the personnel to have a league full of Houston Rockets," Shane Battier says. "There's only one Dwight Howard walking this earth, and there are only a handful of 40 percent 3-point shooters."
There also remains widespread skepticism that a 3-happy team can win the title, even though that perception is mostly hogwash. Still, the alleged failures of last season's Knicks, and of the Stan Van Gundy Magic and Mike D'Antoni Suns (massively successful teams), have stuck in the NBA's hive mind — especially after last season, when slowpoke behemoths Indiana and Memphis advanced to the conference finals. The Rockets, after all, have won just one playoff series in Morey's tenure. "That style just hasn't proven as successful or dominant as it might seem," Afflalo says.
There is some evidence that teams that shoot lots of 3-pointers are more inconsistent game to game, since the 3-pointer is a lower-percentage shot. In other words: You'll have your 3-of-25 nights, and if you lack other means of scoring, you'll lose on those nights. But the evidence for such inconsistency is a bit wobbly, and it's not hard to find 3-happy teams that have succeeded at the highest levels. The Heat and Spurs, last year's finalists, ranked no. 6 and 7 in 3-point attempts, respectively, and the Hakeem Olajuwon championship teams in Houston held the record for largest 3-point attempt share until the Knicks broke it last season. It's only a matter of time until a 3-dominant team wins the whole thing again.
It's always worth thinking ahead, and there are ideas in the ether if the NBA's 3-point addiction reaches its saturation point. The easiest one: Move the line back, just as the gods of college hoops did when the 3-pointer took over the game at that level. "You want to find a place where it becomes a more difficult decision between shooting the 3 and going in for the long 2-pointer," Van Gundy says. "The beauty of this sport is diversity of play. And right now, the smart people have figured out exactly what shots to get on offense and take away on defense. And that hurts diversity of play."3
Van Gundy and several other folks I talked to also raised the possibility of either eliminating the corner 3-pointer, moving it back, or making it worth fewer than 3 points — all fanciful ideas, but ones the NBA's brain trust has at least thought about in vague terms. "Why can't we say the corner 3 is worth 2.5 points?" Van Gundy asks. "Why does everyone want round numbers? No one has been able to make a good case to me as to why the corner 3 is worth the same number of points as the [longer] above-the-break 3. I mean, should we have a 12-foot free throw line for Andre Drummond and DeAndre Jordan? It'd be foolish. But no more foolish than the corner 3."
Moving the corner 3 back would be impossible without widening the court, and that in turn would require making the wealthy "LOOK AT ME I'M SITTING COURTSIDE IN STUPID EXPENSIVE CLOTHES" crowd move back a precious few feet. The league could easily eliminate the corner 3 by extending the arc out of bounds, but that could have drastic implications for spacing. Having a guy stand in the corner opens the lane for the LeBrons and Kevin Durants of the league, since a defender has to pay at least token attention to that player. Ignore him and he'll get a wide-open shot worth three whole points! Cut the value to just two points, and defenders may well abandon those corner shooters in order to clog up the fun stuff.4
Eliminating the corner 3 is a drastic step, but it's not a ridiculous idea. There is something inherently fishy about giving out a length-based bonus point for a longer shot — and giving out the same bonus point for a shot nearly two feet shorter. But tweaking the corner 3 without cramping the offense's spacing is tricky. There is an entire group of NBA players who subsist on corner 3s but cannot shoot nearly as well on the longer above-the-break 3s. Eliminate their sweet spot, and they may not draw much defensive attention. "By the time they take away the corner 3," Battier says, "I'll be in the Caribbean somewhere drinking a mai tai."
Defenses are already getting wiser to the corner 3 anyway. Look at how Chandler Parsons handles weakside defense duty on this Damian Lillard–LaMarcus Aldridge pick-and-roll:
Both Parsons and James Harden end up on the weak side here, and since Harden is closer to Aldridge, it is Harden's job to close out on Aldridge's pick-and-pop jumper. Harden's rotation leaves Parsons standing between two shooters — Wesley Matthews above the break, and Nic Batum on the right corner.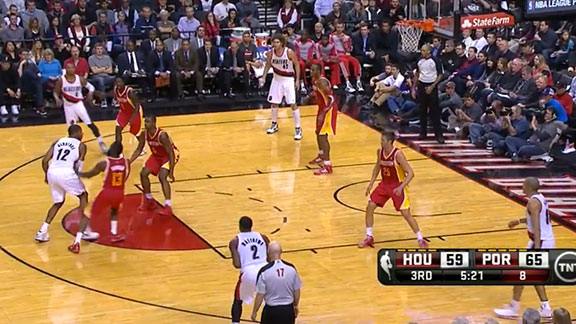 Parsons is smart, and you can see his mental calculator working. Matthews's scorching start notwithstanding, Parsons gets that a Batum corner 3 is worth more than a Matthews above-the-breaker. And so he only stunts softly at Matthews — enough to at least make Matthews think for a beat, but not enough to lose contact with Batum.
And that's the great unknown here: Will NBA defenses become so attuned to eliminating 3s as to cut this conversation short before it really becomes a loud debate? The stewards of the game think so. "It's not an issue at all," says Mark Cuban, owner of the Mavs. "The NBA is like any other market; people copy success. When you copy each other, the industry becomes more efficient. If everyone does the same thing, from a math perspective, no one has an advantage. What will be interesting is where it goes next as we all try to get an advantage."
In Thorn's words: "Defenses are changing."
Van Gundy's camp, for now, is a silent, worried minority. The league is just watching, content but thoughtful: How far will the Vipers and Rockets go?
10 Things I Like and Don't Like
1. Watching the Bulls
It's hard to watch, and also just exhausting. The Bulls have scored just 94 points per 100 possessions since Derrick Rose's knee injury, and without their only speedy shot creator it is enormously hard work for them just to get a decent shot off. Injuries at various times to Luol Deng, Jimmy Butler, Joakim Noah, and Kirk Hinrich obviously haven't helped.
Deng and Noah are game facilitators, but they struggle to create any separation at all off the dribble, and it requires a lot of effort for them to get even the teensiest clean window to the basket. Hinrich can't shoot, and now he's hurt. Marquis Teague isn't ready for the minutes he must play now. It sometimes looks as if Chicago's best strategy is to fling the ball at the basket and hope for an offensive rebound.
They run all the same sets they've always run, but they just lead nowhere now. They'll keep fighting, because that's what the Bulls do, but there's just nothing here offensively.
2. Watching the Suns
Apologies to the Blazers, but this is the best story in the league — the team too good to tank. No one in the organization dreamed these guys would be 14-9, with the no. 9 overall point differential (per 100 possessions) and a borderline top-five offense. Goran Dragic has never been better, and I'm not sure there are five craftier players in the league. He's not fast enough to just blow by opposing point guards, but he makes up for it with guile — shoulder fakes, hesitation dribbles, crossovers, head fakes, behind-the-back step-backs, whirling finishes in the lane. Just a delight.
Eric Bledsoe still has turnover issues and his defense has slipped a tad under a larger scoring burden, but the dude is a beast. Miles Plumlee is hurting basketballs with his shot blocks, the Morris twins are making tough shots, and Channing Frye's shooting is forcing defenses into all sorts of painful contortions.
This also raises perhaps the most intriguing question in the league right now: Does Phoenix just ride this and go for a shocking playoff berth? Or will we see some questionable injuries, suddenly shaky coaching from the excellent Jeff Hornacek, and other chicanery? I hope not.
3. Beating Up Mascots
I don't think it's hyperbole to suggest this is becoming a national crisis, perhaps requiring President Obama's personal intervention. Hooper, the Pistons' horse mascot, has been the victim of two separate attacks in recent weeks — including this beatdown at the hands of nearly the entire Brooklyn roster:
Robin Lopez jumped Hooper and ripped off part of his mane during a recent Blazers visit to Detroit:
And the Nets appear to be serial offenders, judging by this grainy footage of what appears to be Brook Lopez, Andray Blatche, and other Nets attacking Benny the Bull:
Hey, Lopez twins: Watch your back, goofs. Most of the league's mascots congregate at the All-Star Game, and Brook at least is likely to be there. He should probably bring some security, considering it's on Pierre the Pelican's home turf this season. We may never see Brook Lopez again after All-Star weekend.
These are mascots, people. They are here for our entertainment. This player-on-mascot crime is becoming a blight on our society.
4. Detroit's Point-of-Attack Defense
Detroit has found its footing a bit, and its unconventional offense is somehow pounding out points at an acceptable rate. But teams are shredding Detroit on defense, especially when all three of Josh Smith, Andre Drummond, and Greg Monroe are on the floor. The Pistons with all three bigs on the court have allowed 109 points per 100 possessions, a mark that would rank below Utah's league-worst defense, and all two-man combinations from among them have been just about as bad, per NBA.com.
The Pistons will probably make the playoffs, but any smart team with time to scout them will just put the Brandon Jennings–Monroe and Jennings-Drummond combinations in endless pick-and-rolls. Jennings remains a train wreck on defense, prone to prolonged spells of laziness, slipping into upright stances, and running smack into screens. Monroe has improved overall, but he still struggles to contain ball handlers as a helper. Drummond has great hands (so does Monroe), which helps him generate steals, but he too often defends by reaching instead of sliding his feet. And he's still so young, learning the basics of NBA big-man defense.
It's going to be a long process, full of blow-bys and drive-and-kick 3s.
5. Kevin Love, Slipping Screens
Elite jump-shooting big men change the way defenses approach the pick-and-roll. Defenses often prefer having the big man defending the screener drop back toward the foul line to corral ball handlers down there.
But doing that against the Wolves carries a risk: Love can just set a screen, pop out behind the 3-point arc, and find himself with miles of space unless a third defender rotates to him. So, defenses change things up just for Love and his ilk by having those big-man defenders jump out hard, as Tim Duncan, normally hedge-phobic, does here: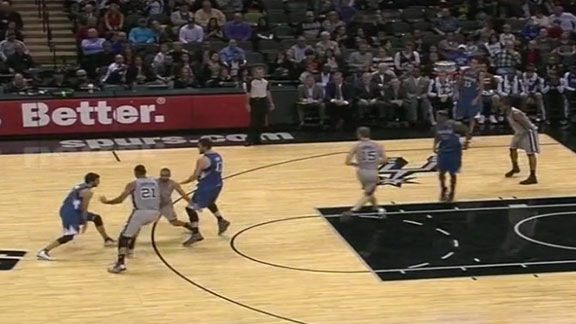 Playing it this way keeps Duncan closer to Love in case of a quick pick-and-pop. But Love has a solution he's employing more often now: just cut directly down the gut of the court. Think about it: If Love knows his guy is going to leap out like this at Ricky Rubio, then he also knows he can get himself wide open by cutting down toward the hoop just as Duncan jumps out toward midcourt. It's an artful little slip of the screen that either gets Love the ball in the paint or sucks in other defenders, leaving open guys elsewhere.
6. Jason Kidd's Beard
My first job out of college was teaching high school in New Jersey as a 21-year-old who had no clue what he was doing. I also looked like a teenager, and so I had to separate myself from the students as much as I could — including by wearing ties every damn day. God, I hated that.
Kidd is in the same in-between situation, which is why I opposed his decision to grow a scraggly beard early in the regular season. He looked like a 25-year-old on Day 6 of a vacation and/or a bender. He looked like Paul Pierce, with the kind of beard that comes only in splotches.
But lo and behold, the thing is filling out nicely now. I'm torn, but I'm still pro-shaving. It will increase Kidd's aura of authority and seriousness — until his next sideline stunt.
7. Jonas Valanciunas's Pump-Fake Paralysis
Jonas! Do something with the ball, my man!
A pump fake is supposed to be a weapon, and Dwane Casey has told me he wants Valanciunas taking the midrange jumper when he's open. But Valanciunas's pump fake is a nonthreatening and tentative move at this stage. He fools guys now and then, but defenders won't consistently take the bait until they believe he actually wants to shoot the damn thing. Too often, Valanciunas just fakes, and half-fakes, and fakes again, stalling the Raps' offense into a temporary paralysis. You're a good player, big fella! Be decisive!
8. Manu to Tony, Down the Gut
The Spurs have been doing this for a bazillion years, and they're still fooling people with it:
Tony Parker kicks the ball ahead to Manu Ginobili in the sideline and jogs casually down the gut — as if he's just going through the paces of San Antonio's early offense while Manu holds the ball. And then, boom: A sudden acceleration, a pass that leaves Ginobili's hand before that acceleration even starts, and a layup. These guys are wizards.
9. Players Accidentally Passing to Referees
I laugh every time. It's also on the (very short) list of things my wife finds amusing about the NBA.
10. Jeremy Evans, Actual NBA Player
Evans was basically a novelty over the first three seasons of his career — a human pogo stick who won dunk contests, slammed alley-oops in garbage time, and didn't quite have a natural NBA position.
But he's logging more than 20 minutes per game as the backup power forward next to Enes Kanter in Tyrone Corbin's rejiggered rotation, which has largely been a success. Starting Marvin Williams at power forward and shifting Derrick Favors to center has opened up the floor, and Trey Burke has been a stabilizing force with a nifty pull-up game. That new starting group has scored 107.4 points per 100 possessions in 139 minutes together, a mark that is tied with with Rockets for third in the league, behind Portland and Miami.
And it has turned Evans into a rotation player. He's shooting more often, rebounding better than ever, and flashing a usable midrange shot. Evans is 9-of-17 on jumpers from between 15 and 19 feet out this season after hitting just nine such shots combined over his first three seasons, per NBA.com Evans still gets lost on defense now and then, but it's nice to see him play real basketball.