There are so many things going on with the Pittsburgh Penguins right now that it's hard to even know where to start. Sidney Crosby is having another remarkable season, and somehow it almost seems like an afterthought. Chris Kunitz is nearly on pace to reach a career-high point total, and he's doing it in a lockout-shortened season. (These previous two sentences are possibly related.) Two All-Stars, Evgeni Malkin and Kris Letang, have been sidelined with injuries of late — and yet that hasn't stopped the Penguins from winning 13 straight games, tying the fifth-longest such streak in league history and one that leaves hockey fans having to explain to their confused friends, "Well, the Blackhawks' streak actually involved losses … "
And then there's Ray Shero. The Penguins general manager has been, at least outwardly, one of the busiest executives in the league leading up to the April 3 trade deadline. In less than 24 hours this weekend, he acquired Dallas Stars captain Brenden Morrow and San Jose Sharks defenseman Douglas Murray. And Wednesday night, following hours of speculation and even reports that Flames legend Jarome Iginla, long the subject of trade talk, would be headed to the Boston Bruins in a Reverse Ray Bourque, Shero stunned hockey-loving night owls when Calgary announced Iginla would actually be headed to Pittsburgh instead.1 (If you want to see how the madness unfolded in real time, here's a pretty great place to begin.)
For these three guys — two of them team captains and 2010 Olympians, albeit on the far side of that hill; the other an OK depth defenseman with a great nickname and some cool investments — the Penguins gave up zero roster players. It was an impressive haul, one that makes you wonder if Shero wasn't the guy behind One Red Paperclip back in the day. Phoenix Coyotes forward Paul Bissonnette, who was originally drafted by the Penguins, noted on Twitter that he was impressed. "Ray Shero was the kid in elementary school," he wrote, "that traded his apple at lunch to some other kid for their Dunkaroos, fruit snacks and Pringles."
Of course, these sorts of lunchroom transactions always go more smoothly when you're the cool kid, and the Penguins have that going for them right now. After Sharks GM Doug Wilson traded Murray for a pair of second-round picks this year and next, he said Murray had been "a warrior for our hockey club for the past eight seasons" and the destination "places Douglas in a quality situation which he deserves." (That'll kinda make you wonder next time he ships someone off to Colorado, no?) Morrow agreed to waive his no-trade clause and leave Dallas after 13 seasons because he considered Pittsburgh to be such a strong Cup contender. And Iginla reportedly ixnayed an almost-finished trade to the Boston Bruins (one that would have yielded a better package of prospects for the Flames than the eventual deal with the Penguins did)2 in favor of heading to the Steel City.
The Penguins were already an embarrassment of riches before all these transactions — when you've got the best player in the world AND the league's reigning MVP and they're two different guys, life is good — but now they're almost gaudy. (They now have seven players who were also 2010 Olympians, two of whom — Iginla and Crosby — connected for Canada's gold medal-winning overtime goal.)
But the biggest downside to having it all is that everyone else wants to take it all away. No team will enter the playoffs this season under more pressure than Pittsburgh; anything less than a Stanley Cup finals appearance, really, will be disappointing. Iginla and Morrow are not the players they once were, and Murray can't single-handedly fix Pittsburgh's shaky defensive corps — not that it would make any difference if the Penguins were to again have .834 goaltending from Marc-Andre Fleury, like they did in their playoff meltdown last season. (Even Bourque didn't win his Cup in Colorado right away.) Then there's the issue of putting the pieces together; as Justin Bourne points out, there's "not enough puck to go around." Pittsburgh coach Dan Bylsma has a month to figure things out, to try to fix things that weren't necessarily broken. Shero himself told Pierre LeBrun that nothing is certain. "All the stuff on paper seems nice, but it doesn't mean anything," he said. "Hockey is about chemistry and making it work. We have to go out and prove it."
Still, it's easy to see why Shero is going all-in. He set up the team well going into the season: Remember, at this very moment, we could be sitting here all distracted by what to do about Jordan Staal had Shero not tied up that loose end nicely at the NHL draft. And after two years of setbacks and doubt, Crosby is having an extraordinary year, the kind that is meriting comparisons to Wayne Gretzky, the kind that we all worried he might never have again. (It was only a year and a half ago that columnists were imploring Sid to retire, arguing that "his trophy case is full … his material needs are settled for a dozen lifetimes.") Gretzky, famously, recorded so many assists throughout his career that he would lead the NHL all time in points even if he had never scored a single goal. Crosby's been similar this season: His 39 assists alone would be good enough to put him at sixth in the league's point totals, even if he didn't also have 15 goals.
Then there's the uncertain future. Only two players on the team (Crosby and James Neal) are signed beyond the 2014-15 season. Malkin — who could conceivably command a cap hit of $10 million — and Letang are both unrestricted free agents after next year. So are Brooks Orpik, Matt Niskanen, and Kunitz (who was acquired by the Penguins in a 2009 trade that immediately preceded their Stanley Cup win). As the Penguins see it, now is the time to make a run, just in case.
I've barely even mentioned the 13-game winning streak — composed of outright wins, not losses-in-overtime-but-we-earned-a-point! wins — because, as I said, there's so much else going on. It's all happening! Not only have the Penguins, who face Winnipeg tonight, not lost a game in March, they've improved even over the course of the streak itself. The run began with a bonkers 7-6 overtime win in Montreal, which was followed by scores of 4-3 and 5-4 (twice). When they played the Habs again Tuesday, it was a far less chaotic 1-0 affair. (Crosby scored the lone goal.) If they can win their next four games, they'll tie the record of 17 straight wins, set during the 1992-93 season. The team that set it back then? The Penguins, obviously. Some guys get to have all the Dunkaroos.
Lighting the Lamp: The Week's Sickest Snipes
First and foremost, Chicago Blackhawks guest shooter Mr. T PITIES THE PUCK! You know what I pity? The poor, poor arches of the girl shooting before Mr. T takes his turn. Those shoes make the towering kicks on Milan Lucic's now-wife look like kitten heels.
Since the San Jose Sharks moved Brent Burns from defenseman to winger, he's scored four goals and added five assists in eight games, including this ripper in a 4-0 win against Anaheim on Wednesday night. Not too shabby. (PS: Ruh-roh, is this the Anaheim regression to the mean that all the statheads have been warning us about?)
And John Tavares scored the game-winning goal on a wicked one-timer to help the Islanders beat the Washington Capitals 3-2, a huge win that has kept New York's playoff hopes alive. To be honest, right now, it's not a team I'd want to face in the first round.
Piling on the Pylons: The Week's Worst Performers
Congratulations, Edmonton Oilers defenseman Mark Fistric, for making a decision so poor that a mere written description cannot do it justice. Let's go to the videotape to see just what happens when a drone cannot be reprogrammed.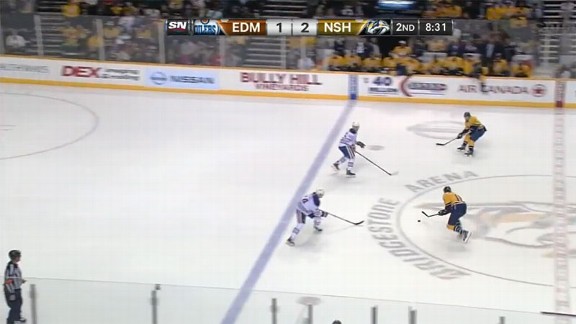 A two-on-two rush. Everything seems to be under control. Fistric is lined up on the Oilers' left side against the Predators' Chris Mueller, while Corey Potter is following Nashville's Brandon Yip as he carries the puck.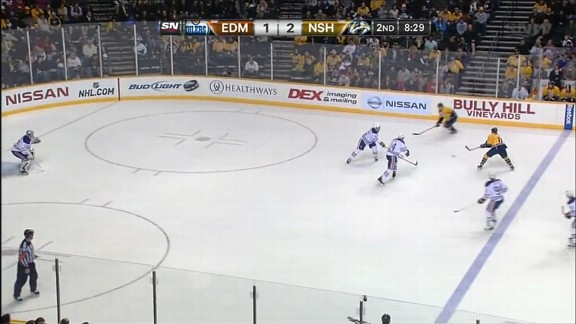 Yip passes to Mueller along the boards, and the Oilers are in OK shape. All Fistric needs to do is force Mueller outsi—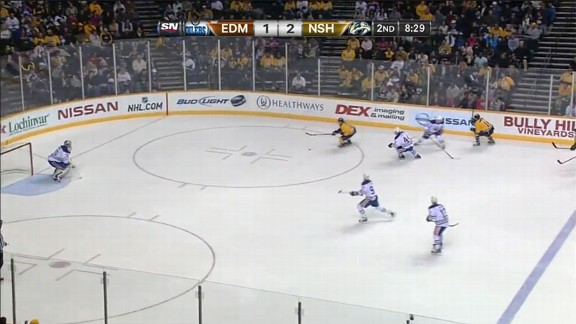 A runaway train. My dog near a bird. The ocean. Fate. A child spotting elevator buttons that have yet to be pressed. Magnets. Mark Fistric when he's hell-bent on destroying Brandon Yip. These are all forces that cannot be stopped. It matters not whether the bird flies away or if Yip passes the puck. There is only one direction. Onward. Forward. Ahead. This is going to be the check of Fistric's life.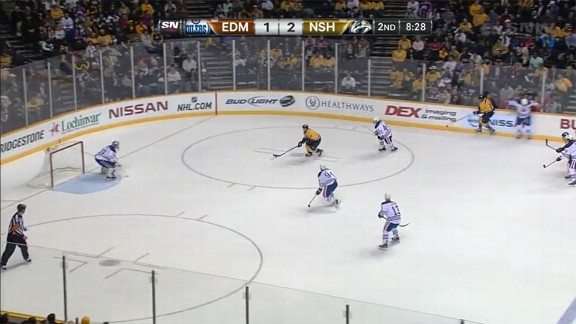 Fistric whiffs it. "Dear God, make me a bird, so I can fly far, far, far away from here."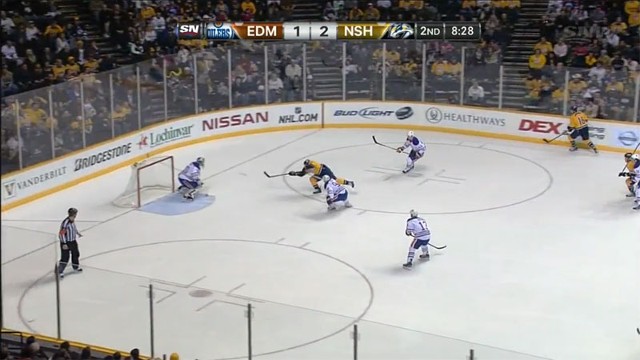 Chris Mueller, with one career goal, shoots …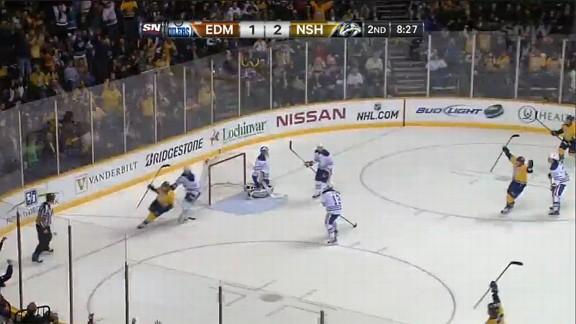 … Chris Mueller scores. Two career goals! Mark Fistric would be scratched in the Oilers' next game.
Taking It Coast-to-Coast: A Lap Around the League
• It's that time of year when undrafted college kids, their seasons at an end, are being pecked at wildly by the vultures in NHL front offices. After University of Nebraska-Omaha's Andrej Sustr signed with the Tampa Bay Lightning, much of the attention turned to Dan DeKeyser, a Western Michigan defenseman who has been courted by teams including the Nashville Predators (who likely pointed out their strong tradition of developing D), the Edmonton Oilers (who probably courted him by saying that he'd get plenty of chances to play), the Carolina Hurricanes ("If you play well, YOU can get $7 million a year from us, TOO!"), the Detroit Red Wings ("We're the Red Wings"), and the Calgary Flames. As for that last one, as Sam Page wrote: "The Flames pitch to DeKeyser is simple and persuasive: 'Congratulations, you're our new captain.'"
• Speaking of which, this is one of the most quietly devastating tweets I've ever received. It's not your fault, Flames fans. IT'S NOT YOUR FAULT.
• Just under two years removed from reaching Game 7 of the Eastern Conference finals, the Tampa Bay Lightning fired coach Guy Boucher this past weekend, a shame for anyone who enjoyed his unique brand of physical comedy. Rather than hiring Lindy Ruff, as many had expected, the Lightning opted to call up the gum-smacking (and former Long Island lacrosse-playing) Jon Cooper, beloved coach of the Syracuse Crunch, Tampa's AHL affiliate. Last season, Cooper led the Norfolk Admirals to a Calder Cup; at one point, his team won 28 straight games, a rather astounding figure when you remember that AHL rosters are often in flux. He'll coach his first game Friday against the New Jersey Devils, and he'll see some familiar backs of heads on the bench: Ten players on the current Lightning roster have played for Cooper this season. So don't expect him to Quit Winnin' to Get MacKinnon. "I was sitting there talking with Steve [Yzerman] and I asked him, 'Are you sure you want to do this?' Cooper said at a press conference this week. "And he said, 'I want to do this.' I said, 'Because if you do this, I'm really going to try to screw up your draft pick.'"
• Lost in the shuffle of Pittsburgh's win streak: The Minnesota Wild have won seven straight, including an overtime victory Wednesday night over the Phoenix Coyotes in which Ryan Suter scored with 55 seconds left to tie it and Mikko Koivu earned the game-winner.
• The best headline in hockey this week, by far: "Tyler Seguin admits it was his smelling salts, not coach's earpiece, that ruined fan's beer." Honestly, I have nothing to add to that.
• The Carolina Hurricanes signed Alexander Semin to a low-risk one-year, $7 million deal last summer in a decision that has turned out to be a success. But when it was announced this week that the team had re-signed him to a five-year deal worth $35 million, the price tag seemed steep, putting him in the company of players like Vincent Lecavalier, Brad Richards, Mikko Koivu, and Rick Nash. But this might be the new reality in the NHL: With limits on contract length in place, cap hits are bound to be higher than they were before. (The players who will suffer most are midlevel guys who can't command high prices; when the Canes placed Jussi Jokinen on waivers this week, zero teams bit, citing his $3 million price tag.) The flip side of this is that there are a handful of contracts that appear to be good bargains on productive players in their prime. Tavares, who scored 81 points last season and has earned 34 this year, is signed through 2018 (same term as Semin, who is 29) at a cap hit of $5.5 million. Seguin and Jeff Skinner, 21 and 20 years old, respectively, will each earn an average of $5.7 million and change until 2019. Evander Kane and Jamie Benn, each of whom hovered around the 60-point mark last season, are signed for an average annual value of $5.25 million, Benn until 2017 and Kane until 2018. (All numbers per CapGeek.com.)
• Ottawa Senators owner Eugene Melnyk is not going to rest until his crack team of "forensic doctors" proves that Matt Cooke intentionally severed Erik Karlsson's Achilles! (And that's not even the weirdest thing he said during his radio interview, which also included a discussion on African cage fights to the death. Just another day in the life of ol' Euge!)
• In acquiring Brenden Morrow from the Stars, Pittsburgh sent defensive prospect Joe Morrow (no relation), a 2011 first-round pick, to Dallas, which prompted Jesse Spector to take a look at all the trades in the last few years that involved recent first-rounders to see what became of them. (As he suspected, the majority never panned out.)
• Chris Collision retro–live blogs the 2010 intro video for the Alaska Nanooks, and it is glorious.
• The hottest trend in hockey is … Keystone Pipeline talk! First Darryl Sutter, in advance of the L.A. Kings' trip to the White House to celebrate their Stanley Cup, remarked that he was going to talk to Obama about the pipeline. (He ended up chatting with the prez about "hockey, family, and, naturally, Chicago" instead.) Then a clean-energy advocate hired a plane to fly over Boston trailed by this sign:
"STEVE LYNCH SAYS: 'GO HABS! AND GO CANADIAN DIRTY OIL!' "
That's kind of beautiful, actually, though not as beautiful as Politico's lead: "Both sides agree it's a penalty, but a billionaire opponent of the Keystone Pipeline is unlikely to spend anytime [sic] in the box." I love it when they talk hockey like that.
And a Beauty! The Week's Nicest in Net
This week we salute sliding, stretching saves. Like this one, from Marc-Andre Fleury:
Or Ondrej Pavelec absolutely stonewalling Jiri Tlusty:
Or, because we are cosmopolitan citizens of the world, this save by Russian goaltender Ilya Ezhov — in the playoffs, no less! I could watch that super slo-mo shot all day.
In other netminder news, Miikka Kiprusoff told the Flames that he would rather retire than be traded and now Mike Keenan is causing trouble; Roberto Luongo continues to be the very best; and Tuukka Rask gave up a shootout goal and is angry and (wait for the 50-second mark) you're NOT GONNA LIKE HIM WHEN HE'S … whoopsie daisies!
Chirping Like a Champ: The Best Mouthing Off
After it was announced that the Rangers had signed a prorated one-year deal with their on-again, off-again, on-again, off-again Norwegian boyfriend Mats Zuccarello,3 goalie Henrik Lundqvist couldn't help but welcome his new teammate back from the Shire: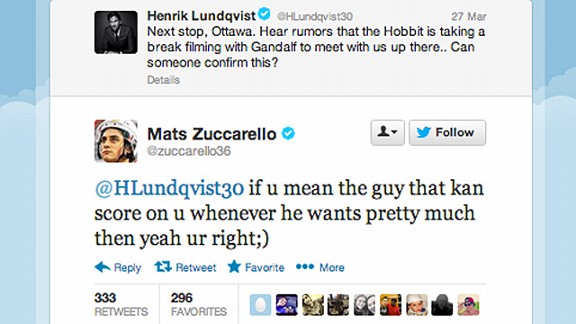 Zuccarello's comeback refers, ostensibly, to what happens when he practices his patented shootout move:
But leave it to Lundqvist to use fashion to make his point. In the photo he responded with — taken of the two Scandinavian sensations, and hashtagged #NorwegianHobbit — you can get a sense of just how tiny the 5-foot-7 Zuccarello is by the scale of the Polo pony on his shirt. It hasn't been enlarged or anything, honest.
Hockey Haiku
Shoot early on Bryz!
The Flyers are 0-and-12
Trailing after one.