Three hours before his third game in the majors, Yasiel Puig, the 22-year-old Cuban defector whose feats of superhuman strength have made him the talk of baseball, stood at his locker and answered questions from a small group of reporters. A pretty, impeccably dressed woman stood by his side — the interpreter assigned by the Dodgers PR staff to deal with all the new media requests for the Dodgers' new right fielder. Puig answered questions in Spanish and for the most part seemed to be enjoying the attention. At some point, a reporter asked Puig if he felt that Double-A ball had been beneath him. After hearing the translation, Puig closed his eyes, shook his head, and laughed. He was already learning to avoid questions. A few minutes later, after much ribbing from teammate Hanley Ramirez, Puig was asked if he enjoyed hitting leadoff. With a wry smile, Puig said, "I just want to go out there and play the game …" The rookie's boilerplate received high marks from Ramirez, who announced to the reporters, "There you go!"
Puig is a dead ringer for a young Floyd Patterson if he had decided to shave his Jheri curl down into a Mohawk. Like all great athletes, Puig's body almost looks like it has been spliced together from Olympian parts. If you ever stand next to Dwight Howard, you'll swear that he's just a skinny tall guy with a pair of Hulk shoulders stapled on. Puig, who stands about 6-foot-3, is broad, trim, and chiseled. He wears the baggiest pants this side of Manny Ramirez's muumuu, which conceal a pair of thick, powerful legs. But a lot of baseball players could be described in this way — I'm pretty sure some overcaffeinated Dodgers beat writer back in 1993 used the same words to describe Raul Mondesi. Puig's freakishness comes from his massive forearms, which look like they've been cut by a particularly optimistic German wood-carver. As Puig practiced his boilerplate with the reporters, I considered hiking up my pant leg to see if his forearms were bigger than my calves.
If all the body talk seems a bit weird, you should know that I drove down to Dodger Stadium just to take a look at Puig's physique. In just three days, Puig-mania (a better name, please. How about: "Yasiel Team 66?") has swept over Los Angeles, displacing all the usual talk about Kobe's ankle, Dwight's upcoming decision, the shitty Dodgers, the shittier Angels, and their unreal payrolls. As with so many things in this town, much of the talk about Puig has been about his body. Bo Jackson comparisons have been made, and having never seen Bo in person, I wanted to go see the man who has started off his major league career with three Superman moments.
The first, a laserlike throw from the warning track to double up Chris Denorfia of the Padres to end Monday night's game — that was impressive enough as far as physics are concerned, but Puig threw the ball with the approximate motion of a shortstop fielding a routine ground ball. There hasn't been a throw in baseball that has grabbed so much attention since Ichiro gunned down Terrence Long at third base in 2001. (There have been better throws, for sure, but not one that ushered in a new talent to the majors.) In the fifth inning of his second game, Puig swatted a 443-foot home run way back into the center-field seats at Dodger Stadium. What's more amazing is that when you review the tape, Puig doesn't even appear to be swinging all that hard. In the sixth inning, Puig chopped down at a pitch out of the strike zone. Most players who take that swing would be happy with a bloop single down the line, but the ball kept carrying and ended up in the bullpen. Three games into his major league career, Puig already looks like one of those rare ballplayers for whom the same, easy motion, whether throwing or swinging, produces an amplified, supercharged result.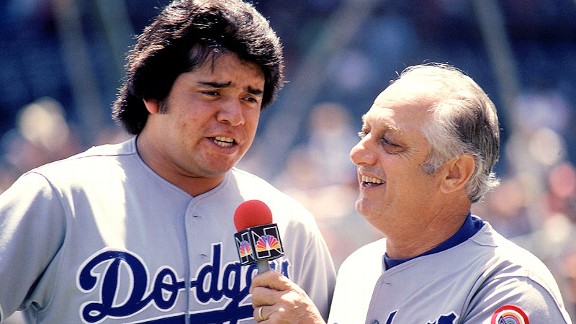 No franchise does rookies quite like the Dodgers. The traditional thinking explains this by saying there's nothing Hollywood loves more than a fresh, young face, but the vast majority of Dodgers fans aren't studio execs or industry wonks. Dodgers fans are a pluralistic tribe composed of dozens of Los Angeles's immigrant communities — I think it's something about the prospect of a kid, especially a foreign kid like Fernando Valenzuela or Hideo Nomo or Puig, arriving in Los Angeles to light the city on fire that must resonate deeply. Before Puig, the best story line for the 2013 Dodgers came from Hyun-Jin Ryu, who has turned every soju hole in L.A.'s Koreatown into a viewing party every time he takes the mound. There's no better setting for baseball's storied immigrant dream than Los Angeles, a city whose embedded history is all about its lack of an embedded history. If you're a player from Country X, chances are that a pocket of your countrymen live somewhere in Los Angeles. (One day, the next Steve Bedrosian will suit up for the Dodgers and all of Glendale will celebrate.)
For East Coast transplants like myself, the shiftlessness of life here in Los Angeles and the sheer mass of people requires a lengthy, oftentimes torturous adjustment period — there are times when the city seems like a chaotic morass of people who have been randomly selected against their will to sit together in traffic on the 405. You'll have to forgive my Puig-exuberance — after two years in Southern California, even the slightest hint of coherence has become reason for great celebration. I've found these moments mostly in Southern California's immigrant communities, and having lived now in Boston, Maine, North Carolina, Seattle, New York, San Francisco, and San Diego, my best argument for life in L.A. comes from those moments when you see the disparate parts of the city all moving together in one direction. The Dodgers have a history of generating these moments. It happened with Valenzuela and again with Nomo and Chan Ho Park. Yasiel Team 66, even after a mere three games (let's spare ourselves the requisite "SMALL SAMPLE SIZE" talk and just allow ourselves to get excited for once, please?), has a shot to excite the city in the same way. How could Los Angeles not love the hunk with the great name, the endless power, and the mysterious past?
Puig will struggle like he did last night, but he will give the fans at Chavez Ravine something they desperately need in what has been a truly awful season. I've always thought the best way to watch baseball is when you just key in on the one guy who might do something breathtaking during the game. Baseball rarely produces those sorts of players, but when they come along, they tend to take up all the air in the stadium. For better or worse, Puig will be the ongoing story line for these Dodgers as they enter the dog days of a disappointing summer.