The tagline for this week's Masters should be "Welcome back." That's a message both to Tiger Woods and to the legions of casual fans who are likely to tune into the tournament to see if Tiger Woods has really come out of the thickets of an infidelity crisis and two years of subpar play to be Tiger Woods again. Woods's win in the Arnold Palmer Invitational two weeks ago seems to represent more than just an impressive performance from a guy who was once the world's greatest golfer; the storyline for this week revolves around the idea that Woods is finally out of his two-year hangover and healthy and ready to launch into some terrifying stretch of golf that we'll all enjoy as lucky witnesses. Is Tiger really playing at a level that resembles the Tiger of old, though? And is there any precedent for a player making the sort of mid-career comeback on which Tiger might be about to embark?
To answer those questions, I brought data. You may remember an article from this very site last June that used a statistical concept known as Z-Score (or Standard Score) to compare Rory McIlroy's dominant performance in the U.S. Open to other great performances in Majors history. Z-Score works,1 in this context, by comparing a player's performance to the rest of the field (as opposed to par) before producing a figure that is inherently adjusted for the difficulty of the course, the time frame, the weather, and the players around him. Consider these final scoreboards from three made-up tournaments:
Which one of the three tournament winners put on the best performance? The victor in the Warm Classic has the lowest score of the three, but it came in a tournament where the next four people below him put up virtually identical figures. That suggests that he really didn't outperform the rest of the field. The winners in the Breezy Invitational and the Blustery Open each won their tournaments by four strokes, and the player who won the Invitational had a much prettier score, but look at what happened to the rest of the players toward the top of the leaderboard. The winner of the Blustery Open clearly outperformed the other players in his tournament to a far greater extent than the winner of the Breezy Invitational, but margin of victory would suggest that they were about as good. Z-Score compares the winner's performance to every player who finished the tournament, providing a much more accurate measure of how they actually played.
So with that refresher up, let's apply this to Tiger. I only had the majors to work with for our McIlroy study, but 10 months later, I've got the round-by-round results for the vast majority of tournaments played since 1970.2 That means I can eventually answer a lot of interesting questions that start with "What was the best" and end with "ever?," but today, we're going to use our data to plot out Woods's career performance and analyze where he's at in 2012.
Our database covers 246 tournaments for Tiger throughout his career, which differs from the official record because it doesn't include off-Tour events or tournaments that stray from the traditional four-round scoring system. I normally ignore the performance of players who don't make it through exactly 72 holes (or 72 holes with a playoff, the latter of which gets ignored) because including players who failed to make the cut creates too many concerns about the strength of competition (and the distribution of scores). The goal was to cover Tiger's fall accurately for this study, though, so I went ahead and included every tournament where Woods either failed to make the cut or withdrew before the tournament was over, generating a Z-Score for his performance after his last complete round to the scores of the other players at the time that round was completed. Those figures are noted by red squares in the chart below, while the events Tiger finished are denoted by blue triangles.
As it turns out, there have been five distinct stages in Tiger Woods's career, phases that don't necessarily match up with obvious landmarks in his accepted history. The chart below denotes every Woods performance in our database, ranging from a Z-Score of +2.31 (his 18-over-par performance at Bridgestone last August) to -4.12 (the 15-stroke win at the U.S. Open in 2000). Since a golfer aims to have a lower score than his competitors, a lower Z-Score is better, which is reflected on the chart.
Red=Missed Cut/Withdrew
Blue=Finished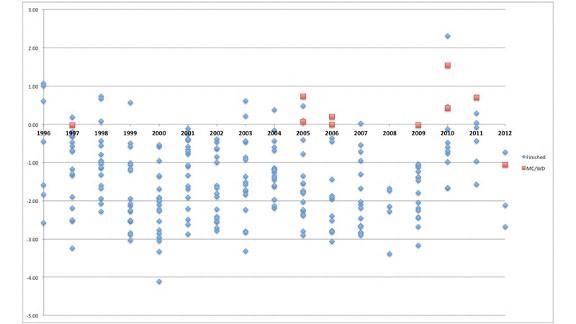 Phase 1: 1995-1998
Although Woods quickly became the world's most prominent golfer upon turning pro in August 1996, he was more hype than performance during his first two full seasons on tour. While his 1997 Masters win (which produced a Z-Score of -3.24, the fourth-best score produced on tour all year) was exhilarating, there were too many tournaments in 1997 and 1998 where Woods was merely a slightly above-average golfer. That produced a lot of finishes in the mid-twenties and Z-Scores between zero and -0.5. Woods had six such performances in 1997 alone and then just one during the two-year stretch to come, during which he was impossibly great.
Phase 2: 1999-2000
That's Tiger Woods going from being a good golfer to a transcendent one. Let's put these figures in some more context. Tiger's -1.96 Z-Score over this two-year stretch is better than any single season put up by any duffer over the 41 years of data we've gathered, and that's without even including missed cuts for everyone else. (Of course, Woods didn't miss a cut over this stretch and wouldn't miss one again until 2005.) I have data for 28 tournaments from 2011, and there were only 52 instances of a player putting up a Z-Score better than -1.96. Basically, Tiger's average performance would have been the third-best performance most weeks last year.
And when Tiger was better than average? Well, those of you who remember high school statistics probably can recall that a performance three standard deviations away from the mean would be considered an outlier.3 There were eight performances in 1999 and 2000 where a player produced a four-round performance that was more than three standard deviations below the mean, the sign of a truly stunning performance. Tiger Woods had four of them.
One of those performances was the now-legendary 15-stroke win at the U.S. Open in 2000, which still rates as Woods's best performance. In fact, with a Z-Score of -4.12, it rates as the second-best 72-hole performance by anybody in the past 42 years. The only player to ever produce a better Z-Score was Johnny Miller, who shot a 24-under-par 260 in the 1975 Phoenix Open when the average player who finished the tournament shot 1.6 strokes over par. Woods shot a 12-under-par 272 in the U.S. Open where the average player was 12.1 strokes over par. To beat Miller's Z-Score of -4.38, Woods would have needed to shoot 270, which would have produced a Z-Score of -4.46. You still might give Woods the benefit of the doubt for putting up his master class in a Major, but Miller's now-forgotten run in 1975 deserves some appreciation, too.
Phase 3: 2001-2004
Woods followed the two hottest years in Tour history with a four-year run that saw him retreat to the pasture of merely being the world's best golfer. There's not much shame in that — Woods led the tour in Z-Score in 2002 and 2003, was second to Davis Love III in 2001, and a relatively distant fourth in 2004 — but it was a clear step down from the unprecedented heights Woods enjoyed at the turn of the millennium. You get a good graphical representation of that from the chart: Woods was consistently above-average, with just three positive Z-Scores in 70 events, but he only had one three-deviation tournament across the entire four-year stretch, and spent most of 2004 wallowing in averageness. Outside of the Match Play championship (not included in this study), Tiger didn't win a single tournament that year, and he finished 17th or worse in three of the year's four majors.
Phase 4: 2005-2009
And then that happened. That's a five-year run where Woods was the best golfer in the world, by a decent margin, in each of the five years. Woods wasn't quite as consistent of a golfer as he was during his previous stretch, either missing the cut at or withdrawing from five tournaments while producing a few more below-average performances, but he was frequently more brilliant despite suffering through repeated knee issues. What's really interesting here is the statistical indication of how well he recovered from the surgery to repair his ACL and tibia following the 2008 U.S. Open. He basically came back in 2009 and was the same golfer he had been from 2005 to 2007. That suggests that his knee wasn't the reason for Woods's downfall in 2010 and 2011.
For fun: Woods had an average Z-Score of -2.24 in his abbreviated 2008 run. Historically, a player shooting that well would win about 40 percent of the tournaments he entered.
Phase 5: 2010-2011
After five years where he was clearly the best golfer on earth, Tiger Woods admitted to his infidelity and suddenly became Carl Pettersson. Oh, you haven't heard of Carl Pettersson? You don't say.
The scary thing, though, is that Woods really wasn't that bad. He didn't play many tournaments, and of the 19 he did enter, he was downright awful in exactly two of them, both of which came in 2010. His average Z-Score in the other 17 tournaments was -0.48, which compares far more favorably to the inconsistent guy Woods was at the beginning of his career. If these past two years were really the worst Tiger Woods we'll ever see, it's not all that bad.
Now, in 2012? I don't know what's happened. Maybe Tiger's angry that Drake didn't shout "You weren't with me putting on the green!" (Sorry.) But in four tournaments so far this year, we've seen two above-average performances from Tiger Woods (one of which was only for three rounds before a withdrawal) and two exceptional ones. Notably, he's finished with Z-Scores two standard deviations below the mean twice in four events, the first time he's pulled off such a performance since … 2009. His win at the Arnold Palmer Invitational (-2.61 Z-Score) wouldn't have stuck out as anything incredible three years ago, but it would have been among his best performances during any single year and is better than the best tournament most professional golfers have ever put together. It's safe to say that Tiger Woods is really back.
And, finally, is there a precedent for a player undergoing a similar rough patch to Tiger Woods's before seeing his game enjoy a dramatic uptick afterward? In fact, there is. Ben Crenshaw had established a steady run as one of the game's top players during the early '80s before being diagnosed with Graves' disease and going through a divorce in late 1984. Crenshaw had produced a Z-Score between -0.70 and -1.20 for five out of six years before 1985, but he then went through the wilderness for two years, yielding Z-Scores above zero while playing a limited schedule. After those two years, Crenshaw came back with a tour-best -1.22 Z-Score in 1987, which served as a predecessor to several more years of impressive play. That year, Crenshaw could only muster a fourth-place finish in the Masters. It's safe to say Tiger Woods will be setting his sights higher than fourth this weekend.