Only seven years ago, I started a basketball column headlined "The worst conference in history" with this line: "You couldn't even call the Eastern Conference an apocalypse — it's more like a poopocalypse." Eleven Eastern teams had already fallen at least two games under .500. The five Atlantic Division teams were a combined 25-46. An expensive Knicks team was somehow just one game out of a playoff spot. Are you getting a little déjà vu?
So if you're looking for silver linings for the Eastern Conference in 2014, know that things didn't turn out THAT bad in 2007. All three division winners won at least 44 games. Seven teams finished .500 or better; three won 49 games or more. Only two teams won fewer than 30 games: the 28-win Bucks (rewarded with Yi Jianlian) and the 24-win Celtics (rewarded with The Pick That Didn't Become Durant Or Oden, as well as my all-time rock-bottom Celtics column).
That's what happens when 15 flawed teams spend 60 percent of the time playing each other. SOMEBODY HAS TO WIN. Those artificially inflated win totals end up obscuring real problems. You know, like the East placing zero players on 2007's All-NBA first team.1 Like Isiah's Knicks somehow winning 33 games behind the Un-Big Three: Eddy Curry, Stephon Marbury and Steve Francis. Like five "marquee" Eastern stars (Shaq, Kidd, Iverson, Marbury and Ben Wallace) showing real signs of decline. Like the post-melee Pacers missing the playoffs while nearly driving away their already-scarred fan base (and no, Stephen Jackson's shooting-a-gun-in-the-air-during-a-strip-club-hit-and-run incident didn't help). Like the Raptors somehow winning 47 games with Anthony Parker, T.J. Ford and Jorge Garbajosa playing big minutes. Like the Cavaliers becoming our most overmatched NBA Finals team since the '71 Bullets.
The biggest difference this season: The 2014 Pacers and Heat are much better than anyone from 2007. They're headed for 60-plus wins and an epic Round 3 showdown. So, for this year's Eastern Conference to reach "Poopocalypse II: Bigger and Badder" proportions, everyone else needs to lead us to that historical sewer. Right now, we have 13 teams treading water (Atlanta, Charlotte, Washington, Detroit), self-combusting (New York, Cleveland), reeling/grieving (Chicago), playing an "are we competing or tanking?" waiting game (Boston, Toronto, Orlando, Philly), begrudgingly tanking just from sheer incompetence (Milwaukee), or treating their fans to basketball S&M (Brooklyn). The combined records of those 13 teams? An astonishing 89-150.
How much self-sabotage can we expect as the jockeying begins for Ping-Pong balls in next June's ridiculously loaded lottery? Which mediocre team will make an improbable run at 48 wins? Which egregiously messed-up New York franchise will ultimately rally to win the Shatlantic? Will Danny Ainge have to kidnap Brad Stevens in March to avoid going .500? Who will find Lawrence Frank's body, and where will they find it? We'll save Miami and Indiana for another column. Let's rank everyone else from "Most likely to get a no. 3 seed" to "Most likely to finish last in the East while possibly making Dr. James Naismith do 360s in his grave."
3. ATLANTA HAWKS, 10-10
The Good News: No more Joe Johnson, no more Josh Smith. Why? Because Danny Ferry followed his Atrocious GM–worthy Cleveland stint by redeeming himself Belichick-style in Atlanta. He allowed Smith to leave, then signed Paul Millsap (two years, $19 million) and re-signed Jeff Teague (four years, $32 million) for less than Smith's Detroit deal ($54 million). He convinced Nets GM Billy King to take Joe Johnson's aggressively horrific contract while allowing Atlanta to swap first-rounders with them in 2014 and 2015. (Read that last sentence again.) He re-signed Kyle Korver, who's currently hotter than the equator. He drafted promising young point guard Dennis Schroeder, a.k.a. The German Rajon Rondo.2 And he left himself with in-season flexibility — the Hawks have tradable pieces (if they want to tank) and tradable assets (if they want to contend). Kudos to Danny.
(And yes, I'm overpraising a GM because so many other GMs will take a beating in this column. You've been warned.)
The Bad News: Brooklyn's disastrous start complicates Atlanta's to-tank-or-not-to-tank strategy. Now what? With Teague blossoming into a genuine asset, the Hawks could easily grab a no. 3 seed with one more move: just package their two expirings ($5.5 million of Elton Brand and Gustavo Ayon) with future goodies, then pursue one more perimeter guy like Thaddeus Young, Jeff Green or maybe even Arron Afflalo. But what if Brooklyn turns it around and both teams make the playoffs? Can Atlanta risk missing out on a 2014 lottery pick?
(Thinking.)
You're right — there's no way Brooklyn turns this thing around. Jason Kidd looks so lifeless on the bench, he should have replaced Lawrence Frank with Andrew McCarthy and Jonathan Silverman. Go for the no. 3 seed, Atlanta.
Random Thought: I love Kyle Korver's shot chart …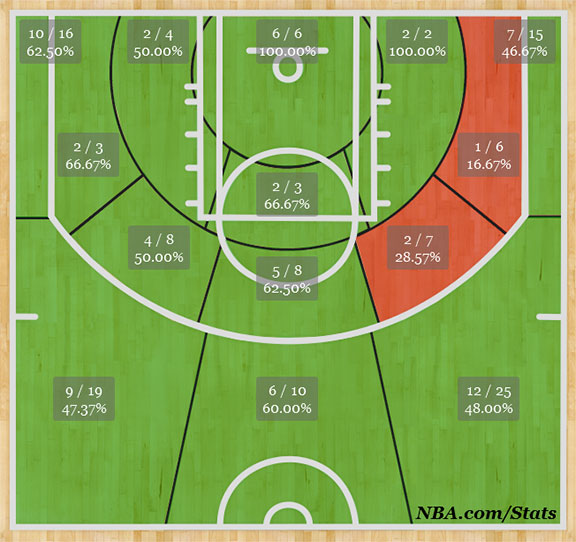 … especially when you compare it to Josh Smith's shot chart.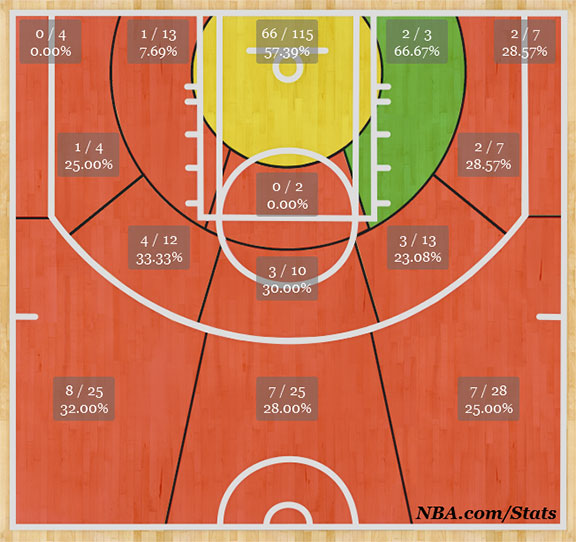 SportVU Revelation: If you're not checking out NBA.com's SportVU numbers, you're missing out on NBA nerdvana. For instance, I mentioned Teague's mini-leap this season: 16.8 PPG, 8.0 APG and 17.96 PER, although he's in a 3-point-shooting slump (just 26 percent). Well, you know what happens if we cover every NBA court with cameras to measure everything an NBA player does? We find out things like "only five players average nine-plus drives per game" and "one of those five guys is Jeff Teague."3 Where has this stuff been my whole life? I wish SportVU covered The Walking Dead.
Most Interesting Subplot: Atlanta's two best players (Al Horford and Paul Millsap) earn a combined $21.5 million, nearly the same number that Brooklyn pays Joe Johnson ($21.47 million). Next year, the Horford-Millsap salaries stay the same while Johnson leapfrogs them ($23.18 million). Oh, and Brooklyn owes him $24.89 million for the 2015-16 season. Here's my question: Could Billy King win Executive of the Year for saving the Hawks, Blazers AND Celtics?4 How many GMs have rebuilt three teams that weren't their own? I mean, other than Isiah Thomas?
Worst-Case Scenario: Atlanta goes all-in for a high seed, then Jason Kidd mysteriously disappears during an All-Star Weekend ski trip with Mikhail Prokhorov and is replaced by George Karl … who, of course, gets Brooklyn into the playoffs.
Prognosis: I can't see the Hawks avoiding 47 wins without framing Horford and/or Millsap for a crime. Sorry, Danny. You did too good of a job. Repeat: They get to swap picks with Brooklyn in 2014 and 2015. Amazing. I wish I could trade Billy King my three-year-old 60-inch plasma for a $29,000 credit from Best Buy and the right to swap TVs with him every year through 2016.
4. DETROIT PISTONS, 9-10
The Good News: Andre Drummond! Andre Drummond!!! ANDRE DRUMMOND! SWEET JESUS, ANDRE DRUMMOND!!!!!!!
More Good News: ANDRE DRUMMOND!!!!!!!!!!!!!!!!!!!!!!! Xhndndhgdhfdhjrtrhghvrh!!!!!!!!!!!! Pghrjpwlfkisjdmejfnjppplfejhfjrj!!!!!!!!!!!!!!!!!!!!
The Bad News: The concept of Drummond, Greg Monroe and Josh Smith starting together seemed cool until we watched Josh play the "3." You know what happens when you put Josh 20 feet from the basket? He says to himself, "Hey, I'm open!" It's like leaving your kids unattended around Halloween candy. There's just no upside. And since they can't trade Josh's $54 million deal, and they're definitely not trading Drummond … well …
Most Interesting Subplot: ESPN.com's Trade Machine sent me an automated message three days ago: "You're not allowed to run Greg Monroe's name through here anymore. I'm starting to think you're a psycho." You know what makes every fake Monroe trade particularly juicy? With $17 million of expirings (who knew those ridiculous overpays of Charlie Villanueva and Rodney Stuckey would pay off someday????), Detroit makes practically any fake trade work. Let's just move on before you think I'm weird. Too late? Dammit. Hold this thought.
SportVU Revelation: On Thursday morning, I clicked on Josh's SportVU shot chart page with the same level of excitement that deviant 14-year-olds would have if some Internet thief posted stolen naked photos from Jennifer Lawrence's cell phone. What did we learn? So far, Josh has made 13 of 46 "long 2s" and 24 of 89 3-pointers … which means he's made 37 of 135 shots from more than 15 feet (about 27 percent). Keep in mind, ALL OF THESE SHOTS ARE WIDE OPEN BECAUSE NOTHING MAKES AN NBA OPPONENT HAPPIER THAN THE SIGHT OF JOSH SMITH SHOOTING FROM 15 FEET OR MORE. And you know what else? I can't totally blame Josh here. He's playing out of position and teams leave him open. It's like a Jedi mind trick. That's why "Greg Monroe and Charlie Villanueva's expiring for Thaddeus Young and Lavoy Allen's expiring" is my favorite fake trade right now. Drummond, Josh and Thaddeus? Now we're talking!5
Random Thought: As the self-proclaimed Body Language Doctor, I was obviously excited for a moody lefty with poor shot selection who occasionally clashes with his teammates (Smith) to join forces with a moody lefty with poor shot selection who occasionally clashes with his teammates (Brandon Jennings). But it's been rockier than even the Body Language Doctor expected. Mo Cheeks has that "mom with three young kids who just had too much sugar" look on his face at all times. If you started a 12-man "Which Two Teammates Would Have To Be Separated In The Huddle" fantasy draft, and the entire first round were taken up by "Boogie Cousins vs. (fill in 12 consecutive teammates)," then the first pick of the second round would be either "Josh vs. Jennings" or "Kyrie vs. Dion."
Worst-Case Scenario: You know what? I'm thinking only happy thoughts with Detroit right now. It hit the jackpot with Drummond. Repeat: THE JACKPOT.
Prognosis: Forty-four wins if they don't flip Monroe; 47-49 wins if they flip Monroe for a quality perimeter guy. The good news: This probably saves Joe Dumars's job. The bad news: This probably saves Joe Dumars's job.
5. WASHINGTON PROFESSIONAL BASKETBALL TEAM, 9-9
The Good News: Let's see … John Wall has resembled someone who deserved an $80 million extension at least six different nights already. Nene and Marcin Gortat are playing hard; we've even seen sweat beads form on Nene's head. Their overpriced perimeter guys (Martell Webster and Trevor Ariza) have played like fairly priced perimeter guys. Bradley Beal looked good before going out with a fibula (h/t Al Michaels). Former lottery pick Jan Vesely reinvented himself as an energy defender off the bench, surging ahead of Nikoloz Tskitishvili and Jonny Flynn on the all-time Top-Six Lottery Pick rankings. Best of all, Washington PBT has a little swagger this season — they're leading the league in shoving matches, near-brawls, F-bombs and stare-downs. I like the way these guys carry themselves. So what if I once wrote those last two sentences about the 2004-05 Pacers?
The Bad News: I don't like the words "reaggravated" in any form, so Beal's leg injury scared me. And Wall's lavish contract extension frightens me to the point of sleeping with the lights on. Eighty million guaranteed off 21 good games?6
Random Thought: Did you know Nene isn't one of the top-50 rebounders right now? Or that Lance Stephenson and Evan Turner average more rebounds than him? One of the All-Star Weekend events should be a rebounding "competition" called "Brick House" with Nene, Brook Lopez, Andrea Bargnani and Chris Bosh — two at a time, head-to-head, as they have two minutes to grab as many missed 22-footers from Rudy Gay and DeMar DeRozan as possible.
SportVU Revelation: We're cheating — I'm using a shot chart stat here. But advanced metrics hate any offense built around players unapologetically missing "long 2s," a.k.a. Gay-DeRozan syndrome. Through Tuesday's games, only two NBA teams placed two teammates in the top 10 for "most attempted long 2s" (anything between 15 and 19 feet): Toronto (Gay and DeRozan) and Washington (Beal and Wall). Beal had the lowest percentage of anyone in the top 50 (31.3 percent); Wall was second-lowest (33.3 percent). Jeez, even Gay (38.4 percent) and DeRozan (36.1 percent) are better than that — and they have a shooting syndrome named after them. Shoot 3s or go to the rim, young WPBTs. Trust the math. Avoid GDR syndrome. Here, check out this special Kirk Goldsberry chart if you don't believe me.
Most Interesting Subplot: I hated the Washington PBT trading a top-12 protected lottery pick for Gortat for four reasons: (a) my two Washington friends (Grantland's Andrew Sharp and my buddy House) justified the deal by saying, "Look, I don't care about the future; we'll just screw up the future anyway" (never a good sign); (b) the success rate of panic trades by GMs who will get fired unless the panic trade miraculously works out isn't high (see: Bryan Colangelo, Rudy Gay); (c) either Gortat will ditch them for free agency or they'll overpay to keep him, but either way, it's going to work out horribly; and (d) they could absolutely win 44 games and save Ernie Grunfeld's job (reminder: He's the guy who got them into this mess). At the same time, it's hard to tell the team that just whiffed on Jan Vesely and may have whiffed on Otto Porter, "You guys need to keep rebuilding through the draft!" So I get it. Just take a deep breath before you read the next paragraph.
Worst-Case Scenario: The Washington PBT finishes ninth in the East and gives Phoenix the no. 13 pick in the most loaded draft in 29 years, followed by them extending Grunfeld's deal and overpaying Gortat. Would anything be more Washingtonish than that?
Prognosis: Something like 43 wins and a no. 5 seed. Since the Washington PBT has missed the playoffs in 20 of the last 25 seasons, would you like to halfheartedly sing along to an acoustic version of Kool & the Gang's Celebrate with me? Let's kinda sorta maybe do this!
6. CHICAGO BULLS, 8-9
The Good News: Yesterday, Derrick Rose vowed to come back 100 percent and even left the door open for a 2014 playoffs appearance. Hey, Bulls fans, did you hear that? Step away from the gas pipe. STEP AWAY.
The Bad News: Actual emails I received in the past three weeks …
Foster in Charlottesville, Virginia: "Is it more than a coincidence that Derrick Rose's injury happened in Portland? Have the Trail Blazers finally removed their injury curse by placing it on Rose and the Bulls?"
Taylor in St. Louis: "If Derrick Rose turns out to be the second coming of Penny Hardaway after this injury, then I'm completely devastated."
Dan in Overland Park: "I had a thought that, as a Chicago fan scares the crap out of me: Is Derrick Rose the next Bill Walton?"
Andy Hogan in New Haven: "Genuine question: is Chicago cursed? If so, would you call it 'The Curse of Jerry Krause' or 'The Curse of Jay Williams?'"
Random Thought: OK, let's say Rose doesn't make it back this spring. It's premature to wonder if 30 squandered months of Rose (including three postseasons) cracks the short list of all-time NBA injury tragedies. Remember, Bill Walton, Penny Hardaway, Greg Oden, Ralph Sampson, Elgin Baylor, Bernard King, Gus Johnson, Yao Ming … those guys either got wiped out or had their careers irrevocably altered. Rose might be fine next season, and we might be remembering this 2012-14 stretch as an exceptionally unfortunate career hiccup. But there's no track record of a superstar missing that much time, then magically morphing back into himself again. Jordan disappeared the longest (20 months), only he wasn't recovering from a major injury — just a gambling suspension. Er, a baseball sabbatical. But you saw how rusty Rose looked last month; now we might add another year of rust? Yikes. Even factoring in today's medical advances, you hate betting on anything when the words "never been done before" are involved. The whole thing sucks. I hate it.
SportVU Revelation: Here's everything you ever wanted to know about the 2013-14 Bulls season — Kirk Hinrich ranks 10th in the NBA right now for "time of possession." He has the ball in his hands for 6.2 minutes per game. I emailed this stat to Grantland's Robert Mays (a Bulls fan), who grimly responded, "By April, 'The Most Depressing Stats About This Chicago Bulls Season' should be an incredible list."
Most Interesting Subplot: You mean, other than the simmering feud between Tom Thibodeau and Chicago's front office that's heading for Thibs bolting by "mutual agreement" after the season? The Bulls are 2014's most fascinating fork-in-the-road team. They have Luol Deng's expiring contract (he's been terrific lately), the rights to Charlotte's protected no. 1 pick (only top-10 protected this year, so they might get into the lottery for The Greatest Draft In 29 Years), their own no. 1 pick, and the rights to overseas stud Nikola Mirotic (who's been drawing raves lately). And Rose might come back sooner than later. So what do you do?
Strategy A: Dangle Deng to cripple this year's team (for lottery purposes) and/or shed Carlos Boozer's deal (expiring next season). Something like "Deng and Boozer to Detroit for Greg Monroe and the Villanueva-Stuckey expirings," "Deng and Boozer to Boston for Jeff Green and the Kris Humphries–Keith Bogans expirings," or maybe even just "Deng to Denver for the still-healing Danilo Gallinari and Evan Fournier."
Strategy B: Deal Deng for multiple players who could help right now — something like "Deng to Houston for Omer Asik and Jeremy Lin"7 or "Deng and Marquis Teague to Cleveland for Dion Waiters and Anderson Varejao."8
Strategy C: Tread water and hope Rose returns before the playoffs.
(My advice? Strategy C — especially with the way Deng is playing right now. Don't panic-trade Deng, have faith in the overall putridity of the East, hope Rose comes back, and make sure you don't fall lower than the no. 6 seed so you can avoid Miami or Indiana in Round 1. That's the play.)
Worst-Case Scenario: We've already arrived. Losing two years of Rose???? At least? I want to yell at the Hoop Gods like I yell at my dog Rufus after he eats something off the counter. BAD HOOP GODS! BAD! YOU ARE BAD!!!!
Prognosis: Thibs ain't coaching a lottery team. No way. He'll stay up 27 hours a day to get them to 42-43 wins. And if Rose comes back sooner than later … I mean …
7. BOSTON CELTICS, 8-12
The Good News: Brad Stevens is an extraordinary coach. Repeat: extraordinary. This Celtics team is overmatched from a talent standpoint nearly every night, but they're always better prepared, they're always playing hard, and they're always getting eight points per game off out-of-bounds plays just because their coach is wicked smaht. It's like when Pitino took over the Celtics, only the exact opposite. I'm saving my extended thoughts for a future column here. Just know that I love Brad Stevens and would absolutely donate a kidney to him. Anyone who can turn Jordan Crawford into a competent point guard has to be a Coach of the Year candidate.
The Bad News: Brad Stevens is an extraordinary coach.
(In other words, so long, Jabari Parker. Farewell, Julius Randle. See you in the next life, Andrew Wiggins. G'day, Dante Exum. Bye-bye, Joel Embiid. Take care, Marcus Smart.)
Random Thought: I happened to be doing live TV when the Brooklyn trade happened. Instinctively, I hated it. I didn't want three years and $30 million of Gerald Wallace. I wanted Garnett and Pierce to retire in Boston. I didn't care about picking three more times at the end of the first round. I didn't want to rebuild for the fourth time in my lifetime. I hated the trade.
And then … the details started trickling out. Three unprotected first-rounders in 2014, 2016 and 2018? The right to swap picks in 2017? Good lord! Even the biggest Pierce fan (and I'm up there) couldn't hate this deal.
And now … it's December and I'm starting to wonder if this is the greatest Celtics trade since Joe Barely Cares for McHale and Parish. (Yes, I know Atlanta has first dibs on this year's Brooklyn pick — Boston would get Atlanta's pick.) It's like the Celtics shorted a stock two days before it crashed. If Pierce and Garnett weren't involved, I'd be much more euphoric about this. Seeing them trapped on the Netstanic has been tough. When Bargnani got thrown out for trash-talking KG last night, part of me wanted KG to chase him into the tunnel, beat the living hell out of him, then punch a security guard to ensure that he'd get suspended for the entire season. Maybe there's still time.
SportVU Revelation: Jordan Crawford ranks 17th in "total touches." In the entire league. Only 16 players have touched a basketball more times than Jordan Crawford did. This would have been the strangest Crawford-related fact of the season if someone hadn't made a YouTube video of great Crawford moments with Tupac's "Picture Me Rollin'" as background music.9
Most Interesting Subplot: Boston's brain trust genuinely believe that Rondo has bought into the Stevens magic. They've also maintained — both internally and externally — that they wouldn't deal Rondo without getting back a blue-chipper. But if you're the 27-year-old Rondo, you're coming off major knee surgery, you're hitting free agency in 19 months, and you watched your team coldly trade your closest teammate (Kendrick Perkins), repeatedly try to trade one of the best shooters ever (Ray Allen), then deal one of the best Celtics ever (Paul Pierce) and one of the best power forwards ever (Kevin Garnett) last summer … I mean, wouldn't you have your guard up?
Rondo makes only $12 million this year and $13 million next year — that's chump change in today's market. From what I've heard, he wants a max extension and wants to compete now (and not later). What if Rondo gave the Celtics the following ultimatum? "I want to go to a contender or I'm not playing this season … and also, I'm out of here in 2015." Would they call his bluff and just say, "No, you're under contract, we are NOT trading you"? Would it turn into a staring contest? Would they have to start shopping him? If he doesn't start practicing soon, then something is up and he wants out. Clairvoyant Bill has a disturbingly bad feeling about this one. Can't explain it. Speaking of Clairvoyant Bill …
Worst-Case Scenario: See above. Who the hell wants 45 cents on the dollar for the guy who nearly out-alpha-dogged LeBron and Wade in the 2012 playoffs? Thanks but no thanks.
Weirdest Omen That Didn't Become an Omen Yet: A New York reader named Kevin writes, "So I was watching you preview the Celtics when my wife called me over to the kitchen to help set the table. I paused the video, and when I came back, it was paused at the exact moment when the Clairvoyant Bill graphic started disintegrating, making you look like Bizarro Bill. Seemed strangely appropriate for the Celtics' season that you're disintegrating, too. Here's what it looked like."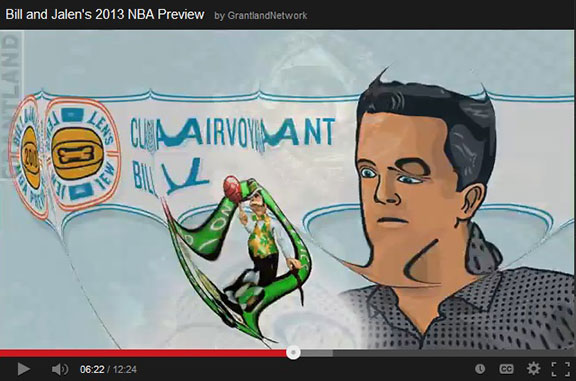 Prognosis: As soon as the Knicks and/or Nets get healthy and start making a run in the Shatlantic, I could see the Celtics shelving Rondo for the season, making a self-sabotage trade and careering toward the lottery. I could also see Stevens single-handedly foiling those plans by going Norm Dale circa 1952 on us, whether Rondo is part of it or not. In other words, I don't know. I'm glad I'm here.
8. ORLANDO MAGIC, 6-12
The Good News: Would the Rockets trade Dwight Howard for Arron Afflalo, Nik Vucevic, Mo Harkless and three no. 1s? Probably not … but they'd definitely have a four-hour meeting about it. That makes Orlando the first NBA team ever to successfully trade a superstar for 100 cents on the dollar.10 Kudos to Magic GM Rob Hennigan for making history while salvaging an ugly situation. You can absolutely build around Afflalo, Vucevic, Victor Oladipo, Tobias Harris, Andrew Nicholson, Harkless and two 2014 first-rounders. Oh, and they're $16 million under the cap next summer. Who wants to go to Disney World???
The Bad News: Ideally, the Magic would have submitted one more gawd-awful season, landed in the lottery's top five, drafted Marcus Smart and completed their post-Howard rebuild. But they've been a little too competent. Who knew a rejuvenated Big Baby Davis would be lighter than he's been since the eighth grade, or that Afflalo would become a top-five 2-guard (totally true, by the way)? My advice: Figure out how to plant a locker-room staph infection, and figure it out fast.
Random Thought: By my calculations, the Magic are paying Gilbert Arenas, Hedo Turkoglu and Al Harrington somewhere between $18 million and $20 million to NOT play for them this season. And yet you'd still rather have those three guys than Amar'e Stoudemire. Sorry, I had to.
Most Interesting Subplot: I mentioned that Afflalo has become a top-five 2-guard, followed by you making a face and saying, "Typical Simmons, what an ass." Know this: Afflalo leads all 2-guards in PER (21.46); he's first in Estimated Wins Added (3.6); he's third in PPG (22.6); he's sixth in 3-point percentage (46.3 percent), seventh in FT percentage (85.4 percent) and sixth in FG percentage (48.8 percent); and he's an excellent defensive player. With James Harden taking the season off defensively (hey, James, you're not a DH), and Dwyane Wade taking days off left and right like he's the retiring CEO of a successful company or something, Afflalo is the league's most reliable 2-guard right now. He's also one of the league's best bargains at $7.5 million per year, making him the single best commodity on the trade market right now. It's true.
SportVU Revelation: Vucevic averages 10.9 rebounds per game, but 7.5 of them are uncontested. That makes Vucevic's "contested rebound percentage" 31.0 percent — much lower than Drummond (42.2 percent) and Tristan Thompson (43.2 percent), higher than Dwight Howard (30.7 percent) and just behind Boogie Cousins (32.4 percent). Is this a fancy way of saying that Howard, Vucevic and Boogie get too many cheap rebounds? I say yes!
Worst-Case Scenario: Doesn't exist. They're in the best shape of any Eastern team not named Indy or Miami — they have cost-effective assets, draft picks and cap space. Part of me wants to pull a Tom Ripley on Hennigan and take his job. I'm only half-kidding.
Prognosis: They'll fade after the All-Star break because of injuries, fake injuries, self-sabotage trades and erratic substitution patterns. I have them happily missing the playoffs. Well done all the way around, Orlando.
9. NEW YORK KNICKS, 4-13
The Good News: You can justify these last four weeks by saying, "The one guy we couldn't lose was Tyson Chandler."
The Bad News: Literally everything else. Let's see …
• They don't have their first-round pick. (Denver does.)11
• It's the most dysfunctional franchise in American professional sports. James Dolan could bring back Isiah as coach/GM tomorrow and nobody would blink. Seriously, what could Dolan do to shock people at this point? If he fired everybody, then made Whoopi Goldberg his new coach and Toronto mayor Rob Ford his new GM, maybe you'd be surprised, but you wouldn't be SHOCKED, right?12
• They need to fix their roster, but unfortunately, the Knicks have more leaks than Redford's boat in All Is Lost, and those "leaks" rarely provide accurate information (as the bogus Iman Shumpert–Kenneth Faried "negotiations" proved). You know what that leaking does? Makes the other 29 teams wary of talking trades with them. That hasn't stopped poor Shumpert from being fake-traded 230 times already, probably because they've been offering him around like he's a Yankee Swap gift. Like this is his fault. If there's ANYONE you don't want to trade from the 2013-14 Knicks, it's their one young perimeter player who can play defense and run the floor. Are you kidding me? How dumb are they?
• That reminds me: If this were a TV drama, the showrunner would be telling his writers to kill off J.R. Smith because "the character just isn't working anymore."
• Raymond Felton has been absolutely abysmal — there aren't three worse starting point guards in basketball right now. There's only one way Rip City could enjoy this 2013-14 NBA season more: if Felton keeps adding weight like Renée Zellweger getting ready for another Bridget Jones movie. And it's kind of happening. He's morphing into Post-Lockout Ray Felton again. He's 82 percent there. He's four pounds and 11 more 3 a.m. cheeseburgers away.
• The ongoing Jason Kidd disaster in Brooklyn has overshadowed a steadily incompetent job from Mike Woodson. It's like being another bad actor in The Sound of Music Live! when Carrie Underwood is stealing the show — nobody even notices you.
• As reader Josh from New York put it, "When Amare Stoudemire plays nowadays, doesn't he look like Uncle Drew during the first minute of the Uncle Drew video?" I actually think Uncle Drew moves better. Regardless, do we call him Uncle Amar'e or just Uncle Drew? And do the Knicks really think they're getting anyone to bite on the $44 million remaining of his UNINSURED CONTRACT without making them take a major salary cap mistake back? Come on. They're not doing better than "Three years of Gerald Wallace, three years of Courtney Lee and two years of Brandon Bass" for Amar'e.
• Oh, and Carmelo could flee for greener pastures in July. There's that.
Most Interesting Subplot: See above. For what it's worth, Stephen A. is already saying Melo is gone, and nobody can use the "Nobody walks away from that much extra money" defense because Dwight Howard just did it. As one of the last standing members of the You Can Absolutely Win A Title With Carmelo As Your Best Player Fan Club, I'd like to see him find a contender that wasn't being run by a bunch of maniacs. I can't lie.
Just curious: Blake Griffin for Carmelo Anthony, straight up … who says no?
(The Clippers, right?)
(Are we sure?)
Random Thought: Adam Pisco in Brooklyn writes, "I'm loving this Knicks vs Nets rivalry for title of 'Kings of New York.' I haven't been this excited since the hype for 'Dan & Dave' in Barcelona '92."
SportVU Revelation: Of the 49 players who average at least five pull-up jumpers per game, J.R. Smith has made the lowest percentage (21.2 percent). Only six of those top-49 pull-up guys are shooting less than 30 percent. It's reason no. 17 why the Knicks are getting some of the league's worst backcourt play right now. So please, stop saying things will be fine as soon as Tyson Chandler comes back. They need to get Felton and J.R. going.
Worst-Case Scenario: We're here. Regardless of the win in Brooklyn on Thursday, the Knicks are a tipped-over port-o-john right now.
Prognosis: Their 3-point shooting won't always be this bad. Carmelo has been playing hard and he's even been rebounding (9.9 per game). Chandler's return will unquestionably help. Bargnani has been a sneaky-good shooter so far.13 And the more they play Shumpert and Tim Hardaway Jr. the better — Woodson (or whoever) will eventually figure that out. I still see them getting to .500 and winning the Shatlantic, even if they have to fire a coach or three to get there.
(And if it doesn't happen? Well … )
10. CHARLOTTE HORNBOBNETCATS, 8-11
The Good News: Signs of life! It took 27 tries, but it looks like MJ finally hired a good coach. Steve Clifford knows what he's doing. The Hornbobnetcats play defense now. And they have three guys who can create their own shot: Kemba Walker, Al Jefferson and Gerald Henderson. This is now, at the very least, a professional basketball team.
The Bad News: It's not just that Josh McRoberts is taking most of Cody Zeller's minutes while inexplicably looking exactly like the guy who falls for Julia Roberts in Sleeping With the Enemy. It's the distance between Sleeping With McRoberts and Zeller right now. When Zeller plays, he looks petrified — it's not an aberration that he's shooting 33 percent, or that he's sporting a 7.3 PER. I'm not writing off Zeller yet, but considering he's 22 years old already, this isn't great. There's an 80 percent chance that Adam Morrison is watching Zeller's Charlotte cameos while screaming, "I'm off the hook! I'm off the hook!"
Most Interesting Subplot: Before Michael Kidd-Gilchrist broke his hand last week, he was starting to look like Mutant Tony Allen — in other words, a super-athletic defensive stopper who cares only about shutting people down, except he's three inches taller than Tony. Check out MKG's recent battle with Paul George. Really impressive. I'm buying MKG stock.
Random Thought: It wouldn't have been crazy if Charlotte picked Michael Carter-Williams fourth overall. Just unrealistic. I mean, we're talking about the same draft in which Anthony Bennett went first overall to a team that already had two power forwards. All bets were off after that. But if the Hornbobnetcats HAD taken MC-Dub and teamed him with MKG as two oversize perimeter beasts, imagine how potent they could have been defensively. The three best "What Ifs" from the 2013 lottery are "What if Orlando or Charlotte had taken MC-Dub?," "What if Cleveland had just taken Oladipo?," and "What if Boston had traded up to take the Greek Freak instead of Kelly Olynyk?"
(Hold on, I have to slam my head against the desk a few times.)
(Hold on, just a few more.)
(My right eye is starting to close; I'm gonna keep going … )
SportVU Revelation: Ramon Sessions is the only player in the top 20 for drives per game who averages less than 25 minutes a game. His 6.8 drives per game rank ahead of Harden (6.1), Wade (5.8), LeBron (5.8) and Durant (5.2). He also leads the league with 14.4 drives per 48 minutes, well ahead of no. 3 guy Tony Parker (10.2). TAKE IT TO THE HOLE, RAMON! Also, why the hell is James Harden averaging only 6.0 drives per game? Hey, James, the season started six weeks ago — feel free to show up.
Speaking of fancy numbers, our pal Goldsberry made this chart to show us exactly how bad Charlotte's outside shooting is. If you're one of the 278 remaining Hornbobnetcat fans and you want one more high lottery pick, here's your ace in the hole.
Worst-Case Scenario: Chicago has Charlotte's first-rounder at some point over the next three years thanks to the idea, "Let's throw a future no. 1 into this trade for Tyrus Thomas. We'll put a bunch of protections on it, so there's no way it will ever come back to haunt us." Whoops. It's only top-10 protected this season, which means a failed playoff push could leave the Hornbobnetcats with something like the 11th- or 12th-worst record, costing them their pick in the most loaded draft in 29 years. I mean, Charlotte is dumb, but they're not THAT dumb.
Prognosis: Remember when the 2012 Warriors made a playoff push with the Bogut trade, then Bogut got injured and they started shamelessly tanking games so they could keep their top-seven-protected pick instead of giving it to Utah? And it worked? And they ended up with Harrison Barnes? That's what happens here. The Hornbobnetcats are free-falling into the bottom 10, even if they have to break MKG's other hand and start playing Zeller and Bismack Biyombo 48 minutes a game.
11. TORONTO RAPTORS, 6-11
The Good News: GM Masai Ujiri wants to bottom out while creating cap space and stockpiling cost-effective assets. That explains why he's trying to trade everyone not named "Jonas" right now, and that explains why Dwane Casey will coach all 82 games. It's all for the greater good. And if that's not enough, Andrew Wiggins is Canadian. So there's that.
The Bad News: Quick impression of Masai trying to trade Rudy Gay right now …
Masai: "Hey, I wanted to see if you had any interest in Rudy."
Other GM: "What are you thinking?"
Masai: "Well, he's on the books for only $17.9 million this season, then he's a free agent."
Other GM: "Wait, I thought Rudy had a player option for $19.3 million next year."
Masai: "You're right, he does! I totally forgot! (Holds his hand over the phone and whispers 'They know' to his assistant.) Actually, lemme call you back."
Most Interesting Subplot: Is there a better stealth tanking asset than Dwane Casey? He's coached nearly 300 games (career record: 116-171) and still can't grasp the whole "When we're down by a possession in the final 25 seconds, and we don't have the ball, we need to foul the other team" thing. (I wish Dwane Casey coached an NFL team — I'd love to see him trying to figure out timeouts and challenges.) And look, there's an art to tanking — you can't make it seem like you're throwing games. The subtle stuff goes the furthest. Like shelving one of your best players with "tendinitis" with five weeks to play. Like playing two or three subpar players about 10 minutes per game more than you should. Like trying dopey experiments that can't work along the lines of, "Hey, we think Rudy can play a little point guard for us!" Like keeping Casey around for an entire year. As we inch closer and closer toward the Tankapalooza 2014 homestretch, it's going to be the little things that count.
Random Thought: Was Gay's uncorrected eyesight really the problem last summer? Let's see …
Last season: 41.6 percent FG, 32.3 percent 3FG, 81.4 percent FT
This season: 38.8 percent FG, 37.5 percent 3FG, 76.2 percent FT
(Back to the drawing board … )
SportVU Revelation: One of the many reasons why Roy Hibbert is running away with Defensive Player of the Year: He challenges 10.1 field goals per game at the rim, but opponents score on only 38.2 percent of those shots. By contrast, opponents shoot 58 percent at the rim if it's DeAndre Jordan protecting and 56.9 percent if it's Boogie Cousins. If it's Jonas Valanciunas? We're looking at 52.6 percent. You probably already knew this.
Worst-Case Scenario: Raptors fans cheer on Masai as he keeps trading off starters and sabotaging this year's season … right until the moment when he dumps Demar DeRozan on Dallas for Brandan Wright and an expiring contract belonging to … (wait for it) … (wait for it) … Mr. Vince Carter.
(And then? Rioting. Lots and lots of rioting.)
Prognosis: Somehow, someway, Toronto lands in the bottom four for the East. If it sticks Cleveland or Milwaukee with Gay's contract, even better.
12. BROOKLYN NETS, 5-14
The Good News: I know it's not Thanksgiving anymore, but I'd like to thank the Nets for teaching us some valuable lessons. They taught us that it's dangerous for players to immediately become head coaches, and that coaching an NBA team is much harder than we thought (especially if you don't have a pulse). They taught us that Russian billionaires can't just waltz into the NBA and succeed as owners. They taught us that you can't intentionally spill a drink to get a free timeout, and that all NBA games are filmed by cameras that catch such behavior. They taught us to be careful anytime a rival GM seems overly excited to trade you two of his best players. They taught us not to film a Beats by Dre commercial that insinuates you might be washed up if you might be washed up. They taught us you can get rid of anyone you don't want by "reassigning him" to write daily reports. And they taught us to use better protection — not just when we're having sex with people we don't know, but when we're giving away first-round picks for expensive veterans. So it hasn't been all bad.
The Bad News: For 40 solid years, Gene Simmons's appearance on The Mike Douglas Show held the "Most Awkward/Uncomfortable/Sprawling Train Wreck That Leaves You Absolutely Dumbfounded And Even A Little Slack-Jawed" championship belt.
And then … the first five weeks of the 2013-14 Nets season happened.
Random Thought: Mark Felten from Sterling Heights wonders, "At what point do you stop calling Mikhail Prokhorov 'Mutant Russian Mark Cuban' and start calling him 'Mutant Russian Ted Stepien?'" I think we're there. I'm excited for "The Prokhorov Rule," whatever that ends up being. Four possibilities …
1. "You can't hire a former player as head coach unless he's been out of the league for one calendar year."
2. "If you pay more than $80 million in luxury tax and miss the playoffs while also not having a first-round pick, you have to sell your team within 45 days."
3. "Nobody is ever allowed to hire Billy King as GM again."
4. "If you dump your $6 million assistant coach five weeks into the season and 'reassign' him to writing daily reports, those reports have to be made public every day."
(The last one kills me. How much would you pay to read "The Lawrence Frank Report" every day? I'm in for $500.)
SportVU Revelation: Remember that protecting-the-rim stat from Toronto's section? Only one player has protected the rim better than Hibbert: Brook Lopez. Wait, what???? Brook Lopez?!?!?!?!?!? Opponents shoot only 35.8 percent when he protects the rim. His brother, Robin, comes in at a respectable 43.4 percent. Well done, Mrs. Lopez! Way to teach your kids how to protect the fort!
Worst-Case Scenario: You can't write them off until Deron Williams comes back (he's their only perimeter player who can create a shot) and Andrei Kirilenko comes back (he's their only "dirty work" guy). But it's a painfully slow team that never gets easy baskets. It's a dreadfully coached team — I don't see how that gets better. It's running the Clogged Toilet Offense about as inefficiently as we've ever seen. And Pierce and Garnett have lost a step and a half each when neither of them could afford to lose anything. This is really, really, really bad. There's a reason they keep getting blown out. But the WORST-case scenario? Brooklyn panic-trading Lopez as a last-ditch effort to shake things up over just eating Kidd's contract (and hiring, say, George Karl).
Prognosis: I can't see them winning more than 40 games, which means they'll miss the playoffs … unless the allure of Tankapalooza 2014 sways enough Eastern foes. It's 50/50. Unbelievable! I ranked the Nets seventh heading into the season! Never ever ever ever ever ever saw this coming.
13. CLEVELAND CAVALIERS, 6-12
The Good News: Kyrie Irving could absolutely be the best scorer on a contender someday. Tristan Thompson has definitely improved.
(And … we're done.)
The Bad News: Let's see …
• I don't want Anthony Bennett to be the worst no. 1 pick of all time. It's not his fault that Cleveland drafted him first, or that it has two other power forwards who are undeniably better than him. I want every NBA player to be good — the better the talent, the better the games. Draft busts defeat that purpose. With that said … HOLY MOTHER OF GOD HAS BENNETT LOOKED BAD!!!!! He's too slow to play the 3, and you can't play him as a stretch 4 because he can't shoot. So what's left? Even worse, the Cavs passed on Oladipo because they had Dion Waiters, only now they're shopping Waiters because Waiters and Irving don't get along. What a mess.
• Mike Brown still hasn't figured out the whole "can't play too many guys" thing and the "you need to run plays" thing. Hey, it's only his third head-coaching job. He still has 27 more chances to get this right.
• It's Year 3 and Kyrie Irving's winning percentage isn't over .350 yet. When I'm Sports Czar, we're making a rule that you can't make any commercials until you win at least 35 percent of your games. Seems fair.
• They're committed to making the playoffs, when really, they should be swinging the other way and shopping Jarrett Jack, Anderson Varejao, Andrew Bynum, Earl Clark and everyone else who takes time away from their young'uns and pushes them away from the lottery.
• God hates Cleveland.
Most Interesting Subplot: You've heard about Cleveland's infamous players-only meeting by now — reportedly, Waiters accused Irving and Thompson of playing buddy-ball (and freezing Waiters out of the offense), then Thompson took exception and they nearly came to blows. It's clear this won't end well — there's always been a "Your turn/My turn" feel to the Irving-Waiters backcourt. But if we've learned anything from the NBA, it's this: You always want to acquire a talented top-five pick who became available for whatever reason. Most likely, the 21-year-old Waiters eventually becomes a killer heat-check guy for a contender à la Ben Gordon in Chicago. Worst-case scenario, someone overpays him and he becomes Ben Gordon in Detroit. And in a best-case scenario, he evolves into a cross between Jamal Crawford and a poor man's Dwyane Wade. But he's definitely something. And I don't see it happening in Cleveland.
Random Thought: Let's say they nailed their last two lottery picks and took Andre Drummond and Michael-Carter Williams in those spots. (Unrealistic, I know. Just bear with me.) And let's say they went into this summer with Irving, Thompson, Drummond, Carter-Williams and enough cap space for two superstars. Here's my question …
Would that have been enough to convince LeBron to come home?
How loaded would their roster have to have been? When LeBron turns 50, he should reveal all his secrets in a two-hour pay-per-view — what actually happened with the Decision, how long those guys (LeBron, Bosh and Wade) knew they were playing together before it actually happened, what happened in the 2010 playoffs, how close he came to returning to Cleveland in 2014 before they screwed up their roster, and so on. I want to know everything. LeBron's career is like the JFK assassination conspiracy for me — I hope they open secret files someday to tell us everything that really happened, only deep down I know we'll never know.
SportVU Revelation: Irving and Waiters average a combined 14.9 drives per game, but score on only 41 percent of them. By contrast, Houston's James Harden and Jeremy Lin average a combined 14.7 drives per game and score on 63 percent of them. That's not the coolest SportVU stat for the Cavs, though — they have the league's second-fastest player (Carrick Felix: 4.7 mph) and second-slowest player (Andrew Bynum: 3.6 mph).
Worst-Case Scenario: You mean, other than trading for Rudy Gay?
Prognosis: They seem determined to (a) make the playoffs, and (b) make at least one SHOCKING trade. If I rooted for the Cavaliers, I'd be terrified every time I checked my texts, emails or Twitter feed.
14. PHILADELPHIA 76ERS, 7-12
15. MILWAUKEE BUCKS, 3-15
The Good News: We're grouping together our only guaranteed tankers in the East. Don't be swayed by the feel-good Sixers start — it couldn't be easier to tank if you were a four-man team. When the time comes, they'll be ready. Just trade Spencer Hawes (playing well) and/or Evan Turner (rejuvenated!), keep Nerlens Noel sidelined and figure out a fake injury for Michael Carter-Williams that will keep him out without costing him the Rookie of the Year award, and they'll easily lose 25 of their last 27 games. Their long-term future: Carter-Williams and Noel, Thaddeus Young, their 2014 pick, New Orleans's 2014 pick (top-five protected), gobs and gobs of cap space, and one of the best front-office/ownership situations in the league. Good times in Philly.
As for the Bucks, the Larry Sanders bar fight submarined their season … which wasn't a bad thing because they never should have been chasing a playoff spot anyway. (Their hilariously misguided summer remains one of the most confusing NBA strategies ever. Even their own fans didn't want them to make the playoffs.) Now the blueprint is in place. Just play Milwaukee's new cult hero (the Greek Freak), pile up losses and get a ringside lottery seat for Sorry For Jabari, Riggin' For Wiggins, Scandal for Randle, Shart for Smart, Hex 'Em for Exum and Bleed for Embiid.
The Bad News: There's no bad news. Finish with one of the five worst records and you're getting a franchise player. Period.
Most Interesting Subplot: Right before the season, I received this email from Philly reader Mike Turner: "I was on my way home after a hard day's work today I see a digital billboard advertising the Sixers season opener vs the Heat. It says Sixers vs. Heat with a picture of LeBron next to the word Heat. Who was the picture for the Sixers? Michael Carter fucking Williams. The percentage of cars who said 'Who the fuck is that guy?' has to be around 98%. Ladies and gentlemen … your 2013 Philadelphia 76ers!"
Fast-forward six weeks: He's headed for Rookie of the Year and a first-team spot on the WTF Happened In That Box Score All-Stars. Seriously, you never know what might happen in an MC-Dub box score — he might throw up a 22-10-12, he might grab nine steals, he might make six 3s, he might have nine turnovers. You just don't know. He does a little bit of everything. I don't even know who you'd compare him to. Important note: I thought he was going to be a bust. Don't forget — I'm writing this column instead of running a team for a reason. But unless Noel or Alex Len blossom late, it looks like there are only two potential All-Stars from 2013's draft: Carter-Williams and the Greek Freak (whose ceiling is Paul George in Kevin Durant's body with Freddy Krueger's arms and hands, whether he gets there or not).
SportVU Revelation: Sadly, SportVU doesn't have a way to measure MC-Dub's catlike reflexes on defense yet. Shouldn't there be a "Steals Normal People Just Wouldn't Have Gotten" stat? Carter-Williams, LeBron and Paul George would have to be the top three in some order. As for Milwaukee, no Buck currently cracks the top 50 in "total touches" this season. The Bucks can't even figure out how to hog the ball correctly.
Worst-Case Scenario: Nothing for the Sixers other than injuries — they played this season perfectly. For Milwaukee, when you're forced to launch SaveOurBucks.com just to (a) make it clear that fans still love the team, (b) prove that all the losing isn't the "small market's" fault (when it's really bad management), and (c) proactively protect yourselves against the possibility of a franchise relocation, you know you've hit rock bottom. Milwaukee fans have rooted for one good team in 25 years: 2001. It's not like that squad went anywhere. Now, they have to live in constant fear of losing their team to Seattle, and almost as bad, the Greek Freak and 2014 Lottery Pick X blossoming there. What a bummer.
Random Thought: My favorite fake scandal of the 2013-14 season would be if it turned out the Bucks paid those six local Milwaukee clubbers to start last month's crazy brawl with Larry Sanders. Why? To injure him so they could start tanking without making it seem like they were tanking. That would make the Incognito-Martin scandal look like child's play! Also, did we ever figure out why Sanders kept slipping on the floor like that? Was he wearing roller skates? Even Keith Closs Jr. thought Larry needed to do a better job in that fight.
Prognosis: There are two safe bets in the Eastern Conference right now, and only two. First, Indiana and Miami will be battling in Round 3 this spring. And second, two members of the Randle/Parker/Wiggins/Exum/Embiid/Smart group will be playing in Milwaukee and Philly next season. As for everything else? Your guess is as good as mine.