A Minneapolis reader named Paul Z. pulled me into a virtual log cabin and wrote, "You've had the worst run of NFL picks in your life. Nothing is going right, so you try to ignore the NFL by indulging in distractions. The first Birdmester recap with Jalen. An email exchange with Gladwell. Body language doctors. Are you kidding me? You've become the Potemkin Editor in Chief. I want a real NFL article this week. I want some picks I can believe in. It's been hard, I get it. Family, the holidays, the NBA. I'm not saying it's going to be easy. You're going to have to go through hell, worse than any nightmare you've ever dreamed. But when It's over, I know you'll be the one standing. You know what you have to do. Do it. Do it."
Now that's a pep talk! Who's ready for another trip to Dr. Simbeau's Island? We're breeding reader emails from the past three weeks with Week 16 picks and creating a teeming holiday pickbag. As always, these are actual emails from actual readers.
(Home teams in caps)
Cowboys (-3) over D.C. DACEYS
Q: I was watching SportsCenter with my mom the other day, and they were talking about the possibilities of Washington trading RGIII and keeping Kirk Cousins. My mother (an avid Washington fan) said she wouldn't be surprised if they traded RGIII. I told her that was ludicrous because Dan Snyder loves Griffin. She responded "Dan Snyder doesn't have a heart" and walked away.
—Robbie, Severna Park
SG: Dan Snyder … the Football Scrooge! At least we know the answer to the question "What would have happened if James Dolan had bought an NFL team?" I hope Snyder used this picture as his Christmas card this month.
Oh my goodness pic.twitter.com/kIsUmVkwER

— Dan Steinberg (@dcsportsbog) December 8, 2013
Q: I know you'll get this email about a thousand times, but how long until Mike Shanahan takes upstart quarterback Kirk Cousins with him to that new franchise in Albuquerque, New Mexico, where he is given full management control?
—Chris, Denver
SG: Come on, that's an insult to the great Tony D'Amato. I always thought D'Amato's performance in Any Given Sunday mirrored Al Pacino's performance at that specific point of his career — one last hurrah, one last moment when his career meant something, only he could take a flawed movie-team so far. And he was never really the same afterward. Pacino released S1m0ne, and D'Amato probably went 12-36 in Albuquerque and got canned. In Shanahan's case, he squandered his Albuquerque chances by botching this Redskins tenure. Especially the end. His version of the "Inches" speech would have been a little different.
On this team, we fight for that extra few million dollars in paychecks that we don't deserve. On this team, we tear ourselves, and everyone around us, to pieces for that extra few million. We CLAW with our fingernails for that extra few million. Cause we know when we add up those millions, that's gonna make the difference between WINNING AND LOSING! Between LIVING AND DYING! I'll tell you this — in any public feud, it's the guy who is willing to die and/or humiliate himself for that extra few million who is gonna win that money …
Q: Listen I get Cleveland fans bitching about how God hates their city and teams. But I think a case could be made that the Cowboys are the most heartbreaking team since 1996.
—Taylor, Dallas
SG: You mean, a case to get someone from Cleveland, Buffalo or Minnesota to punch you in the face?
Q: I've been a Cowboys fan living in Boston my entire life. Everyday I just wish the Cowboys could make the same decisions as the Patriots. This is the worst torture any human can endure. It kills me Bill. Every day! The worst part? Patriots fans don't heckle me anymore! They don't keep telling me that Romo is the worst QB in the league! The Cowboys have officially reached the sympathy zone (when your team is in such bad shape, that other fans feel bad for you). What are the other sympathy zone teams? I think it's the Browns, Bills and Jaguars. NBA: Bucks, Bucks, Cavs, Bobcats and Bucks. MLB: Royals.
—Nick, Lynn, MA
SG: I love this idea, even though your Vikings omission inadvertently strengthened their Sympathy Zone case because every Vikings fan angrily thought, Hey, what about the Vikings? For the record, I don't think the Cowboys qualify — those three Super Bowls didn't happen THAT long ago, and most football fans root against Jerry Jones and believe he deserves anything that happens to him. The Sympathy Zone comes down to two things. First, if you tell someone you're a fan of Team X and you're embarrassed even as you're saying it, your team qualifies. Second, if the other person instinctively tries to console you, then your team definitely qualifies. Here's the prototypical Sympathy Zone conversation:
Person A: "What's your favorite football team?"
Person B: [Immediately embarrassed.] "Well, I'm from Buffalo, so … "
Person A: "Oh no!"
Person B: "Yeah, I'm a lifelong Bills fan."
Person A: "Sorry, man."
Anyway, I liked your list — the Sacramento Kings and Pittsburgh Pirates definitely graduated from the Sympathy Zone in 2013. And the Lions probably did, too. I would add the Astros, Sabres, Raptors, Maple Leafs and the Indians (so we have all three Cleveland teams). Nick's biggest miss: How did he not include the Cubs? The Cubs are the Beatles of the Sympathy Zone. I ranked them no. 1 on my "Most Tortured Franchise" list three years ago and nothing's changed. As for the no. 1 active player in the Sympathy Zone …
Q: Tony Romo is the most fascinating trainwreck in all of sports. I have never watched a player who could be equally unstoppable and self-destructive in the same game. I am in awe.
—Jeffrey M., Chattanooga, TN
Q: Watching Tony Romo play quarterback is a little like watching the Zapruder film.
—Chad Hughes, Denver
Q: Tony Romo is bad sex.
—James, Queens
Q: On a scale of 1 to a giant plate of nachos, how excited are you for the 2017 NFL season when you can bet against a 37-year-old Tony Romo in his first season with the Minnesota Vikings?
—Ryan, Fresno
SG: A rarely seen crossing-the-streams moment for the Sympathy Zone! I can totally see it. It's destiny that Romo ends up on the Browns, Vikings or Bills — much like Anthony Bennett dating one of the Kardashians, it's the logical final chapter.
Q: Am I the only one who sees the parallel between Dirk and Tony Romo? Both play in Dallas, Dirk played for a bunch of good but not great Mavs teams, had some "choke" moments (missing free throws in '06 finals, '07 Warriors series) before finally pulling it together for one of the most enjoyable playoff runs in recent memory.
—Jon, Lincoln
SG: Plus, Dirk is German, and many of Romo's worst losses make their viewers feel like they're watching German degradation-porn movies. That's another parallel. The biggest difference: Dirk won an MVP award four years before that title, whereas Romo hasn't come close to winning anything. I just think he needs a new team. You're telling me that if you flipped Romo and Drew Brees these last three years, the Cowboys and Saints would have finished much differently?
Brees: 30-16, 329.4 YPG, 67.4%, 123 TDs, 43 INTs, 12 fumbles, 8.2 YPA, 103.6 rating
Romo: 23-23, 275.8 YPG, 65.3%, 88 TDs, 38 INTs, 17 fumbles, 7.6 YPA, 96.1 rating
Brees went 72-37 with Sean Payton and 7-9 without him; everyone excused the 7-9 by saying, "Well, he didn't have Sean Payton!" Um … since when did Romo have anyone remotely close to Sean Payton??? He's spent the past seven years saddled with Wade Phillips and Jason Garrett, and with Jerry Jones picking his teammates. Doesn't that count for anything? Nobody needs a new team more than Tony Romo. And if we're being honest, Cowboys fans probably need a new QB, too. It's like a bad relationship — too much has happened. Just deal him to Cleveland for Jason Campbell and Cleveland's top-five pick already.
Q: Has anyone touched on the fact that Jason Garrett and Brody from Homeland not only look alike but have striking similarities? Could it be possible that the Maras recruited a young Garrett and injected him in the Dallas organization to destroy the Cowboys?
—Koz, Woodcliff Lake, NJ
SG: And you left out the most obvious parallel, which we're taking over to the footnotes so I don't spoil last Sunday's show for people out there who hate themselves and haven't finished this debacle of a Season 3 yet.1 As for this Dallas-Washington game, I'm predicting a stadium full of Cowboys fans along with a few "SHANAHAN MUST GO!" signs sprinkled in, lots of prolonged camera shots of a depressed RG3, and Romo winning a shootout with Kirk Cousins to set up the NFC East title game against Philly. It has to end this way. Has to.
BILLS (+3) over Dolphins
Q: Have the Dolphins had the most bland ten years in the NFL? I have no significant memories of them over the last 10 years.
—Simon, Pueblo
SG: You mean, other than the Incognito scandal launching a month-long bullying story that hijacked every TV channel? Let's see … since 2004, the Dolphins are 66-92 and have played just one playoff game (getting killed by the 2008 Ravens). They've had seven different head coaches. Eight different QBs led them in passing, including A.J. Feeley and Cleo Lemon. Their best fantasy guys were Ronnie Brown and Brandon Marshall. Just racking my brain for those 10 years, I have four Dolphins memories — they launched the whole Wildcat trend, they gave up six touchdowns in the first half to the 2007 Pats (the apex of the 18-1 season, hands down), their GM asked Dez Bryant if his mother was a prostitute, and they somehow won 11 games with Chad Pennington's noodle arm. That's pretty bland. I see their playoff push ending this Sunday, in the blandest way possible. This has all the makings of a "Maybe our season sucked again, but at least it was fun when we ruined Miami's playoff chances, so we have that going for us!" feel-good home game for Buffalo. There's a reason they're in the Sympathy Zone. Speaking of sympathy …
Q: The four most chilling words in gambling … "Here comes Billy Zima!"
—Alex Futter, West Lafayette, IN
SG: Billy Zima sank to a new low last week — laying 10½ with Denver over San Diego, hoping to infect the Broncos with my bad mojo. When you're making picks solely to skunk teams you dislike, that's gambling rock bottom. Well, until you pull a Berman and make one game worth 20 games so you can finish .500, which I'll be doing next week in a last-ditch effort to improve my final record. The good news: two more weeks until I redeem myself in the playoffs! You just wait! After Week 17, we're burying Billy Zima and he's never coming back.
Q: Thank-you Bill Simmons and your horrendous NFL picks, for reminding the entire world that gambling is a sin.
—Pastor Craig Hadley, Redlands, CA
SG: In the words of Cliff Poncier, "This negative energy just makes me stronger, we will not retreat!" TWO MORE WEEKS! You just wait!
Q: Well, tonight thank God it's them … instead of youuuuuuuuuuuu!
—Bono, Ireland
SG: Thanks, Bono! I needed that. You know what? Let's take a quick break to enjoy the greatest Christmas song ever made. How does it have fewer than 2 million views on YouTube? We live in a world in which Justin Bieber's "Baby" has been viewed 500 times more than "Do They Know It's Christmas?" Bah humbug.
Vikings (+8) over BENGALS
JAGUARS (+4.5) over Titans
Q: Did you know that, if NFL games were 58:43 mins long, the Vikings would be 9-5 and on the verge of a second playoff berth in two years?
—Evan, State College PA
SG: Did you know the Vikes and Jags are a combined 7-5-1 in November and December? Remember when people were joking about Minnesota's disastrous QB situation, or writing mean-spirited columns about how the Jaguars might be the worst NFL team ever? (Oh wait, that was me.) Now they've managed to become not-totally-that-awful. So congratulations! By the way, the no. 2 seed fell into Cincy's lap on Sunday thanks to a practice squad cornerback saving Miami's win over the Patriots, and the Bengals responded by laying a total stink bomb in Pittsburgh on NBC? What does THAT tell you?
Q: You write about coaches' demeanor on the sidelines all the time, and you're always spot on. Isn't it time for The Jim Caldwell All Stars — the coaches with the most uninspiring sideline demeanor that screams confusion and in-over-his-headedness, without actually screaming anything ever. Caldwell, Leslie Frazier, Art Shell. That's your start. Let's go.
—Tom, Indianapolis
SG: I can't believe you picked two Mount Rushmore guys (Caldwell and Shell) and somehow left out Romeo Crennel, the Thomas Jefferson of uninspired sideline demeanors. The rest of the Caldwell All-Stars: Wade Phillips, Raymond Berry, Gary Kubiak, Chris Palmer and my personal favorite, the immortal Rod Rust, who coached the 1990 Pats to a 1-15 record while doubling as a propped-up corpse. My Lack of Sideline Demeanor Mount Rushmore: Caldwell, Shell, Crennel and Rust. And actually, they may have been posing for Mount Rushmore during every minute they coached.
Colts (+7) over CHIEFS
SEAHAWKS (-10.5) over Cardinals
Q: On your BS Report with Sal, you said the Colts could be this year's nobody-believes-in-us playoff team. Is it wrong that as a Colts fan I have been hoping for this outcome for weeks? I wanted them to finish 8-8 followed by everyone writing them off in Round 1. We can still get to 9-7 if we blow these last two games Simmons!
—Bobby, Carmel, IN
SG: The 2010 Seahawks are your blueprint, right? In your dream scenario, you finish 9-7, then the Chiefs waltz into Indy in Round 1 as five-point favorites (à la the Saints in Seattle, when they were giving 10). The game starts, Luck catches fire, the crowd psyches out Alex Smith, Trent Richardson resurrects his career with a Beast Mode run like Marshawn Lynch did, and suddenly you're in Round 2. Remember, nobody believes in the Colts right now. If the Giants fire Tom Coughlin, Indy should hire him as a "consultant" before Round 1.
Anyway, I'm riding the second-year QBs this week — Andrew Luck and Russell Wilson are a combined 43-17 in the regular season right now. Seems like the right move. Speaking of Wilson, did you know he became the fourth QB to throw for 50-plus touchdowns in his first two seasons (along with Peyton Manning, Carson Palmer and Dan Marino), and that Luck needs six more to become the fifth? Did you know Wilson is the first QB to win 23 games in his first two seasons? Did you know Wilson is three more home wins from breaking Danny White's record of 16 consecutive home wins to start a career? Did you know Wilson's .767 winning percentage trails only Tom Brady (.772) as the highest of all active quarterbacks with at least 15 starts? Did you know Jacksonville drafted a punter (at pick no. 70) right before Seattle took Russell Wilson (with pick no. 75)? This entire paragraph is amazing.
Seems like the perfect time to unleash our Sneaky-Good Watch for December: Kirk Cousins's chances to get overpaid … Cordarrelle Patterson's you-better-kick-away-from-me-ness … the length and breadth of Geno Smith's CFL career … Rex Ryan's TV career … Robert Quinn's DPOY chances … Jurrell Casey … Stephen Gostkowski's first-team All-Pro chances during any season that didn't have 2013 Justin Tucker in it … the Gus Bradley era … the Bells of Detroit … Shane Vereen's fantasy stock … Denver's offense producing the no. 1 QB, no. 5 RB, nos. 3,10 and 16 WR, no. 3 TE and no. 4 kicker in fantasy (amazing) … Julian Edelman as Mini-Tron … Kaepernick whenever Crabtree and Davis are playing … this Dr. Z short by NFL Films … Josh Gordon being only 22 years old … Indy's "NOBODY BELIEVES IN US!" potential … any postseason with Phil Rivers in it … the LaDainian Tomlinson era (do you realize he's the last guy to win two rushing titles in a row?) … Eli's chances to become only the 12th QB to throw for 30 picks (five away!).
And one sneaky-good holiday gift: If you're searching for something at the last minute, why not give a loved one an entire year of the Grantland Quarterly? Heck, it can even be someone you just like, or someone you kinda sorta tolerate. They'll be getting Volumes 9 through 12 of our best pieces from the next 12 months, organized in four hardcover books souped up with killer drawings from some of our favorite artists. Isn't that more fun than computer printouts? If you order this weekend and use the promo code FRIDAY, you'll get 15 percent off, as well as a video e-card that alerts your gift recipient. How can you resist? Go to the Grantland Store for more details.
Q: The NFL shop almost let me customize a Seattle 12th-man jersey with "Adderall" as the player name, but stopped it at the last moment. If it wasn't against the terms and conditions and I wasn't a poor student, I'd buy Billy Zima one for Christmas.
—Natalie, Davis, CA
SG: Thanks for thinking of me, Natalie. It's the holiday spirit that counts.
Q: Howdy, my boyfriend loves your blog so much. He watches it religiously, this might be a stretch but I want to ask him to marry me. And I wanted to know if in one of your shows you'll ask for me. It would mean the world to him.
—Justine, Seattle
SG: Only states that have legalized marijuana generate emails like this one. But hey, let's give it a whirl: Justine's boyfriend, since you're watching my blog right now, will you accept Justine's marriage proposal and become Mr. Justine?
Q: Your last mailbag mentioned your unwholesome love of poorly produced local commercials starring athletes. Allow me to introduce you to the glory that is Marshawn Lynch: Plumber Extraordinaire.
The best thing about it? Whenever I'm watching a Seahawks game and I need to take a dump, I'm always sure to tell my fiancee "I'll be right back, I'm going to go beast mode on the plumbing."
—David Hasler, Seattle
SG: I loved it! That's the second-best possible match of a Seahawk and a product, only trailing those fake penises that can cheat urine tests. Since we're here, my readers sent me some of their favorite poorly produced commercials, including Pierre Garcon as a pizza delivery guy … Haloti Ngata doing the Risky Business dancing for an ATM fee ad … Jonathan Ogden for Gebco … Richard Sherman inexplicably cackling for a Chevy commercial … Brian Orakpo and Alfred Morris for Eastern Motors … San Antonio's Big 3 being goofy … Dustin Pedroia and Jim Rice for Sullivan Tire … Stevan Ridley awkwardly chest-bumping a Cadillac Norwood boss … and a Cleveland McDonald's commercial built around Braylon Edwards (!), Charlie Frye (!!!) and a running joke about Frye's name (!!!!!!!!).
But two submissions stood out. The first one came from many readers, but we'll let John from Rhode Island explain: "How did you not mention the Eastern Motors commercial? It has everything!! LaVar Arrington looking like he's going to kill someone? Check. A Kevin Jones appearance? Check. Carmelo Anthony, Laveranues Coles, Brendan Haywood, and Clinton Portis? Check. A dancing secretary, a guy doing an awesome phone dance? Check. And on top of it it is catchy as hell. You can turn this into a four-minute song and it would easily make the top 100. Check it out Bill and give it the love it deserves!!"
Tremendous! If you made a wish list for essential elements in a terrible local commercial featuring athletes, bad lip-syncing ranks right at the top. Of course, that Eastern Motors commercial can't hold a candle to Scottie Pippen's Mr. Submarine commercial from the early '90s. I had never seen it before, and as Kevin from Chicago points out, "I don't know what's more awesome — the 12-inch vertical sub, or the mid-court picnic with Scottie, Kim and Cheryl?" The answer, obviously, is both. Click on this clip or I'm never talking to you again.
"This is one six-footer I can't handle one-on-one. Ladies, let's have a party!" If there's a greater moment on YouTube, I haven't found it. We're making Mr. Submarine the Poorly Produced Local Athlete Commercial champion unless somebody can top it.
Steelers (+2.5) over PACKERS
Bucs (+4.5) over RAMS2
Q: If the XFL was brought back right now, wouldn't every defensive player in the NFL sign up? How has nobody tried starting this up yet? The "offensification" of the NFL looks like it has the potential to rip the league apart from the inside out. A serious league competitor with a more defense-oriented approach could make things very interesting.
—Max, Providence
SG: Vince McMahon definitely missed his window here — if he relaunched the XFL next year by playing up the whole, "Football has gotten too soft, if you want to watch football the way it's meant to be played, watch us," and specifically targeted the testosterone/MMA culture, that would be a pretty fascinating business play. In the New XFL, we don't put dresses on our quarterbacks, we don't let our receivers just run across the middle without fearing the consequences, and we have a bunch of hungry guys who will do anything to stay in this league! Admit it — you'd watch the first weekend of games while hating yourself the entire time. Also, the New XFL would lead to a slew of the most self-righteous and unintentionally funny "Hot Sports Take" columns ever written by anyone not named "Dan Shaughnessy."
Q: It takes like six or seven weeks for a normal human being to recover from a fractured collarbone. It's taken Aaron Rodgers seven weeks and counting. Can you think of better evidence that Aaron Rodgers doesn't use PED's?
—John, Brown Deer, WI
SG: I love that someone from Wisconsin sent me this email. But you could make a solid case that Rodgers should have been selected as SI's Sportsman of the Year for being the first superstar to take a realistic amount of time to recover from an injury in, like, 22 years. If Rodgers played for the Seahawks, he would have been back in 12 days. (Sorry, I had to.)
JETS (-2) over Browns
Q: In Week 14, the Browns announced their sixth starting quarterback change of the season and their 978th since building their stadium on an ancient burial ground in 1999. What is the record for the number of different starting quarterbacks by one team in a single season??? This seems like a record the Browns are destined to own, if they don't already. I couldn't find this on the Internet, so please help, I need to get started on my "Weeden/Hoyer/Weeden/Campbell/Weeden/Campbell/TBA" jersey.
—Jordan, Canton, OH
SG: First of all, I actually wasted time trying to figure out this record and wasn't Internet-savvy enough to do it, only it wasn't important enough for me to enlist a Grantland intern, either. So I guess we'll never know. Second, I would totally buy a "Weeden/Hoyer/Weeden/Campbell/Weeden/Campbell/TBA" Browns jersey if those letters could be crammed on one jersey. Third, the Browns have started the most quarterbacks since 1999: 20 by my calculations. So you have that going for you, Jordan. And fourth, do you realize that Cleveland QBs have thrown for 3,943 yards, 24 TDs and 17 INTs this season??? With two games to go! Those are real stats! If Jasobriandon Campoyereeden were a person, he'd be sixth in the NFL in passing yards and seventh in TDs. This is why Browns fans have been so calm lately.
Q: This is the time of year Browns fans start doing crazy stuff like this.
—Will G., Miami, FL
SG: Whoops, I spoke too soon. Look at the bright side, Browns fans. You might throw for 4,500 yards and 35 TDs with Jasobriandon Campoyereeden. You won the Trent Richardson trade about as convincingly as anyone has ever won a football trade.3 You have two first-rounders next spring, you easily could have finished 8-8 if Brian Hoyer never got injured, you have one of the league's biggest game-breakers (Josh Gordon), you have a smart front office that knows what it's doing, and if you blow these last two games (and I think you will, even if it means running the Wildcat with Brandon Weeden, Fozzy Whittaker and 77-year-old Jim Brown), you might get a top-three pick. I'd say things have never looked better for the 21st-century Browns.
(You know … except for … well … )
Q: After the Pats-Browns game, I realized that saying "God Hates Cleveland" misses the point. It's much more refined and elegant than that. God doesn't just hate Cleveland, he mocks Cleveland. He toys with Cleveland the way a predator toys with its prey. He tortures Cleveland, extracting every bit of fan base hope and optimism before crushing their dreams in the cruelest possible way. Frankly, I take my hat off to God. Hating Cleveland would be so easy. But this kind of soul crushing takes creativity and real effort. Hats off to the Big Guy in the sky.
—Parker, Ross, CA
SG: Fine, so maybe things don't look THAT good for the Browns. But it's not like the Jets are uplifting, right? For what it's worth, I asked Grantland's resident self-hating sports fan Jets fan, Sean Fennessey, whether he'd rather be the Jets or the Browns going forward. The answer? "The Browns, no question. Better picks. Better defense. Better people running the team. Josh Gordon. I'd rather be the Browns." So yeah!!!!!!!!!!! LET'S DO THIS, CLEVELAND!!!!! Come on, laugh at the Jets with me.
Q: The Mark Sanchez and Shonn Greene action figure two pack is 'on sale' for $20 at Toys R Us (a whole $3 off regular price). Should I feel worse for the central warehouse manager at Toys R Us who has run out of space at the warehouse because the Sanchez/Greene toy crates are definitely not going anywhere, or should I pity the young Jets fans who will be getting this gift from their well-intentioned grandmas? Note to Toys R Us — repack the Sanchez figures in two packs with an o-lineman figure as a recreation of the butt fumble and it will sell out faster than Steve Sarkisian.
—Scott, Redmond, VA
SG: Sadly, they DID sell out of that item. You can't find it on their website anymore. Thank god for eBay! That's a solid joke Christmas gift, which got me thinking — couldn't the NFL corner the joke Christmas gift market? Wouldn't a Sanchez Butt Fumble action figure sell like hotcakes? Who wouldn't want to collect the entire set of Jim Caldwell All-Stars? What about a talking Dan Dierdorf triple-negative broadcasting doll? Or a fake courtroom set replete with attorneys, a hearing judge and multiple members of the Seahawks defense appealing a failed drug test? (Sorry, I had to.)
PANTHERS (-3.5) over Saints
Q: So I was making my weekly picks for the work football pool and came to the Carolina-New Orleans game, was having trouble deciding, then asked myself "What would Riverboat Ron do? He'd f—ing go for it, that's what!" So I picked Carolina, but what I really want to know is when Riverboat Ron releases a self-help book for timid people, what's he going to call it? Fourth and 3? Kick Ass with Analytics?
—Cory, Johnstown, PA
SG: First of all, I love your reasoning behind the Panthers pick. I feel the same way. Yes, the Saints are coming off a dreadful loss in St. Louis. Yes, Sean Payton fired his kicker and benched his left tackle, giving the Saints the kick in the ass they need. Yes, all evidence points to the Saints in this one. But it's time to believe in the Panthers. Let's f—ing go for it.
As for your question, self-help books usually have titles that grab you while also spending a little too much time describing the book. An example: Awaken the Giant Within: How to Take Immediate Control of Your Mental, Emotional, Physical and Financial Destiny. Or, Eat That Frog!: 21 Great Ways to Stop Procrastinating and Get More Done in Less Time. Following that model, that means Riverboat Ron's book would have one of the following two titles.
• We're Goin' for It: 25 Ways That Aggressive Football Decision-Making Can Shape Your Life
• Plowing Ahead: How a Football Coach Stopped Thinking Scared, Started Thinking Bold and Changed His Team's Destiny
Broncos (-10.5) over TEXANS
Q: Do you realize that the AAAstros and Texans are on a combined 0-27 streak? And a Bulls fan has the nerve to wonder if they're cursed.
—Jeremy Walker, Beaumont, TX
SG: And that streak is about to climb to 0-28 after Evil Manning tries to finish off the touchdown record so he can take Week 17 off. Hey, do you realize the Rockets are the only Houston team to win a professional sporting event since Sept. 15? The good news …
Q: Of course it's fate that, with two games to play, Evil Manning needs exactly 666 yards to break the record.
—Danny Limb, Knoxville, TN
SG: Nobody believes me! The guy whose jersey number equals 6 + 6 + 6 now needs 666 yards to break Drew Brees's record and you don't think this is weird at all?
Q: Here is the proof that Manning is evil — did you know Coach Fox called him an "Evil Genius?"
—Lance Heuer, Santa Barbara
SG: See? John Fox is trying to warn us! We're filming the real-life Damien Omen movie right now and nobody seems to care!
Q: Check out this story about Peyton Manning responding to wedding invitation — this is pretty cool, right? But to be fair, the lady who sent the invitation should've known Peyton doesn't show up to cold weathered events.
—Trent Chabot, Charlotte, NC
SG: Ten minutes after Trent sent me that email, a chandelier fell on him and killed him instantly.
Q: Like you, I thought it was ridiculous that S.I. named Manning "Sportsman of the Year." But who should've been the pick instead? Weak year right?
—Josh, London (via Conn.)
SG: The problem is that they already wrote the Sportsman of the Year story in early November, when they wrote about David Ortiz, the 2013 Red Sox and the 2013 Boston Marathon. They couldn't run it back. And since there wasn't another logical pick, they went into "let's just pick a decent candidate who's due for a cover story from us," and they landed on Manning while hoping he eventually breaks the touchdown record to justify it.
Personally, I would have picked Tim Duncan. He's one of the eight best basketball players ever, only he needed a final chapter … and last spring was it. His throwback performance in the first half of Game 6 was absolutely unforgettable, and I will never forget seeing Duncan crouched at midcourt in the final minute of Game 7, knowing that he just missed a 3-footer that he'd made for his entire life, and unable to go back in time to fix it. Greatness, competitiveness, leadership, dignity in defeat … I don't know what else is left. The most memorable sports story of 2013 was either (a) the Red Sox winning the World Series seven months after the marathon bombings, or (b) San Antonio coming the closest anyone's ever come to winning an NBA title without actually winning it, then handling the whole thing with class afterward.
So I would have gone with Ortiz or Duncan. You could have even talked me into Ray Allen, since he made the greatest shot in NBA history. Manning would have been my no. 4 pick. Russell Wilson would have been my no. 5 pick. And finishing last … Aaron Hernandez.
Raiders (+10) over CHARGERS
Q: Was just reading your mailbag and had to stop once I saw your list of players with 100 percent approval ratings. You missed someone between Sweetness and Megatron. He is the only player to actually not make me throw up in my mouth when saying I'm a lifelong Raider fan. His name Vincent Edward "BO" Jackson. Please explain your reasoning for leaving him off this list.
—Tom Bucci, Ardsley, NY
SG: Um … I'm an idiot? Does that work? Speaking of idiots, you'd have to be one to lay this many points with the Chargers at home (10-11 over their last 21 games). Don't they blow this specific December game every season, or am I hallucinating that?
Q: I grew up in Cincinnati, OH and we had Shakey's Pizza there. Once we were out with a friend who was on leave from the Marines and he kept picking up shit on the table like a straw or napkin and telling us he had been trained to kill a man with it. He was being a total douche and then he starts messing with this guy's girlfriend at the next table. The guy was being pretty cool but our friend was playing the Marine thing way too much and wouldn't stop hitting on the girl. The other guy's pizza gets to his table and as soon as the waitress leaves he picks the pizza up and dumps it on our friend, who proceeds to scream all the way to the hospital because of the hot sauce and melted cheese that we can't get off of him. We're standing in the ER and one of my friends looks at me and says, "I guess the other guy was trained to kill a man with a Shakey's pizza." It may have a funny name but it makes a formidable weapon …
—Brian Morgan, Oceanside, NY
What a perfect segue to the Shakey's Pizza Watch for December! Here we go: Matt Stafford in bad weather … Denver's secondary … DeMarcus Ware as a game-changing defensive guy … Hakeem Nicks's free-agent offer … Case Keenum's Romo 2.0 potential … Matt McGloin's chances to get overpaid … Percy Harvin's hip, and the Percy Harvin trade in general … Eli's leash with Giants fans … the 2013 Jets draft … Washington's inexplicable burial of Alfred Morris … the Mike Munchak era … the Mike Munchak era a second time … every Cincy punt without Kevin Huber (you know that one's coming back to bite them at some point) … San Diego at home … the Football Gods for taking away Gronk and Honey Badger on the same day … any time the words "interim coach" and "Wade Phillips" are in the same sentence … Pittsburgh's sideline karma … any gambling season when Kellen Clemens, Matt Flynn and Matt Cassel beat possible playoff teams on the same December day … anything and everything involving Jim Schwartz … me for picking the Lions AND throwing them into a three-team tease even with Jim Schwartz prominently involved … me again, because I'm stupid … please, stop me from laying this many points with the Lions … my god, I can't help myself …
LIONS (-9) over Giants
Q: Is it possible that New York has become, at least for now, the worst sports city in America? The Knicks, Nets, Giants, Jets, and Islanders are all below .500; the Rangers are hardly above, and the Yankees didn't do much. The Yankees and Mets had disappointing seasons and it doesn't look that much better for next year either. Hey, at least the Red Bulls are good right? — wait are they? I really don't know.
—Mike, New York
SG: I like where you're going with this! Especially when the Giants are about to lose by 50 points this week. Here's New York's record using the most current standings for each league:
Baseball: 159-165
Football: 11-17
Basketball: 17-33
Hockey: 25-36-9
Total: 212-251-9
It's a good thing New Jersey is hosting this year's Super Bowl — at least New York can say it came close to a title. Thank you, thank you, I'll be here all week. Sweet Jesus, does this make me happy. Let's celebrate with the best email of the mailbag.
Q: Ron Burgundy's return reminds me of a very important question: which NFL studio crew wins out in an Anchorman style back alley brawl?
—Welshy, Ottawa, ON
YES! YES! YES! I am so ready for this one. In order …
Let's all agree that Fantasy Football Now's crew (Tim Hasselbeck, Matthew Berry and Robert Flores) gets slaughtered within 15 seconds.
Let's cross off NBC (Dan Patrick, Rodney Harrison, Tony Dungy and Bob Costas) and NFL Network (Deion Sanders, Steve Mariucci, Michael Irvin, Marshall Faulk and Rich Eisen) — the opposing crews would just target Harrison and Irvin knowing that nobody else could beat them.
As for CBS, Shannon Sharpe's whoop-ass potential makes that crew mildly interesting, but they're saddled with two QBs who won't want to get hit (Boomer Esiason and Dan Marino), as well as a 56-year-old coach (Bill Cowher) and the nicest guy in sports media (James Brown). That's not nearly enough unless someone makes fun of Marino for never winning a Super Bowl — and even then, it's probably not enough. I'm crossing them off.
So really, it's a two-crew showdown. For Fox, the Howie Long–Michael Strahan combo looks just about unstoppable on paper. Both of those guys are still in shape. Curt Menefee could beat up any other studio host except Chris Berman (a sneaky-gigantic guy). Terry Bradshaw would be the Token Crazy Guy in the brawl — he's the one most likely to gnaw someone's ear off or kill them with a trident. And Jimmy Johnson could deflect anything with his hair. That's a great quintet: size, speed, craziness and hair. Meanwhile, ESPN's six-man crew features two wide receivers (Cris Carter and Keyshawn Johnson) and three guys over the age of 55 (Berman, Mike Ditka and Tom Jackson). So without the sixth guy, we'd be in major, major trouble. But you know who that sixth ESPN guy is? That's right … Mr. Ray Lewis.
(Hold on, I have to watch this YouTube clip 200 times in a row before I keep typing.)
(You know what? Let's move on. Your Anchorman/NFL Crew winners … the Worldwide Leader, ESPN!)
RAVENS (-2) over Patriots
Q: Am I the only guy who gets really uncomfortable every time Dan Dierdorf calls Rob Gronkowski 'The Gronk'? I can't be the only one, right? Call him Gronk, Gronkowski, Big Robby G … just stop 'The Gronk.' Can you please make this stop? You're our only hope.
—Zach, Boston, MA
SG: Remember the days when Patriots fans had nagging problems like "I wish Dierdorf would stop saying 'The Gronk'"?
Q: How far do you think you have to go back on ancestry.com to find out how T.J. Ward and Bernard Karmell Pollard are related?
—Joey Langone, Long Beach, NY
SG: Too soon. Too. Soon.
Q: The section of your Malcolm Gladwell exchange about enjoying athletes when they're in decline is why the Patriots are far more interesting this year than they were in 2006. Tom Brady is in decline. There. I said it. But it's riveting! Perhaps even more so because he's still not undoubtedly the best ever.
—Tom S., Foxborough, MA
SG: I'm not enjoying this trip to Dr. Simbeau's island anymore.
Q: Justin Tucker's 61-yard game-winner has to be the greatest field goal in NFL history (not including Super Bowls). He just hit 31 in a row, playoff hopes on the line, 61 yards away, A batshit crazy Donkey Kong Suh (spelling?) tearing through the line!!! I'm so excited!!!! I still can't feel my penis!!!!
—Sean M., Finksburg
SG: And undoubtedly the greatest fantasy moment involving a kicker — not just because it happened during the fantasy playoffs, but because he brought up the fantasy thing in his postgame interview. Could you make the case for Tucker being a top-five MVP candidate? He's made 33 straight field goals, multiple game-winners and multiple four-plus field goal games. He has made 16 of 18 kicks from 40 yards or more. He made what has to be the greatest regular-season field goal ever — a 61-yarder on Monday night to keep Baltimore's playoff hopes alive. He also created the field goal cycle on Monday, making field goals in the 20s, 30s, 40s, 50s and 60s. He passes the Eye Test in this respect: The surest thing in football right now is either (a) Josh Gordon in the open field with nobody in front of him, (b) Jerry Jones picking his nose in a luxury suite, or (c) Tucker nailing any field goal. And if you switched him with any other kicker — even Stephen Gostkowski, who's been terrific — the Ravens are probably three or four games worse.
There's a precedent here: Washington's Mark Moseley winning the MVP during the strike-shortened season in 1982, when he made 20 of 21 field goals for the eventual champs (including multiple game winners). It's one of the weirdest voting choices ever, in any sport, as covered in this 2011 Grantland piece. My take hasn't changed: There wasn't a standout candidate, and Moseley was the last straight-on field goal kicker — and the last ever, as it turned out — during a time in which football fans were feeling xenophobic about all the foreign soccer-style kickers coming into the league. I always felt like that was a "Let's throw a bone to the American dude who kicks straight-on!" vote. Can you blame them? We were under attack!4
Anyway, don't be surprised if Tucker catapults himself into the MVP race on Sunday, if only because these two teams are destined to play a nail-biter — not just because of the excellent history of Ravens-Pats games, but because the 2013 Pats are living out the lost season of ridiculous Friday Night Lights endings that never happened. I fully expect to lose this game on a 65-yard field goal by Tucker that hits the crossbar, bounces straight up, lands again on the crossbar, sits there for three seconds, then slowly rolls over for the winning three points. Damn it all.5
Bears (+3) over EAGLES
Q: While watching the Monday night game and seeing Mike Ditka waiting to be honored, puffing out visible breaths in the cold air, I wondered something: Does Ditka have the most photographed breath of all time?
—Albert Barbieri, Boston
SG: There's no question. Can we add this on Ditka's Wikipedia page ASAP? By the way, here's the weirdest game of the week: If the Cowboys beat Washington, then the NFC East is decided by Week 17's Eagles-Cowboys game (making Week 16 meaningless for Philly). But if the Lions somehow blow the Giants game and the Packers beat Pittsburgh, then the NFC North is decided by Week 17's Packers-Bears game (making Week 16 meaningless for Chicago). Basically, this game is one giant stay-away. I'm taking the points in the All-Offense/No-Defense Bowl to be safe.
Q: I know you're probably getting a mix of email from grateful readers betting against your NFL picks and others poking fun at your current record. I take a third view: I see this lighting a fire in you, making you give proper time to the NFL (cue a montage with lots of highlights and Cheetos), and making the year you go 11-0 in the playoffs.
—Michael S., San Francisco
SG: And Michael didn't even know about this good omen … I met Andy Dufresne this week! HE'S ALIVE!!! (And check out Red — he looks 30 years younger! He has really taken to that Mexican lifestyle in Zihuatanejo.) As far as I'm concerned, my gambling year can be separated into two sections: BD (Before Dufresne) and AD (After Dufresne). It's officially Week 1 AD. Just remember, hope is a good thing, and no good thing ever dies.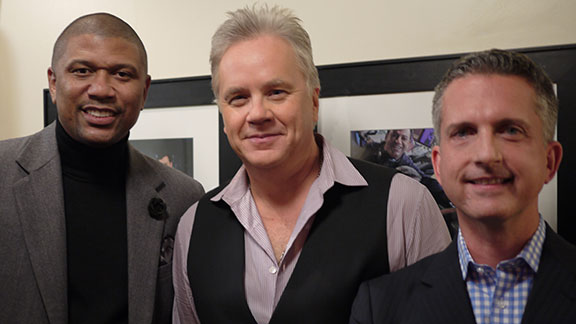 Q: Last March Madness myself and 10 of my friends went to Vegas for the opening weekend to indulge in excessive gambling, binge drinking, and far too many cigars. Out of the many storylines from the trip the best may be from an afternoon that we each wore a different jersey from the '92 Dream Team and walked the strip (started at Hooters and ended at Casino Royale). We were missing David Robinson, and Pippen went MIA after a lukewarm blackjack table halfway down the strip. The reaction from strangers was nearly 100 percent positive, although the guy that wore the Laettner jersey took a lot of shit. At CR we got the attention of half the casino from playing a group game of Wheel of Fortune, drank countless $1 Michelob's, mingled with prostitutes, swapped stories with the most BS filled blackjack dealer alive, and drank more Michelob's. Moral of the story? Dreams really do come true in Vegas.
—Brice, Clear Lake, SD
SG: I can't decide if that's the greatest idea I've ever heard, or if we just spiraled into the "Yup, these are my readers" portion of this column.
Q: This new girl just started working in my office and she just bent over to pick up something, and I noticed she was wearing a thong. On a Tuesday. In Philly. In December. She's hot. How am I supposed to focus the rest of the day? I haven't gotten any work done. This should be an allowable excuse to leave work early.
—Kevin, Philly
SG: I think we have our answer.
49ERS (-13) over Falcons
Q: Since we have TAINT (Touchdown After INT), FART (Fumble And Return Touchdown), and now PUBES (Punt Blocked, Eventually Scored) I figured it was only fitting to add TITS (Turnover Into Touchdown Scored). I would also like to make a request that we, loyal Simmons fans, use these in our everyday lives. Example: "Player X couldn't get the TAINT but at least the offense got the TITS" or "Thats now two TITS they've converted." As a female writer, we need TITS.
—Rachel, Tampa, FL
SG: It's a full-fledged holiday free fall.
Q: All the attention that the Cialis/Viagra commercials have been getting in your mailbag has me thinking. Why on earth have Bob Seger and the pharmaceutical industry not teamed up to create the single greatest ED commercial ever? "Like a Rock" was practically written to be played in the background of an ED commercial. The whole song works great but particularly at 3:50 into the song until the end. This would be one of the greatest things ever. Please use your connections and make it happen Simmons. Listen for yourself.
—Rob F., Raleigh
SG: All hell has broken loose.
Q: Is there a porn spoof yet about PTI? Like maybe "Pardon the Intercourse" and hosted by Tony Kornholer and Michael Willbone?
—Greg D., Indianapolis
SG: What the hell is happening?????????
Q: Like Larry Sanders, I once found myself at the center of a club brawl. As with the Sanders melee, once the pushing and shoving started, the cocktails were the first casualty and the floor was instantly liquified. Throwing a punch guaranteed losing your feet and going to the ground. One of my buddies made a genius adjustment after picking himself up from a tumble. He reacted to a punch thrown his way by keeping his feet as stationary as possible, covering his head, and getting low. Whoever threw the punch fell immediately and my buddy subsequently kicked him the head. This friend of mine, not a roughneck by any means, put on a performance so prolific we nicknamed him Pele The Destroyer. Good times. The downside is I often lie awake at night wondering how many men he may have killed. Life is about tradeoffs I guess.
—Strobis, Valdez, Alaska
SG: Yup, these are my readers. Happy holidays, everybody.
Last Week: 6-9-1
Season: 95-121-6