Just 14 months ago, the Nuggets were the NBA's most interesting team — a fast-breaking, stylistically unique beast that stood out as a model of how to win big without a top-15 overall player. Denver had just acquired Andre Iguodala, adding a defense-first Swiss Army knife to a stable of "pretty good" players the team had drafted or gobbled up via the Carmelo Anthony trade.
They had earlier dealt away Nene, a known commodity with health issues and a huge contract, to take an upside bet on JaVale McGee. They probably wouldn't win the title this way, but was it really so far-fetched to imagine Denver playing in the conference finals? It would only take the kind of injury/matchup luck almost every champion needs, some development from McGee, and a leap from "pretty good" to "All-Star"–level from at least one guy.
People around the league admired Denver for trying, even if Masai Ujiri, then the team's GM, never wished to stand out as the champion of the "pretty good." He was open about his desire to flip a collection of assets for a star, should one have become available, and the Nuggets had a collection of extra draft goodies courtesy of the Melo deal.
So much has changed in just over a year. George Karl, the coach who crafted Denver's go-go identity, was let go. "I was just shocked at that," Ty Lawson, the team's point guard, says about Karl's firing. He was napping when a friend texted him that Karl was out. "I was like, 'Why?'" added Lawson. "He had just won coach of the year!"
Iguodala, the best player on Denver's 57-win team last season, is gone, facing accusations of treason after heading to Golden State. Ujiri is in Toronto, starting the sort of teardown that ownership might not have permitted in Denver. McGee has been a bust so far, and now he's hurt. The rest of Denver's players, once young, intriguing, and cheap, are now expensive and in their mid-twenties; one of them, Danilo Gallinari, is recovering from a knee injury that will keep him out at least another month. The team is set to be capped out in each of the next two offseasons, and possibly the one after that.
It feels like Denver has lost ground in both directions. The Nuggets are no longer an "if everything goes right" title contender, and their potential trade package for a disgruntled star isn't as appealing as it once was. They risk meandering through the league's muddled middle, with no clear path out.
That is supposed to be death for any NBA franchise chasing the ultimate goal, but not every franchise operates that way. A different ownership group might have hired Tim Connelly, the team's new GM, and instructed him to engage in a Philly-style implosion: trade Lawson for future picks, test the market for everyone else, and race for the lottery. Rival executives say Denver, despite starting 13-8 and having just concluded a 4-2 six-game road trip, could still pull this trigger if they wished to. But the Nuggets like being competitive, and the remains of their 57-win roster were strong enough that a full-scale tank job would be tough. "I think our owner would have let us do whatever we wanted," Connelly says. "But a full-scale rebuild is not the be-all, end-all. It's a four- to five-year process. And coming off a 57-win season, that's just not something I would have pushed. There are too many good players here. It would be a disservice not to try, and not to try to win big."
But are the Nuggets set up to be the Western Conference version of the Joe Johnson–era Hawks, only more exciting? A lot of fans turn up their noses at those Atlanta teams; what's the point of being pretty good when there are all-or-nothing alternatives available? But a lot of team executives view Atlanta as a success. It's hard to be a relevant conference semifinalist–type for a half-decade straight.
Taking the next step without bottoming out is the challenge, but Connelly is optimistic he can pull it off — eventually. The Nuggets lack a Johnson-level albatross that almost requires a full roster detonation at some point. McGee has almost no leaguewide trade appeal right now, but he's "only" making about $11 million per season over the next three years.1 Lawson is the team's highest-paid player at just a hair above McGee, and the rest of this ultra-deep roster is made up of midsize contracts in the $2 million through $6 million range. Some GMs hate those kinds of contracts; they prefer minimum deals for role players and maximum deals for stars, with nothing in between. But few franchises get the luxury of building that way, and Denver's middling contracts make it so the Nuggets can worm their way into almost any deal.
And who knows: Perhaps over the next two years Denver will find itself with a chance to trade for a star. Identifying that star is tricky. Teams have no incentive to move stars on rookie deals, since they can match any rival offer in restricted free agency. And there just aren't many veteran stars who become attainable in their primes, before they hit the wrong side of the age curve.2 And a non-glam market such as Denver has to be careful trading for stars on expiring or soon-to-be-expiring contracts. Will the guy actually stay?
"We have to be realistic about where we stand in the free agency pecking order," Connelly says. "Cap space doesn't always pay off."
So for now, Denver will try to stay competitive and hope its tradable players increase its leaguewide appeal. Gallinari will have to prove he's healthy, Wilson Chandler must find a groove again as a multipositional versatility guy, McGee will have to stumble into something productive at some point, and Kenneth Faried stands as a potentially attractive trade chip. Sources at several teams said before the season that the Nuggets had reached out to them about potential Faried deals, but the Nuggets denied that such talks had occurred, and the Faried rumblings have quieted since. But a lot of executives still expect Denver to reengage, and to snag something in return for Professor Andre Miller, PhD, before this season's trade deadline.3 Not every deal has to be The Deal. Houston is the most recent team to show that piling up assets, bit by bit, can improve a team's (long) odds of striking The Deal down the line. Remember: Denver owns New York's first-round pick in the next draft, as well as the right to swap picks with the Knicks in 2016.
Connelly is optimistic that the pieces are still here to do something big. "Everyone wants a superstar," he says. "If one becomes available, we'll be as aggressive as anyone."
For now, Denver has to prove that it can stay competitive in a loaded conference. Things looked dicey after a 1-4 start to the Brian Shaw era. Faried and McGee were posting up as if they were Hakeem Olajuwon, the team was struggling to grasp Shaw's Indiana-style defense, and it looked as if Shaw were trying to impose a grind-it-out half-court offense that didn't fit the roster. The kings of the fast break and the rim attack were slowing down and taking way more midrange shots.
"Early in the season, Kenneth and JaVale were trying to show they have [the post-up] in their games," Shaw tells Grantland. "But they are not equipped to play that way."
The offense has righted itself since, in terms of both process and results. The defense is another matter, and it's unclear how good Denver can really get on that end as long as Faried, J.J. Hickson, and McGee remain three of the top four frontcourt rotation players.
Denver ranks eighth in points per possession, and only seven teams are playing at a faster pace. Denver is still running off both misses and makes, flustering teams that aren't 100 percent on-point in their transition and semi-transition defense. The post-ups aren't totally gone, but Shaw wants the inside-out play to be fast and unpredictable.
A lot of Denver post-ups are vehicles for passes, not scores. Hickson and Faried are capable interior passers when their playing time depends on it, and Shaw has cutters scurrying around them on the block when they have the ball. Professor Miller, using that ass-first old-man game, is probably the team's best post-up scorer and passer. Denver can do all kinds of funky things when Professor Miller goes to work on the block, including setting up two separate flare screens for shooters behind the 3-point line:4
Here's a clear still.5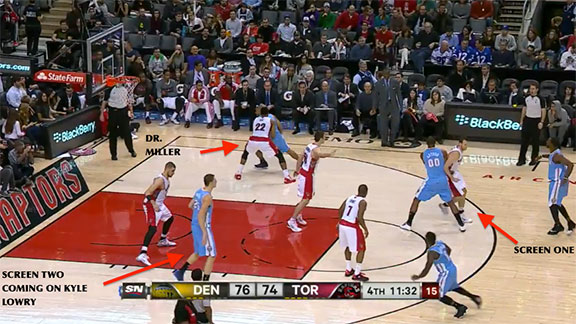 If Hickson or Faried is going to shoot from the post, it is going to come via a quick-hitting shot, and after some misdirection — the Darrell Arthur decoy pick-and-roll here:
Faried is no longer shooting with his back to the basket, which pleases Lawson. "If he's shooting the ball like that, he can't get offensive rebounds," Lawson says. "I kept telling him, 'You can't offensive rebound and get your points if you're out here shooting near the free throw line.'" If Faried does shoot anything other than a dunk or putback, it's typically a catch-and-fire jump hook he lofts up after flashing toward the middle of the paint — without posting up or dribbling. Only 6.7 percent of Denver possessions have ended via post-ups, the sixth-lowest figure in the league, per Synergy Sports.
The Nuggets don't attack the rim as relentlessly as they did last season, when 46 percent of their shots came in the restricted area — easily the highest share in the league, per NBA.com. That's down to 35 percent this year, still no. 9 overall, though nothing special. They still stay away from the midrange 2; only Phoenix and Houston attempt a smaller share of shots from that inefficient chunk of territory, per NBA.com.
Shaw has figured out ways to move his big men around the floor so that Lawson can flourish in the pick-and-roll, and Lawson is playing the best ball of his life. He's using a larger share of Denver possessions to hunt his own shot, he's blowing away his previous free throw numbers, and he's dishing more assists than ever. This is Lawson's team, and he's thriving.
That's in part due to a new craftiness in his game. Lawson was never the most subtle pick-and-roll guy, preferring to just sprint-dribble in straight lines. That worked fine, because Lawson is super-fast,6 but it also made him predictable when teams could slow the pace.
Lawson is tricky these days. He can go either way around a pick, though he prefers to go right. He slows down before the pick, tossing in shoulder fakes and hesitation dribbles that leave defenders confused about which way he's going — left or right? Around the pick or away from it? "I had to work on that," he says. "Before, I'd just see the pick and go. But I was watching the playoffs, guys like Steph Curry and Chris Paul. They give you a little head fake, or an in-and-out dribble, and it makes their guy just jump back a little bit. They have so many more options."
Moving at least one big man out of post-up territory has allowed Lawson some space to breathe, though space will always be tight for a team that plays so many big men without even midrange accuracy. But if one Denver big is posting up in the middle of the block, the other one will vacate the other block and lurk somewhere along the baseline.
The backup Arthur–Timofey Mozgov combo allows for more flexibility, since Arthur is a reliable midrange shooter. Those two run through a similar yin-yang, pendulum-style set of coordinated movements designed to maximize space and chaos. Mozgov will screen, and Arthur will chill along the baseline. As Mozgov rolls, Arthur will pop up to "replace" him 20 feet from the rim, giving Lawson space and options.
It's not perfect, or super pretty, but it has worked fine. And it was never Shaw's intention, he says, to remake Karl's Nuggets into some boring back-to-the-basket behemoth. "I want to run," he says. "But we can play at a faster pace without only running. Guys had certain habits they formed under the previous coach. But the teams I played against in the West, in particular Phoenix and Sacramento when I was with the Lakers, that style didn't translate to anything in the playoffs."
When reminded that the Kings and Suns each gave the Lakers (and other teams) pretty serious runs, including a Game 7 in the ultra-controversial 2002 conference finals, he laughs. "Almost," he says, chuckling. "But almost is in horseshoes. It has nothing to do with basketball."
Those Lakers (and Kings) also played some serious defense, and it's unclear whether the Nuggets can ever do that with this roster. They're 13th in points allowed per possession, and their starting lineup is bleeding points. The Faried-Hickson combo has been toxic; Denver is yielding 111.1 points per 100 possessions with that duo on the floor, a mark that would rank well below Utah's league-worst defense. The Faried-McGee pairing was even more sieve-like last season.
Denver's bench, including the Mozgov-Arthur duo, has been stingy; the Nugs have allowed just 94.9 points per 100 possessions with those two bigs together. But much of the competition has come against lesser backup units, and it's unclear whether that stinginess would carry over against starters. But it's worth asking whether Shaw should consider a lineup change at some point, and whether McGee deserves to simply walk into a starting spot upon his return.
But this is a process, as Shaw will remind you. He's just installing the parts of Indiana's system this Denver team can handle. "I thought we'd be able to install the Indiana imprint here," he says. "What I found out really quickly is that the ability of Indiana's players to defend their positions is different from the guys on this team. Indiana had defensive-minded guys at every position. This team is comprised differently."
Some Pacer rules do apply. Shaw has banned double-teams and tried hard to limit switches, a major departure from Karl's system. He has Hickson and Mozgov, his centers, dropping down on pick-and-rolls — as Roy Hibbert and Ian Mahinmi do in Indiana: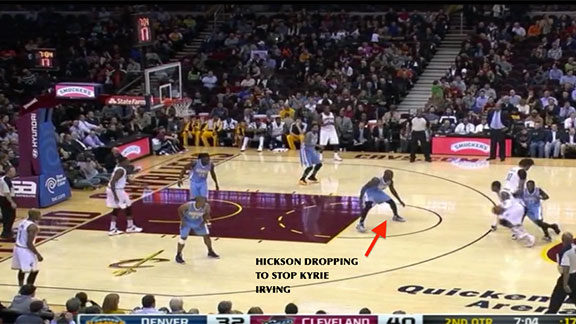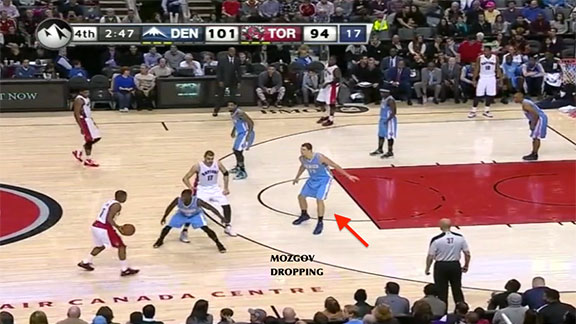 The mobile power forwards, Faried and Arthur, are jumping out more aggressively, David West–style: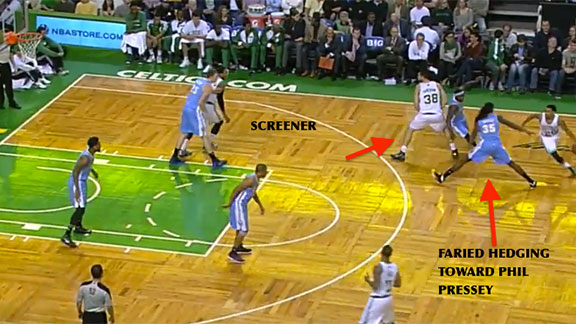 Problem: Only Arthur is much good at any of this. Hickson is flat-footed, allowing point guards to scoot around him, and he offers no rim protection. Faried has happy feet and major trouble timing his lunges at point guards.7 McGee is an unreliable defender, to be polite, and teams he has been on have rebounded a higher percentage of opponent misses with McGee on the bench for every year of his career, per NBA.com. That is bad news for a Denver team currently 28th in defensive rebounding rate.
If the defense remains this shaky, a safe bet, the Nuggets will have to scrap for a playoff spot in the Western Conference. But they'll scrap, and this is just Year 1 of a long-term process the team still hopes could unfold in several different directions. "We have the chance to make some noise," Connelly says. "And if we're not good enough, we've got some alternate plans."
10 Things I Like and Don't Like
1. Kyle Korver's Record-Setting Game
How fun was this? The fans and Atlanta's bench would leap to their feet the moment any Hawk had the ball in a position from which he might pass to Korver.
Atlanta players were looking to get Korver the ball early, to the point they were overthinking things and skewing the team's offense out of kilter. Big men rolling to the hoop with two shooters on the wing would choose Korver, even if the other guy was much more open. And that other guy would make the extra pass to Korver, even if he should have shot.
Record-setting nights are fun like that, especially when the record-setter is on the home team. A great mix of awkwardness, buzz, and eventual jubilation.
2. Excessive Celebrations While Losing
The Hawks beat a pathetic Cleveland team that night, and during the third quarter, Dion Waiters slammed home a fast-break dunk. Waiters screamed as he rammed the ball through. As he jogged back along the sideline near the Hawks' bench, he glared at Atlanta's players, trash-talking them.
The dunk cut Atlanta's lead to 19. Congrats, Dion! Whoop it up! It might seem a small thing, and I'm normally not one to read much into behavior outside a player's on-court production. But I do think stuff like this can tell us about a player's priorities. Gloating trash talk when your team is laying yet another egg is just embarrassing — especially when your own awful defense is among the many reasons for said egg-laying.
3. Golden State's Modified Elevator Doors
The Warriors are perhaps the league's most frequent practitioners of the "elevator doors" genre, but they've had to tweak their go-to sets as other teams have scouted the play and incorporated it into their own offenses.
Perhaps my favorite tweak-atop-a-tweak so far:
Most teams run the elevator doors along the baseline, but the Dubs have been pulling it up top for Klay Thompson since sometime last season. But they're going to new lengths here in hiding the true intentions of the play.
The set starts in a typical "horns" formation, with David Lee and Jermaine O'Neal, the two Golden State bigs on the floor, stationed at the elbows. Stephen Curry enters the ball to Lee, meanders over to set a pick for Thompson in the right corner, and everyone behaves as if the Warriors are running a standard screen-and-cut set.
And then, bam! Thompson accelerates into a 90-degree turn, the doors close shut, and you're toast. A gorgeous little bit of misdirection.
4. Mike Miller's Haircut
Miller looks like a high school student on picture day. This is not how Mike Miller should look.
5. LeBron's Small Moments of Arrogance
James is always great, but he has those special nights when body, mind, and opponent are aligned in ways that make him look cyborgian. Miami's win in Minnesota on Saturday was one such night. James was terrifying, leaping from nowhere to snatch rebounds over and around other, mortal players, turning, and pushing the ball on unstoppable fast breaks.
Ricky Rubio — game, frisky, little Ricky Rubio — tried like hell to stop one such fast break. He failed. Watch LeBron's reaction after the dunk:
I don't know the exact translation here. It could be, "Come on, small man. What were you thinking?" It could be, "Was it really worth a potential collision that could injure us both?" It could be," I AM LEBRON JAMES, YOU STUPID LITTLE BEARDED PASSING GUY!"
Regardless, I enjoyed it. How is it possible to characterize this bit of arrogance as charming while branding Waiters's yapping distasteful? Simple: Miami was winning, and LeBron is LeBron.
6. John Wall's Next-Level Corner-3 Hunting
The Wiz launch 8.6 corner 3s per game, tops in the league, and they take a larger share of their shots from the corner when Wall is on the floor, per NBA.com. Wall is genetically constructed to produce corner 3s, given the way NBA defenses help off shooters in the weakside corner. He's fast enough to get in the lane and draw that help, and he's tall enough to toss cross-court passes over defenders.
But Wall has advanced to the point where he can hunt corner 3s several steps ahead — even before his target is anywhere near the corner. Watch him in transition, and you'll see Wall spot a shooter trailing him along one sideline, veer his dribble in such a way as to draw the defense away from that shooter, and then skip a pass aimed to meet that teammate in the corner. Great stuff from an emerging star.
7. "T. Jones"
Terrence Jones has been a wonderful, springy two-way force filling the power forward spot next to Dwight Howard. He's fun to watch, capable of rejecting a shot at one end and sprinting all the way to the other end for the fast-break dunk finish. But for reasons I can't quite explain, I find it irritating that Houston's play-by-play voice, Bill Worrell, insists on referring to Jones as "T. Jones" on almost every mention. I get that it's Jones's nickname, but it's not really a nickname at all. It's just a useless, additional syllable, and there are no other "Joneses" with whom we might confuse Terrence.
8. Jim Peterson and Dave Benz in Minnesota
They're in the discussion for best overall broadcast team on your League Pass dial. These two are super informed about the Wolves without verging into homerism, and they know nuts-and-bolts details about every opponent — offensive systems, rotation tendencies, specific sets, etc. Their in-game X's-and-O's analysis is clear and concise, hitting on salient points. Great work.
9. Darren Collison/Jamal Crawford/Antawn Jamison
The Clips have allowed just 82.9 points per 100 possessions in 91 minutes with all three of these guys on the court together, per NBA.com. Tread carefully, Doc Rivers. There is an avalanche of opponent points coming.
10. Dwight Howard's Dumb Goaltends
In Howard's 10th season, on his second max contract, he still commits more dumb and obvious goaltends than anyone in the league. It's maddening.