If you made it through the weekend without becoming an Olympic burnout zombie, congratulations. You've done well, and your reward is a very interesting development in the battle for national pride. A full week has passed, and the showdown with China has become a full-fledged dogfight. That's right, my friends; it's time to talk about the medal count. There's always been debate about whether priority should be given to gold medals or overall medals — I lean toward overall, personally — but at the start of Second Monday, China has us edged out in both.
China: 61 medals, 30 golds
U.S.: 60 medals, 28 golds
Incredible! Theoretically, the U.S. should benefit from having a better track-and-field team, along with more potential golds in team sports like basketball, volleyball, beach volleyball, and women's soccer, but the swimming bounty is over, and we should know by now that China gets golds in all the events you don't expect. And look, I know I've indulged in some anti-China rhetoric here, but I hope people take it in the context of the Games. Hell, I'm grateful for the rivalry — look at that medal count! How can you not care? Within that Olympic context, my patriotism is backwoods-militia level. In real life, I have more nuanced views, but the Olympics are a fever dream that transcends real life. To keep it from becoming a nightmare, you and I must become the sentinels of THE AMERICAN WAY.

Every event below can be viewed with either a television or an Internet-ready computer. The goal is to see gold-medal events and American team sports, and to see it all live without the tape delay crutch. The listed times are Eastern Standard Time, and this spreadsheet can help you along the way.
Monday
5:45 a.m. — Women's Field Hockey — U.S. vs. South Africa — NBC Sports Network (NBCSN)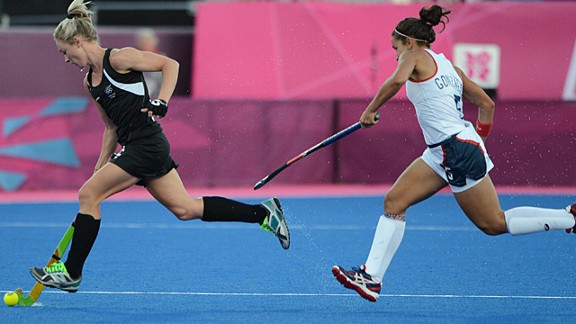 Bad news, guys — the U.S. women aren't very good. After four matches, we're just 1-3. However! Each loss has only come by a single goal. I'm not sure if that means anything, or if field hockey is just a really low-scoring game. Still, there's got to be a way to turn it around, right? The good news is that South Africa is 0-4, so maybe this will be the win that propels our women to a stunning knockout round. Strike that — I just checked, and field hockey only has semifinals. What kind of nonsense is that? Where's the magic potential? Where's the Cinderella 8-seed storming through the playoffs? All my life, I've been looking for a cause, and you know what? I think I just found it. (Crap, I just remembered I said the same exact thing about the lack of female Greco-Roman wrestling on Friday. This is the decision of a lifetime.)
8 a.m. — Sailing — Women's Laser Radial Final — Computer
Add this to the growing list of events that sound AMAZING, but are probably not as cool as you think. Other sports that fall into this group of Deceptively Named Events (DNEs) are Team Archery (not a hunt), Individual Dressage (not a bunch of people getting dressed really fast), Men's Team Sabre (not a giant cavalry fight), Men's Pommel Horse (no horses involved at all), Modern Pentathlon (doesn't include computer hacking or cybersex), Men's Skeet (actually, thank God this one is deceptively named), and Water Polo (no horses or seahorses involved).
8:45 a.m. — Shooting — Men's 50m Rifle, 3 Positions Final — Computer
I made a joke about the three positions last week, but the truth is that we're dealing with prone, kneeling, and standing. I like that this reflects actual warfare, and I think that element of the Games should be expanded. What about a grenade toss? Let's be honest, most of these countries have a ton of grenades they're not using.
9 a.m. — Gymnastics — Men's Rings Event Final — Computer
There are two "worst" moments of the Olympics so far, and no. 1 was McKayla Maroney's Haughty Stare not winning a gold medal in Sunday's vault final. Her level of difficulty was so far above everyone else's that even after she fell on the the second jump, her overall score was good enough for silver. But let's be honest — she was destined for gold. The haughty stare isn't quite as devastating in defeat. I'm afraid her aura has been severely compromised. (No Americans in the rings event.)
9 a.m. — Sailing — Men's Laser Final — Computer
DNE all the way. British Announcer: "And here comes the Australian boat … mere seconds from the finish … what a fine race. It's a well-earned gold, and — OH NO, THEY'VE BEEN CUT DOWN BY THE DANISH LASERS! OH, THE DEVILRY! THE DANES ARE ABSOLUTELY ANNIHILATING THEM WITH LASERS! THE AUSTRALIAN MAINSAIL IS NOW ON FIRE, AND I BELIEVE — YES, THEY'RE SINKING!"
9 a.m. — Equestrian — Team Jumping Final — Computer, NBC, at 2:30 p.m.
I watched a second of dressage the other day, and I had no idea they made the horses dance. I am not OK with that at all. I'm looking at these beautiful strong animals, and some cap-doffing little man is making them prance around like a pony. This should be illegal, or at least replaced by the joust.
9:50 a.m. — Gymnastics — Women's Uneven Bars Event Final — Computer
Gabby Douglas the Flying Squirrel is representing the U.S. here, and man is she good. Total medal potential.
10:30 a.m. — Men's Water Polo — U.S. vs. Hungary — NBC
After a strong start, the U.S. took its first defeat against Serbia on Saturday, but their spot in the quarterfinals is secure with just one group match left. The Hungarians are a strong side, and the U.S. needs a big win to avoid having to face a difficult Group A team like Spain or Croatia in the quarterfinals. And let me just say for the millionth time that I love water polo.
10:41 a.m. — Gymnastics — Men's Vault Event Final — Computer
Sam Mikulak is the American representative here. If you're keeping track at home, his stare is about one-tenth as haughty as Maroney's.
11 a.m. — Shooting — Men's Trap Final — Computer, NBCSN at 11:30 a.m.
In terms of watchability, the trap and skeet shooting events have a gigantic advantage over the target shooting, because you get to see the targets explode in a purple dust cloud. This is another event I see as distinctly American. It surprises me that other countries even have trap shooting. Do they have catfish noodling too? Or hot dogs?
12:43 p.m. — Cycling (Track) — Men's Sprint Final — Computer, NBC at 2:10 p.m.
Deceptively Named Event all the way. I'm guessing this isn't an event where the riders are all on the track and random springs shoot up through the ground every few seconds, throwing riders into the air and eliminating them from the event. The ultimate test of nerves and luck. (Editor's Note: Shane would like you all to know that he wrote this thinking the event was called the "Spring Final," and that he's an idiot.)
1:46 p.m. — Wrestling — Men's Greco-Roman 60kg Final — Computer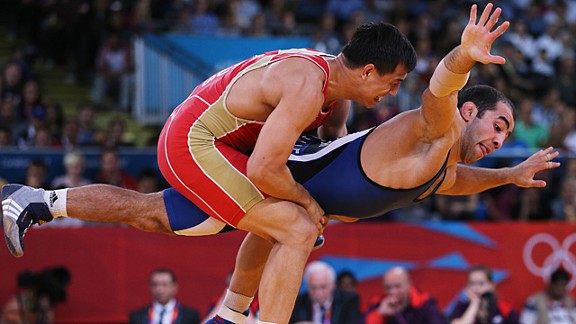 The major difference between Greco-Roman wrestling and freestyle (or "normal") wrestling is that in G-R, you can't attack the opponent below the waist. So it's basically like a bear fight, where two guys try to grapple and toss each other around. According to Wikipedia, there are six forms of wrestling practiced widely: G-R, freestyle, submission wrestling, something called "Pankration Athlima," beach wrestling, and folk wrestling. No, I'm not kidding about those last two. Folk wrestling is only practiced in smoky bars by hoarse old men with dark glasses and the word "Blind" in their names.
2 p.m. — Weight Lifting — Men's 231 lbs. Final — Computer, NBCSN, at 4:45 p.m.
You might think that weight lifters would be really good at helping you move, but actually, for the amount you pay just for their name, you might as well just go with a normal company.
2 p.m. — Men's Beach Volleyball — Jake Gibb/Sean Rosenthal vs. Latvia, Quarterfinal — Computer
OK! The other "worst" moment of the Olympics, for me, was watching a hobbled Todd Rogers and Phil Dalhausser go down in the beach volleyball round of 16. It was a terrible situation for them, a combination of bad luck and running up against a hot opponent, and they never found their rhythm. So there will be no second gold, and no all-America derby in the finals. While the women march on to the semis, Gibb and Rosenthal are our last male contenders. They actually beat the other Latvian team in group stages, so maybe they're in their heads. We can only hope. (Also — I can't believe this isn't on TV. So angry.)
2 p.m. — Field — Women's Pole Vault Final — Computer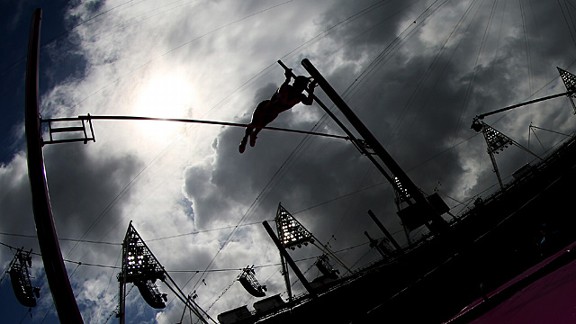 I need to start focusing on track and field. My passion for swimming hasn't carried over the way I hoped, but with the Lightning Bolt winning his second gold, I think I'm starting to get my mojo back. This one is actually well worth watching, because Russian Yelena Isinbayeva is going for her third straight gold in the event, and it looks like American Jenn Suhr is the only one who can stop her.
2:15 p.m. — Field — Women's Shot Put Final — Computer
Nadzeya Ostapchuk from Bulgaria is the favorite, and boy, can she ever OstapCHUK that thing! (Don't try to tell this joke in Bulgarian; it gets totally lost in the translation.)
2:21 p.m. — Wrestling — Men's Greco-Roman 84kg Final — MSNBC
Greco-Roman wrestling actually originated in France. Why it's called Greco-Roman is beyond me, unless France understood that it has some branding issues and wanted to keep the origin quiet.
2:45 p.m. — Women's Soccer — U.S. vs. Canada, Semifinal — NBC Sports Network
Oh man oh man oh man oh man. This is the highlight of the day. I'm terrified of this game, well and truly. First, it would absolutely kill to lose to the Canadians. I couldn't handle a world where that happened. But check out this little transitive horror: Canada beat Great Britain, who beat Brazil. So they're good. Also, I'm very worried about the U.S.'s weird inability to finish chances at goal. The quarterfinal win against New Zealand stayed at a dicey 1-0 until past the 80th minute for that exact reason. Anytime it's close, you open yourself up to a fluke goal and the eventual coin flip that is penalty kicks. Make no mistake: The U.S. will have the better of this match. I'm just worried that a lack of finishing touch could leave us snakebit. I'll be nervous the entire time. Big soccer fans should obviously keep an eye on France-Japan in the other semi at noon.
2:56 p.m. — Wrestling — Men's Greco-Roman 120kg Final — MSNBC
OK, we get it, Greco-Roman wrestling, you're a sport. Haven't you proved your point? Do you really need all this attention?
3 p.m. — Men's Volleyball — U.S. vs. Tunisia — NBC
After they destroy 0-4 Tunisia, the men will join the women as winners of their group. The medal rounds start soon!
3:45 p.m. — Track — Men's 400m Hurdles Final — Computer
Hey, why is Great Britain so good at track all of a sudden? Victories in the long jump and the 10,000-meter? That's kind of annoying, right? There are three Americans in this race, but weirdly enough, the seasonal bests of all the runners make it look like a medal may be tough to come by.
4:05 p.m. — Track — Women's Steeplechase Final — Computer
Hey, Internet, where did the word "steeplechase" come from? Well, Shane … "The origin of racing over fences is shrouded by the mists of history, but by all accounts it began in Ireland in the 18th century. Its roots were in the fox-hunting field, and occasionally horsemen would match up their horses for races over considerable distances. They would race to landmarks such as church steeples, and thus one of these races was a chase to the steeple, or a steeplechase."
4:30 p.m. — Track — Men's 400m Final — Computer
Look, I'm not saying this is right, and I'm not saying this is wrong, but a good way for the U.S. to up its gold-medal count would be to, just for athletics, annex the Caribbean. We'd also be way better at the World Baseball Classic.
5:15 p.m. — Men's Basketball — U.S. vs. Argentina — NBC Sports Network
Man, I got some karma vibes during the fourth quarter of that Lithuania game. As in, the basketball gods aren't going to watch you beat Nigeria down by 80 points and let it slide. And now that I'm thinking about it, maybe it would have been good to get it out of the way, instead of having all that karma hovering like a black cloud. Call me superstitious, but I definitely believe in karma, and it wouldn't surprise me at all if the U.S. doesn't win gold in London.
7:15 p.m. — Bedtime. You've done great work, and hopefully you've seen some American victories. If you and I focus on the basics, and stay in front of the TV when it matters, the medal count will take care of itself. Viva America.