After a brilliant performance from the American women on the most important day of team competition, the medal count is starting to lean very heavily toward the U.S., and we're enjoying our first lead in the gold-medal count in days.
U.S.: 39 Golds, 90 Overall Medals
China: 37 Golds, 79 Overall Medals
Our resident Saber-Medal-Trician, Daniel G., has checked in, and according to his system — which uses Sports Illustrated's pre-Olympic medal predictions in conjunction with actual results to project a final tally — the U.S. is awfully close to clinching. The Americans are now on pace to win two more golds than predicted, and six more medals overall, while the Chinese are on pace to win three fewer golds than expected, and 10 (!) fewer overall. With just three days left, here are the projected final totals:
U.S.: 44 Golds, 105 Overall Medals
China: 39 Golds, 87 Overall Medals
I have to share one sentence in Daniel's e-mail, since it gave me some patriotic goose bumps: "China could still catch us, but it would probably involve them winning both racewalking gold medals tomorrow and us failing to win both basketball golds."
If this were a presidential election, and Daniel were Brian Williams, here's how that sentence would have sounded: "Ladies and gentlemen … [long pause while Daniel studies a paper and listens to an earpiece to build suspense] … Ladies and gentlemen, based on the latest exit polls … we can now project that the Americans are going to win the overall medal count, as well as the gold-medal count!"
[Joyous screeching noise]
[Ten minutes pass]
OK, I'm back. I just had to run around my apartment screaming in ecstasy until I passed out and woke up again. Now that I'm calm, let's talk about the U.S. women's teams. We went a perfect 4-for-4 on Thursday — the volleyball squad drubbed Korea in the semis, the basketball team topped Australia in the semis, and the water polo and soccer squads both won gold — and my friend Ben pointed out to me that the only team sports in which the Americans won't win at least a silver are handball and field hockey. If the Games finish as expected, it will be gold in all events but those two (plus beach volleyball and gymnastics, if you want to extend the definition of "team"). That is seriously impressive.

Two quick notes. First, a lot of people e-mailed or tweeted with ideas for evaluating the medal totals based on point systems, but my favorite came today from Ryan White, who advocated for the 5-3-1 track system: five for gold, three for silver, one for bronze. It probably won't come into play this time since the U.S. should win every category, but it's a useful formula for the future. For the record, the Chinese beat us in Beijing 346-330 under the Modified White System, despite the fact that the U.S. had more overall medals. I would say that's a fairly accurate reflection of how things went down.
Second side note: I just want to say a quick thanks to everyone who followed along during these two weeks. It's been a blast on my end. We'll finish off with an abridged weekend guide later on Friday, and Sunday marks the end of the London Olympics. I can safely say I've enjoyed these Games more than any other, and that's due to interacting with you all. So again, thanks.
You know the drill: All times below are Eastern Standard Time, since we are rebels against the tape delay. You can follow along with one computer and one television, and the goal here is to hit every gold-medal event and every team sport with U.S. participation. This spreadsheet is a useful auxiliary guide.
Friday
7 a.m. — Swimming — Men's Open-Water Swim — Computer
Here's something incredible: The women in Thursday's race were in the water for just under two hours, covering 10 kilometers, and yet the gold medal was decided by .4 seconds. American Haley Anderson chased down Hungary's Eva Risztov in the closing moments and came up just shy of a win, taking a well-earned silver instead. It's not the easiest sport in the world to televise, but I definitely recommend going here and skipping to the 1:54:00 mark to watch the last three minutes of the race. The final duel is pretty great, and I also love that they have to slap a finish line at the end.
8 a.m. — Sailing — Women's 470 Final — Computer
I failed you, sailing. I failed you so badly. I didn't watch a minute of you, even though I have vague childhood memories of the America's Cup being fun. Also, am I the only one who thinks of that semi-ludicrous John Kerry photo every time I see someone windsurfing? He's ruined the sport for me. And eight years later, it's hard not to wonder how things might have been different if he had avoided all sports-related photographs.
10 a.m. — Synchronized Swimming — Team Free Routine (Final) — NBC
John Kerry is actually ranked fifth in the country in male synchronized swimming. Grantland will pay $7 million for a photograph of him performing his famous "French Mime" routine. (Why am I burning John Kerry all of a sudden? What happened here?)
11:30 a.m. — Cycling — Women's BMX Final — Computer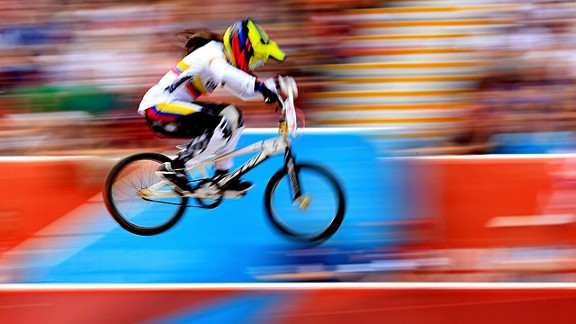 I know I'm going to take heat for this, guys. I know it. But I'm going to say it anyway, because I've made a habit of being honest: Should BMX biking be in the Olympics? I'm legitimately asking, though admittedly not without some condescension. It has the distinct odor of the X Games to me. I have to say that while I enjoy the X Games, I'm pretty content not to have skateboarding or street luge or snowmobile jumping in the Olympics. I feel sort of the same about snowboarding, actually, although only in the half-pipe. Downhill snowboarding, especially the one with five people racing at once, is a blast.
11:40 a.m. — Cycling — Men's BMX Final — Computer
On the other hand, my gut tells me that this is going be an absolute blast to watch. Multiple riders are going at once, just like the downhill 'boarding I love so much, and there also appear to be lots of crashes happening. So yes, I will be tuning in.
2 p.m. — Field — Men's Pole Vault Final — Computer
I mentioned this in passing yesterday, but I really want to know what it feels like to pole vault. It seems so soaring and glorious. If you gave all people the chance to experience one foreign sensation for five minutes, I bet you'd get a lot of people flying, breathing underwater, X-ray vision that sees through clothes, and probably a ton of other perversions, now that I think about it. But me, I'd choose the brief weightless ecstasy of pole vaulting. And then my five minutes would be up, and I'd probably be like, "f—, I really should have chosen X-ray vision." Anyway, American Brad Walker has an outside shot at a medal here.
2:03 p.m. — Wrestling — Men's 55kg Freestyle Final — NBC at 2:15
If we've learned one thing over these two weeks, it's that kilograms are pretty annoying. Go America.
2:35 p.m. — Field — Women's Hammer Throw Final — Computer
OK, you're in a massive Hunger Games–style fight. There are four teams of five people each. Do you want to be on Team Javelin, Team Discus, Team Shot Put, or Team Hammer? Me, I'm going Team Hammer, because you can swing it around a lot before you release. But let me tell you something — if you're on Team Hammer or Team Javelin, you better make your throws count and make sure you can recover the weapon. If you fail, you've got a pretty serious shot put head-bashing on the way. (For what it's worth, I think Team Discus would be annihilated and enslaved almost immediately.)
2:50 p.m. — Wrestling — Men's 74kg Freestyle Final — NBC
I did watch some women's wrestling Thursday. I'll admit it. It was kind of OK, but my big problem is that with such highly specific fighting events, like Greco-Roman and freestyle wrestling, judo, and taekwondo, you better have an entertaining payoff. Boxing, despite the fact that the Olympic style has mostly ruined it, at least has the timeless appeal of one human hitting another with fists. That's an aesthetic delight. I'm not a mixed martial arts fan, but MMA would be cool in the Olympics because you know you're getting some kind of submission or knockout at the end. But the sports listed above seem like they're benefiting from being around the longest, and not much else. It's just a lot of tumbles and subtle reversals that are impressive in theory but not much fun to witness.
3 p.m. — Women's Field Hockey — Gold-Medal Match — Argentina vs. Holland — NBC Sports Network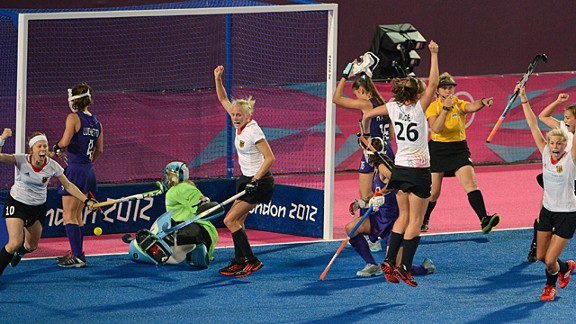 The ratings for this match may be higher than expected, for the same reasons men of a different generation showed a particular interest in a so-so women's tennis player named Gabriela Sabatini.
3:05 p.m. — Track — Women's 5,000m Final — Computer
Couple Americans in this race, but unfortunately the personal bests indicate we don't stand a chance against the Ethiopians or Kenyans.
3:40 p.m. — Track — Women's 4×100 Final — Computer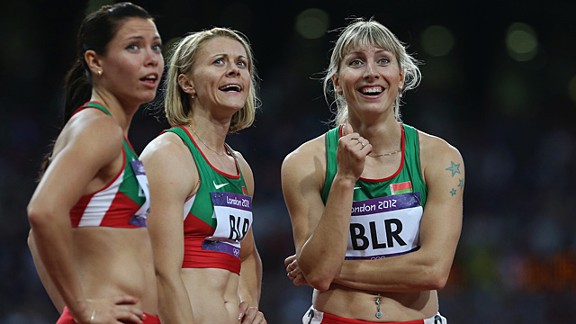 Big chance here for more American gold. I'm not positive about this, but I imagine we'll have the likes of Carmelita Jeter, Allyson Felix, Tianna Madison, and maybe Sanya Richards-Ross. These events are inevitably exciting, rivaling the 4×100 in swimming for the most reliably dramatic events of the entire Olympics. What puts track and field over the edge, though, is the existence of the baton. Really, the baton makes no sense … couldn't they just slap each other's hands? I'm sure we could invent weird electronic gloves to ensure nobody cheats. But the baton exists, and the baton can be dropped. It adds a new element of terror, and the prospect of terror is why we're all here in the first place. The Jamaicans are the main competition.
3:55 p.m. — Track — Women's 1,500m Final — Computer
Both Americans in this race have come within hundredths of a second of breaking the four-minute mark, but neither has sealed the deal. It's particularly agonizing for Morgan Uceny, whose personal best is 4:00.06, and who has surely run sub-four times in practice. But as she gets older it'll continue to slip away, and she'll always have to look at that horrible six hundredths of a second. It's true what the old-timers say: The 1,500 is a wicked mistress. (Pretty sure I read that on Wikipedia.)
4 p.m. — Men's Basketball — U.S. vs. Argentina, Semifinal — NBC Sports Network
As successful as the U.S. women's teams have been, the men have been an utter letdown. Only the basketball stars still have a chance at gold, and they're obviously the heavy favorite. My personal theory is that the humiliating win against the Nigerians, along with the curse against American men, is a silver karma bullet that will keep us from the gold. Recent scores make it seem less and less likely that I'll be right, which is a relief, but Argentina still scares me. Even though we destroyed them in the group stages, there's still that pre-Olympic nail-biter to consider, along with the fact that this will be their third time facing our lineup. As we know from the great rivalries in college and the pros, familiarity plus playoff pressure breeds close games. Argentina scares me way more than Spain right now. Speaking of which, I should mention that big basketball fans will want to watch Spain-Russia in the other semifinal at noon.
4:20 p.m. — Track — Men's 4×400 Final — Computer
It should be a duel between the U.S. and the Bahamas. Hey, did you know the Bahamas are the smallest country (by population) to ever win a medal? [Ed. note: this honor actually goes to Grenada]. On a completely unrelated topic, how do you think the 4×100 would change if the runners were allowed to throw the baton? If we took four pretty fast NFL players, let them throw the baton, and put them up against the Jamaicans (who have to run the race normally), would they have a shot? It's a precarious situation, because a baton is tough to throw and catch, and focusing on those elements would break their stride and slow them down. And obviously, they would be screwed if someone dropped the baton. But if they could do the exchange from 30 meters away, it would theoretically make up for the slow-down and help them overcome the Jamaicans. If the dastardly Jamaicans still won, we could change the rules to let the last runner throw the baton over the finish line when he got within 30 meters. I think then the NFLers could win. These are the kinds of TV specials I want to see.
5:15 p.m. — Taekwondo — Women's 148 lbs., Men's 176 lbs. Gold-Medal Matches — Computer
Watched some taekwondo today. Barely sure what's happening. If I was a snappy mainstream movie critic, I would pronounce this sport a "Tae-Kwon-NO!" and then giggle myself to death.
6 p.m. — Rest. You're two days away from fulfilling your destiny. Read the St. Crispin's Day speech from Henry V, but substitute American pronouns where necessary. Or just watch Bill Pullman's speech from Independence Day. That's probably more fun than reading. And way more American.