"We're all just fans of R. Kelly," said Luke Welch, standing in front of a 5-foot-high papier mâché rendering of the musician's head. It was Friday afternoon, and in less than 24 hours this made-with-love work of art would be hurled off the edge of a 30-foot-high ramp and into the chilly water right behind AT&T Park. And Welch would be onboard.
Arc Kelly was the official name of this aircraft, one of 32 entrants in the latest Red Bull Flugtag event. Named for a German word that means "flying day," Flugtag gives civilians the chance to make like the Wright Brothers — if the Wright Brothers wore costumes and performed dance routines before running off cliffs. Or if the Wright Brothers built planes featuring facial hair, a sweatband, sunglasses, black braids, and a giant gold chain made in the manner of construction paper Christmas ornaments.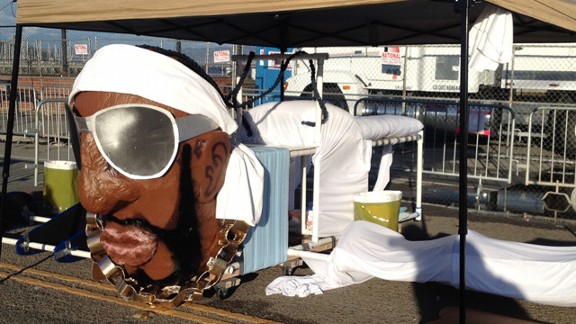 Of course, that wasn't the only flashy flying machine getting ready for Saturday's event. One plane, surrounded by guys with cans of orange spray paint, was in the shape of a Dorito (team name: Macho Cheese). Another one, made by the guys who run Chacho's Restaurant in San Jose, was made to look like a wrestler — painted-on face mask and nipples and all. The owner, Jorge Sanchez, hinted that they'd all be thematically dressed during the competition. Would we be seeing Spandex? "Yes," he said. "A lot."
A group of San Francisco firefighters was hard at work on a giant and ornately painted Sugar Skull that included a detachable brain (the theme being "Free Your Mind"). I helped one short-staffed father-daughter-little-granddaughter trio wrap a plastic tarp around their plane, Flying Fuego, which was built in the shape of a hot sauce bottle and, they assured me, fully biodegradable.

"We call her la bruja, the witch," Mario Martinez explained with the air of a man eulogizing a love-hated mother-in-law. "This will be her virgin trip. It's like the Titanic — it will be her first and only run." This was the second time Martinez had attempted to enter the Flugtag, but his previous entry — details were sketchy, but it involved a toilet and the name "The Flying Turd" — failed to make the cut.
Most teams were decidedly amateurish, their previous engineering attempts having been limited to things like elementary school egg drops. "This is like a science project for big kids," said Morgan Oliver-Allen of Team Movember. He was one of the more experienced builders I spoke with; he said he'd built things like half-pipes and skateboard ramps, and "maybe some stuff around the house for Mom." (As for Mom: She "thinks we're crazy," he said.)
There were a few teams whose professionalism struck fear into their competitors, though. I was told in reverent tones about "some guys from Boeing, or something"; it turned out they worked for Northrop Grumman. Their plane looked very professional, I have to say.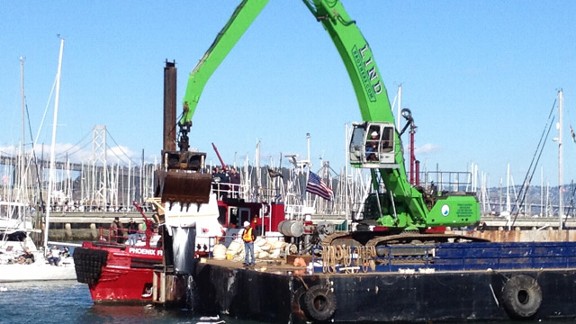 The weather Saturday was perfect. Breezy, clear, cool, as good as it gets for November. The press release Red Bull sent out later said they'd counted 116,000 people in attendance. Some were gathered in back parking lots watching everything on big screens, some were right up front, a bunch had rented kayaks and paddled into McCovey Cove, others lolled on giant sailboats.
They watched as one by one planes made out of a lot of PVC pipes careered off the end of the takeoff ramp. Each group of builders paused on the precipice and either ultimately pencil-jumped or backed off and stayed dry. (The judges harshly penalized any teams whose members did not take the plunge.) All of their zany outfits were made even more absurd by the life jackets and Red Bull helmets they were required to wear, making the crews look like kids with turtlenecks and raincoats under and over their Batman costumes on Halloween. The drag queens from Chicago whose gorgeous pilot, Frida Lay, had undergone an absolutely stunning transformation from when I met her the day before, were hardest-hit.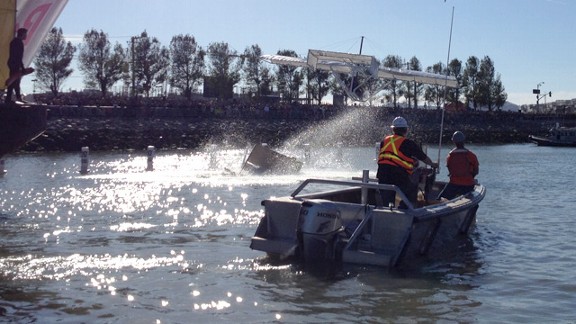 The majority of planes just sort of fell over the platform in a heap. The broken parts were then promptly scooped up by boats and dragged over to where a giant crane deposited them on a trash barge. It was oddly fascinating to watch. Flying Fuego went down that way, as did Chacho's Libre, although both were crowd favorites. A few got their wings caught on the runway and were broken before they even got to the end of the cliff. And a small number had what I can charitably describe as "graceful glides" directly into the water. None got close to the Flugtag record of 228 feet, set by a German team. The winning aircraft, by the patriotic guys from Team Movember, was victorious at 54 feet.
The best entrant, though, by far, was our old friend Arc Kelly. The team of digital advertising executives responsible for it wheeled the giant head up the ramp. Holding cardboard clouds and yellow streamers above their heads, they danced to "Ignition." I'd been told that the streamers were representative of "R. Kelly being no.1," wink-wink, nudge-nudge, but up there they looked more tasteful, as if they represented lightning, or sunshine.
The song blaring over the loudspeakers changed from "Ignition" to "I Believe I Can Fly." Arc Kelly began rolling down the runway, gaining speed. There was legitimate slo-mo excitement in the air for the beautiful prospect that this parade float on wings would catch a current and soar upwards, if even for a moment. We all believed. When the rigging hit the end, Arc Kelly took a swan dive into McCovey Cove, landing upside down and backward but still intact. It had still all been worth it. High above it, the team members looked down, laughing. One by one each shrugged, then jumped off the giant dock.