If you had to boil down the entire 2013 Milwaukee Brewers season to one game, Monday's loss to the Nationals would've been it. Facing one of the worst offenses in baseball, the Crew got hammered. The Nationals struck for one in the first, then five more in the third. Ron Roenicke tried to get another inning or two out of his starter, only to have the Nats go single, double, single to start the fourth. The final line for Milwaukee's starter: three innings, nine hits, two walks, and eight runs. The Brewers went on to lose 10-5.
That loss was the Brewers' sixth in a row, briefly dropping them to 17 games under .500. Milwaukee now owns the second-worst record and second-worst run differential in the National League, despite carrying a respectable Opening Day payroll of just less than $89 million, which ranked eighth in the league. The Brewers are on pace for their second-worst season since moving to Milwaukee in 1970. And the pitcher who got strafed for eight runs, hiking his ERA to 4.78? That was Yovani Gallardo, the team's best piece of trade bait and thus one of the only sources of hope in what will likely end as one of the most depressing seasons in franchise history.
All of this suffering has left the Brewers at a crossroads. Two years removed from a 96-win season that was their best ever and ended just two games short of the World Series, they're now hanging with the likes of the Marlins, looking up at the Cubs and Mets. Riding a five-year attendance streak in which they've averaged just less than 3 million fans a season but also dealing with gaping holes both on the major league roster and throughout the farm system, the Brewers need to decide what to do next: write off this season as terrible luck and stick with what they've got, make a few tweaks but keep the core intact, or blow it all up and rebuild, with the hope of fielding a winning team a few years down the road. Thing is, no one's quite sure how to proceed.
To figure out where they go next, it's worth examining how they got here in the first place. It starts with the hiring of a new scouting director, way back in 1999.
The usual protocol when a new general manager takes over a team is for a rash of firings to ensue, so that the new guy can bring in his own handpicked favorites to run the rest of the organization. But when Doug Melvin took over as Brewers general manager in 2002, he opted not to hire a new scouting director, instead keeping Jack Zduriencik in that role. The Brewers had suffered through seven consecutive losing seasons when they handed over the keys to their scouting operation to Zduriencik following the '99 season. This was a far cry from their glory years of the late '70s and early '80s. Then, the team fielded future Hall of Famers like Robin Yount and Paul Molitor. The mid-to-late '90s, on the other hand, were the time of Scott Karl, post-injury Cal Eldred, and the ghost of Marquis Grissom. By the time Zduriencik seized the task of rebuilding the organization's talent pool, the only 25-and-under players on the big league roster with even a hint of upside were Geoff Jenkins, Ronnie Belliard, and, if you're feeling generous, Jeff D'Amico. This was going to take a hell of a lot of work.
One advantage the Brewers (like any consistently bad team) had was a string of high draft picks. Starting with Zduriencik's first draft in 2000, Milwaukee picked 11th, 12th, seventh, second, fifth, fifth, 16th, and seventh through 2007. But unlike the NBA and NFL drafts, which offer much higher hit rates for high picks, baseball teams whiff all the time when given top-five and top-10 opportunities, even when given a bunch in a row. If you're in a jerky mood and want to piss off a Pirates fan who is getting a big head over that team's big season, remind him that the Bucs took Bryan Bullington first overall in the 2002 draft because they were excited by the prospect of landing a potential no. 3 starter. Playing in the smallest metropolitan market in the majors and lacking major revenue streams, the Brewers would need to find, sign, and develop premium talent with all those high picks, or risk many more years of misery.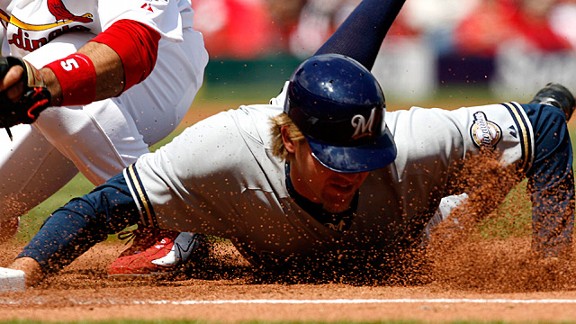 The Brewers' first pick under Zduriencik didn't meet that standard. In fact, Dave Krynzel was a bust, an Ohio-born, Nevada-schooled, lefty-swinging outfielder who lasted just 21 games in the big leagues. But Milwaukee redeemed itself in the 11th round, snatching Corey Hart. That first year started a string of drafts that would be the envy of nearly any other team. The next season's first-round pick, Mike Jones, never panned out; but J.J. Hardy proved to be a big score in the second round, giving the Brewers several quality seasons at shortstop before getting traded for current star center fielder Carlos Gomez. They did hit on their first-round pick in 2002, landing mega-slugger Prince Fielder seventh overall. (And though none of these players ever played a game for the Brewers, they showed a keen eye for talent in drafting Tom Wilhelmsen in the seventh round, Craig Breslow in the 26th, and Hunter Pence in the 40th.)
Rickie Weeks hasn't quite lived up to the superstar expectations thrust on him when he went no. 2 overall in 2003, but he has been a solid regular for years in Milwaukee (second-round pick Tony Gwynn Jr. has had his uses too). Mark Rogers disappointed as the top pick in 2004, but Gallardo more than made up for it as the second-round pick, with Lorenzo Cain turning into a 17th-round steal. The next year proved to be the score of all scores. Though the 2005 draft will go down as one of the best in baseball history, no. 5 overall pick Ryan Braun has shone brighter than Justin Upton, Alex Gordon, Troy Tulowitzki, Ryan Zimmerman, Andrew McCutchen, Jay Bruce, Jacoby Ellsbury, or anyone else from that class. And in true Zduriencik-era fashion, Milwaukee landed a couple of later-round steals, too, including Andrew Bailey and Michael Brantley, with the latter later to be packaged in one of the boldest trades the team has ever made. The Brewers did fare poorly in their 2006 draft, though top pick Jeremy Jeffress would at least make his way into yet another blockbuster trade. The top pick in 2007, Matt LaPorta, has been a sub–replacement level player thus far in the majors, but he was actually the linchpin in that massive deal that included Brantley; meanwhile, third-round pick Jonathan Lucroy has emerged as a key player on the current roster. Zduriencik capped off his 10-year run by snagging Brett Lawrie and Jake Odorizzi with the 16th and 32nd overall picks in the 2008 draft, with both players ending up in major trades for veteran pitching help inside of three years.
This was a remarkable run for any team, said Baseball America executive editor Jim Callis. You'll see a handful of stars and maybe three dozen big league regulars come out of each draft. Yet the Brewers snagged two franchise players, two other All-Stars, and several potential All-Stars during that decade. The way they did so was arguably even more effective.
"They didn't have extra picks" resulting from losing key free agents, Callis said. "They didn't really go over slot. This was just one pick per round, drafting straight-up. They built a very good team by doing so."
It was Baseball America that named Zduriencik its Major League Executive of the Year following the 2007 season. When veteran Milwaukee Journal Sentinel writer Tom Haudricourt asked Melvin about Zduriencik's contributions to the team at the time, the GM didn't mince words: "No doubt about it, he deserves almost all the credit for the young players we have. The players he has drafted are making an impact at the big league level."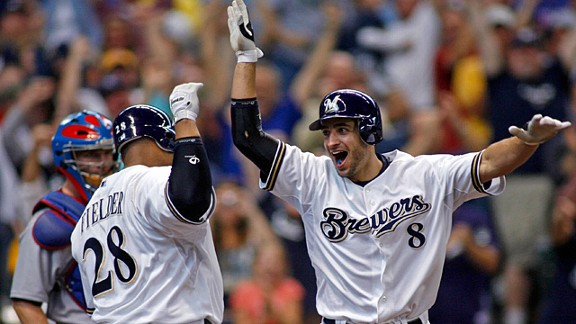 Those players formed the foundation for the winning teams that would follow. The Brewers extended their streak of sub-.500 seasons to 12 before finally finishing 81-81 in 2005. Then in 2008, Milwaukee snapped the second-longest playoff drought for any team, surging to 90-72 and claiming the NL wild-card spot. That '08 team featured 24-year-olds Braun and Fielder combining for 71 home runs, with 25-year-olds Hardy and Weeks and 26-year-old Hart chipping in 58 more. Even with all that hitting talent, though, the 2008 club lacked front-line pitchers other than Ben Sheets. So on July 7 of that year, the Brewers shocked the baseball world, dealing four prospects to the Indians for CC Sabathia, three months before the defending Cy Young winner would be eligible for free agency. Sabathia was so dominant in his half a season with Milwaukee that he actually led the National League in complete games (seven) and shutouts (three) despite making just 17 regular-season starts as a Brewer. He posted a 5.1-to-1 strikeout-to-walk rate and a 1.65 ERA, propelling the Brewers into the postseason.
When Sabathia left to sign with the Yankees after the 2008 season, the Brewers' biggest weakness was reexposed: They'd developed a passel of excellent, young position players, but few pitchers of note other than Gallardo and Manny Parra, though Parra's '08 campaign would prove to be the highlight of his otherwise unremarkable career. That lack of pitching talent showed the following year, when the Brewers stumbled to an 80-82 season thanks to a staff that yielded more than five runs a game. Stinging from that pitching deficit and emboldened by the success of the Sabathia trade (three great months plus a compensatory draft pick in exchange for a package that has yielded a league-average outfielder in Brantley and little else certainly qualifies as a success), the Brewers figured trading prospects for more veteran pitching help would help pry open that proverbial window for a while longer. After another losing season in 2010, they made two such deals. First, Lawrie went to Toronto for right-hander Shaun Marcum. Thirteen days later, Cain, Jeffress, Odorizzi, and 24-year-old shortstop Alcides Escobar got shipped to Kansas City for another former Cy Young winner, Zack Greinke (and Yuniesky Betancourt, but for everyone's sake we'll pretend that didn't happen).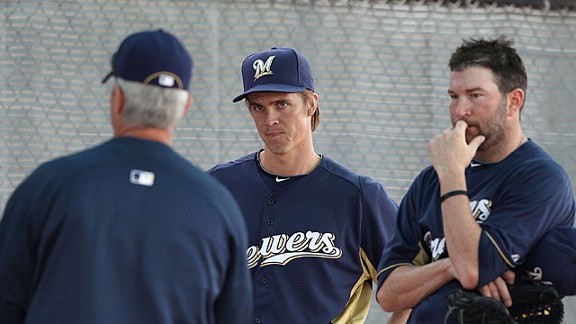 The short-term results of these two deals were outstanding. Marcum topped 200 innings for the first time in his career, producing a 3.54 ERA and 3.73 FIP. Greinke did spend time on the disabled list, but he was very good (albeit not nearly as unhittable as he'd been two years earlier), leading the majors in strikeout rate while posting a 2.98 FIP and 2.56 xFIP. This time, the Brewers trumped their 2008 result, winning a franchise-best 96 games and advancing all the way to the League Championship Series before falling to the eventual World Series champion Cardinals. With Greinke in tow for the 2012 season, the Brewers hoped to bag a better follow-up result than what they'd managed in 2009. Didn't happen. Though they did get some surprisingly strong contributions from a couple of twentysomething pitchers (waiver claim Marco Estrada and 2009 22nd-round pick Mike Fiers), they were ultimately undone by some terrible performances by several other pitchers, including most of the bullpen, and 142⅓ nightmarish innings from a washed-up Randy Wolf. Though they enjoyed a strong closing kick to finish the season above .500, the Brewers had again failed to build on a big year.
"You can win," Melvin said, "but the toughest part is sustaining success. You think about a year like we're having right now; Boston had a down year last year, but they regrouped, recovered, and they're still at a $140 million payroll [actually closer to $155 million as of Opening Day]. Smaller-market clubs can't do that, that is not the world we live in.
"When we traded for CC, that caught everyone off guard. We got 3 million fans in 2008. Then we trade for Greinke and Marcum, and 2011 was our best year in almost 30 years. But when you make those trades, there is a cost. You say, 'We'll worry about it later.' Well, 'later' is now."
What later/now means to the Brewers is a collection of organizational talent that ESPN's Keith Law ranked next-to-last in baseball before the start of this season. Leading his Brewers wrap, Law wrote: "This system has one top-100 prospect and a lot of back-end starters or probable relievers." Cashing in a dump truck full of highly rated prospects to make go-for-it trades played a big role in downgrading Milwaukee's farm system. But so, too, did a talent drain of another sort: an exodus of highly regarded scouts.
Zduriencik's departure to take over as Mariners GM after the 2008 season hurt. But the Brewers also lost four crosscheckers who went on to become scouting directors with other teams: Tom Allison and Ray Montgomery, who both took that job in Arizona (Allison first, followed by Montgomery in 2011); Bobby Heck, who became scouting director in Houston; and Tom McNamara, who followed Zduriencik to Seattle and assumed the head of scouting role there. A skeptic could argue that the entire Brewers organization reaped a halo effect from years of successful drafts, and that Heck and Allison didn't hang on to their new jobs for long. You could also circle back to the argument that aside from poor-drafting clubs like Pittsburgh, the Rays and other teams have also leveraged high picks into highly successful rebuilding projects. But there are too many cases of Jeff Clement– and Ricky Romero–style disappointments during the past decade to assume that draft success is a given, or that the Brewers' deep stable of seasoned bird dogs didn't play a significant role in their success. In his description of the oft-discussed Moneyball draft, Michael Lewis talked up the A's propensity to value skills over perfect physiques, famously quoting Oakland's motto: "We're not selling jeans here." Yet in selecting a certain high school first baseman no. 7 overall in 2002, the Brewers certainly weren't going for a sure thing. In fact, that pick drew mockery from Lewis, and by extension from the A's. "Here's an astonishing fact," Lewis wrote. "Prince Fielder is too fat even for the Oakland A's."
The other crosschecker from that era to rise to a scouting director's job was Bruce Seid, who seized that role by staying in Milwaukee to replace Zduriencik. Though drafts can take years to bear fruit, the industry consensus is that Milwaukee has fared very poorly in its drafting for the past few years, even after adjusting for the Brewers picking later than they did when the team was a perennial loser. The 26th overall pick in 2009, Indiana University pitcher Eric Arnett, isn't going to make it to the Show. The Brewers' top pick in 2010, right-hander Dylan Covey, was about to sign when a physical revealed he had diabetes; he went to college instead and ended up getting drafted later by the A's. Blessed with both the 12th and 15th overall picks in 2011 after the Covey snafu, Milwaukee picked Texas right-hander Taylor Jungmann and Georgia Tech lefty Jed Bradley. With a minor league pipeline that sorely lacked upper-tier pitching talent, Jungmann and Bradley seemed like exactly what the Brewers needed, two polished college products who'd move quickly through the rotation and hopefully make an impact in the big leagues within two or three years, if everything broke right. It hasn't worked out that way. Jungmann has been serviceable, posting a combined 3.55 ERA over the past two seasons in high Class A and Double-A ball … but with a weak strikeout rate of below six batters per nine innings. That still beats Bradley, who posted a 5.02 ERA during that same span.
A handful of players from those drafts have made it to the majors, including Fiers, Hiram Burgos, Scooter Gennett, and Tyler Thornburg. But no one from the 2009-11 drafts projects as an impact player of any kind, with doubts about whether any of them can even mature into an effective big league regular on a winning team — the organization's affection for Gennett notwithstanding. It's not fair to blame Seid and his staff per se, given that a lot of this boils down to luck. Sometimes a first-round pick gets diagnosed with diabetes, or a pair of college pitchers highly regarded by most people in the industry simply don't develop the way you'd hope. We also may very well see the 2012 and 2013 drafts work out better for the Brewers than it appears the 2009, 2010, and 2011 drafts will. But whatever the case, we're still back to a major league club that shouldn't expect big-time, homegrown reinforcements anytime soon.
That's especially tough to swallow given what has happened this season, one of those everything-that-could-go-wrong-has-gone-wrong ordeals. In 2012, Braun, Hart, and Aramis Ramirez combined to hit 98 homers. More than halfway through this season, they've hit just 14. Hart hasn't played a single game because of a knee injury, and is now out for the year. Ramirez has taken 32 DNPs this year. Braun, the team's resident superstar who is signed through 2020, is currently on the DL with a thumb injury — and that's not counting any potential fallout that might arise from the pending Biogenesis case. The carnage that has ensued on the corners has been unimaginably ugly. Hart's injury came alongside a setback for Mat Gamel, whose own busted knee will also keep him out for the entire year. With those two and Ramirez missing so much time, the Brewers have tried to patch things up with terrible players like Betancourt and Alex Gonzalez. FanGraphs's Jeff Sullivan recently summed up the result: The Brewers own the worst first-base OPS for any team since 1947. Though Ramirez has been injury-prone his entire career, that compounding of injuries seems unlikely to happen again next year, with better results at first base in particular more or less assured, assuming Milwaukee doesn't sign a 64-year-old Cecil Cooper to play there.
The better news has been the development of Jean Segura and Gomez. Segura exceeded even the loftiest expectations, hitting well over .300 with power as well as the expected lofty baserunning and base-stealing value. His emergence has helped dull some of the pain of the Greinke merry-go-round, given that the shortstop was the biggest piece of the package the Brewers got back after they traded Greinke away. Gomez has been even better, emerging into an elite player who leads the National League in Wins Above Replacement. Combine those two with Lucroy and the version of Weeks who didn't get off to a terrible start in each of the past two years and you've got one of the best groups of up-the-middle players in baseball — and that is not counting what you're likely to get from Braun, Hart, Ramirez, and the underrated Norichika Aoki. This could easily become one of the best lineups in the league next year, assuming all hands are on deck.
The pitching staff is another matter. Every Brewers starter to take the mound this year, except Gallardo and Kyle Lohse, has been pretty much replacement-level or worse, and there haven't been any major injuries to offer as caveats to that problem. Even Gallardo isn't what he used to be, his plunging strikeout rate and fastball velocity just the start of the many concerns swirling around the Brewers' purported ace.
The answer then seems fairly obvious: Go out and get more pitching. The problem lies in how to do that, a dilemma that might be causing a difference of opinion in the highest ranks of the organization.
Melvin possesses uncommon patience. He shepherded the team through half a decade of terrible results before finding success in '08. He was also incredibly patient with Gomez, giving a raw, tools-laden player already two-plus seasons into his major league career more time to develop, even if the results at the plate were often Wily Mo Pena–esque. Credit Gomez for turning into an MVP-caliber player, but save some for Melvin and his seemingly bottomless well of resolve. The GM sees the same up-the-middle strength and potentially powerful lineup that could play once everyone is back and healthy. But he also grasps the gravity of the team's barren farm system and its lack of major league–caliber pitching.
"Do we take a step back [to replenish the talent pool]?" Melvin asked. "We have to realize where we are right now. If you don't realize it, you could end up in the middle, then it becomes a four- or five-year project. If you have the patience to step back a bit, the stomach for it, it can be worth it."
From a baseball standpoint only, Melvin's point of view makes sense. Maybe accepting a truly lean year or two now sets the Brewers up for a quicker and more robust recovery once the pitching staff has been built back up and the team is ready to contend again. But it's never about baseball only, not for any team, and certainly not for a revenue-limited team that's also owned by a shrewd and aggressive owner like Mark Attanasio. The Brewers have one of the weakest local TV deals for any team. That makes the momentum in attendance and general interest that the Brewers have built up over the past few years so vital to the team's success.
By the time Attanasio took over the team after the 2004 season, interest had hit rock bottom. The Brewers ranked 13th in the NL in attendance that year, while carrying a payroll below $28 million. Having made his money in investing, Attanasio drew on a lesson he'd learned in snatching up distressed businesses: Sometimes it's best to wait and see what you've got before making any drastic changes. What he found was a team that on the major league level hadn't yet brought those future stars to the fore, with interest in the existing players so low that the top-selling items in the fan store were plush replicas of the team's sausage-race participants. As the top prospects began to make the big club and grow into key contributors, Attanasio had to decide how to proceed next. An avid reader who'd soaked up Moneyball soon after its release, he'd considered the A's method of ditching players early, trading them before they could hit free agency rather than losing them for nothing more than comp picks. Instead, he settled on a different approach, one that had been made popular by John Hart and his young Indians teams in the '90s: Sign everyone you can. The owner depended on Melvin and his staff to identify those players worth retaining; after that, Attanasio started writing checks. Over the past eight-plus years, they've signed Braun, Hart, Weeks, Lucroy, Gallardo, Gomez, and even Bill Hall to long-term deals, buying out their arbitration years, buying out their first couple years of potential free agency, or both.
Attanasio firmly believes that the combination of winning and building a core group of players that fans could follow for more than just a handful of years has contributed greatly to the team's ability to draw 3 million fans a year (or close to it) in the smallest market in baseball. Trading away stars, or even recognizable regulars, thus gives the Brewers owner pause. In a recent meeting with Melvin and assistant GM Gord Ash, Attanasio conveyed a clear message:
"We don't have to do anything," he said. "We're in a good financial position. We have a lot of good players. We have no albatross contracts. What makes the job hard is that we actually have a lot of options."
Melvin and Attanasio are on the same page in many respects. Both say that nothing has been settled and no decisions have been made, with Attanasio adding that he'll wait for Melvin's recommendation, then weigh in with his own ideas on how to proceed. Both men say they have no desire whatsoever to consider offers for Braun, despite all that's swirling around him. Both acknowledge that waiting until the offseason to make significant deals might be the most prudent course of action. The Brewers could sacrifice some selling opportunities now, but it might be worth it for the sake of gaining more clarity on where the team stands by the winter, while also opening the bidding to 29 other teams, rather than simply those looking to buy at the deadline.
But behind the scenes, there's anxiety, especially at the lower levels. A source close to the situation said some baseball ops people below the GM and assistant GM level have started preparing résumés, with one team confirming they've received one such résumé for a job posting they put out. The Brewers have called on a tech-savvy friend of Attanasio's son to help build a new database, with rumors that the new system might be designed to be used by a new regime and a more quantitatively inclined general manager. Melvin is the sixth-longest-tenured GM in the majors, a smart and respected baseball man who's quick to give others such as Zduriencik credit for Milwaukee's recent turnaround, but who deserves his own fair share of credit. Many of his top lieutenants are also industry veterans who've been with the team for a while, through bad times, then good, and now bad again.
Still, nothing lasts forever. The Brewers are losing, and with losing often comes change. Stay tuned.