When the Warriors lost David Lee to what the team assumed was a season-ending injury in the team's first playoff game, I was skeptical that Golden State would be able to reconstruct its offense on the fly against an opponent devoting nearly 100 percent of its scouting resources to the Warriors. It wasn't that Lee was some kind of indispensable two-way destroyer for the Dubs; he's a very clear minus on defense, and though he puts up gaudy individual rebounding numbers every season, his teams have generally rebounded better with him on the bench.
It was mostly that Lee was such a central cog in just about every Warriors offensive possession. He was by far Golden State's most common screener for Stephen Curry, and on those deadly pick-and-rolls, Lee could do just about everything — pop for jumpers, roll to the hoop, catch at the foul line, and break down the defense with his dribbling/passing skills. He also soaked up a lot of Golden State possessions with a solid post-up/isolation game, particularly from the left wing. Only Curry attempted more shots per game or used a larger share of Warriors possessions.
Golden State would have to adapt in an instant, and they'd have to do so leaning on lineups that had barely played at all together in the regular season. It seemed too daunting a challenge in the face of very good competition and home-court disadvantage.
Holy cow, was I wrong. The story of the Warriors since Lee's injury does touch upon Lee's value, his wildly out-of-whack salary, and the possibility that Golden State might be able to survive and thrive long term without him. (It's not helping his trade value, but we digress.) But the Warriors' emergence as postseason darlings is more a reaffirmation of the adaptability of NBA-level talent, and especially an indication that Curry is the kind of transformational offensive force many of us suspected he would be if he could stay healthy.
In very simple terms, Golden State has taken Lee's touches and given them to Curry, unleashing him as something much closer to a full-time off-the-dribble force. And as it turns out, most standard NBA defenses are simply not equipped to deal with an off-the-dribble player who can shoot 45 percent from 3-point range. The change has crystallized against the Spurs, who haven't been as committed as Denver to trying to take the ball from Curry's hands with aggressive traps out toward midcourt; Curry dribbled the ball more in both Game 1 and Game 2 of this series than in any of the approximately 60 prior games recorded by SportVU data-tracking cameras installed at Golden State's home arena and 14 other arenas this season, per data provided exclusively to Grantland. He has held the ball for nearly three more full minutes per game over those two games than he did on average in the regular season, a massive change for a player who controlled the ball, on average, about 5:20 per game this season, according to the data.
Want more? Only about 14 percent of possessions Curry finished in the regular season came on isolation plays, per Synergy Sports. That share is up to 29 percent — a Carmelo Anthony/Kobe Bryant level — so far in the playoffs, and a lot of those isolations actually come after pick-and-rolls that draw switches or otherwise bend the defense just a bit first. He's orchestrating about 30 pick-and-rolls per game, up from about 18 on average in the regular season, according to the camera data. And he's absolutely letting it fly off the dribble; Curry jacked about 6.3 off-the-bounce jumpers in the regular season, but he's launching nine per game so far in the playoffs. Curry is jacking nine 3-pointers per game in the playoffs, a record for any player who has logged at least 300 postseason minutes; only Mookie Blaylock really came close to launching at this rate.
These are changes so large that Curry's increase in minutes — from about 38.2 to 42.5 per game — cannot explain them. Another way to see that change: Nearly 25 percent of Curry's regular-season possessions came via spot-up chances or shots he took after running around screens — in other words, actions that began with Curry not having the ball. That number is down to about 15 percent in the playoffs, per Synergy. Curry has attempted just 11 jumpers via off-ball picks in eight postseason games.
Giving Curry the ball more, and allowing him a certain degree of selfishness, has turned out to be a brilliant idea. That one change, and all the ripple effects that stem from it, have absolutely broken two very good NBA defenses through eight postseason games — an admittedly small sample size. A 45 percent 3-point shooter given total freedom to shoot off the dribble on the pick-and-roll is an anomaly for which NBA defenses just aren't prepared. It is a glitch in the program. Golden State has scored 107.9 points per 100 possessions in the playoffs, nearly four points better than their very good regular season, and their defense has basically held steady against two of the league's eight best offenses, per NBA.com.
The standard NBA pick-and-roll defense in a lot of places, including San Antonio and Denver, has the man guarding the point guard trail that point guard over the pick, while the big man guarding the screener shifts in the direction the point guard is dribbling in order to cut him off. That varies by personnel and game, of course. Some big guys are comfortable blitzing ball handlers or moving laterally just south of the 3-point arc. Others, including Tim Duncan and Andrew Bogut, prefer lingering around the foul line, a strategy that concedes open pull-up jumpers unless the point guard defending the play is skilled at working around screens and hounding dudes from behind.
A guy who can pull up like this, for an extra point, just breaks that system:
I mean, this is terrifying. This is NBA helplessness. You can feel the panic among San Antonio players, fans, and coaches. I almost shriek on their behalf just watching.
One reason Curry is doing more of this now: Lee is a terrible screener, and the Warriors are now giving screening duty to brutes like Andrew Bogut and Festus Ezeli. I spent a good chunk of Thursday watching Curry run the pick-and-roll in regular-season games against teams who drop their big men like this on defense — Chicago, Memphis, Brooklyn, Indiana (their centers anyway), and others. I wanted to see how Curry behaved in those games, and why that behavior has changed in the playoffs.
Three things stood out:
• Lee just flat whiffs on lots of picks. If your big man fails to make contact with the point guard defending you, it's very difficult to generate any meaningful separation; you'll still be one step ahead of that defender, but he'll be on your hip, close enough to disrupt your rhythm and challenge a pull-up jumper from behind. I could have taken 100 snapshots of Lee whiffing on picks: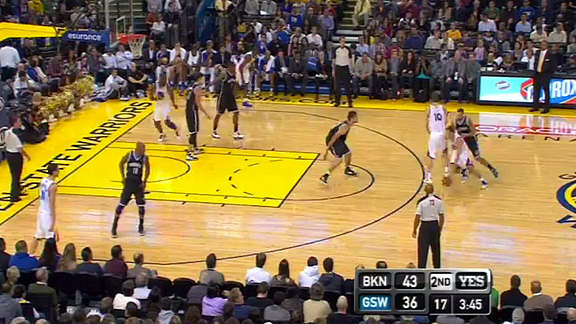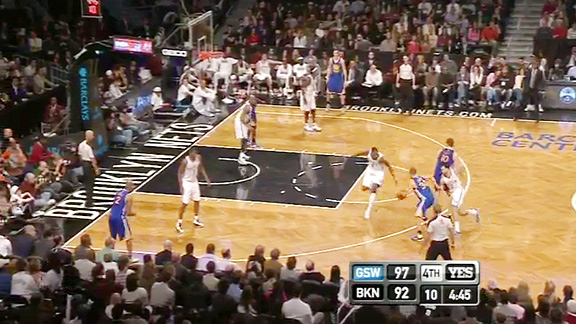 This isn't all on Lee, or some indictment of his character. Lee is quite good at slipping screens, NBA lingo for cutting down the lane before reaching a standstill and crashing into his screen target, and a big who can do that and make plays on the move is an asset on offense. Lee may well set better screens if coaches make clear that freeing Curry is his primary job.
• Curry has been more aggressive hunting 3-pointers in the playoffs. Jackson and the Dubs' coaching staff have clearly given him permission to pull up behind the arc, and Curry feels more comfortable doing it. Curry in the regular season would often take an extra bounce or two toward the paint, even on pick-and-rolls where he clearly had room to shoot from deep. He settled for either runners or midrange jumpers on both of these plays, for instance: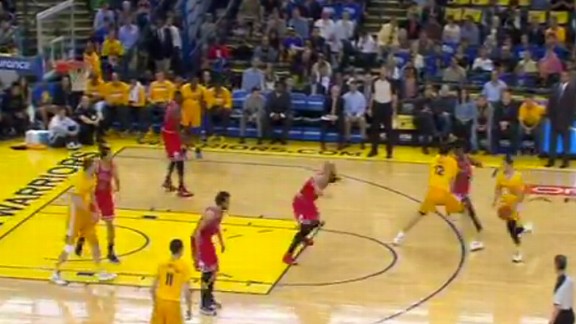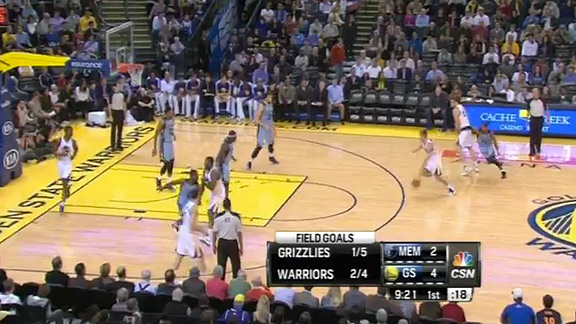 • Curry seems to have gotten better at running his man into picks at the right time, and in the right location, something that may simply be a product of spending more time on the court with both Bogut and Ezeli. The regular season was filled with hiccups in this regard — Curry getting into his pick-and-roll dribble before his big men were ready, or even before those bigs had gotten out beyond the 3-point arc. Those things are just more polished now.
Defenses have just had no answer, and they've tried everything. Denver's trap schemes didn't work, since Bogut was able to catch the ball and make plays in space, including passes to open shooters; there's a reason Harrison Barnes has shot more than twice as many 3-pointers per 36 minutes in the playoffs than in the regular season, and the reasons go beyond Jackson's decision to use Barnes for the first time (in extended minutes, anyway) as a small-ball power forward spotting up amid a perfectly spread floor. The Spurs' standard defense hasn't worked, and when Duncan has tried to scurry out a bit further so as to contain Curry's long-range shooting, things like this have happened:
Matt Bonner, the Game 2 starter at power forward, tried his best to challenge Curry far from the hoop, but he's not really up for that, and the Warriors have taken him out of the game on the other end by just switching any pick-and-pop involving Bonner — the same thing Memphis did to erase him two postseasons ago.
Boris Diaw has quick feet and managed to corral Curry beyond the arc during the Spurs' mad rush late in Game 1, but Curry's fatigue contributed to his inability to exploit Diaw out there.
Sending longer defenders at Curry hasn't worked, either, even though the idea is good; the arms attached to Kawhi Leonard and Corey Brewer extend much farther than the arms attached to Ty Lawson and Tony Parker, and Curry knows when he's dribbling around a screen that those arms are lurking behind him to swat at any pull-up jumper. And when teams have tried smaller players on him, Curry has either shrugged and launched right over them, crossed them up by going against a pick (he just murdered Parker like this on one Game 1 triple), or shifted into off-ball mode and lost them jetting around baseline picks.
And the trickle-down effect of having a wing defend Curry has been devastating; the Warriors, when their A lineups are out there, do not provide a hiding spot for a mediocre small defender. Jarrett Jack is probably the best option, but he has rained pull-ups over both Lawson and Parker, proof the midrange game is still a valuable asset. Barnes and Klay Thompson have gone right to the post against smaller defenders, either scoring over them or drawing double-teams and kicking the ball to open shooters.
There just hasn't been any correct answer to this new Curry riddle. The Warriors have removed the easiest choice — putting your little guy on my little guy — by freeing Curry to shoot at will. The Spurs had some success in Game 2 going small, with Leonard at power forward, but playing both Gary Neal and Parker at the same time guarantees some Golden State player will have an exploitable mismatch. Swapping the bigger and more polished Manu Ginobili for Neal would seem to have promise, creating a small but feisty lineup of Parker–Ginobili–Danny Green–Leonard–Duncan. But Ginobili is only good for so much playing time, that lineup has logged just 56 minutes combined in the regular season and postseason, and the Spurs still have to park Parker somewhere. Also, Ginobili's defense, especially away from the ball, has been strangely unreliable for two games. Even so, if the Spurs are going to start small in Game 3, it wouldn't surprise me if Gregg Popovich started Ginobili; that move has been his playoff trump card for years, and though this is earlier than he'd typically like to slap that card on the table, the Spurs are already in a serious fight.
San Antonio might take a note from George Karl and have a wing player defend Bogut (as Wilson Chandler did), slotting a quicker player on the Warriors' go-to pick-and-roll screener, a move that allows for freer trapping or switching. But Duncan has to hide someplace in that scenario, and Bogut would have a huge advantage on the offensive glass.
Perhaps the best move might be to return to the Duncan–Tiago Splitter starting frontcourt that helped propel San Antonio back among the league's top five overall defenses after working for two years as a rarely used novelty duo. Splitter is a bit more mobile than Duncan and might be able to chase Curry farther from the hoop, and either Duncan or Splitter would be able to defend Draymond Green or Carl Landry without a problem. Things get dicier if the Warriors go super small, with Barnes at power forward, but there is something to be said for maximizing size, rim protection, and the ability to post up on offense. And if you're trying to run Curry off the 3-point arc, you might as well have a second big hanging around the rim to challenge shots there. The Spurs probably posted up too much in Game 2, but they're smart, and they'll recalibrate so that post-ups are vehicles to find open 3-pointers or cutters.
Nothing has worked so far, and the way this series is going, Memphis, Oklahoma City, Miami, and anyone else who might meet these guys in later rounds have to at least start thinking about the Curry problem. The Spurs are still something like an even-money bet to win this series, as experienced and great as they are, but they've looked disturbingly helpless so far against the new Stephen Curry.