1. JaVale McGee and Anthony Randolph, Together
Injuries to Danilo Gallinari and Kenneth Faried have George Karl understandably scrambling for healthy rotation parts, but I'm not sure the world is ready to watch the Wild Child front line play heavy minutes. On their very first possession as a duo against Houston on April 6, Jeremy Lin blew by McGee's overly aggressive and off-balance help defense on a pick-and-roll and launched a layup that Anthony Randolph, helping from the weak side, blatantly goaltended.
Randolph and McGee have combined for at least a dozen moments of sublime chaos since, including a half-dozen alone in Denver's wild and very necessary win Monday night in Milwaukee — more silly goaltending infractions, two completely out-of-control offensive fouls by a stumbling Randolph, and at least one McGee into-the-stands rejection so dumb McGee expressed immediate regret that he didn't just catch the ball.

Denver has actually outscored opponents by 1.7 points per 100 possessions in the 107 minutes these two have played together, a disproportionate number of which have come since Gallo's sad knee injury. And while that's much lower than Denver's overall mark, the fact that the margin is positive is encouraging and borderline shocking. That doesn't make me any less anxious, though.
2. David West's Ass-Tap Trickery
Watch West as he goes to set this high screen on Joe Johnson:
West is basically the kid tapping you from behind on one shoulder and sidling over to your other side, only he's doing it while making $10 million in the NBA. Delightful.
3. The NBA Getting Its Fine On
The league fined Kevin Durant $25,000 for this:
This is stupid.
4. The Kevin Durant–Serge Ibaka 3-4 Switch
Effective switching is all about the specific context of a play: How much time is left on the shot clock? Can the two defenders involved credibly guard the two offensive players involved? Is one of the offensive players a post-up threat? Are both defenders clear early that a switch is in order, or is there some risk of miscommunication?
The Thunder have amped up their aggression on defense, taking a collective extra step toward the paint and banking on their athleticism and length when recovering onto shooters or closing holes. Switching is one part of that aggression, and given Durant's length, Ibaka's quickness, and the dearth of truly dangerous back-to-the-basket players, the Ibaka-Durant switch is usually a smart way to snuff out a pick-and-roll:
5. "Give Me Everything"
A Google search tells me something named Pitbull, and something else called Ne-Yo, are responsible for this. And 50 years from now, if there are retired NBA writers mumbling "give me everything tonight" over and over during all waking hours, it will be because arenas across the league have overplayed it to a frightening degree. It is inescapable, from Madison Square Garden to summer league games in Las Vegas, where writers and scouts and GMs and hangers-on probably hear this song 20 or 30 times over a 10-hour stretch. Please, stop playing this. I'm begging you.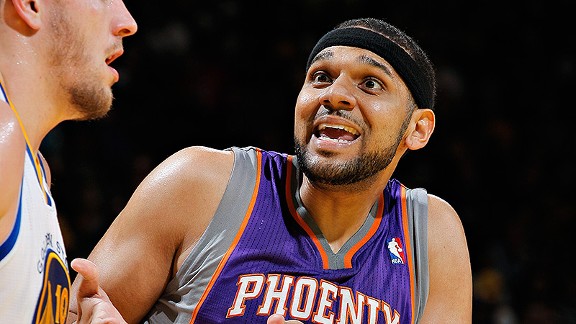 6. Jared Dudley's Lost Season
It's not that Dudley had a bad season — not even close. He shot 47 percent overall and a very nice 39.7 percent from deep, upped his assist rate, and posted a PER right in line with his solid 2010-11 and 2011-12 campaigns. But it's strange how it feels as if Dudley had no real impact on this season, in Phoenix or in a broader sense; do you remember a single Jared Dudley play? The whole season just kind of passed.
This can happen with solid role players on bad teams, especially if those teams have young guys — Wesley Johnson, Kendall Marshall, Marcus Morris, etc. — to whom they'd like to grant more minutes when it's Tanking Time. Dudley's minutes are down overall, and Shannon Brown has basically vanished. Other members of Team Lost Season might include Marvin Williams, Ben Gordon, Patrick Patterson, Chuck Hayes, and Marcus Thornton. (Go Kings!)
Dudley deserves better.
7. Chris Paul Working the Ass Screen
Paul might use his rear end more effectively than any other NBA player, though he usually does so while handling the ball on a pick-and-roll to keep the opposing point guard on his back. But he's also effective at this type of hip-check screen, a pick Jason Terry often set for Dirk Nowitzki in Dallas:
8. The Rise of Deron Williams, Semi-Transition Beast
Man, if I ever suffer some leg injuries, I'm going to ask D-Will exactly which treatments the Nets provided him around the All-Star break. Williams looks like himself again, and that means (among many other things) him pushing hard during semi-transition to create chaos-based looks that wouldn't materialize if he just walked the ball up the court:
The Nets are ninth in points per possession for the season and sixth since the All-Star break, per NBA.com; they've clearly established themselves as one of the league's best scoring teams. Their defense is still something of a mess, topping out at league-average, and that's not going to be good enough to deal with Miami in the second round — if Brooklyn gets there. But the offense is sound, and the Nets are thrilled the real D-Will is back.
9. The Nets' Defense, Getting a Little Frisky
The defense is still a problem, but the Nets of late have been flirting with a little more aggressive in-the-paint help, and Williams in particular is capable now of some earlier rotations from the weak side on pick-and-rolls. Watch him tag Roy Hibbert very high on the floor here:
And watch the Nets' entire defense creep early into the paint here:
The Nets don't have the foot speed to play this way consistently, and Williams has never been an attentive defender over 48 minutes. But they are big, and it's worth seeing if a more inside-out style can work for them.
10. Boston's Scary Trio
The Celtics are actually plus-threee in 136 minutes with Jason Terry, Jordan Crawford, and Terrence Williams on the floor together, per NBA.com. But does that seem like a lineup any team wants out there in a high-stakes postseason game? I got nervous just typing those names next to each other.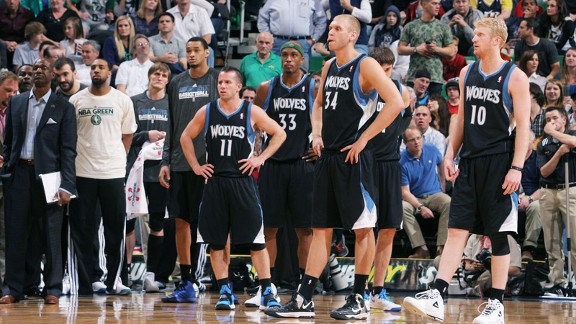 11. Minnesota's Black Road Alternates
Hey! I found one alternate black jersey I prefer to the standard non-black version. The Bulls' black jerseys are nearly there, but Chicago's standard red duds are even better. Minnesota's shade of blue is a bit dull, and the Wolves look more frightening wearing black.
12. O.J. Mayo's Slow Decline
From Most Improved candidate to Rick Carlisle's end-of-season punching bag. Oof. Mayo hasn't even really been bad. He's shooting 45 percent overall, nearly a career high, and he's held steady at nearly 41 percent from deep even after falling off from his unsustainably hot start in the mid–40 percent range. He's dishing assists at a career-best rate and developed a nice two-man chemistry with Dirk Nowitzki on pick-and-rolls, pin-down screens at the elbows, and other plays. (It's not so hard for a guard to develop that kind of two-man chemistry with the greatest shooting big man ever, but credit Mayo for working at it.)
But Mayo hasn't attempted more than two free throws in any game since March 8, a span of 20 games, and he's earned precisely zero trips to the stripe in 11 of those 20 games. That just can't happen for a high-usage perimeter player, especially a guard who struggles with his fundamentals on the other end of the floor. It will be interesting to see Mayo's market value if he declines his $4 million player option for next season.
13. Boston's Bunches
Doc Rivers has always done interesting things with players bunched close together, typically with three guys standing next to each other on the right wing as Kevin Garnett and Rajon Rondo run a pick-and-roll on the left side. But Rivers has sprinkled in the bunch even without Rondo, and having three guys split off in unpredictable directions away from the ball can get defenses a bit out of whack figuring out who should be where:
14. The Brook Lopez Pump-and-Drive
Any bit of diversity is good for anyone's game, and if Lopez can nail down a one-dribble move off the pick-and-roll, he'll be an even deadlier offensive centerpiece:
15. The Revival of Ersan Ilyasova, the Funkiest Stretch 4
After a miserable first dozen or so games, Ilyasova reemerged as almost exactly the same player who earned a five-year, $40 million deal — a killer 3-point-shooting power forward who can stretch the floor, participate in all varieties of pick-and-pop plays, toss up some of the funkiest floaters you'll ever see, and help an offense in all kinds of tricky little ways. He'll fake a high screen before making a 90-degree turn and veering to the wing for an open 3-point look. He'll jog up toward Brandon Jennings or Monta Ellis for what appears to be a typical high pick-and-roll, only to hit the brakes and cut down the gut of a defense. He'll surprise defenders with nasty, well-timed back screens to free other shooters.
He can do a little bit of everything, and as long as he shoots like this from 3-point range, Ilyasova will be a very valuable offensive player. His defense ranges from very shaky to basically acceptable, but he brings enough value on the other end to compensate. A fun, fun player.
16. James Harden's Transition Defense
The Rockets have allowed nearly 1.2 points per possession on opponent transition chances, the sixth-worst mark in the league, per Synergy Sports. This is a team-wide problem, and one Houston absolutely must get in order if it ends up facing the run-and-gun Nuggets in a first-round series that would destroy the "rewind" button on my DVR remote.
Harden is just one culprit, but as a perimeter player often stationed closest to midcourt of all Rockets in those precious seconds of offense-to-defense transition, his bad habits are especially damaging. Harden's reactions are sometimes a fatal beat late, and he often gives up on the idea of retreating altogether, choosing instead to reach for steals as ball handlers fly by him or leap hopelessly at outlet passes jetting over his head. Those gambles aren't always terrible; they can in some especially bad circumstances represent a smart last-ditch effort to disrupt an overwhelming fast break no other teammate has any hope of disrupting. But Harden and his teammates need to limit these lunging gambles to those hopeless circumstances, get their floor balance in order, and approach postseason transition defense with appropriate urgency.
17. More David West Trickery
Indiana's offense spent the first six weeks or so of the season as one of the half-dozen least-efficient outfits in the league, prompting lots of impatient hand-wringing over Danny Granger and justifiable skepticism that the Pacers, even with perhaps the league's best defense, could ever become a real threat. But they've ranked just outside the top-10 rate since the All-Star break, and they were verging on top-five territory before an April funk. The improvement stems from Frank Vogel installing more motion and some straight-up fakery into the team's core sets.
Watch West here fake as if he's going to set a pin-down screen for Paul George on the left wing before catching Reggie Evans off guard by spinning around in a flash — and into very solid post-up position:
Fun stuff. The Pacers have other West-centric decoys, including a play in which Roy Hibbert will set up an apparent cross screen for West under the hoop, only for West to bolt up toward the foul line for a jumper. Vogel, Brian Shaw, and the Pacers staff have done a nice job getting Indy's offense going in the right direction.
18. Paul George, Pick-and-Roll Screener
Speaking of variety in Indiana's base offense:
George is still just a so-so ball handler, but he's good when he can dribble after catching with something of a head start, he can shoot 3s, and he can post up smaller guards on switches. Using him this way brings all those possibilities into play, depending on how a defense responds.
19. Russell Westbrook, Pick-and-Roll Screener
The Durant-Westbrook pick-and-roll used to feature Durant almost exclusively as the screener, but as both guys have improved key parts of their all-around games, Scott Brooks has trusted them to work the play in reverse more often. Durant has become a very good ball handler, and Westbrook is a good-enough passer in tight spaces now that he can slip the screen, catch the ball on the move near the foul line, and read defense from there. And Westbrook is terrifying when he catches the ball on the move.
20. Harrison Barnes, Mucking up Golden State's Spacing
Barnes is a 36 percent 3-point shooter, right around league-average, meaning he shouldn't have a negative impact on Golden State's spacing. But there are possessions in which he does, simply by lingering a beat too long in the wrong spot — often near the basket, during and after a cut — instead of running hard to the corner or another slot along the perimeter. Watch for this.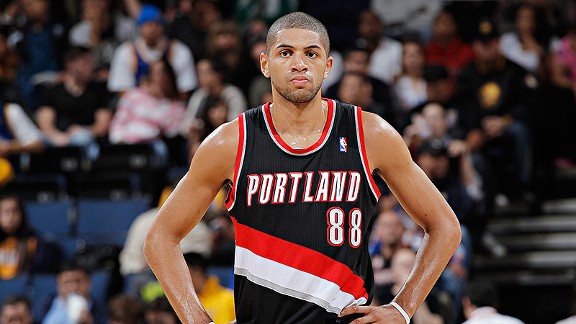 21. Nic Batum's Defense
Let me be clear: I think Batum is a solid, versatile defender, but there really isn't any evidence he's the long-armed stopper a lot of NBA people seem to think he is. He can get weirdly off-kilter at times — wrong-footed against pick-and-roll ball handlers, reacting a beat late to a cut off the ball,, etc. Portland has been stingier with Batum on the bench in three of his five seasons, and in the other two campaigns, including this one, the difference has been negligible — i.e., less than half of one point per 100 possessions. His one-on-one numbers have also been middling.
All these stats come with noise, but when the noise trends the same way every season, you can begin to make some assumptions — especially when the eye test leads you in the same direction. The assumption here isn't that Batum is a bad defender, merely that he's decent at best, and that his long arms don't make up for quite as much of the bad stuff as it might appear.
But his versatility is valuable. He can defend point guards for short stretches, and I like (count this as a mini-like) how Portland can stick the beefier Wesley Matthews on post-oriented small forwards while Batum slides to shooting guards.
22. Victor Claver as a Stretch Power Forward
It's something Terry Stotts tried now and then down the stretch, and it's something worth revisiting — provided Claver works on his 3-point stroke in the offseason and the Blazers remain uncomfortable giving Luke Babbitt heavy minutes. Portland has long been very effective when pairing LaMarcus Aldridge with a rangy, small-ball power forward.
23. Ryan Anderson and Monty Williams
There have been rumblings from frustrated New Orleans fans that Williams is an uncreative playcaller. I don't see it. I mean, you try cramming this much stuff into one 24-second possession:
But a lot of Williams's best sets center on Anderson as either a gravity-radiating decoy or a surprise spot-up shooter who comes open after some unpredictable screening action both on and off the ball. It can be as simple as stationing Anderson on the weak side of a pick-and-roll, so that his defender is the lead help defender on the "roll" man, and having Anderson "lift" up toward midcourt as that big man rolls to the rim. Good luck to Anderson's defender navigating this choice, with Anderson here on the right wing/weak side:
It will be fun to watch Anderson and Williams work together as the Hornets get better.
24. Mike Dunleavy Jr.'s Sweeping Lefty Hook Shot
Yup. MDJ has a sweeping lefty hook shot. I only wish I had a clip of it going in, because it has gone in. One commentator compared it to a move Tommy Heinsohn might have used in the 1950s or 1960s.
John Henson has his own sweeping lefty hook shot, and Henson's arms are so long, it almost looks as if he might reach out all the way to the 3-point arc when he takes the ball behind his head for that hook. You know that old story about how Phil Jackson's arms were so long he could open up both front doors of a car while sitting in the back seat? I think Henson might be able to do that from the second row of seats in a minivan.
25. The Brooklyn Knight
Please eliminate this mascot. Be humane about it, but eliminate him.
26. Metta World Peace Driving at Post-ups
World Peace isn't the only one who uses this trick, but he might do it the most often. It's simple: If you have the ball on the wing with a teammate posting up on your side of the court, and your defender is standing between you and that post-up player, just drive right at the post-up scrum and see what happens. The closest help defender — the man defending the post-up player — is occupied with a rather physical defensive assignment, meaning the driver can likely sneak along the baseline, draw some help from the weak side, and find a shooter there. World Peace is really smart about doing this, and the Lakers (at least when Kobe Bryant was healthy) sported three elite post-up guys.
27. Ramon Sessions, Under the Rim
A lot of little guys get kind of panicky in traffic near the basket, fearing both a blocked shot and a three-second violation. Not Sessions. He'll take the ball there, pause at a stand-still, pump-fake, scan the crowd for pretty ladies, pump-fake again, and then finally attempt a shot after 2.9 seconds of work. It's an admirable bit of patience, and one reason Sessions draws so many fouls.
28. DeMar DeRozan's Post Game
DeRozan didn't touch the ball on the block quite as often after the Rudy Gay deal, and getting him post touches is one of many challenges Raptors coaches will face once they finally get a proper training camp to integrate the two — assuming DeRozan starts next season a Raptor. DeRozan shot 39.4 percent on the season on post-ups, per Synergy, but he rarely turned the ball over and drew a ton of shooting fouls on those plays. He ranked as a well-above-average post player overall, and any play that gets DeRozan going to the rim — and to the foul line — is a good thing. Working from the block might also give DeRozan, a below-average passer, cleaner angles from which to scan the floor for creases and open teammates.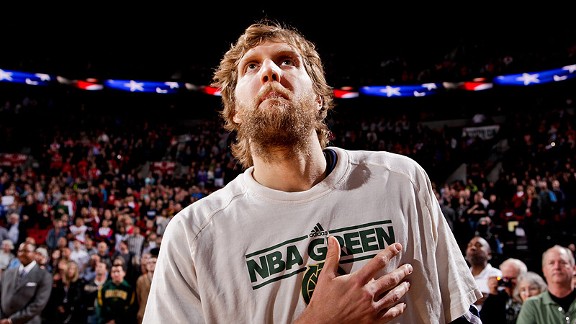 29. Dirk Nowitzki's Beard
Let us all remember this experience, together.
30. The 2013 NBA Playoffs
Holy crap! They're here!