I want to make a bold statement today, but first, let's have some fun and check out the highlights from what I'm calling "Seth Curry's Wonder-Half." In the first 20 minutes against North Carolina on Saturday night, he went 8-for-10 from the field, scored 18 points, and propelled the Blue Devils to a 42-24 halftime lead that became a blowout 69-53 win over North Carolina.


I watched it live from behind Duke's basket, and seeing shot after shot drop as the UNC fans sagged was surreal. What made it even more remarkable was the way Curry and his teammates carried themselves on Carolina's home floor. After timeouts, Curry would saunter to the student section, give a sneaky smile, and watch them blow up in response just before hitting his next jumper. Ryan Kelly also seemed to thrive on being hated, Mason Plumlee was actually dancing before tipoff, and I think Tyler Thornton would love nothing more than to spend the rest of his life instigating large crowds into a state of fury. Then there's Quinn Cook, who threw subtlety to the wind and actually taunted the students after made buckets. My pal Ben, a Duke fan, sent me a text near the end of the first half: "This is basketball porn." The despondent fans in the Dean Dome would have disagreed.
A couple other things I noticed:
1. I've always been amazed at the way Carolina fans can pick up their team, even in dire circumstances. On Saturday, I never quite felt like a comeback was impossible. But part of that passion crosses over into delusion, because I have also never seen a fan base that complains about every single call. Duke won by 16, but I legitimately think a lot of Carolina fans left the building thinking they'd been cheated.
2. Somehow, Mike Krzyzewski was still sort of snippy with the media after the win. But he also had one really funny moment when one reporter began her question by apologizing if it had already been asked earlier in the press conference. "I missed the opening," she said.
"It was really good," Krzyzewski said. "I sang."
All the famous coaches have personalities that we never get to see, because they've been trained to deal with the media in clichés. And sometimes, I think we forget that they exist beyond the clichés, because it's uncomfortable to admit that what we know about them is actually just a well-crafted veneer. The most you ever get is a quick glimpse, and for a second you think, wow, I bet Coach K has a really weird sense of humor. And then the portal closes, and it's back to the talking points.
Mark Your Calendars: I'm Calling It
I'm a born pessimist when it comes to my teams. Which is odd, because I've been lucky enough to root for a lot of very good teams that have won multiple championships. But I always expect the worst to happen, and I always see the negative. I might as well be a 65-year-old iron worker from Cleveland.
(Example: When asked to write about Duke last year for a series called "Why ____ Will Win the National Championship," I ended the second sentence by saying that I didn't think Duke would win a national championship.)
The point of all this is that it makes me a poor match for a school like Duke, where fan dissent is a nonstarter. But I hope it also lends some credibility to what I'm about to say, because I'm probably the last Duke fan in the world to actually believe these words:
Duke is going to win the national title.
It's going to happen. I needed to see how the Blue Devils would perform in a tough road game with Kelly in the lineup before committing. And yes, I see the flaws — the perimeter defense has been weak, Plumlee can't play defense, Rasheed Sulaimon sometimes disappears when the stage gets too big, and a really good wing defender can shut down Curry. But what Saturday's win proved was that these flaws can be overcome. None of them are death sentences, and none of them are even permanent; Curry dominated a very good defender in Reggie Bullock, and Plumlee played the game of his life in a hostile arena. Kelly barely even registered a blip on the offensive end, and Sulaimon was still a no-show, but it didn't matter. There is no team the Blue Devils can't beat when they play their best, and right now they're cruising to a peak. Unlike the 2011 season, when Kyrie Irving's return from injury murdered team chemistry, Kelly's return seems serendipitous; the Blue Devils have found the high they were riding earlier in the year, and the 9-4 lull during his injury is nothing but an irrelevant memory.
Interlude: The Sniper Spasm
No. 13 Oklahoma State beat no. 9 Kansas State, 76-70, in Stillwater, and it was a great win that deserves more words than I'm going to write, but what I took away was the double appearance of an annoying move I'm calling "The Sniper Spasm." The Sniper Spasm is used by players who want to draw a foul, and the execution is simple: The second a defender makes even the slightest contact, the player jerks his head back like he's just been shot in the head by a sniper in the crowd. In crunch time, Markel Brown executed it to perfection:
The first one might have been a foul, but it's disconcerting how easily the ref was fooled on the second. The Sniper Spasm is the newest kind of flop in college basketball, and believe me, it's going to become really old, really fast.
Why Does Florida Keep Collapsing?
It's difficult to question Florida's Billy Donovan as a game coach, because, come on, the guy won two national titles during the Joakim Noah years. But Florida's habit of collapsing late in the game is becoming a serious problem. I wrote about this phenomenon in December when a 7-0 run in the final minute gave Arizona a 65-64 win in a game the Gators had mostly controlled on the road. We saw similar double-digit collapses in Florida's Elite 8 losses in 2011 and 2012, but this weekend's 61-57 loss to Kentucky was the most egregious example yet.
With 7:36 on the clock, Florida's Scottie Wilbekin hit a 3 to put Florida up 57-50. It had been a tough road game in Lexington, but just like the ones listed above, the Gators had taken control and looked poised to win. As it turned out, though, those were the last three points they'd score. Period. For almost eight full minutes, the team with the sixth-highest offensive efficiency in the country couldn't muster a single point against a team that was on the outer edge of the bubble.
It's problematic, but doubly so when you realize Florida is a team populated by guys with lots of postseason experience. This kind of thing should not be happening anymore. So why does it? Maybe because Kenny Boynton can't produce under pressure. Maybe because Donovan watched his team play six disastrous minutes, going 0-for-7 from the field and committing five turnovers, before he thought to call a timeout in a very loud Rupp Arena. Maybe Wilbekin is too erratic in crunch time. Maybe this team has failed too much, and just doesn't believe in itself under pressure.
Whatever the cause, it's a shame, because the Gators are a fun team with a lot of talent that should be competing for a Final Four berth. But it's hard to imagine Florida winning the close games that will stand in its way. A Gator is supposed to chomp, not choke.
The Unheralded Cody Zeller
Sunday's Indiana-Michigan game was cast as a battle for Big Ten Player of the Year between Trey Burke and Victor Oladipo. And while both played somewhere near their high levels, it was Cody Zeller who carried the team on his narrow, sloping shoulders, scoring six points in the final minute to help Indiana stun Michigan, 72-71, and win an outright Big Ten title. He was a dominant force all game, finishing with 25 points on 10-of-19 shooting to go along with 10 boards, and against Michigan's weak back line, he was the unstoppable force we expected all season.
As for Michigan, it's time to stop believing. The weak interior has been dogging the Wolverines all season, and watching Tim Hardaway Jr. miss the front end of a one-and-one that would have come close to clinching the game with 38 seconds left solidified my suspicion that when things get dire, Burke is basically on his own. (And yeah, I know he missed a big foul shot too, but he doesn't have the habit of disappearing in half of his team's big games.) Even if Michigan had won this game, it doesn't look like a Final Four team. The fact that the Wolverines have barely won their tough Big Ten home games while looking hapless on the road is a sign. The only thing that gives me a moment's hesitation in that regard is Nik Stauskas, who has looked more confident as a perimeter threat during the last few games.
And now, for the last time, the completed Big 6 chart: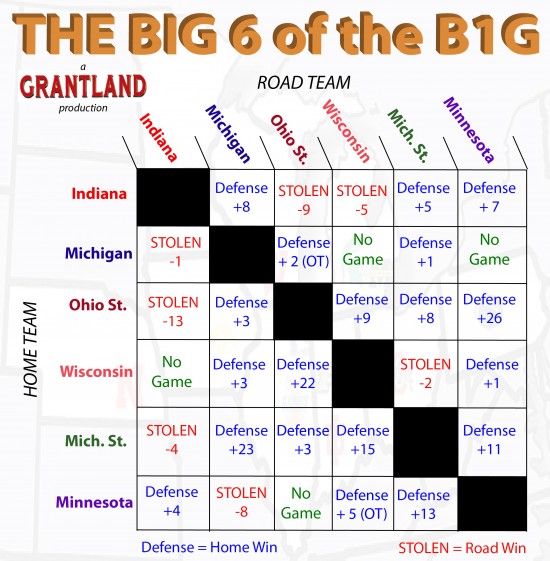 Strangely enough, Indiana's Big Ten title didn't come about because the Hoosiers were that great in the fearsome confines of Assembly Hall. In fact, it lost two Big 6 games at home, more than any other team on the chart. Instead, they were road warriors, winning three tough road games — at Michigan, at Ohio State, at Michigan State — when no other team had more than one win away from home. It remains to be seen if road strength will correlate into tournament success, but it certainly can't hurt.
If Jim Boeheim Isn't Already Retiring, He Should Think About It
Following an embarrassing loss to no. 5 Georgetown, Syracuse coach Jim Boeheim's baffling postgame statements included this gem: "I'm pretty much ready to go play golf somewhere."
He classified it as a "joke" afterward, but Boeheim has always had a habit of laughing in moments of rage (which mostly take the form of petty tirades directed at journalists) or frustration, and the laughter never seems to stem from a place of humor. And even as a joke, why say something that's so totally defeatist at a time when your team is gearing up for the postseason? There's truth in every jest, and after his team was humiliated in the last Big East regular season game against Georgetown, he looked and sounded like a tired old man. We may never know what was behind the odd retirement incident last week, but if the passion is gone and all we can look forward to are more years of underachieving teams and grumpy press conferences, maybe it's time for him to go.
Other Title Contenders and Pretenders
Things didn't typically play to expectations this weekend, but one exception was Louisville, which was as good against Notre Dame as anyone could hope. If Duke is my 1A national title team, Louisville is 1B. Michigan State handled Northwestern at home, and the Spartans seem to have the sort of big, physical team with a talented guard (Keith Appling) that Tom Izzo routinely guides to the Final Four. Indiana is certainly among that elite group, though I worry how it will fare against the really good defensive teams. Joe Lunardi's latest Bracketology has the Hoosiers potentially facing Pittsburgh in the Sweet 16, and that seems like exactly the kind of team that could stifle and beat them. Georgetown obviously deserves a mention here too, though I think that if a Final Four is in the cards for the Hoyas, it'll have to be the result of winning at least three really close games. Beyond that, you'd be a fool to believe in Gonzaga or Kansas or Miami as elite teams, and Florida has its nagging collapse issue.
And in the next week, everything could change. The Monday before the big conference tournaments begin is one of the best days of the college basketball season. We're on the verge of some very exciting developments, and the anticipation is thick.