• Jarrett Jack got a bit of publicity when he tweeted earlier in the week that the league warned him about flopping in a preseason game as part of its new anti-flop crackdown. But he's far from the only one. A league source tells Grantland the NBA flop czars have already warned "about 10" players for preseason floppage, though the league won't publicly release their names. (That will change once the season starts and the shaming begins.) But it's clear already the league is taking this seriously, and an aggressive early push wouldn't be a surprise.

• I am a longtime opponent of both black alternate jerseys and (especially) host teams requesting to wear their road jerseys during home games. As a Ron Swanson–like fan of natural order, the latter drives me crazy and actually confuses me as I flip around League Pass. "Oh, wow, the Bobcats are hanging in on the road against Team X … Wait, why is the crowd getting louder when the Bobcats score? OH NOW I GET IT." Stop doing this.
But I must confess: The Nets' black jerseys are beautiful, and I would support the wearing of said jerseys in all 82 games. That's in part because the white jerseys are just so, so white with very little flair of any kind. The minimalist black-and-white look is gorgeous on the road jerseys but weirdly bland/off-putting on the home whites. I'm far from a style expert — ask my wife — but part of the reason I generally dislike black alternates is that teams typically pair them with another dark color from their core scheme. So the Bulls, for instance, will use black jerseys with lettering and numbers in the same bold red I love so much on their normal road jerseys. The look is just very dark; nothing sticks out. The Nets' black jerseys mix light and dark in a way that is more appealing.
• There was much guffawing on Wednesday when ESPN.com's Brian Windhorst reported rival executives were already worried the Lakers might make a run at LeBron James after the 2013-14 season — if LeBron opts out of his contract with Miami. The proper reaction to the news was: Of course the Lakers are preparing to make a run at LeBron if and when he hits free agency. As Windhorst noted, the Lakers have only Steve Nash's $9.7 million deal on the books for 2014-15, though if things go according to plan, you can add about $22 million in that season for Dwight Howard's max contract (plus some cap holds and other charges). Given the possibility of something like $30 million or so in cap space (depending on how much the cap jumps by then), the Lakers will be in position to pursue whichever max-level free agent they'd like. If that cap room rolls over to 2014-15, they'll be in the running for every max-level free agent who becomes available then — Kevin Love, LaMarcus Aldridge, etc.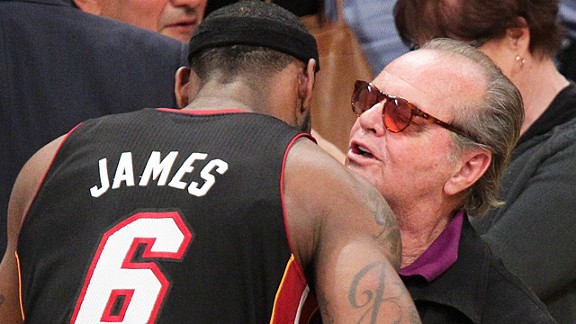 Sure, it's early to speculate about this, and we've all had enough LeBron free-agency speculation for many lifetimes. But if you don't think the Lakers are a threat to sign every free agent who might become available, you're willfully ignoring NBA history.
This is not to say the Lakers planned this all along, in a LeBron-specific sense. They inked Andrew Bynum and Pau Gasol to extensions in 2008 and 2009, respectively, before LeBron even signed in Miami. But the age of L.A.'s core players even then was naturally going to lead to the potential of major cap room in the mid-2010s.
• On Tuesday, I wrote of funky strategic innovations that may hit the NBA over the next five or 10 years, including the possibility of some smart team building an offense around the very shot most defenses happily surrender — the mid-range jumper. As several readers pointed out, the Dirk Nowitzki–era Mavericks have essentially done this already, with offenses that annually ranked toward the top of the league in both points per possession and mid-range shot attempts.
Two things on this:
1. This is absolutely correct, and the "innovations" piece wasn't necessarily claiming any said innovation was entirely new. (I mentioned last season's Celtics and Sixers as teams that attempted to build offenses almost entirely around mid-range shots.) The Mavs also might serve as evidence of how tough it's going to be to design efficient offenses around mid-range jumpers. The post–Steve Nash Mavs featured two of the greatest mid-range shooters in history in Jason Terry and Dirk Nowitzki, and they played complementary positions to boot. Nowitzki hits half his mid-range shots almost every year, despite taking a good number of leaning post-up toughies. He has literally redefined basketball history and strategy with his jumper. Terry has been between 47 and 49 percent for most of his career. Only something like a half-dozen guys touch 49 percent on a high volume of mid-range shots every season; the Mavs had two of those guys for nearly a decade, often running pick-and-rolls. It's very possible that if you slide down even a few percentage points, from "historically good" to "very good," the whole system collapses.
2. The year they won the title and went on one of the greatest scoring runs in NBA postseason history, the Mavs attempted the seventh-fewest mid-range jumpers in the league and redistributed most of those shots behind the 3-point line. Even Nowitzki attempted about one more 3 per game compared to the prior season — and after a prolonged decline in his number of 3-point tries. They also had Tyson Chandler, a legitimately great big man defender. These are two reasons the Mavs finally broke through.
• Finally: A few readers wondered why I left the Hornets off my League Pass favorites list. Like anyone else, I'm excited to see Anthony Davis, and I love watching Monty Williams's teams play their butts off. But I was trying to focus on teams that had the potential to both be exciting and make noise in the playoff race, and the Hornets are not quite ready to make that kind of noise.
Still: I am interested to see how Williams juggles his big men. There are credible reasons to start Robin Lopez, even after he underwhelmed amid two straight unproductive and injury-plagued seasons in Phoenix. He's big, and Davis is a thin rookie. But Ryan Anderson is clearly a better player than Lopez, if not a better fit for now beside Davis, and the Hornets did not pay Anderson more than $8 million per year to play only when Davis sits. Williams has tried playing all three together, which forces Davis to guard small forwards. Some have suggested Anderson might be able to do that, but he essentially never did in Orlando and lacks the requisite quickness.
Toss in Jason Smith, whom the Hornets love as a backup big, and Williams will have some interesting decisions. Teams with low expectations can afford to experiment, so Williams will probably try everything — playing three bigs together, and sending the Anderson-Davis combo out there for heavy minutes as the lone big men on the floor. I can't wait to see the results.