In 1983, John Elway was on his way to being the first pick in the NFL draft. However, the Baltimore Colts had that pick, and Elway had zero interest in playing there to the point that he would announce he was instead going to play for the New York Yankees. In the days leading up to the draft, Elway's agent, Marvin Demoff, would hold meetings with the Colts and Yankees to see what could be done. Below is a page from Demoff's diary chronicling the frantic meetings as the draft grew closer.
You can see much more on the famous 1983 NFL draft Tuesday night when ESPN presents its latest 30 for 30 film, Elway to Marino.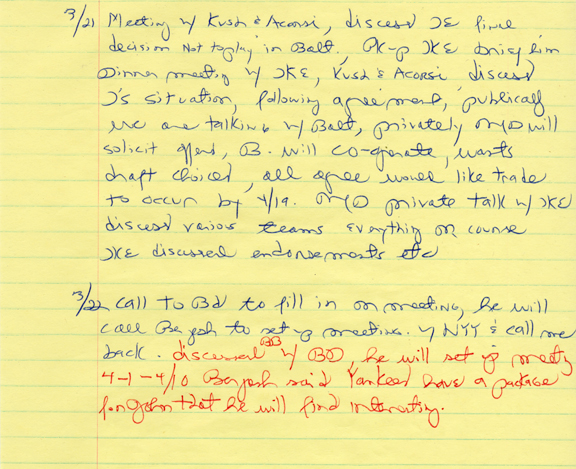 Diary Transcript:
3/21 Meeting with Kush [Frank Kush, Colts head coach] and Accorsi [Ernie Accorsi, Colts Public Relations Director], discussed JE [John Elway] final decision not to play in Balt [Baltimore]. Pickup JKE [Jack Elway] brief him. Dinner meeting with JKE, Kush & Accorsi, discuss J's [John's] situation, following agreement, publicly we are talking with Balt., privately MD [Marvin Demoff] will solicit offers, B [Baltimore] will co-operate, wants draft choices, all agree would like trade to occur by 4/19. MD [Demoff] private talk with JKE discuss various teams everything on course Jack Elway discussed endorsements etc
3/22 call to Bd [Bill Dubbin, Elway family attorney] to fill in on meeting, he will call Bergesch [Bill Bergesch, Yankees executive] to set up meeting with NYY [New York Yankees] and call me back. Discussed BB [Bergesch] with BD [Durbin], he will set up meeting 4/1 – 4/10. Bergesch said Yankees have a package for John that he will find interesting.