Welcome to a weekly grab bag of thoughts and observations from the past few days and/or decades of NHL hockey.
The Three Stars of Comedy
Recognizing the NHL personalities from around the league who produced the most comedic fodder for fans.
The third star: The New York Rangers make a typo, we hope
It may not have counted as a goal, but I don't know, I'd say a line was crossed:

This… is a typo. pic.twitter.com/2Osq0YeizJ

— Ted Starkey (@TedStarkey) December 28, 2013
The second star: The new Dream Team
The U.S. men's Olympic roster was announced immediately after the Winter Classic, and most of the names were unveiled by kids who skated onto the ice wearing the jerseys of selected players. But the team members who had actually just finished playing were invited to come out in person, which sounds fine, in theory.
In reality, though, it resulted in the awkward visual of Maple Leafs forwards James van Riemsdyk and Phil Kessel being announced and then making the long walk from the dressing room to the rink side-by-side, which was awesome because it looked exactly like a mid-'80s WWE tag team making their way to the ring. Kessel even stopped to awkwardly high-five a fan. It was perfect.
So perfect, in fact, that it was inevitable that someone would dub the Rockers theme music into the clip's background. I love you, Internet:
The first star: The Butt Goal
OK, technically this was from two weeks ago, but we were off then, so I'm making an exception, because Coyotes goalie Mike Smith scored a goal on himself with his own butt. If you don't think that's funny, you are lost in life and there's nothing I can do to help you.
What Is the Hockey World Pretending to Be Outraged About Now?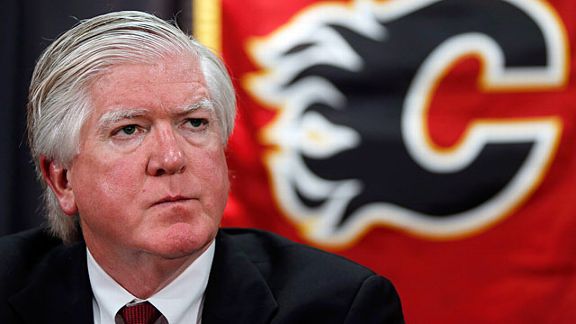 Nothing makes hockey folks happier than being outraged about something relatively unimportant. We'll pick one topic fans are complaining about and try to figure out if it's justified.
The Issue: The Team USA brain trust granted unprecedented access to their decision-making process, and the resulting coverage ended up including some disparaging comments about American forward Bobby Ryan from Brian Burke.
The Outrage: The comments came across as over-the-top, including that Ryan "can't spell intense," and that Burke regretted the Ducks' decision to draft Ryan.
Is It Justified: While coaches and front office types criticize players behind closed doors all the time, it's unusual for the comments to become public. Burke knew his comments were going to be on the record, and probably would have been wiser to watch his words. So if everyone wants to pile on here, it's understandable.
But … can we not? Just this once, can we let somebody get away with saying something vaguely provocative without immediately flipping tables?
I'm not usually the one defending Burke on anything, but let's be honest: His comments here were unusual, but they weren't that harsh. So he doesn't think Ryan is intense enough. I'm going to go ahead and bet that Burke has said far worse about somebody every day of his NHL career. He's probably said worse in the last 15 minutes. Maybe about you. That's life in his world.
But more importantly, Team USA's decision to allow media access to their decision-making is a good thing for hockey fans, and it's never going to happen again if this is what they get for it. We want to hear about this stuff, right? I know I do. So why are we all stumbling for our fainting couches the moment we finally get some quasi-unfiltered access?
Let's put it this way: You don't get to complain about this year's 24/7 being boring because the Red Wings and Maple Leafs never say anything interesting, then turn around and try to hang Brian Burke for giving an honest opinion.
As for Ryan, I'm with the critics who think that leaving him off the team was a major mistake, and if he uses Burke's comments as motivation over the rest of the season, then more power to him. He has a right to be angry, and for the most part his comments about the issues have been reasonable.
But his one mistake came when he called Burke's comments "gutless." There are lots of words you could use to describe what Burke said, but expressing an honest opinion in an on-the-record setting isn't gutless. That's not what that word means. Let's pick a better one the next time somebody in the hockey world goes slightly off-script.
If there is a next time. Which, at this rate, there probably won't be.
Obscure Former Player of the Week
NHL history is filled with legendary players whose stories are passed down from generation to generation. This is not one of them.
Last time, we featured a player who was born on Christmas Eve. So this week, let's go with one who was born on Christmas Day. And as an added bonus, he has one of the greatest names in sports history. This week's obscure former player is none other than former Blackhawks forward Fred Sasakamoose.
Sasakamoose didn't have a long NHL career — in fact, he only played for part of one season, in 1953-54. He played in 11 games, recording no goals and no assists.
But those 11 games made history, as Sasakamoose became the first native Canadian in league history. His brief career would pave the way for dozens of players who'd follow over future generations.
Sasakamoose didn't make the Blackhawks roster out of training camp in 1954, and within a few years he had quit professional hockey to return home to Saskatchewan, where he's been heavily involved in the community to this day. His life story is a fascinating one, and you can read much of it in this newspaper profile from a few years ago.
What Has Don Cherry Gone and Done Now?
Whether it's "Coach's Corner," his regular media appearances, or a Twitter account that's presumably meant to be performance art, Don Cherry is everywhere. What has he been up to this week?
Don Cherry didn't do all that much this week. He said some vaguely offensive things about Europeans and he made fun of the American junior team for not dressing as well as the Canadians do. Oh, and there was that one moment before the Winter Classic when he yelled at Ron MacLean because he didn't know if they were on the air or not. All pretty standard stuff, really.
So instead of what he did this week, could I interest you in a story about something one hockey fan says Cherry did several years ago? A little out of date, sure, but since it didn't happen on television or the radio or any media at all, it's probably going to be new to you.
Sound good? Cool. Then click here for a story about Don Cherry, his video series, one family, and a house fire.
Canadian Olympic Panic Watch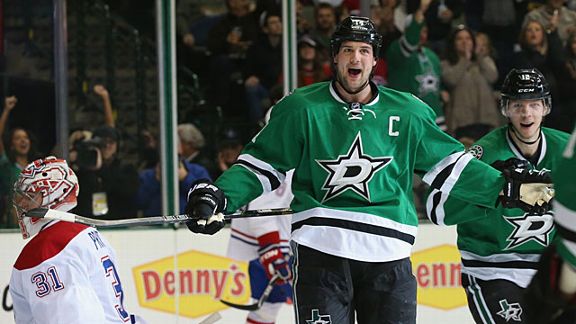 Canadians love three things: rolling up the rim, ruining American pop music, and freaking out about our Olympic hockey teams.
Canada's Olympic roster will be announced next week, so as you can imagine our national panic is reaching new highs. Here's a quick guide to some of the things that could happen when the roster is unveiled, and how Canadians will react.
Chris Kunitz makes the team: We all howl about how we could score a ton of points playing with Sidney Crosby, too, and keep howling right up until he scores a hat trick in the first game, at which point we act like we were totally cool with him all along.
Jamie Benn doesn't make the team: We all blame Chris Kunitz.
Taylor Hall doesn't make the team: Edmonton Oiler fans are really sad. So, no impact.
Joe Thornton doesn't make the team: We're not sure whether to be angry that one of the NHL's most consistent offensive forces didn't make the cut, or impressed that the team has so many elite forwards that they can actually leave him at home.
Joe Thornton does make the team: We're all kind of terrified over how he'll celebrate the news.
Marc-Edouard Vlasic makes the team: Everyone watching the announcement pulls out their phone and subtly Googles "Who is Marc-Edouard Vlasic?"
Mike Smith makes the team: Did I mention that he scored a goal with his own butt?
P.K. Subban doesn't make the team: Montreal fans riot.
P.K. Subban does make the team: Montreal fans riot slightly less enthusiastically.
They take Blake Wheeler instead of Bobby Ryan: Just kidding, no halfway respectable team would ever be that dumb.
Awesome and/or Horrific Old YouTube Clip of the Week
In addition to being a great source of adorable pets and functionally illiterate commenters, YouTube is a gold mine for old hockey clips. In this section we find one and break it down in way too much detail.
With Wednesday's Winter Classic now in the books and this year's slate of six (!) outdoor games officially under way, it seemed like a good time to look back at the modern NHL's very first foray into outdoor hockey. No, not the inaugural Winter Classic in Buffalo back in 2008. And not the Heritage Classic in Edmonton back in 2003. No, we're heading all the way back to September 1991 to take in some NHL hockey in … a parking lot in Las Vegas?
• Yes, this preseason game between New York and Los Angeles is coming to you from sunny Las Vegas. Specifically, the Caesars Palace parking lot. It's roughly 90 degrees, by the way. What could go wrong?
• The Kings and the Rangers were a pair of star-studded teams and they ended up combining for seven goals in an entertaining game, so it goes without saying that the only highlight I could find on YouTube was this random fight between Rod Buskas and Kris King.
• King is the Ranger, by the way. I was always disappointed that Kris King never played for Los Angeles. I'm glad that Dwight King eventually came along. Do you think coaches in L.A. still pull the whole "we play for the name on the front of the jersey, not the back" thing on Dwight King? It probably gets confusing. Now we just need to trade Paul Ranger to New York and we'll be all set. I'm rambling. Let's move on.
• By the way, these days King works as the NHL's senior vice-president of hockey ops, and is one of the guys who was responsible for making sure this week's game went smoothly. I don't think he punched anyone, but I can't confirm it.
• The scrap starts after a collision at the Rangers', um, purple line, and Buskas and King end up squaring off. Neither guy was really a heavyweight, but they were both journeymen who had long careers and fought fairly often. My main memories of Buskas were (a) that he was one of the 14 guys on the Blackhawks roster who would manage to get into a fight in every game of NHLPA 93 you ever played, and (b) this terrifying hockey card.
• And Buskas's jersey comes off three seconds into the fight. I'm honestly not sure the NHL has ever passed a better rule than "all enforcers must wear a tie-down because we don't all need to see you half-naked every time you fight." I know everyone thinks of that as the Rob Ray rule, but I've always given credit to Ken Baumgartner for the time he pulled this move. I love Churla's Dude, really? reaction on the replay.
• By the way, this wasn't the first outdoor game to feature an NHL club. That honor would belong to the 1954 Detroit Red Wings, who played a game against a collection of prison inmates. According to Wikipedia, that game "was allegedly organized as a way for Red Wings manager Jack Adams to make good with two convicted mafia members incarcerated at the prison." Original Six hockey was a lot of fun.
• King and Buskas wrestle each other over to the boards, where some dude in a T-shirt is just casually chilling out, because Vegas, man.
• The linesmen start to think about moving in, at which point we realize that they're Mike Cvik and Shane Heyer, who are both roughly 9 feet tall. There are hotels on the Strip shorter than these two. I'm sure hockey tough guys really appreciated that pairing. "Hey, I'm busy getting repeatedly punched in the face, so please by all means send over two officials who make me and my opponents look like hobbits."
• My favorite random fact from this game: It was plagued by hundreds of giant grasshoppers who kept jumping onto the ice, then immediately freezing in place. And you thought the softly falling Michigan snow made for a lovely visual. I hope this month's game in Los Angeles features another bugpocalypse.
• King finally gets an arm free and starts throwing punches, probably because he's terrified that one of the linesmen is about to eat him. That's enough to earn him a decision in this one. The Caesars Palace crowd cheers wildly, possibly because the fight has successfully concluded without some guy in a parachute landing on them.
• We'll all just pretend we didn't see King awkwardly grope the linesman's ass there, right?
• And our clip ends as we cut to commercial. The Kings went on to win the game 5-2 (you can find extended highlights here).
Epilogue: The two teams were supposed to play a second game two days later inside an arena in Charlotte, but it had to be canceled because the ice conditions were deemed unacceptable. I love that. How bad does your ice have to be that two teams who just played in a grasshopper-infested Las Vegas parking lot go "Nah, not good enough"?