It's Monday after Thanksgiving, everyone's a little bit fatter, nobody wants to be at work, and the NFL is heading into the home stretch. To help you make sense of the world on this extra-miserable Monday-morning existence, let's keep things nice and disorganized and sort though some NFL winners and losers after Week 13. We'll begin in Philadelphia.
Winners
Chip Kelly. OK, when Chris Ryan turned Chip Kelly into a Greek God throwing lightning bolts across the NFL, we'd all been joking for months about Chip Kelly's genius. Then he went out and destroyed the Redskins in that first half and delivered on all the hype. So of course we all lost our minds for a minute there. And of course, Chip was destined to crash back to earth after all that.
But now? "Peyton-like streak puts Eagles' Nick Foles in MVP discussion" is a real headline. The Eagles are playoff contenders, they beat a legitimately good team Sunday, and Nick Foles is king of the universe … Maybe Chip really is a genius. We've come a long way from CHIPWRECK and CHUMP KELLY, anyway.
In three months, the Eagles have gone from the most exciting team in the league to the most unwatchable team in the league to … I think everybody learned from the Week 1 freak-out, so everyone's treading lightly here. But three months in, they might actually be a good team? The NFL makes no sense.

On the other end of the spectrum:
Texans. Houston nearly pulled off the upset against the Patriots, but it all fell apart at the end, and with the Jaguars win the Texans now have pole position for the no. 1 pick in April. The field right now:
• 2-10 Texans
• 3-9 Redskins
• 3-9 Bucaneers
• 3-9 Falcons
• 3-9 Jaguars
• 3-8-1 Vikings
I have no idea how ties factor into standings, so the Vikings could really complicate things down the stretch. We'll see.
For now, the Texans-Jaguars game this Thursday looks like it could be the ultimate showdown for Teddy Bridgewater and/or Jadeveon Clowney. Nothing says Thursday Night Football like two teams battling it out for the worst record in the league. It's gonna be great.
Josh Gordon. He followed up 237 yards against the Steelers with 261 against the Jaguars, and he did it in the Browns offense, which means all his yards should count double. The Browns should really be better than 4-8, but Brian Hoyer went down and they were stuck restarting the Jason Campbell and Brandon Weeden bandwagons, and God Hates Cleveland, and you know how this goes. But at least there's some sliver of hope for the future. For now, Josh Gordon follows in the distinguished footsteps of Josh Cribbs and Travis Benjamin as The One Player Browns Fans Can Actually Be Excited About. Can't wait him to have 300 yards in a 10-point loss to the Patriots next week.
Alshon Jeffery. God I love Alshon Jeffery. He was so much fun at South Carolina, and that was before we found out he was kinda fat. There were mean photos on the Internet, and then after he declared for the NFL he weighted in at 249 pounds and had a 4.88 40 time.
We've had chubby running backs, chubby tight ends, even fat quarterbacks. But a fat receiver is the rarest species of them all. So of course we should all root for Alshon forever.
He's slimmed down since those days, and now we're watching the Resurrection of Alshon and getting headlines like "For Bears' Alshon Jeffery, fat was then, this is now." It's all pretty fantastic. As someone who was chubby — nay, HUSKY — until like 14 years old, watching him prosper is the ultimate inspiration. Maybe one day we can all lose 20 pounds and turn into unstoppable NFL receivers. For Alshon, Sunday was where it all peaked.
Twelve catches, 249 yards, two touchdowns, and this:
Look at him ride that cornerback all the way into the end zone. He's incredible. As it stands now, he and Brandon Marshall might be the best receiver tandem in the NFL. The Bears are pretty hopeless this year, and Marc Trestman's decision to kick yesterday still makes absolutely no sense. But take heart, Chicago. You get to root for Formerly Fat Alshon Jeffery and Formerly Crazy Brandon Marshall. That's a lot more than most fans of bad teams can say.
(H/T @CorkGaines for the GIF)
Knowshon's Emotions. LOOK AT THE SIZE OF THOSE TEARS.
If you needed any more proof that pro football players are not the same species as the rest of us, look no further than Knowshon Moreno during the national anthem. Those are Goliath tears. Or horse tears. Shaq would drown in those tears. We should also note that anyone who cries that much during the national anthem can't possibly be emotionally stable. Another reminder that pro football players are not like the rest of us.
Shon-stars > Monstars. Just saying:
WR DeSean Jackson
WR Alshon Jeffery
RB LeSean McCoy
RB Knowshon Moreno
RB Marshawn Lynch
LB Sean Lee
DB Dashon Goldson
DB Rashean Mathis
Coach Sean Payton
I'm probably missing like 10 people, but Alshon and Knowshon got me thinking … if you started a team with a roster made up entirely of players with "-shon" or some variant in their names, you might have the best team in the league. And definitely the most entertaining team in the league. We'd all fall in love with that team. At quarterback? Fifty-year-old gunslingin' Sean Salisbury. Because America is the land of second chances. It's never too late to rewrite history.
Rob Ford
Winner, loser, ongoing disgrace, international hero. Rob Ford is everything. It's just good to have him involved with America's game. The most famous mayor in the world showed up to the Bills game yesterday. There are pictures, plus a seat-stealing scandal, because of course he stole someone's seat. And since he can't possibly last much longer as the mayor of Toronto, I'd like to take this opportunity to officially start the campaign to get Rob Ford a job as a Fox sideline reporter.
Imagine how much better your life would be if Rob Ford were reporting from the trenches alongside Troy Aikman and Joe Buck throughout the NFL playoffs. Interviewing coaches, chiming in out of nowhere with clichés, sweating profusely. It would be perfect. He couldn't possibly be worse than Tony Siragusa, and it's not like we haven't had NFL announcers who smoked crack, so there's really no reason this can't happen. Remember: AMERICA IS THE LAND OF SECOND CHANCES.
Losers
Alex Smith. He came so close to leading that game-tying drive, making all the critics look stupid, and (maybe) getting the Chiefs a step closer to winning the AFC West. But he fell just short at the end, so all anyone notices is how the Chiefs got outscored 35-7 over the final two and a half quarters or so and how badly they got outclassed over 60 minutes with a good team. As usual, life is not fair for Alex Smith.
But as easy as it's been to poke holes in the idea that the Chiefs are a great team over the past few months, Smith really wasn't that bad Sunday, and this team will be a nightmare to play against in the playoffs. Especially in a conference with shaky contenders like the Broncos and Patriots, there's no reason to count out the Chiefs. There have been too many teams that have used this exact blueprint — great defense, good running game, decent quarterback — to make a deep playoff run.
In the past month, I've gone from hating everyone who told me to take the Chiefs seriously to thinking it's too easy to write off the Chiefs after three losses. They got swept by the Broncos, but watch, they'll end up going deeper than Denver in January. This is my Hot Sports Prediction for the NFL playoffs.
Analytical Ron.. Nope, not happening.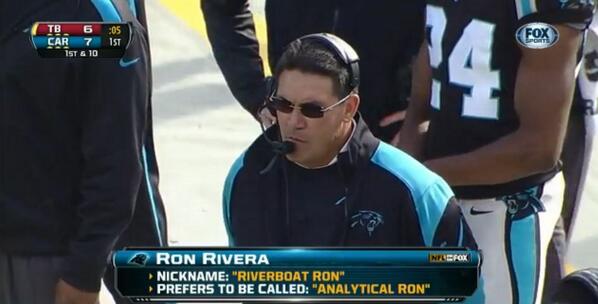 All superheroes get conflicted along the way, but don't fight your destiny, Ron.
(H/T: @GoldAndOrSmith)
The Titans and Mike Munchak. One of my favorite preseason stories was Peter King reporting on how the Titans hired Mike Munchak, as highlighted in Drew Magary's preview of the Titans. Munchak spent 48 hours preparing for the interview, showed up, and told them he didn't have many ideas for who his assistants would be because he's not a networker. But that wasn't the meat of his proposal:
"He had an answer for everything," [said the Tennessee GM]. "And some great ideas. We had no idea that was coming." Not just the Paterno-spawned ideas either. Sports jackets on road trips. No hats in the building. No headphones while working out; talking and communicating was preferred. No TVs in the trainer's room; don't want it to be too comfortable in there. A 12-minute video presentation on the history of the Oilers going back to the old American Football League days "because you should always know where you came from," Munchak said.
Ban on headphones in the weight room? Sport jackets in public? A 12-minute presentation on a team from 20 years ago instead of a plan for hiring coordinators? Greg Schiano is impressed by all of it. The Titans are 2-6 after starting 3-0, they fell apart down the stretch against the Colts Sunday, and it's important to remember that all of this 2013 magic started with Munchak banning headphones in the weight room. Because a winning team starts with a winning culture.
The Jets. How is this is even possible?
In last 2 weeks, Josh Gordon has 498 yards receiving. The Jets' leading receiver ON THE SEASON is Jeremy Kerley, with 347 yards.

— Numbers Never Lie (@ESPN_Numbers) December 1, 2013
//platform.twitter.com/widgets.js
Just when you were ready to blame it all on Geno Smith and Matt Simms, you look at the Jets receivers and realize they might be even worse. The season's not even over yet and it's already incredible that the Jets have won five games this year.
Vernon Davis. If you search "Vernon Davis Vine" on Twitter, you will find one clip of him (kinda) hurdling another human and being his usual freak-of-nature self for the 49ers, but you will also find a clip of him getting dragged to the ground by his crotch and oh God even typing that sentence is enough to make me recoil in horror.
For God's sake, THAT SHOULD NOT BE LEGAL.
The Redskins. We discussed the no. 1 pick sweepstakes earlier, but who are we kidding? There's just no way this team avoids finishing with the worst record in the league and then sending that pick to the Rams. This has been one of the most depressing seasons in Redskins history. There's only one way it can end.
Sunday night brought yet another gut-wrenching loss, filled with some bright spots for RG3 in the first half, and then lots of misery down the stretch. It was textbook Skins.
This whole season is shaping up to be a pretty incredible spectacle in nightmare porn. They've seen their owner make a fool of the fan base by defending the racist team name and somehow making it even more insulting; their coach has the most productive running back in football and refuses to use him in the second half; they've seen their most exciting player in 25 years turn into an ongoing disaster who is clearly still hurt; the local media is eating itself taking sides between Shanahan and RG3; the rest of the team is in shambles on both sides of the ball; and as all the losses pile up, the only guarantee is that all this season's suffering will be twice as depressing in April when the Rams pick someone in the top three and Redskins fans have to glance back at crippled RG3 and convince themselves that the future is still bright.
There are winners and losers all over the league, but in case your favorite team is living the struggle, just remember: Nobody is struggling quite like the Redskins right now. Not even Vernon Davis.