On any given Sunday (or Monday, or Thursday), your NFL Run & Shootaround crew will be gathered around multiple televisions, making inappropriate jokes and generally regressing to the mean. Catch up on all the NFL action right here.
Notes on the Horror of Rooting for Evil (a New York Giants Fan Tale)
They're always strange, those last few weeks of every NFL season when you see what it's like to be somebody else. I know how to speak the language of Giants fans (written on our particular Rosetta Stone are words like "Mike Cherry") but it's harder to make out foreign cadences. And anyway, trying to get inside the mind of a fan-of-another is like attempting to visualize your life with a different set of children. Why even go down that road? But sometimes it becomes briefly necessary to make exactly these projections, which is why I was reduced yesterday to becoming invested in the Detroit Lions for a short but serious while. The results weren't pretty. Every family has its own set of issues, and it's usually better if you stay quiet about your own and don't get too nosy with anyone else.
For many New York fans this is particularly true. You can make the most neutral of statements, like "the Giants sure are getting torched by wide receivers today" or "ha-ha, Tom Coughlin's face" and there's pretty much a 97 percent chance that you'll get a response from someone on the Internet that begins with a sputtering "OH, BOO-HOO." And I totally, totally get it! Fair or unfair, I've personally spent, like, the last decade rolling my eyes anytime a Boston fan vents. Fans of teams who get overly emo in off years between championships are like Bernie Madoff victims writing blogs on the Huffington Post about having to sell their Palm Beach palaces. There's not too much sympathy to go around … and yet, objectively speaking, it still kinda sucks.
It's hard to know what to make of the Giants, who have spent the season blessed by their proximity to the rollicking calamity that is the New York Jets. On the one hand, they finished last season with an identical 9-7 record and it was good enough to get them into the playoffs and so on and so forth. Two years ago, 10-6 left them on the outside looking in. A few small moments here or there — that missed field goal in Philly, that RG3 forward fumble, countless silly holding penalties — and everything would be different, but you can say that about each and every team in the league. Ultimately, I was almost relieved when the Lions lost early yesterday and ended the Giants' slim playoff hopes. Had they won, I would have had to continue down the exhausting parlay path of supporting the Green Bay Packers (ask poor Chicago Bears fans, whom I genuinely want to hug — Cutler was so ill-fatedly chipper after the game! — how that went) and THEN, gulp, getting emotionally invested in a Cowboys-Redskins game. That's an experience I don't know if I'd wish on anyone, even temporarily.
— Katie Baker
Freak of Nature

(All GIFs by HeyBelinda)
The Whole Eight Yards
The problem with fantasy football, of course, is that it is wholly incompatible with reality football. You find yourself pulling for disparate individuals in ways that feel self-serving and utterly ridiculous; your emotions are driven solely by the numbers. The conflicts inherent in this mode of thought are well documented, which is why it felt liberating, as an impartial observer, to focus only on the numbers yesterday afternoon and feel like you were doing so for (sort of) altruistic reasons. I honestly could not have cared less if the Vikings won or lost; I was only truly interested in one player on the entire field, and only in that player's statistics. I felt more anxious watching the fourth quarter of that game than I have viewing any game with imaginary statistical implications in the nearly two decades I've been playing fantasy football. In the end, Adrian Peterson did come up eight yards short — he was, oddly enough, too good for his own good on the final drive of the game — but that wasn't the point: The point was that the numbers can still mean something beyond ourselves.
— Michael Weinreb
And Then We Came to the End

"Are they burning the Book of Mormon yet?" This was a text from Andy Greenwald, asking if the Giants' emphatic, go-get-your-shinebox victory over the Eagles had prompted some kind of civil unrest in Philly. I'm writing this from Philadelphia. It's pretty chill. I mean, there's a guy who keeps running laps around my block, wearing a trash bag, looking for a girl named Tiffany — but other than that it's business as depressing Sunday usual.
I don't feel anything about the Andy Reid era ending. I didn't feel anything watching the Michael Vick era end with 16 incompletions, or LeSean McCoy's season end with a mere 10 carries. My capacity to feel probably died back in October against Pittsburgh (16-14! Christ!) or maybe even as far back as last season's debacle against Seattle. After a while all the botched third-down conversions, bubble screens where nobody is screening and there's no bubble, and cornerbacks not making tackles … it all blends together. You become so numb.
So bring on Chip Kelly and his offense that may or may not work in the NFL (even though Josh McDaniels and Tom Brady are already running a modified version of it), or bring on Rex Ryan, or Nick Saban, or Bill Cowher, or Gruden. Anyone but Norv, really. I don't really mind if they fail. They will fail in a different, altogether new way. At least I will feel something.
— Chris Ryan
10 (More) Thoughts About the End of the New York Giants' Title Defense
1. If Detroit had somehow overcome its own Detroit-ness and Matt Stafford had driven the Lions downfield for the game-winning field goal, I'm convinced the Giants would have won the Super Bowl.
2. Yes, Minnesota would still have to lose to Green Bay, and yes, Dallas would still have to lose to Washington.
3. And yes, the Giants would have to go through the motions of winning four playoff games, including dramatic wins against Green Bay in the NFC Championship and New England in the Super Bowl.
4. But still, it would have happened. Eli Manning is our generation's … Eli Manning. There's no other comparison. OK, maybe he's sort of like Chance, the simple gardener from the movie Being There who rises to national prominence because he's a blank canvas on which people confirm their own hopes and preconceptions, but that's a pretentious reference and nobody likes it.
5. Now that I am thinking about it, it's kind of interesting that the Giants could have played the same four teams as last season on the way to the championship (SF, GB, ATL, NE), albeit in different order. Has that ever happened before? Does it matter? What's the pumpkin pie situation, mom? Why would you give the last half to the neighbors when your son is home visiting?! That's insane and selfish.
6. Hey, Detroit, what's up with your four turnovers? YOU WOULD HAVE WON THE GAME BY 20 POINTS AND URLACHER WOULD HAVE WEPT ON THE SIDELINE FOR OUR PLEASURE. I don't have much experience with Matthew Stafford, but something about him makes me angry. I ran a Google image search to try to find out exactly what it was, and found this photo. Which says quite a bit in a few words.
7. If the Lions had won, I'm curious whether Detroiters would have objected to the name "Motor City Miracle" for a game that mostly benefited the Giants. Because I'd have pushed that one pretty hard.
8. It was still pretty great to beat up on the Eagles. When Andy Reid opted to start the game with an onside kick just before getting blown out, it was sad and pathetic, like watching your best friend's dad buy a set of bandannas because he's too scared to celebrate his mid-life crisis with a real motorcycle. You're getting fired, Andy Reid!
9. I'm writing this at 4:10, so I have no idea if Chicago will make the playoffs. But if they do, they're going to lose by 50 to San Francisco or Seattle or the Giants. I'm still not totally convinced the Giants are out of the playoffs. Just like I'm still not convinced we won those two Super Bowls against New England. Belichick has a plan.
10. Fire Tom Coughlin. Coughlin Must Go. The players don't want to play for Tom Coughlin. Fire him yesterday.
— Shane Ryan
All That Said, the TD Celebration of the Week
Tony Romo's Inferiority Complex
Only a sage like Michael Irvin could explain why Tony Romo threw that awful, game-killing, fourth-quarter interception last night. "Tony Romo is the only undrafted QB in the East," Irvin said on NFL Network, "and sometimes, in those moments, he feels like, 'I have to prove to everybody I belong here,' and tries to do so much, and that's [what] gets him into trouble."
"Tries to do too much" is an old football cliché. But listen to what Irvin's saying: Romo's INTs are the product of his inferiority complex. This is a great insight. As Cowboys fans, we've seen the Romo Complex develop. It started under Bill Parcells, who makes all his quarterbacks feel inferior, and hit an early peak with the fumbled snap against Seattle. In 2007, the Cowboys got good very fast — Romo was a big enough deal to merge with Jessica Simpson — but lost to the Giants in the playoffs. Lately, Romo has stopped smiling after interceptions; now, he yells at his receivers. Romo is great but he is inferior. He played brilliantly for a month, and yet last night's game ended with this classic photo. Call it the Romo Complex.
If Romo feels inferior, it's partly because of the state of the Cowboys. Romo's coach is Jason Garrett. His offensive line is the Nate Livings All-Stars. When the Redskins brought blitzes last night, neither could figure out how to get them blocked, or get screens called to make the Skins pay. This, I suspect, makes the Romo Complex worse. Romo's not only trying to make up for his own failings but for his team's. Perry Riley is in my face again, but if I could just float this ball over the linebacker …
"That's a tough pill to swallow," Romo said after the game, "especially when I throw that interception. That'll eat at me for weeks now." The fact that it eats at him — that it haunts his soul in a particularly Romo-tastic way — is exactly the condition that Irvin diagnosed. It's the last interception that makes Tony Romo throw the next one.
— Bryan Curtis
Yeah, It's Like That
And Then We Came to the End: Part 2

When Blair Walsh's final field goal went through the uprights last night — and my week-long nightmare of having to root for the Packers finally ended — it wasn't a lost Bears playoffs run that I found myself lamenting. It was the end of an era.
 
When Lovie Smith arrived in Chicago in 2004, he found a franchise that had lacked identity for the better part of two decades. (I can't really say who was the face of the Dave Wannstedt era, mostly because I'm not so sure there was one.) But within a year, there were no more questions about what this team was: With Urlacher, and Lance Briggs, and Charles Tillman, the Bears were going to play defense — and they were going to do it as well as anyone on the planet.
 
That's how it stayed for most of Smith's nine-year run, and his legacy should (and will) be always linked to the careers of those three players. The problem is that it will also be tied to names like Ron Turner, Mike Martz, and Mike Tice. The Bears went 10-6 this season, and that locker room is full of players who want to play for Lovie Smith, but the defense was never enough to overcome the lack of a plan from its counterpart, and in the end, that's (as it always has been) on Lovie.
 
Now, the question is how new GM Phil Emery builds a bridge to a new Bears era. Urlacher is a free agent. Briggs is 32. So is Julius Peppers. The Bears are a team of aging, expensive veterans that live close to the cap and without much young talent or depth. With a new staff and a new system — the defense's first in nearly a decade — the Bears may be closer to a rebuilding project than a contender. Brian Urlacher may have already played his final game in Chicago. We already know Lovie Smith has coached his. This version of the Bears is gone, and I guess I just wasn't ready to let it go.  
— Robert Mays
Alex Smith: A (Rare) Moment of Appreciation
My grandmother — tiny, tough, and very old — knows how to handle departures. If you're leaving town for good, she'll be out running errands. If you ask for a kiss goodnight, she'll cock her head and distractedly say "MMMUH." If she wants to get off the phone, she'll blurt, "You must be busy —" and then hang up. You have to give the dial tone your love. But it's better that way, really. If you don't want to say good riddance, why would you want to say good-bye? So I'd been dreading Alex Smith's appearance on the field against the Cardinals yesterday. Up until he lost his starting job, Smith had been one of my favorite stories of the season. Two years ago he had been booed, heckled, and generally derided. Then came Jim Harbaugh, with his bizarre rituals and maniacal confidence and perfect playbook, and his endless patience and confidence. Suddenly the 49ers were one of the best teams in the NFL, and they went from winning despite Smith to winning because of him. It was an unbelievable resurrection. But as much as Harbaugh trusted his quarterback, he trusted himself more, and less than a month after the coach dismissed a reporter's questions about Smith's confidence — "Just gobble, gobble, gobble turkey from jive turkey gobblers" — he was starting Colin Kaepernick. Yeah, there was a concussion. But the decision was made by Harbaugh's gut.
Smith came into Sunday's game needing seven pass attempts to be eligible for the season's record books. He had a shot at finishing with the highest passer rating and at breaking the single-season record for completion percentage. Last time he played the Cardinals, he completed 18 of 19 passes, had three touchdowns, and finished with a 92.0 QBR. Yesterday, he threw one pass for six yards.
Next year, he'll probably be playing somewhere else. The Candlestick crowd knew it, and it sent him off with ovations and chants of "Alex, Alex." When a reporter asked him after the game if he was thinking ahead to where he'd play next year, though, Smith answered, "Absolutely not. That's for you guys and everybody outside of here. I'm loving what's going on, and we have such a great group of guys." That kid Kaepernick may have the potential, but Smith has the wisdom of elders. He knows how to say good-bye.
— Louisa Thomas
Sportstorialist Quick Take: The Head Sock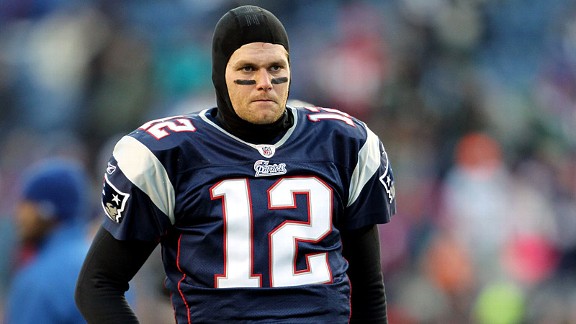 Yesterday delivered another reminder of one of sports apparel's truly amazing developments: the head sock. It doesn't matter who the man is; when he slips into one, he demonstrates just how anorexic the line is between functionality and fabulousness. On the one hand: Have you worn a head sock? It's about as close as a mid-game athlete can get to putting his head in an oven without also being a 20th-century poet. On the other, it's evocative.
I'm sure some guys think the sock gives them a kind of anonymous toughness — like a Bond villain's henchman. But on most guys the sock makes them look a lot like Little Edie Beale, the iconic loon from the documentary Grey Gardens. "Little Edie" Bouvier Beale was a cousin of Jackie O. She lived with her mother — "Big Edie" — in extravagant squalor, and spends some of the film traipsing around the grounds with a sweater pinned around her head.
She so remains the Everest of chic spinsterism that when you see, say, Tom Brady standing on the sidelines in Gillette Stadium with his head socked, really all you see is Edith Bouvier Beale. And certainly if anyone is capable of understanding how reasonable an observation that is, it's a man married to Gisele.
— Wesley Morris
The San Diego Chargers' Season: Single YouTube Video Edition

It seems like it's going to be fun, right? And then …
— Justin Halpern
Hey, Uh, Remember the Packers?

Sunday's loss to the de-zombiefied Vikings was the Packers' 2012 in microcosm, in the sense that it seemed to be happening to somebody else. How many weeks this season did the Pack act as an anonymous catalyst in the football universe? Week 1 was the coming-out party for the 49ers. Week 2 was about Jay Cutler's inability to lead the Bears. Week 3 was about finally ending the tyranny of replacement refs. Week 5 was about showing that Andrew Luck is for real. Week 6 was about showing that the Texans probably aren't. By Week 12, the Packers were teasing the NFL by erroneously suggesting that the Giants were on the verge of another late-season run. Week 15, when the downfall of the Bears (and Lovie Smith's fate) was sealed, was truer. Finally, in Week 17, the Packers played the role of The Team That Happened To Be Playing The Vikings When Adrian Peterson Officially Became The Greatest Running Back Since Barry Sanders.
The Packers finished the season 11-5, winning nine out of the last 11 and capturing its second straight NFC North crown. It is a no. 3 seed, and must be considered a serious Super Bowl contender amid a strong but inconsistent batch of NFC teams. And yet nobody is talking about the Packers today. Nobody has talked about the Packers all season. Even in games involving the Packers, the Packers are never part of the story. The Packers are Orlando Bloom, and the opponent is always Johnny Depp. The Packers could impregnate Kim Kardashian, and somehow it would be treated like a case of artificial insemination.
What happens next is impossible to predict. But if I had to predict: Next week's playoff game should be a cakewalk. The Vikings just won their Super Bowl, so Saturday's rematch might as well be the Pro Bowl. After that, the Pack could possibly beat the 49ers, or they could possibly not. An NFC Championship Game against the Falcons is more enticing, as Aaron Rodgers playing a playoff game in Atlanta is my spirit animal. All I know is that looking ahead is futile. Looking back is even murkier.
— Steven Hyden
A Modest Proposal for Preventing the MVP Tyranny of the Quarterback From Being a Burden to Their Parents or Country
If Adrian Peterson doesn't win the MVP this season, why even bother qualifying non-quarterbacks for the award? What else could a running back or a wide receiver do? Right now, the rule is essentially: "The NFL MVP will always be a quarterback unless a running back threatens some significant record." This is patently stupid and generally inflexible.
Here's my solution for this problem: Eliminate the MVP award. I understand the value of an MVP in baseball, where a right fielder can be more important to a team's success than, say, a shortstop. But in football, the quarterbacks are the stars because they are almost always the most important players on the field. The dominance of quarterbacks in MVP voting correctly reflects this. So why not just have an award for each offensive position? You could name the awards after notable players at the position. The quarterback of the year would be the de facto MVP, but if a running back had a season like Peterson's, we could just appreciate it without having to go straight into all the usual silly sports-talk radio hypothetical questions like: "If you took one player off a team, which team would lose the most games" or whatever else.
— Jay Caspian Kang
The Worst 6-10 Team of All Time Finally Delivers
The sickness of this Jets season extends beyond the obvious. Yes, Tim Tebow's acquisition was a flaming truck diving headlong off a bridge into a dried-up river basin. Yes, Mark Sanchez is the least-inspiring NFL quarterback since JaMarcus Russell. Yes, Rex Ryan is a charlatan and a blowhard. Yes, Mike Tannenbaum's cap burst all over his shoes. Yes, Woody Johnson backed the wrong horse, again. Yes, Darrelle Revis's left knee is in ACL Heaven. Yes, you cannot name two skill players on offense. Yes, Tony Sparano has already been fired. Yes, the team's defensive coordinator, Mike Pettine, appears to be openly refusing a contract extension. Yes, longtime special teams guru Mike Westhoff is retiring (until he joins the Dolphins in three months). Yes, a person named Bilal Powell is what amounts to exciting. Yes, we thought BRAYLON EDWARDS could be a savior. Yes, this team was the team of nightmares. The team of unholy terror. The team to bury Sunday after Sunday in sadness and snacks.
It isn't that all of that is true. It isn't even that most fans of the team, those with sense and sincere interest, could see much of this coming as recently as They signed Sanchez to a what!?! in March. It's that this happened in New York. The beat reporters are good in New York and few are better than those who cover the Jets. And that's because they understand that all pain is fit to print. So this season has been covered, in a word, closely. (R.I.P., slow-jogging shirtless Tebow in the rain. You are this season's grassy knoll, the butt fumble is the magic bullet, and Mark Sanchez's QBR is Lee Harvey Oswald.)
Misery is the Jets' speed and this clown car full of fat green men hurtled down the freeway for 21 straight weeks. (As Grantland's Chris Brown pointed out yesterday: Remember the Jets' super-secret training camp and their Wildcat formation plans and their … oh hell.) It's over now, and yesterday's game — a listless 28-9 lashing at the hands of the also-bad Buffalo Bills — was arguably the season's high-water mark. The loss ensured much, including a top-10 draft pick, the almost-certain banishment (to the bench or Siberia, perhaps) of Sanchez, and the confirmation that these guys truly sucked. There is power in certainty. Even if it makes you feel ill. Can't wait to see the whole gang back together this summer.
— Sean Fennessey
The Texans Are Feeling Just Fine About Their Playoff Chances; Why Do You Ask?
Steven Jackson? Steven Jackson.
Midway through the third round of this year's fantasy draft, I was faced with an age-old quandary: Pick a reliable stalwart like Steven Jackson or invest in a younger, faster, more interestingly named back, someone poised for a balance-tilting, breakout season. Instead of the sure thing, I ended up picking the marginally mysterious Ryan Mathews. Mathews broke both of his clavicles and spent most of the year on the sidelines watching Norv Turner's face atrophy.
I don't spend much time thinking about the St. Louis Rams, but I ended up watching them three times this season: two truly strange games against the 49ers and then yesterday afternoon against the Seahawks. It turns out they have a really impressive young defense, some turf-burning young receivers, and even an interestingly nicknamed young kicker ("Young GZ"). But each time, I was most drawn to their old leader, Jackson, who seems like he's been around forever. I suppose that's what happens when you're steady, consistent, and rarely get hurt. He's no longer an elite runner, and this past April the Rams drafted two potential replacements for him. But he remains a model professional, taking his lumps and scrapping for yards, always there for Sam Bradford if he needs to dump it off or talk about architecture.
Early in the second quarter, Jackson went up the middle for a gain of 14 and surpassed 1,000 yards for the eighth consecutive year. Truth be told, I was only watching this game to see if the Seahawks would lose, since Pete Carroll's elongated frowns bring me joy. But hearing about Jackson's accomplishment — recalling how long he's been around and stayed healthy, loyal to this futile and ever-rebuilding outfit — it made me want the Rams to win, too. Didn't Jackson deserve it? He's only the sixth back ever to assemble such a streak. The others are Emmitt Smith, Curtis Martin, Barry Sanders, LaDainian Tomlinson, and Thurman Thomas. They've all been to Super Bowls or conference championships. The Rams lost the game to more "Russell Wilson Heroics," finishing the season 7-8-1. Jackson's now played nine seasons, never for a winning team.
— Hua Hsu
Being There: RG3 Edition

Today I witnessed something called the fear of believing. Being from Los Angeles, I've never experienced this before. The Lakers? We always believe too much. But last night in Washington, I saw it; I experienced it. Watching the Redskins play at a bar in the District, amid all the cheering and happiness, another feeling existed. The hesitant excitement, the nervous smiles, and the boisterousness on the Metro after the game. People avoided talking about Super Bowl hopes. They avoided talk of the next opponent and its talented rookie quarterback. They focused on the now. The now they had in their hands. This was the fear of believing, living right before my eyes.
— Patricia Lee