On any given Sunday (or Monday, or Thursday), your NFL Run & Shootaround crew will be gathered around multiple televisions, making inappropriate jokes and generally regressing to the mean. Catch up on all the NFL action right here.
The Leap
You don't expect to see the word "Jacksonville" sitting next to the number 37 on a scoreboard any more than you expect to see the name "Matt Schaub" in the same sentence as "Warren Moon" in a postgame recap. But, hey, Sunday was pretty weird, and Houston vs. Jacksonville might have been the weirdest game of all.
Not to sound like some bored countess, but I didn't find the Texans' 5-0 start particularly exciting or convincing. Despite having marquee talent on both sides of the ball (Andre Johnson, Arian Foster, Brian Cushing, T-1000 J.J. Watt), one of the most strangely charismatic players in the game (Foster), and a very cool nickname for their rightfully vaunted defense (COME WITH IT NOW), there was just something missing. They beat the Dolphins and Jags, nuked the Jets and rolled a still-cobwebbed Peyton Manning. Then they lost to the Packers and I figured, yeah, that's who they are: flat-track bullies.

But everything the Texans have accomplished since then seems earned, like it's been an uphill battle. They annihilated the Ravens, outlasted Chicago in one of the uglier games I have ever bothered watching all the way through, and then had a season-defining … hell, maybe franchise-defining victory over the Jags yesterday.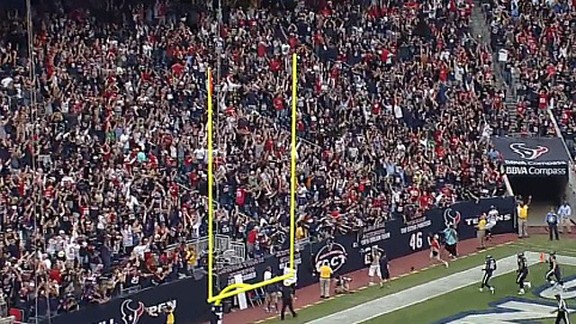 That's Andre Johnson leaping into the stands in Reliant Stadium, after he scored a 48-yard touchdown off a gorgeous little bubble screen. The U product is having a below-average season by his standards. But he may never make a more important play for as long as he plays. According to Schaub, who had the quietest 527-yard passing day I've ever seen, "We got what we wanted and Dre did the rest." What exactly did Dre do? He gave the Texans fans that "tell your children you were there for it" moment they had maybe been missing. Someone is watching over these guys. They already had impressive talent and solid coaching. Now they have a little bit of magic. The rest of the NFL should duck and cover.
— Chris Ryan
Headlines We Had to Scrap Because the Jaguars Lost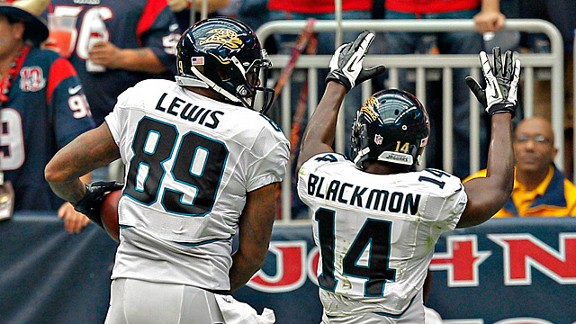 Fade to Blackmon
When the Henne's in Your System
Blackmon: Enta Da Stage
Scobee or Not Scobee
Add you own in the comments!
— Chris Ryan
Highway 41 Revisited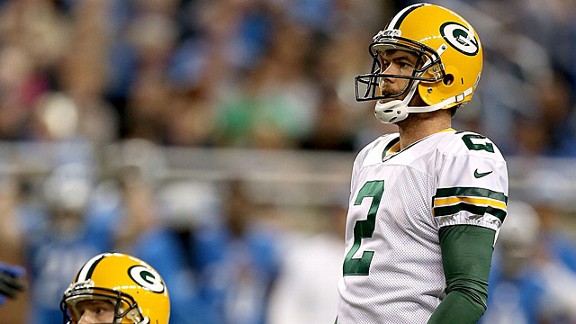 This has been a seriously weird Packers season. After the loss to the Colts five weeks ago, I was ready to crawl out to the ledge. Today, I feel like we're the best team in the NFC. The truth is I have no idea what's going to happen from here on out, because 2012 has reiterated the truism that We As A Species Do Not Control Our Destiny. As much as I love Aaron Rodgers for keeping his MVP-level pace and WR Randall Cobb for being the team's vice-MVP, it's clear that this season has come down to whether normally reliable kicker Mason Crosby can pull it together in the second half of the season. If the Packers hadn't found a way to beat the Lions in Detroit on Sunday, Crosby probably would've been evicted out of Ashwaubenon via Highway 41 as soon as the team got off the plane after hitting just one out of three field goals (and five out of his past 12). But the Packers won, so Crosby stays, as he should. As terrible as Crosby has been lately, I sure as hell don't want to bring back ex–Brett Favre flunky Ryan Longwell, who left Green Bay in 2006 for Minnesota because he supposedly didn't want to kick in cold weather. No, the Packers are stuck with Crosby, and the unpredictable swings of fate he represents. At this point, dude better have karma on his side.
— Steven Hyden
This Could Have Ended Much Worse for Aaron Rodgers
(GIFs by HeyBelinda)
Cousin Sal's "You Know You Have a Gambling Problem When …"
Your 7-year-old son's tooth is loose and you (playing the secret role of Tooth Fairy) have to look over your bets for the day to see if, for financial reasons, you need to convince him to keep it in his mouth for an extra week. Very, very sad. I thank, you Steelers (+3.5). My jack-o'-lantern son thanks you, too.
— Sal Iacono
This Is What Greg Toler Would Do for a Klondike Bar
Lonely at the Top
A day later, and I can't decide if the once-MVP candidate Matt Ryan's five-interception performance, resulting in a win for the Falcons, is the best news or worst news for the team's future. The Cardinals came into the Dome with a five-game losing streak and their third-string quarterback, signaling that the 8-1 Falcons should have won with the greatest of ease. On the other hand, no professional football team should give up five interceptions (six turnovers total) and still come out with a win against another professional football team. I truly don't know what to do with this. The only thing I know is that there is no middle ground. It's either the best or worst news for the Falcons, meaning we'll either win the Super Bowl by six touchdowns or lose in the first round 57-0.
9-1 has never felt so terrifying.
— Rembert Browne
Melancholia
Alexander the Great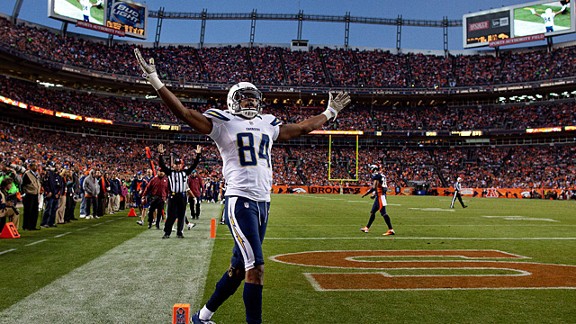 Last week, I wrote about Adrian Peterson and his remarkable comeback from the torn ACL he suffered last December. The season Peterson has put together is incredible, and it's made for a great story. But it's a story we all know. Here's one you might not.
In just his fourth game in a Chargers uniform, Danario Alexander caught two touchdown passes from Philip Rivers yesterday while finishing with seven catches for 96 yards. I know that some of that, including the second score, came in garbage time, but more important than Alexander's performance yesterday is that he was there at all.
Before Alexander was in San Diego — way before — he was a two-star recruit from Marlin, Texas, a town of about 6,000 just southeast of Waco. He eventually took a scholarship to play at the University of Missouri, only after coaches noticed him on tape while trying to recruit another player from the area. By Alexander's sophomore season, he'd earned a starting job over a highly sought-after St. Louis kid named Jeremy Maclin, whom Mizzou had snatched up when he defected from Oklahoma.
At the end of that year, the best in school history, Alexander tore his ACL in the Big 12 championship game. While recovering that spring, the ligament tore again. The following season, after making a remarkable comeback just four months after his second surgery, it tore a third time. Not many people can come back after tearing an ACL twice. No one does after doing it three times. Alexander not only came back for the 2008-09 season, he led the nation in receiving with 1,781 yards as a senior.
At the Senior Bowl, hoping to impress NFL scouts and convince a team he was beyond his injury issues, Alexander landed awkwardly while leaping for a pass. A piece of cartilage in his other knee had chipped. He'd need surgery. Again. The result was a trip to the NFL Combine on crutches and seven rounds of the draft without a phone call. The Rams gave him a chance, but in October of his first season, Alexander injured his knee again. In all, it's been five surgeries since the fall of 2007, and when his injury issues lingered into this summer's training camp he was let go by the Rams.
I'm sure there are stories like Danario's. I just happen to know this one better. His historic senior season was the year I covered Missouri as a student reporter, and I watched as he went through his rehab following that Senior Bowl injury. Three years later, I still remember how little time he had for pity. It's stuck with me. And watching him haul in that first touchdown yesterday was as good a moment as I've had this NFL season. Adrian Peterson and Peyton Manning are great stories, but if you ask me, they're shooting for second best.
— Robert Mays