What's the NBA's hottest throwback trend in the playoffs? Iman Shumpert's haircut? Jay-Z's ownership of an NBA franchise being "zero" rather than "trace amounts"? No, it's actually coaching. After several years of avoiding anything resembling relevancy, despite their enviable young talent, the Cavaliers and Timberwolves respectively brought Mike Brown (as a head coach) and Flip Saunders (as president of basketball operations) back into the fold with the hopes of restoring those franchises to the greatest glory they have known. Before we go any further, let's just take time to appreciate what "glory" entails for these long and frequently suffering franchises — which is to say, an occasional sniff at a conference finals or a chance to be remembered along the lines of the 2002 Nets or the 2001 Sixers as one of the pre-eminent no-hopers in the NBA Finals. That might seem like a preferable alternative to the pedestrian awfulness that's befallen them in the past, but it doesn't speak well of the NBA's current state, where something like 7 percent of its teams are truly capable of winning a championship, give or take 3.3 percent.
That being said, a retread coach might not be the worst idea. It saves a lot of time and money on the administrative end — the old guy knows where the parking garage is. But NBA teams should consider what it takes to be an NBA champion these days. If you can't sign a marquee free agent — and something like 75 percent of the teams cannot — you're going to have to lose and lose again until you luck upon a draft with the equivalent. So why waste time begrudgingly going blow-for-blow with the Pacers or the Grizzlies over the next three years? You need a coach who knows how to lose for your franchise. But which old flames burn dullest?

Philadelphia 76ers
Fred Carter (1992-1994, 32-76, .296%)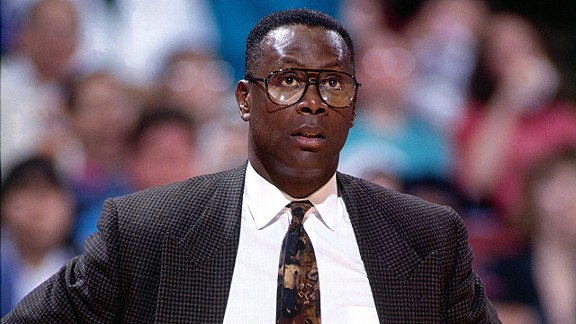 The Sixers have to be careful here. They've had some spectacularly unsuccessful coaches in their time, some presumably hired with the assumption that a can-do attitude, ambition, and lack of proper "credentials" could help them climb the ladder of success escalator-style, like trainer ternt owner ternt pirate-book author Pat Croce. But even the least inspiring of the lot — and we're talking Doug Moe, John Lucas, Randy Ayers, and the immortal Johnny Davis here — managed to get something decent out of some otherwise shaky teams.
That's the last thing this iteration of the Sixers needs. Considering that the team's Wikipedia page refers to the present as the "Jrue Holiday Era," you can rest assured your ceiling is being the easiest 3-seed upset in Eastern Conference history. You put a team with Holiday, Thaddeus Young, Evan Turner, and (potentially) Andrew Bynum on the floor and, at best, you've got a version of the Hawks with a higher Q rating. Take Bynum out of the picture, and you can at least be good enough to tease at the eighth seed.
So, who better than F-Dot Carter when you mustn't try harder? For someone who might've been the best player on the historic 9-73 Sixers team, and maintained a sub-.300 winning percentage as a head coach, Carter is almost always referred to as "popular" or "I love that guy!" According to his Wikipedia page, he helped "popularize the fist bump," so needless to say, "lovable loser" will play well in Philly in light of Roy Halladay, Michael Vick, and whoever's coaching the Flyers right now.
Brooklyn Nets
John Calipari (1996-1999, 72-112, .391%)
If you think the Nets' roster is a scary sight right now, just think about 2015 — it's basically going to be the same thing, only two years older. If Jay-Z and a Russian billionaire can't land a truly transcendent free agent, you might need to take a different approach. And considering every potential game-changer on the collegiate level is playing for John Calipari right now … well, if you can con a 5-star recruit into averaging 13 points a game without a guaranteed starting spot on the Wildcats, you don't think Calipari could convince Andrew Wiggins or whoever to curiously tank his freshman season to engineer a precipitous free fall in the draft or at least strong-arm a Kobe-like trade?
And besides, considering his extracurricular coaching activities, Calipari would make a hell of a grand marshal at the Dominican Day Parade up on Sixth Avenue.
Charlotte Bobcats
Isiah Thomas (N/A)
The several dozen die-hard Bobcats fans will be quick to point out that Isiah Thomas never actually coached the Bobcats; it just feels like it. Fair point, but when you look at the potential rehires … well, the only way to be sure that Michael Jordan isn't totally clocked out is to see if the ability to completely screw over Isiah Thomas will rekindle his competitive fire.
Milwaukee Bucks
Mike Dunleavy (1992-1996, 107-221, .326%)
I can't think of any legitimate reason for the Bucks to have any head coach right now. When you look at what their roster brings to the table — Brandon Jennings chucks shots, Monta Ellis chucks whatever shots are left over, J.J. Redick chucks whatever of those shots are left over, and Larry Sanders presumably plays 1-on-5 defense — those aren't exactly qualities that can be "coached up."
So if they're just going to pay a guy millions of dollars to sit on the bench and look somewhat coach-like, I think they owe Dunleavy a solid. After all, the 1996 Bucks team that got Dunleavy fired could've potentially trotted out Vin Baker, Glenn Robinson, and Benoit Benjamin as a starting frontcourt. EVERY NIGHT. I imagine Herb Kohl committed numerous OSHA violations by letting Dunleavy wear a regular suit instead of a hazmat suit, so this can just be an under-the-table form of worker's comp.
Detroit Pistons
Dick Vitale (1978-1980, 34-60, .362%)
A haphazard jumble of underdeveloped big men, physically limited scrappers, and gunners with the accuracy of Die Hard extras meant to be ignored for the vast majority of the fall and winter months, Detroit is basically constructed like a college basketball team in a professional league. So, hell, why not pick a guy who might actually think that's something worth getting excited about?
Phoenix Suns
Paul Westphal (1993-96, 191-88, .685%)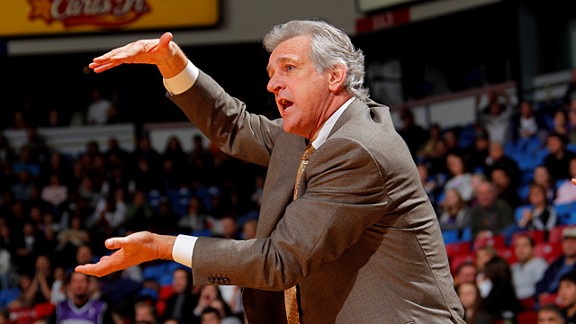 Look, the Phoenix Suns aren't on the verge of anything other than being a team whose most dangerous scoring option is Michael Beasley. (Take "dangerous" how you will.) This here is a franchise that can't even tank a season right, and yet, despite the dilapidated state of the Suns — sorta like the early '00s Clippers if Donald Sterling decided to try his slumlording in retirement communities — finding a coach from their annals that couldn't achieve some modicum of playoff success is harder than you think. In fact, you have to go all the way back to the immortal John Wetzel, and that's so far back that his rookie point guard at the time is now the mayor of a major American city that's fighting to save its own NBA franchise from its own demonic overlord.
Speaking of which, the Kings were the last team to employ Paul Westphal, whose last three tours of NBA duty came with the Kings, the Sonics, and the Suns. In other words, if Westphal's your coach, you're almost certainly going to have a new owner within the next five years. And that's really what the Suns need, far more than Andrew Wiggins. If Phoenix fans are basically waiting for Charles Barkley to save them again, why not establish some kind of link to the last time that happened? It'll probably be easier than getting Danny Ainge back.