So much amazing is happening, and the Shootaround crew is here to help you keep track of it all. You'll find takes on moments you might've missed from the previous night, along with ones you will remember forever.
I'm a Bad, Bad Man
Kevin Durant had two great plays against the Hawks (Josh Smith, to be specific) in Atlanta's Philips Arena last night:
For a moment, imagine another real-life scenario in which you can go to someone else's house, do multiple great things, and then yell "This is my muh-fuckin house!"
Thanksgiving: You drive 20 minutes to where your aunt lives, with a sweet potato soufflé and a pan of macaroni and cheese. You are proud of them and hope everyone likes them. Once grace is said, people start making plates with all of the food, yours included, but once it's time to taste everything, everyone seems to verbalize their love of the sweet potato soufflé and macaroni and cheese. Your aunt asks aloud who made it, because it's a new addition to the Thanksgiving smorgasbord, and you proceed to stand up, pace around the living room, and then scream "This is my muh-fuckin house!"
No it's not. You don't live there. You don't have a key. You don't pay and/or forget to pay the water bill. You had nothing to do with that new addition to the deck. You're just someone who was invited, someone who did something spectacular, and while we were ready to celebrate it, and you, now we just kind of think you're a jerk.
So chill with all that noise, Kevin. Also, I saw Thunderstruck.
Your new muh-fuckin house is about to be ABC Family. 13 till infinity.
— Rembert Browne
OK, But How Do Non-Hawks Fans Feel?
Hahahahahahaahahahahahahahahahahahahah. That was great.
— Chris Ryan
Great Play Call, Frank Vogel
Been telling you to just let this kid fly.
— Ryan
What's the Matter With Kyrie Irving?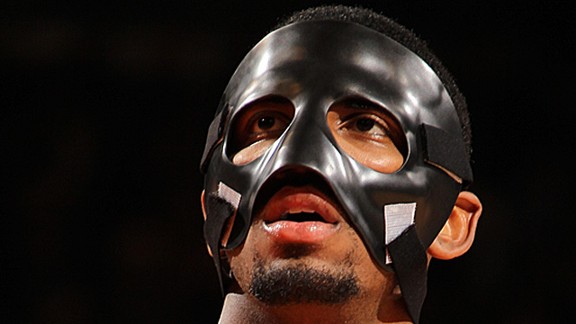 After watching Kyrie Irving's last couple of games with a face mask, I've been thinking more and more about his injuries. They aren't necessarily common basketball injuries like tendinitis, ankle sprains, and torn ACLs. Since his first season at Duke, he's suffered a ligament tear in his right toe, a concussion and shoulder injury in his rookie NBA season, a broken hand over the summer, a fractured left index finger, and a fractured bone in his jaw. This is all in the span of two years — two years! These freak injuries had me wondering … what exactly is Kyrie doing in his spare time? Are these injuries actually a result of practicing too hard? Or does he have an alternate ego, like Spider-Man/Peter Parker? Here are three theories I've come up with:
1. Kyrie Irving does not drink enough milk. This explanation is a simple one. We've never seen him in one of those "Got Milk?" commercials, nor have we seen him sipping milk on the sidelines of Cavs games. He simply does not drink enough milk and does not have enough calcium in his bones, which may have led to the broken hand and the fractured jaw. Obvious explanation, right? Except … this doesn't make sense for the toe injury. So, next one:
2. Kyrie Irving plays street ball at night as Uncle Drew. You've seen the commercials right? The Pepsi ones where this mysterious old man gets buckets and teaches young bloods how the game is really played? Well, spoiler — that's Kyrie (with Kevin Love!). Second spoiler? Uncle Drew might not just be an advertising scheme; it might be a way of life. Those sorts of "freak" injuries Kyrie has been suffering? He probably sustained them from a game of late-night ball in Los Angeles or Cleveland and was merely hiding them until the next NBA game so he wouldn't blow his cover. That would explain the broken hand because otherwise, how is it possible for him to slap a padded wall and injure himself? It's a padded wall! None of this makes sense. Unless he's a real-life Uncle Drew.
3. One last off-the-wall theory. Kyrie Irving actually works for the CIA. Doesn't he fit the bill perfectly? He's an NBA player with phenomenal skills who travels from city to city and is capable of completely disguising himself. He has the athleticism, the power, and the quick reaction necessary for somebody who needs to deliver under high-stress situations. Plus, nobody will ever think his travel patterns are suspicious, and it can be played off as complete coincidence that something happened in Boston late last night. His injuries? They all came while performing covert operations — dangerous covert operations. That's it, I should probably stop talking about this now. If I'm not back on the Shootaround, just know … I was right.
— Patricia Lee
Melo Giveth
Halfway through the fourth quarter in last night's Knicks-Nets clash, Carmelo Anthony chased down an offensive rebound tap out from Tyson Chandler, and slowly brought the ball back up the floor. As he crossed half court, Chandler began moving to set a ball screen for Anthony near the left hash. But before Chandler even get within two steps of Anthony's defender, Gerald Wallace, Anthony had already fired a one-hand push pass to Jason Kidd at the opposite wing.
Chandler read the pass, and dove toward the rim as Kidd swung him the ball, only for the Knicks big man to redirect on the move toward Chris Copeland, cutting along the right baseline.
It was a pretty sequence of ball movement all triggered by Anthony's subtle recognition of the Nets' intentions to pin him along the sideline had he used the impending screen.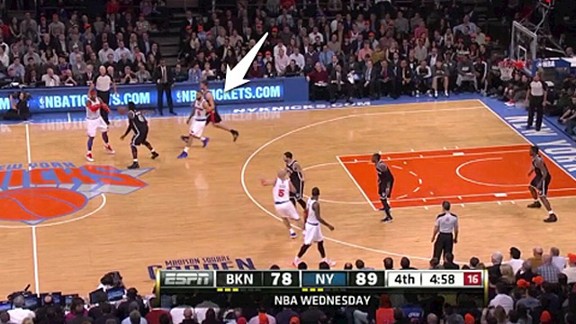 Despite a career-low assist rate, Anthony has started dozens of sequences just like this, making the Knicks offense incredibly hard to contain. To the enjoyment of us all, a New York team that entered the year with expectations of being nearly unwatchable has turned into one of the most aesthetically pleasing teams in the league, all because of their star forward's emerging, subtle brilliance as a playmaker.
— Brett Koremenos
Happy Holidays, From the Shootaround Crew
HeyBelinda found this here. Merry Christmas and Happy New Year.
Two Takes on Houston
Rockets: Reloaded
Back when Houston coughed up a pair of first-round picks, Jeremy Lamb, and Kevin Martin to Oklahoma City in the blockbuster deal for James Harden, it appeared the team's pantry had been stripped bare. But with a swarm of cheap and useful young players like Greg Smith, Chandler Parsons, Patrick Patterson, and Marcus Morris exploiting opportunities on the hardwood, GM Daryl Morey still has chips to flip on the negotiating table. Just imagine if Terrence Jones were getting tick and Royce White hadn't disappeared in a foggy thicket of indignant tweets.
The Rockets are 13-12 and wrestling with teams like Minnesota and Utah for position at the ass-end of the Western Conference playoff bracket. They're also the youngest team in basketball, and have the financial luxury of adding another max contract. As these precocious gunners accrue value by the game, it's difficult to believe Morey isn't already poking around with inquiries about guys like Kevin Love, Paul Millsap, and Pau Gasol. For all of that barking about "poison-pill" contracts, Jeremy Lin and Omer Asik might be the ones who make the money even out on another terrain-shifting trade. Then there's Morey's white whale: Dwight Howard. As the center's season of discontent drags on in Los Angeles, Houston might start looking like an increasingly habitable environment (no state taxes, either!).
So enjoy the Rockets' moment as a fragile little sprout, because basketball's version of Audrey II will be a razor-toothed man-eater soon enough.
— Ben Detrick
Revenge of the Nerds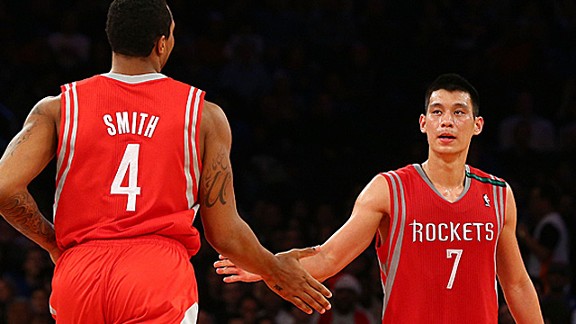 It's time for the world to meet Greg Smith. There are two general responses when an NBA writer/analyst/fan brings up Smith in a larger forum:
• Who?
• Is that the guy with the huge hands?
Yes, it is. Smith's hands measure ONE FOOT in width, and in an admittedly limited sample size, he has the largest hands ever measured at the draft combine. He's an undersize center with zero range and no post game, which is why nobody drafted him out of Fresno State in 2011. The Rockets snapped him up to a short-term free-agent contract last season, sent him to their D-League affiliate, and, happy with what they saw there, signed him for the last stretch of the 2011-12 on a contract that also carried ultra-cheap team options for this season and next.
Smith is now 11th in the league in PER, serving as Houston's de facto backup center behind Omer Asik. He's shooting 63 percent, almost all off pick-and-rolls and off-ball cuts, and he's serving up monster facials like the one at the 17-second mark of this highlight reel of Houston's win over Philly last night. Smith scored 13 points on 5-of-5 shooting in 13 minutes in that win.
He's very quick off his feet, which allows him to finish all sorts of tricky one-handers around the rim — little hooks he gets over or through shot-blockers before those defenders can get to the full height of their jumps. Smith is also generating a ton of foul shots, thanks to James Harden and Jeremy Lin finding him open near the rim, in compromising situations. Houston's offense, eighth overall in points per possession, scores at a top-three overall rate when Smith replaces Asik. It's early, but so far, that scoring bump has come without a defensive cost; Houston allows points at the same overall rate when Smith takes Asik's spot, and their rebounding improves slightly. Houston's backup bigs are all power forwards in terms of traditional positional labels, and some of them, especially Marcus Morris (currently starting for the injured Patrick Patterson) play almost like small forwards at times.
Smith has added some unexpected bruising to Houston's rotation, and it has been really fun to watch.
It's fun to mock Houston for its geekiness, especially when they make a million trades before the draft, but this is the kind of smart and semi-anonymous result that geekiness can produce. Houston now has two productive players locked up to ridiculously cheap multi-year deals in Smith and Chandler Parsons (a second-round pick), having used their leverage over those players to tack on some extra years. That's exactly what the Sixers didn't do with their own productive 2011 second-rounder (Lavoy Allen), forcing them to dip into their mid-level exception last summer to re-sign Allen at $3 million per season. Smith and Parsons are now tradable assets, though Parsons is playing so well, under such a friendly deal, that Houston wouldn't trade him at this stage outside of acquiring a star.
— Zach Lowe