A survey of the players and teams making moves in last night's NBA action.
Klay Thompson
Danny Chau: This is a shot chart of Klay Thompson's many 3-pointers from Game 2, overlaid on his 3-point attempts during the regular season. It's wild.
As you can see, a majority of his shots traced the beginning arc on the right side of the floor. That is his favorite area of the court, and has been since he stepped foot in the league. Nearly 40 percent of his 3s in the regular season come from that hot zone (it's also Steph Curry's favorite area to shoot, but he's more bashful about it). Thompson was fantastic from the right side as a rookie, shooting nearly 46 percent, but with greater usage this season, that figure plummeted to (a still very respectable) 37 percent, making it his least effective 3-point hot zone. It was by far his least effective in the first seven games of the playoffs, too. Before last night's onslaught, he was 2-for-10 from that area. But shooters keep shooting, and they'll keep shooting where they want to.

(All GIFs by @HeyBelinda)
During his postgame press conference, Gregg Popovich masked his disbelief with sarcasm. "I thought it was polite of them to at least take turns and not both be on fire on the same night." What else could he do? The Spurs have been struck by lightning twice already, having to deal with 28 second-half points from Steph Curry in Game 1, only to have it topped last night by Klay Thompson's 29 first-half points.
These shooting performances from the Warriors defy explanation, but it wouldn't be a shock if they continue. The next two games will be played at Oracle Arena, which has been the team's miracle factory all season long. At this point, the offensive explosions have become the norm. Can you remember the last time the Warriors played without one?
2. Miami Lady
Chris Ryan: Where have I seen her before?
Oh yeah! That's where!
3. Math
Robert Mays: Sometimes, numbers lie. There are occasions when math is true, it seems, only on technicality, and these playoffs are one of those. After last night, each second-round series is tied at 1, but in the case of the Bulls and Heat, it should be difficult to say those 1s resemble each other in any way. The Bulls' Game 1 one win was incredible; Miami's Game 2 win was not. Chicago is no longer running on fumes. It's powering the car with sheer will, and eventually, that runs out too. Last night had all the makings of a Miami drubbing, and it got there before the first half even ended. The Heat had their 6-0 runs and their eight-point leads in Game 1, but it stopped there. For the Bulls, against this Miami team, there's a cliff somewhere around 15, and when that will-powered car careens off it, there's no coming back. Norris Cole won this game with 25 minutes left to play.
So yes, a 37-point win, in which Miami looked completely in control should mean more. It should be a message, or a statement, or something like that, and all those Bulls losing their minds in the fourth quarter should be a sign that they're rattled, or frustrated, or whatever. Luckily for Chicago, it doesn't mean more. This isn't the Champions League; the Bulls still have home-court advantage, and Joakim Noah and Taj Gibson's ejections feel like nothing more than a predictable end to what was a game teetering on the edge of control.
It was that element to this game, the one with all the fouls and the T's, that has me convinced Miami could've won by 1 or 100 — it wouldn't have mattered. These Bulls are not afraid of the Heat; they never have been. Last night on Twitter, after Noah and LeBron James had gone back and forth on the court, ESPN.com's Brian Windhorst tweeted a simple "Hollywood as hell" — referring to Noah's post-series comments from 2011.
There were no handshakes before last night's tipoff. There is no one putting on faces here. There is only animosity of the sort that's hard to find in sports these days, and we're lucky to have it.
4. LeBron James
Ryan: WAAAAAAAAAAAAAASHHHHHHHHBURRRRRRRRRRRRRRN!
5. Draymond Green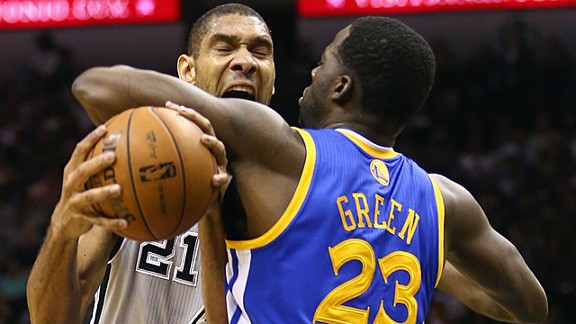 Brett Koremenos: Klay Thompson may have garnered the headlines after Game 2 with his brilliant display of shooting, but when it came to defense, it was rookie forward Draymond Green that stole the show. Since All-Star forward David Lee went down, Green has slowly been unleashed to wreak havoc on opposing offenses. Inserted into the starting lineup last night in place of Festus Ezeli, Green did exactly that every second he was on the court.
For 33 minutes, he rendered San Antonio 3-point ace Matt Bonner practically useless, corralled Tony Parker out of pick-and-rolls, and made multiple second-effort plays to snare rebounds, contest shots, close out on shooters, or simply put himself in a position that made life harder on the Spurs. Unlike his teammates Steph Curry and Thompson, there is no aesthetic beauty in anything the Warriors rookie does. Green is just a 6-foot-7, 230-pound bundle of raw effort that creates an atmosphere of controlled chaos every time an opponent dribbles the ball past half court.
I wrote before the series that Golden State needed Green to make shots in order to keep him on the floor for his defense. I was wrong. Sure, making shots certainly helps, but the young forward could go for 0-for-the-world and still bring immense value to his team at the 4 thanks to his ferocious defense.