A survey of the players and teams making moves in last night's NBA action.
1. Stephen Curry, Point Guard?
(All GIFs by @HeyBelinda)
Chris Ryan: With about nine minutes left in the third quarter and the Spurs holding on to a slipping six-point lead over the Warriors, Stephen Curry raced up the court off an Andrew Bogut rebound. Curry is not a normal point guard, so the normal rules of playing the position don't apply to him. This of course, is part of the fun of watching Stephen Curry over the last couple of weeks. He played like … Stephen Curry, showing off a skill set so unique, on a pair of ankles so brittle, it felt like you were watching some endangered species. Like you sat down in your living room and boom, what in the shit, there was an Iberian lynx.

At that moment, though, in the third quarter, our wonder, and Curry's deep belief in his own abilities to knock a hummingbird out of the air at 100 feet, should have been put aside. Curry probably should have done the boring thing, and pulled back to wait for his teammates. He should have done the savvy thing, and realized Danny Green was closing in on him from behind. He should have done the Chris Paul thing, and stuck out his butt to shield the ball. Instead, he did the Steph Curry thing, and looked for either a one-handed Hollywood pass or a shot with an absurd level of difficulty.
I'm not saying that play lost the Warriors the game, or the series. I'm saying the very thing that made the Warriors special, that made their appearance in the Western Conference semifinals, might have also had something to do with why they weren't going to go any further. On a couple of occasions during last night's game, the Warriors needed a point guard. They had Stephen Curry. Most nights that's more than enough; just not last night.
2. Tony Parker Face
3. The Dust Bowl of Basketball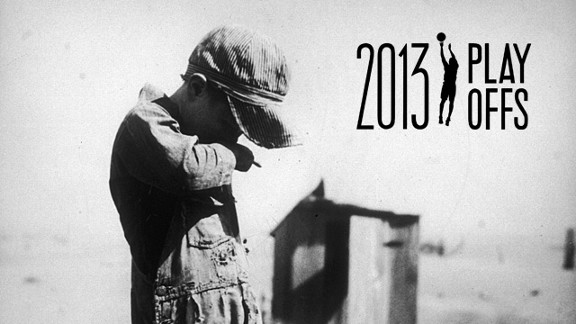 netw3rk: The Western Conference playoffs are like Call of Duty; the Eastern Conference playoffs are like rolling a wooden circle with a stick. Pacers-Knicks was a game you watched because you were invested as a fan or perhaps because of some bizarre wager. It was ghastly.
Halftime saw the Pacers trailing by only six, despite shooting 29 percent, thanks to a 16-7 free throw advantage and the Knicks' 37 percent shooting display. Here's the majestic display of basketball that ended the first half: Carmelo Anthony hit an 18-foot jumper with 2.8 seconds left. The Pacers inbounded to Lance Stephenson, who was immediately body checked by Tyson Chandler, who was going for a steal (or perhaps having a seizure). Free throws. Lance hit the first; missed the second, which he attempted to rebound before the ball hit the rim. Free throw violation. Time out, 2.4 seconds left. Ray Felton inbounded to J.R. Smith at 28 feet. J.R. was promptly and inexplicably fouled by Sam Young, who is a 6-foot-6 human basketball player embodiment of an egg salad sandwich rotting in the sun. J.R. — who, as Rihanna knows, is nothing if not an escalating series of desperate attempts to score — heaved the ball toward the rim, and the refs awarded three free throws, which he hit. At 0.9 on the clock, Pacers inbounded to D.J. Augustin, who hurled a 70-footer that dropped 10 feet short. The final 2.4 seconds of the half took five minutes and had all the atmosphere of a conversation with a halitosis-plagued stranger in an elevator.
The most important event actually happened in Game 4, when Tyson Chandler's elbow concussed George Hill as Hill was fighting over a screen.
Let us never speak of this game again.
3. Jerry Sloan
Andrew Sharp: Ernie Johnson and TNT cut into the first half of Pacers-Knicks to cite David Aldridge's report that Jerry Sloan will not join the Milwaukee Bucks, and … OK, hold on.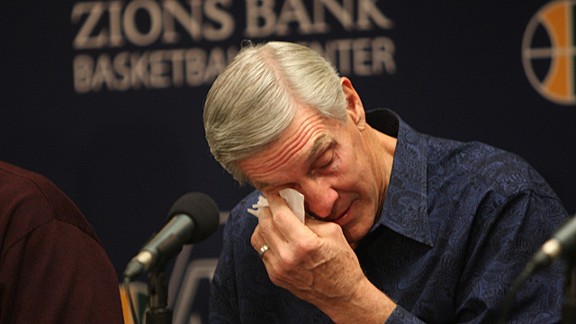 When I first heard about Jerry Sloan and the Bucks on Thursday afternoon, it was on Twitter, and I figured people were just joking about the most miserable places in the NBA where Jerry Sloan could possibly coach. (Please imagine Sloan coaching Monta + Brandon Jennings last year. There would have been a murder.) But apparently this was serious! Jerry Sloan coaching the Milwaukee Bucks almost actually happened. And apparently Sloan is serious about getting back into coaching, even if it's not with the Bucks. Two years ago he sold off 68 of his tractors, and I guess it's time to buy more.
All of which is to say, good for Jerry Sloan.
Because it'd be great to have him back in coaching one of these days, but more importantly, for God's sake, nobody should have to coach the Bucks.
4. Jarrett Jack and Carl Landry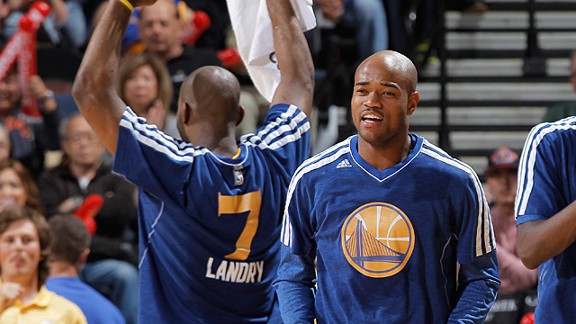 Robert Mays: Early in the new year, when the Warriors were winning a bunch of basketball games but Steph Curry hadn't yet transitioned into a superstar, one of the commonly noted differences about this year's club was the quiet additions of Jarrett Jack and Carl Landry. These are the sorts of players, people said, that populate the benches of winning teams. As Golden State again caught fire in the playoffs, any praise for general manager Bob Myers and the Warriors' front office (rightfully) shifted to Curry's cheap deal and tanking lucking into the emerging Harrison Barnes, but the point about both Jack and Landry — especially after watching them down the stretch last night — stands.
In Jack, Golden State got a one-year rental of a top-level backup point guard if Curry could stay healthy, and an adequate fill-in if he could not. Curry played almost the entire season, and Jack provided both a steady hand off the bench and an additional ball handler if the Warriors wanted to use Curry off the ball. As Kirk Goldsberry pointed out yesterday, Jack has been excellent all postseason with his uniquely effective midrange game, and even as the Warriors fell short against San Antonio, he was one of those players for whom the moment never felt too big. Landry — signed this offseason for just $4 million a season — is a similar story. Off the bench, he was an interior-scoring punch that any team could use, and if necessary, he could log a starter's minutes while holding his own.
Both may be gone after this season — Jack is a free agent and Landry has a player option for next year — but even if they exit, their time with Golden State is almost as indicative of the franchise's jump as Curry's, Barnes's, or Klay Thompson's. Smart basketball teams have rosters full of players who look like they belong. Jack and Landry always did.
5. Not Worrying About Instagram
Sharp: Best quote of the NBA playoffs thus far:
JR Smith: "I'm not worried about Instagram. I'm worried about the playoffs."

— Tim Bontemps (@TimBontemps) May 17, 2013
//platform.twitter.com/widgets.js
Because only J.R. Smith would have to clarify this …
How did we get here? It all started with Rihanna, of course. (All Instagram controversies somehow come back to Rihanna.) There have been rumors that she and J.R. were dating, so responding to a commenter on Instagram who accused her of ruining J.R. Smith, Rihanna said, "F*** you and your wack ass team! Nobody don't want that desert thirsty ass *****!! He f***in up because his ass be hungover from clubbing every night during the playoffs!!"
EVERYTHING IS GREAT. Even TNT enjoyed the story.
You notice how TNT played a Rihanna track during those JR Smith highlights?

— chris palmer (@ESPNChrisPalmer) May 17, 2013
//platform.twitter.com/widgets.js
A few thoughts here:
• Rihanna's not necessarily the most credible source, but it stands to reason that J.R. Smith is absolutely the "thirstiest" player in the NBA.
• Her theory on his clubbing and hangovers is certainly a popular one, but keep in mind, J.R. Smith was probably clubbing every night during the season and it worked great all year. Everyone needs a routine.
• Really, J.R.'s struggles go back to Jason Terry. We know this.
• A+ work from TNT's production team.
• Rihanna, keep being you, girl.
Stay thirsty, everyone. AND GO KNICKS.
6. San Antonio's Coaches
Brett Koremenos: To most casual fans, and even most of the diehards, assistant coaches in the NBA are just a collection of nameless faces hanging out in suits on the bench, occasionally shouting instructions or high-fiving a player as he walks off the court. They may seem like they're not a very integral part of the process (and some, sadly, aren't) but the great assistants have a huge impact on a team's success. After another stellar performance by Kawhi Leonard, one of the league's better assistants, Chip Engelland of the Spurs, finally got some love on national TV from fellow coach (turned announcer) Jeff Van Gundy.
Engelland has been credited with helping refine a number of Spurs jumpers over the years. He's best known for his work with Tony Parker, Richard Jefferson, and, of course, Leonard. The second-year forward is perhaps the most remarkable student Engelland has had. Coming out of San Diego State, Leonard was a middling shooter with some ugly shooting mechanics (I remember watching a pre-draft workout of Leonard and thinking about how unlikely it was he'd ever develop into an outside shooter). These days the emerging young forward is a sniper from the corners, hitting a number of clutch shots to help his team prevail in a tight series against Golden State.
From the Engelland-Leonard relationship to head coach Gregg Popovich being able to bench his longtime star, Tim Duncan, in an audacious act of logic over loyalty during the final minutes of a closeout game, the Spurs show they actually embody all the attributes — like savvy, professionalism, and humility — that most other teams spew out as nothing more than just empty platitudes.
7. Tyson Chandler
Sharp: Reasons this was great: (1) Lance Stephenson is so fearless and insane to even try this; (2) the hard foul from Tyson, protecting the rim and reminding all the Lance Stephensons out there why they should have a healthy fear of attacking his rim; (3) the refs refusing to call it flagrant, possibly because it's Lance Stephenson and they figured he deserved it (this is my working theory); and (4) Tyson Chandler has been a shell of himself for the past six weeks, and it was just great to remember he exists, and that he's still awesome sometimes. But then …
8. God Hates the Knicks
Sharp: Either this was karma taking its toll or Tyson Chandler just being old and perpetually injured. Either way it's a total bummer.
We'll always have that Stephenson foul, though.