So much amazing is happening, and the Shootaround crew is here to help you keep track of it all. You'll find takes on moments you might've missed from the previous night, along with ones you will remember forever.
From the Cradle: Evan Turner

This late-game, game-deciding layup came right after Kevin Garnett tried to turn Evan Turner's face into an ottoman. Most men would've needed to go to their happy caves, talk to their spirit animals, find their chi, whatever. Evan Turner? It's almost like no one gave him the memo. He's not scared because he doesn't know he's supposed to be. There he is waving his hands, asking for the ball, per usual. But after seeing this ball fake on Rondo and his Keith Byars imitation past Paul Pierce, I'm wondering: Maybe he should stop asking. He should start demanding. — Chris Ryan

Russell Westbrook Needs to Heat-Check His Wardrobe
Sometimes, TV transitions are accidentally perfect. This is one of those cases.
Sayeth Colleen Dominguez: "Last year in the playoffs, Westbrook was roundly criticized for making bad decisions. And tonight, he made all the right ones."
CUE RUSSELL'S SHIRT.
Also known as the opposite of "all the right" decisions. It's like he was watching Matilda over the weekend and told someone, "Hey, I need that little girl's shirt, but bigger. But not too much bigger." Thank you, Russell, for wearing this, but thank you even more, ESPN video editing staff, for doing everything right. — Rembert Browne
But Seriously … Russell Westbrook
Boshean's Eleven
On Monday night, the Sixers saw a little seed of hope sprout at the Garden and the Thunder made sure Kobe would never speak to Mike Brown again. But we know what's really on your minds, sports fans. How will Chris Bosh's injury affect Miami's NBA Finals odds? Enter Bill Barnwell:
"From Bovada.lv sportsbook manager Kevin Bradley:
Right now it has only affected the Game 2 line and if we see that no Bosh has the same sort of ripple effect like Rose had on the Bulls, which we doubt, after Game 2 their odds to win may shoot up a bit, but right now are still clear favorites at 11/10.
"So, basically, the whole world is trolling Chris Bosh."
Gimpy Old Men
Says Paul Pierce, "The knee was fine. I wore my knee brace today." Look, I'm not going to go so far as to call anyone a liar, but I will say that the basis for any good relationship is trust and honesty. And, right now I'm not sure if we can trust you fully, OK, Paul? It was the seven points on 2-of-9 shooting and only two free throws in the loss against the Sixers on Monday night; more tellingly, it was the inability to pull up and stop the non-scoring skid in the abominable third, a.k.a. The Quarter Where Basketball Went to Die. Meanwhile, Kevin Garnett continues to be a no. 1 option in a manner we haven't seen for, quite possibly, the entirety of his Celtics run. Even in 2008, his first year in Boston, when he was a spry young thing, KG's dominance came primarily via swats and stops and barking out defensive rotations. As the Boston Globe reports, the last time Garnett had a better point tally over two consecutive games than the collective 57 he put up in Game 6 against the Hawks and Game 1 against the Sixers was in 2006-07, when he was still with the Timberwolves. Over the two games of this series, Pierce has shot the ball 20 times to Garnett's 32. Monday night, late, the ball was repeatedly placed in KG's hands. As long as Paul's knee continues to be "fine," neither of those things are likely to change. — Amos Barshad
Is Manu the Killer or the Hundred Dollar Bill Dollar Billa?
This new ad for the playoffs actually makes me like the Spurs. Mobb Deep really can do anything. — Ryan
On KG's Moving Pick and Being Put Out of Your Misery
When it was all over, when the last shot had caromed off the side of the last backboard, I tried to look up the stats, but somehow I couldn't navigate to ESPN.com. My mouse was clicking at below 36 percent. Whenever I tried to type letters into the address bar, I kept falling out of my chair, losing my keys, or breaking a window in a completely different part of the house. So I don't really know what happened, except that KG missed a free throw, Rondo made a weird play, and the referee correctly called what I assume was the first moving screen by any team in the last four years of playoff basketball. (Seriously, those guys stand still.) What can you say about that call, though? I mean apart from the fact that it ended a really, really painful basketball game? Honestly, sometimes the toughest decisions are also the kindest you can make. — Brian Phillips
On the Sixers Turning the Garden into a Grindhouse
During the regular season, Philly had the NBA's third-best defense while lingering near the league's bottom third in pace, offensive rating, and points per game. Their effectiveness comes from tireless exertion and (usually) responsible stewardship of the basketball, not athleticism or speed or size or skill. And things have grown even uglier in postseason duels against fellow defensive stalwarts Chicago and Boston: While winning five of eight games, the Sixers have shot 41 percent and held their opponents to a similarly impotent 42 percent from the floor.
During Monday night's game, a spectacle with 33 combined turnovers and the refinement of a flamethrower fight in a crowded dim sum restaurant, the Celtics only managed to ring up 49 points before the fourth quarter. Boston is more talented, but Philly's web of infuriating ineptitude infects all around it. — Ben Detrick
You're Welcome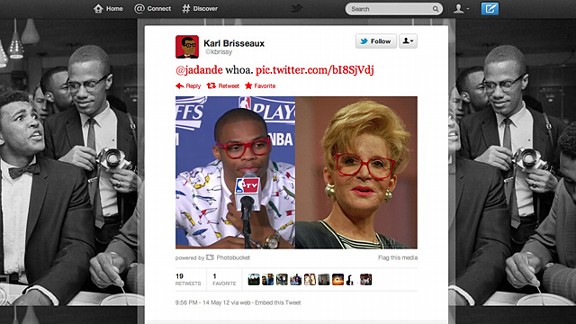 (Via @KBrissy.)