Over the weekend, Ray Allen chose to leave the Boston Celtics' original big three to join the Miami Heat's villainous big three. Since Chris Bosh, Dwyane Wade, and LeBron James joined forces, the Heat have sorely missed having a knock-down shooter. Mike Miller and Shane Battier were both supposed to play that role, and while they both did well in the Finals, they struggled during the regular season. That's what they need Ray Allen for, which is very clear when you compare the Heat's shot chart with Allen's. (Note: Green indicates above-average, yellow average, and red below-average.)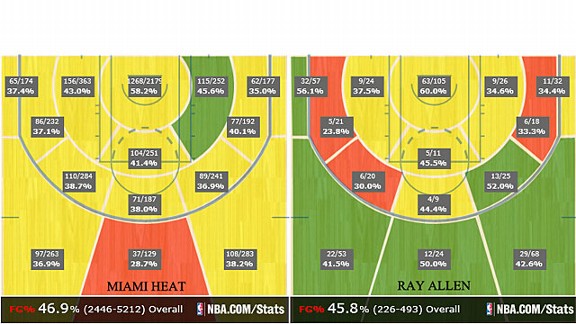 The Heat finished 10th in the NBA in 3-point shooting, with an average of 35.9 percent. It's the weakest part of their offense. Fortunately for them, Ray Allen doesn't struggle behind the 3-point line. The key areas to look at in the shot chart above are the left corner and the right wing — where Ray Allen is at his best. Even though Miami did not shoot well from those spots, they did create many opportunities. Take a look at their shot distribution chart from the regular season.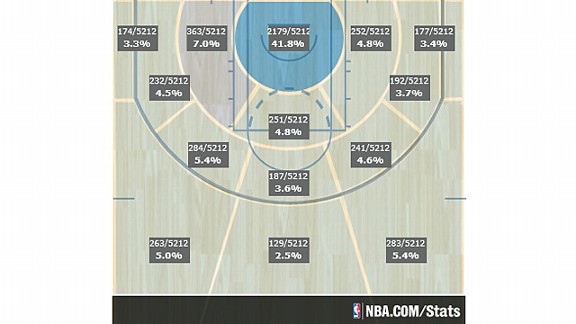 Miami got open looks, they just couldn't convert. Look at how they created these opportunities:
https://www.youtube.com/v/5kf-rbUts5E?version=3&hl=en_US
James and Wade prefer to drive to the basket, which forces the defense to collapse in. When that happens, they are skilled enough to find their open teammate in the corner. Last year they'd be passing to Mario Chalmers, Shane Battier, and Norris Cole. Now they'll have the reliable Allen.
Miami also excels at creating open shots for the guy on the right wing, a spot from which Ray Allen shot 42.6 percent during the regular season.
https://www.youtube.com/v/wWyKaCD6FH8?version=3&hl=en_US
Again, the shot is often created by Wade and James's ability to draw in the defense. Sometimes it also comes in transition, when Wade or James grabs the defensive rebound and pushes the ball up the floor. This, too, forces the defense to focus their effort on protecting the rim, so the wing is wide open. Ray Allen will feast on these possessions. Watch some comparable moments from last season.
https://www.youtube.com/v/1FrUtHcCfak?version=3&hl=en_US
Celtics coach Doc Rivers frequently drew up set plays for Allen. Heat coach Erik Spoelstra will get the opportunity to display his play-calling prowess (which is underrated, in my opinion) now that he has this new option. The Heat will be even tougher to defend with Allen since they already ran an offense compatible with his skills. If they run sets specifically for him, it will be even tougher.