After giving up 101 points in Game 1 and 120 points in Game 2, the Oklahoma City Thunder needed to change their defense if they were going to beat the San Antonio Spurs in Game 3. They've had no trouble scoring — posting 98 and 111 points in Games 1 and 2 — so containing the Spurs' highly efficient offense was key. Luckily for them, they found a way to limit the Spurs to just 82 points on 39.5 percent shooting last night.

The Thunder made adjustments that prevented the Spurs from attempting their preferred shots. When I looked at the Spurs' offense after Game 2, I noted that they always want to take layups and corner 3-pointers. Here's the Spurs' shot chart from those games: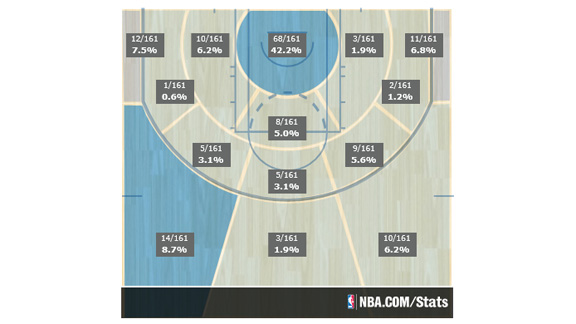 They attempted 42.2 percent of their shots from the paint and 14.3 percent of their shots from the corner. Essentially, 56.5 percent of all the shots the Spurs took in the first two games of this series were by definition from the two most efficient spots on the court. Now look at the Spurs' shot chart from Game 3: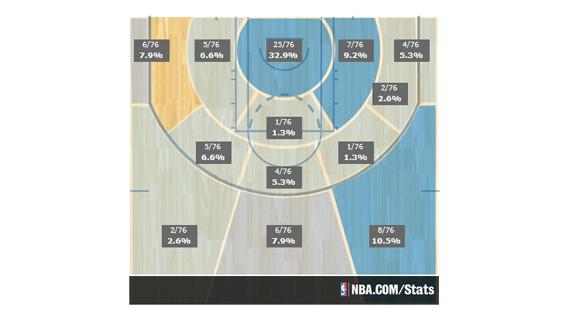 Only 32.9 percent of their shots were in the paint and only 13.2 from the corner 3 spot. This wasn't an accident. Rather, this was by Scott Brooks's design.
So what did the Thunder do differently? First, they contained Tony Parker in pick-and-roll situations with the strategy they employed in Game 2: They corralled him so he wasn't able to reset when necessary or play off of multiple screens. This fourth-quarter adjustment worked so well in the previous game that they came with it right off the bat.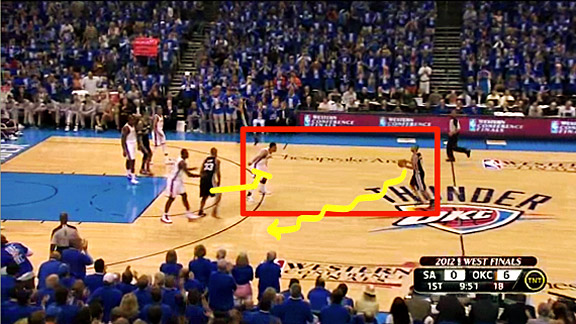 Another crucial difference was that Thabo Sefolosha was guarding Tony Parker. Sefolosha is a longer, better defender, and maybe more important, he can exert more energy on defense than Russell Westbrook because he isn't integral to Thunder's offense. Here, Sefolosha is matched up with Parker as Boris Diaw sets a screen for Parker: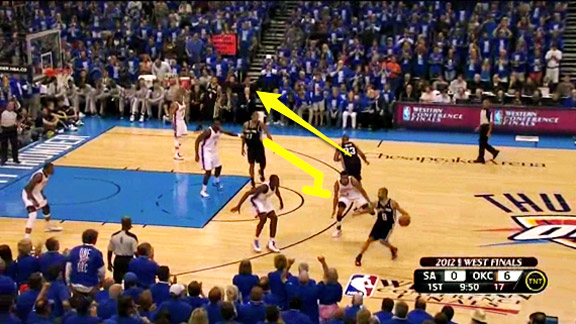 Sefolosha doesn't work around the screen to stay in front of him. Rather, he's playing him on the top side, knowing that Serge Ibaka (Diaw's defender) is defending the paint. As this is happening, Duncan comes up and sets a ball screen for Parker.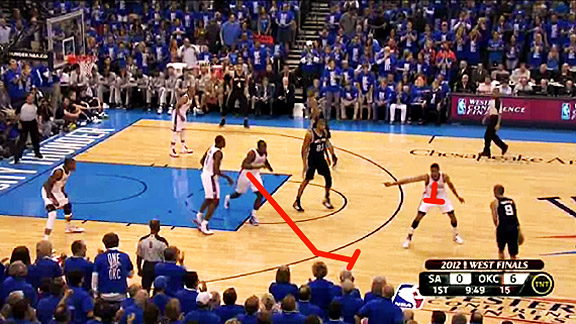 But the Thunder don't allow Parker to use Duncan's screen. Sefolosha directs traffic, letting his bigs know where he is sending Parker. Kendrick Perkins steps up and shades toward Parker, keeping him out of the paint.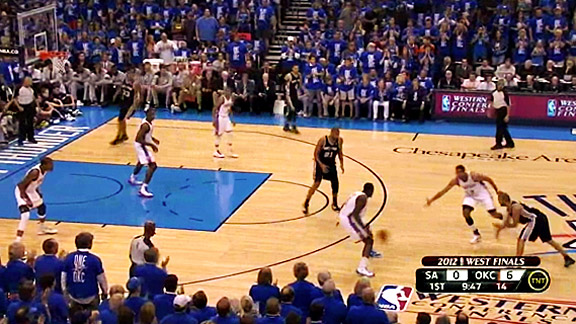 Parker is now forced to pick up his dribble near half court — that's a win for the defense. He passes to an open Duncan, as the three defenders behind him are zoning up.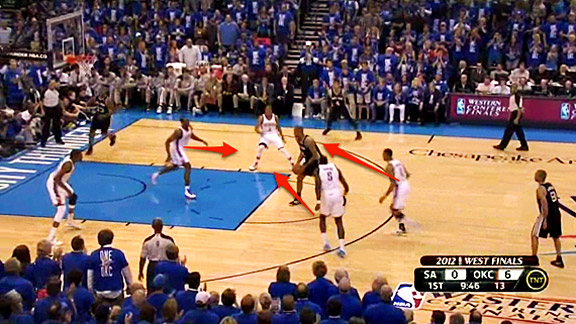 Once Duncan makes the catch, Serge Ibaka stunts toward Duncan, but doesn't remain aware that there is a cutter behind him to cover while Perkins recovers on Duncan. Meanwhile, because Parker made his pass far from the basket, Sefolosha can attempt a steal because Parker isn't a threat.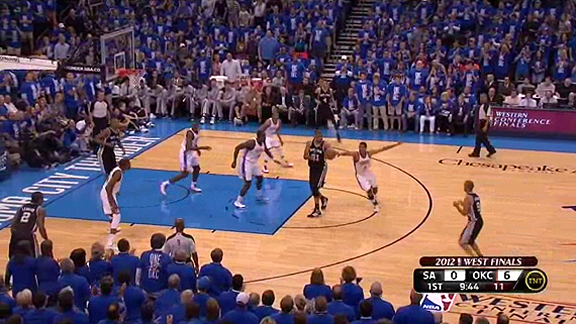 The result? Duncan hesitates at the top of the key, allowing Sefolosha to get his hands on the basketball and force a turnover. Here is the play in real time:
https://www.youtube.com/v/QdJWcUJPVa0?version=3&hl=en_US
The Spurs are visibly uncomfortable, a stark juxtaposition with their demeanor in Games 1 and 2. This is all a result of the Thunder's defensive strategy. By keeping Parker out of the lane, the Spurs' offense is vastly limited, relying on less effective isolations. In fact, after using just 20 isolations in the first two games, the Thunder forced the Spurs into 18 in Game 3 according to Synergy Sports.
The Thunder have decided to concede some options to the Spurs if it means keeping the ball away from some of the best scorers. Their rotations were sharper, overhelping on Parker, Duncan, and Ginobili.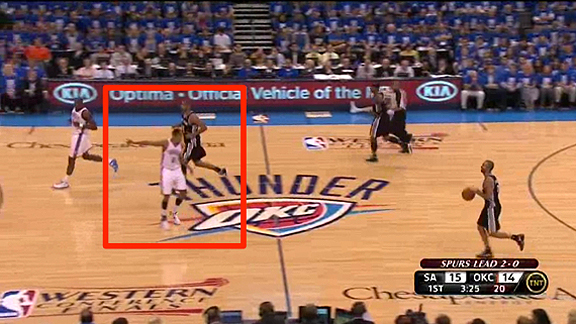 As Parker brings the ball up, Sefolosha is already telling his teammates which way he will send Parker.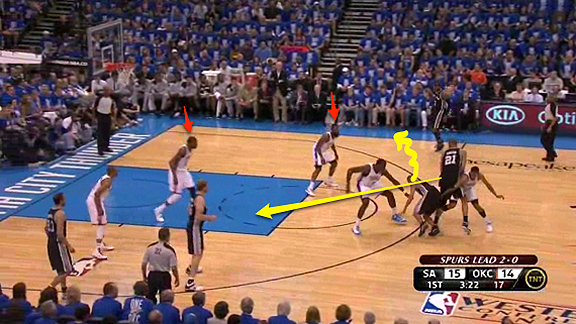 Parker comes off of a Duncan screen looking to split it as Perkins hedges out. As that happens, the Thunder have two help defenders getting involved. Kevin Durant is in the paint, ready to help on Duncan's roll to the rim, and James Harden is at the elbow, ready to help stop Parker.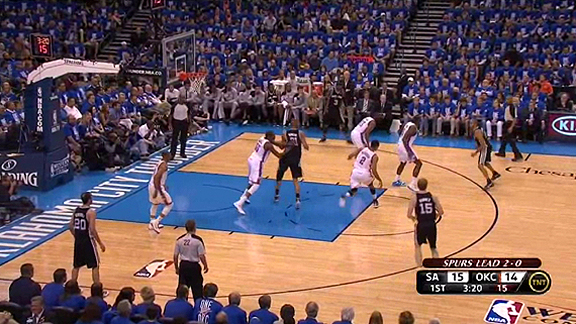 The result? Parker can neither get into the lane nor hit Duncan on the roll because Durant is there. Durant is "tagging" him: He touches Duncan to reset the defensive three-second count, which allows Durant to be in the paint longer. Eventually, because Parker doesn't have a lane, he isolates and settles for a jump shot off the dribble. Here is that play, with a few others:
https://www.youtube.com/v/i0XzkrOiEbE?version=3&hl=en_US
These pre-rotations are essential for two reasons. First, they dissuade Parker from even attempting to get in the lane. As we saw in Game 2, the Spurs' offense thrives on forcing the defensive collapse, then kicking it out. If the defense is already there, they can react better.
Scott Brooks drew up a great defensive game plan. His adjustments were terrific and well executed by his team. How can the Spurs counter now? The most obvious answer is that Tim Duncan has to be ready to make plays from the top of the key. In some of the clips above, we saw a hesitant Duncan, but there were some possessions in which he took the shot quickly and knocked it down:
https://www.youtube.com/v/0O3hs7CQTus?version=3&hl=en_US
Here Duncan is left open because the Thunder are focusing on getting the ball out of Parker's hands. This will likely happen again, so Duncan has to do exactly what he did here: make quick decisions to take advantage of the Thunder as they recover. Popovich can design plays that begin with Duncan getting the ball at the top of the key, with his teammates cutting off of the ball — perhaps coming off of a flare screen.
The Spurs also need to keep using Parker off of the ball. They did this while Westbook covered him in Game 2, and it was very successful. It also worked for them in Game 3, but it just wasn't run as frequently:
https://www.youtube.com/v/75JREcYji-8?version=3&hl=en_US
Sefolosha may be an excellent defender who is accustomed to chasing talented offensive players, but the Thunder's bigs remain mediocre at defending Parker as he comes off of curls. By not playing Parker off of the ball, the Spurs are bailing out guys like Perkins and Collison.
This series highlights the importance of coaching in the playoffs. At first Popovich and the Spurs were on the attack with their successful offense. Brooks and the Thunder countered with a new defensive strategy. Now, it's up to Popovich to respond. The coach that wins will advance to the finals.