There's something timeless about the stories surrounding Gareth Bale's rumored transfer to Real Madrid. It's not only the fact that Madrid seemingly does this every year, but that this is now the third summer in a row that has seen long drawn-out negotiation where Madrid comes hard for a Tottenham Hotspur star. First it was the two-yearlong saga of Luka Modric, which ultimately ended up in a $50 million transfer fee. But that, as it turns out, was only prologue to this transfer window's negotiations. The most recent bid from Real Madrid is rumored to be north of $120 million, higher than the world-record fee Madrid splashed out for Cristiano Ronaldo in 2009. All of which raises two questions: Exactly how good is Bale, and exactly how good does any player have to be to justify the huge amounts of money being tossed around?
To answer the first question, Bale is an offensive juggernaut. In the Premier League last season he was by far the best long-distance shooter, and there wasn't really a close second. Getting him more shot attempts was the primary reason for his move off the left wing and into more central and narrow right positions, and as the season went on, depending on your point of view, Spurs either catered their attack to, or became over-reliant on, that skill. The headline number is that Bale's nine goals from outside the penalty area were more than twice any other player, but the deeper stats back up his dominance. Bale was prolific. His 96 long-range attempts were 23 ahead of second place, Adel Taarabt, and those shots alone would have ranked 13th overall for attempts taken. But the high volume didn't impact his efficiency; his 9.4 percent conversion rate was the seventh-best conversion rate from long distance, and nobody above him had even a third of the attempts he did. Everton, Newcastle, QPR, Stoke, Swansea, and West Ham all had lower overall conversion rates than Bale did from distance.
Those stats are mouthwatering but they should also serve as a "buyer beware" sticker for Real Madrid. While 96 shots is a tremendously large number of shots on distance, it's a tremendously small number for being a number. Imagine trying to make definitive statements about a 3-point shooter's ability after 93 shots, or a batter's ability to hit left-handed pitching based on 93 at-bats. The stats give us a pretty accurate idea of how good Bale was last year; how much they tell us about what his next season will look like is up for considerable more debate.
Still, over the last three seasons Bale and Spurs have formed a nice symbiotic relationship. As the offense has focused more on Bale, he has continued to improve, culminating in last season's PFA Player of the Year award.
But even if Real Madrid does acquire Bale, there is no way he will be as emphasized in the attack as he is at Tottenham. Bale took 4.83 shots per 90 minutes last season, the second most in the Premier League behind only Luis Suarez's 5.43 (of any player with more than 50 attempts). That's a lot, but it's absolutely nothing compared to Ronaldo. He took a mind-bending, physics-of-space-and-time warping 7.44 shots per 90 minutes. And Ronaldo was playing with Mesut Ozil, Karim Benzema, and the now departed Gonzalo Higuain. Bale was only sharing shots with Jermain Defoe, Emmanuel Adebayor, and the combination of Clint Dempsey and Gylfi Sigurdsson. There's just no way Bale will see nearly as much of the ball at Real Madrid, and how effective he will be without it remains an open question.
Taking all of that into account, is Bale worth more than $120 million? Based on his on-field contributions the answer is, of course not. Bale is fantastic, but unless your name is Lionel Messi, or arguably Cristiano Ronaldo, nobody is worth that sum in a vacuum. For Real Madrid, Bale's value isn't based on what he does on the field. He's a status symbol, the most expensive painting at the transfer-window auction. So what if you pay more than the painting's worth? And who cares if it clashes with the decor in the library? You still bought the painting.
With Radamel Falcao, Edinson Cavani, Neymar, James Rodriguez, and Stevan Jovetic already having moved, Bale (with the possible exception of Suarez) is the last big-ticket item available in the summer transfer window, and that money is burning a hole in Madrid's pocket. Is it a good tactical fit? Maybe not. Does it make economic sense? Definitely not. Does any of that really matter for Madrid? Nope. This is Florentino Perez we're talking about. He buys Galacticos. Sometimes they work — Zinedine Zidane became a club legend and currently serves as an assistant coach to manager Carlo Ancelotti — and sometimes they turn into really expensive Kaka-style cheerleaders. Usually, as with the likes of Beckham, Ronaldo, Robinho, Robben, et al., they fall somewhere in between.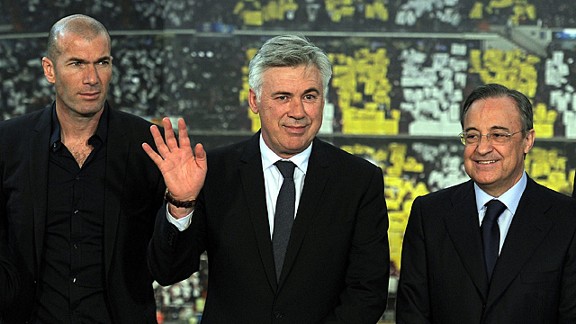 For Spurs, contemplating the offer, which might not even exist anyway, is a little more complicated. In addition to his value on the field,, Bale is an incredibly valuable business commodity. Last season, Spurs became perhaps the most talked about non–Champions League team in Europe. That means they were on TV more, sold more jerseys, and all that goes with it. Those are real dollars. Gareth Bale on a billboard in Times Square is unquestionably valuable to Spurs. That's part of the equation.
Then there's the question of what would Spurs do with the money if they did accept a record bid for Bale? When teams sell a superstar the money generally gets reinvested one of two ways (I'm ignoring clubs paying off debts): in another superstar, or a handful of good, young players. If Bale goes, Spurs will have a hard time bringing in another world-class player. Elite players move to play in the Champions League, or for a really fat paycheck. Spurs offer neither. Part of the club's success has been built on its famously strict wage structure, and even without the structure it will never be on the same footing as petrol-dollar and oligarch-funded clubs like Chelsea, Manchester City, PSG, and Monaco, or with the Spanish giants of Barcelona and Real Madrid.
And, unlike most non–Champions League teams who sell a player of Bale's caliber, Spurs already have an impressive list of young talented players, although perhaps not world-class players, that can both contribute immediately and have room to grow. Sigurdsson, Lewis Holtby, Kyle Walker, Steven Caulker, Andros Townsend, and Tom Carroll are all young contributors who complement a deep roster of players firmly in or just entering their prime like Aaron Lennon, Moussa Dembele, Michael Dawson, and new arrivals Paulinho and Nacer Chadli. And that's without including rock-star defensive midfielder Sandro and Belgian defensive dynamo Jan Vertonghen. In other words, Spurs are pretty set for depth.
They better be, because Tottenham would have a hard time reinvesting the oodles of money they'd get from Bale. However, if they manage to hold onto him for one more season and secure a Champions League spot, that changes everything. Last year there was virtually no difference between Spurs and Arsenal, and while Spurs have strengthened this window, Arsenal has again, at least so far, largely stood pat. And there's no reason for Spurs chairman Daniel Levy to believe that the same offer won't be there for Bale next summer as well. So, why not play hardball this year, try to hang onto Bale, and make one more run at the Champions League? If they qualify it eases the burden of finding a Bale replacement, and if they miss, well then they're in exactly the same boat they are now.
On the field Bale is great, but clearly not worth a fee of $120 million. But, looking beyond the pitch, even if Madrid is crazy for offering that sum, Spurs have a solid case for turning it down.
Mike L. Goodman (@TheM_L_G) is a freelance writer and soccer stathead based in Riga, Latvia.