This year of college hoops is already ridiculous. Everyone is fun, the good teams are all stacked, and there are too many stars to even keep track of on any given night. This is why I was huddled over a laptop at 5:30 in the afternoon in L.A. yesterday, watching two grainy ESPN3 feeds at the same time and going nuts for Joel Embiid. We kicked things off with that fever dream in Chicago, but Freshman Watch got real this week.
Every big name played Tuesday, giving us a nice little slice of the madness to come.
A few random notes before we get started.
• We're ranking these guys based on NBA potential, not who's best in college. If you were an NBA GM, where would you draft them? We'll update this periodically as the year goes on. I'm excited for the top three to change 35 times before June.
• The great thing about this year is that all these guys are completely different, each one comes with question marks, and any would probably be the no. 1 pick in last year's draft OR the 2015 draft. Like we said at the start: ridiculous.
• One highlight of the ESPN3 experience: Marshall Henderson was my halftime show. The entire sitdown with Andy Katz is worth your time, because Henderson's pretty insightful about double standards for athletes but also his own failures and the lessons he has learned since. His explanation of his offseason suspension was the best: "The season ended; I was like, 'It's go time.'"
• Henderson has apparently calmed down since then, but still. Team Marshall forever. It's always go time for Marshall Henderson. I'm so glad he's involved in this college hoops season.
• Two other players who dominated Tuesday night: Jahii Carson, a 5-foot-10 scoring point guard for Arizona State who might be the most exciting player in the country, and who will definitely dunk on your whole family. The sophomore had 40 points against UNLV, which probably means we should all plan on watching a lot of Arizona State games this year. Meanwhile, Wisconsin's Frank Kaminsky is a 7-0 junior center who sounds like an insurance salesman and looks like a student manager … and he dropped 43 on Tuesday, including 6-for-6 on 3s. When DMX recorded "Keep Your Shit the Hardest," he was rapping about Frank Kaminsky.
• And Marcus Smart. We should probably make him an honorary member of Freshman Watch going forward, because the sophomore is in the mix with everyone else who has the NBA losing its mind. I didn't see him against Memphis, and I instantly regretted it when I saw the highlights afterward. He had 24 points in the first 10 minutes, finished with 39 for the game on 11-of-21 shooting, and "Kevin Durant, sitting courtside, shook his head in acknowledgment of Smart's dominant display." He came back to school to improve his jumper, but everyone says that over the summer. Smart, though? He was 5-of-10 from 3 last night. Maybe he actually did it. If he's shooting anything like he did last night, he becomes as dominant as any player in the country. He'll almost definitely be in every top-three discussion before the year is over.
• If you're keeping track at home, this is now a sixth player who would probably be the no. 1 pick last year or next year. SIX no. 1 picks. That's what we're talking about in college hoops this year.
• Obligatory Smart highlights:
And the freshmen.
5. Aaron Gordon
Opponent: Rhode Island, 87-59 win
Numbers: 12 points (5-of-12), seven rebounds
The elevator pitch for Gordon: Imagine an athlete every bit as incredible as Blake Griffin, but with the chance to develop better ball skills, a killer instinct, and a jump shot before everything's said and done.
That's a top-five pick, right? An athlete "every bit as incredible as Blake Griffin" probably makes him a top-five pick by itself. The Griffin comparisons are inevitable because they look similar and they can both dunk your face off, but it's not necessarily fair. Griffin destroyed people at Oklahoma. We know he was athletic, but his power was just as impressive in college, and that's still some of what makes him successful in the NBA. Gordon won't be quite that dominant physically in the NBA, and he probably won't overpower people the way Griffin did in college. (Example: As a sophomore, Griffin averaged 28 and 15 on 78 percent shooting in the NCAA tournament.)
But if Gordon's not quite as overwhelming as Griffin, he has the same insane athleticism that'll make him dangerous regardless, plus room to develop skills that Blake has never really had. If Gordon can catch lobs, beat post players off the dribble, and learn to hit face-up midrange jumpers? That's a better version of Griffin, especially in today's NBA. He could terrorize people as a stretch 4. In the meantime, there will be a thousand dunks at Arizona this year, and he'll make as big of an impact as any freshman in the country.
Anyway, this is what I was thinking about while Arizona beat the living hell out of Rhode Island last night. Gordon's not as good as Griffin, but potentially even better.
(Unrelated: Rhode Island has a guard from Philadelphia named Biggie Minnis. We all have a new favorite player in the Atlantic 10.)
4. Joel Embiid
Opponent: Iona, 86-66 win
Numbers: 16 points (7-of-7), 13 rebounds
I know it's Iona, and in a year full of can't-miss players, Embiid is exactly the sort of player the NBA has been missing on for decades. Having said that, he was awesome last night, and when people watch Kansas for Andrew Wiggins this year, they will fall in love with Embiid. It's not just that he's gigantic (7-0, 250 pounds), but that he's so much quicker than you'd expect. And he's fast running the floor. His footwork in the post is better than it should be, and he actually has some touch around the rim, considering he started playing basketball at 16.
He grew up playing volleyball and soccer in Cameroon, and his father was a professional handball player … just saying, because there was another African center who also had a background in handball and soccer. Right now, it seems like his quickness in the post and speed running the floor are actually more dangerous than his size — if he learns to use his size to beat people in the post, it's over. As it stands now, Hakeem Olajuwon may be a stretch, but why can't Embiid be the next Andre Drummond?
The defining sequence Tuesday came in the first half, when Embiid scored six straight points, the stadium went nuts, and the camera panned to his sheepish father in the crowd. His dad, who traveled two days from Cameroon to see him play, told the Kansas City Star afterward, "I am very, very impressed by the match."
"I'm not sure he had an idea," Embiid said of his dad. "I'm not great, I'm not good right now, I'm still working. But I don't think he had an idea I could have a chance."
I love him so much.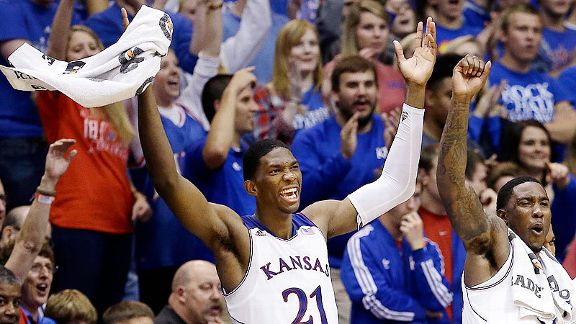 3. Andrew Wiggins
Opponent: Iona, 86-66 win
Numbers: 13 points (4-of-9), seven rebounds
Watching Wiggins this year should be pretty fascinating. The biggest question is whether he can use all his size and athleticism to actually take over games and dominate. He did that in the second half against Duke last week, but then … there will probably be a bunch of games like Tuesday, where Wiggins kinda floats on the periphery and only makes a few plays to remind you why people are obsessed with him.
Is that because he's not the type of star who can take over games, or because college hoops doesn't showcase his skills that well?
People will be asking this for the next five months. Partly because Kansas doesn't quite know how to use him yet — I think its best Wiggins play is still just a backdoor lob — and partly because Kansas has so much other talent that it doesn't need to feed him on every possession. And maybe because Wiggins is more Harrison Barnes than Tracy McGrady. He'll be great either way. It's just a question of whether he's so great that you have to pass up the next two guys.
2. Julius Randle
Opponent: Texas-Arlington, 105-76 win
Numbers: 22 points (7-of-12), 10 rebounds
It was a pretty forgettable night for Randle. Kentucky won in a blowout, James Young was the real star (26 points, 5-of-10 from 3), and Randle dominating wasn't really essential. Plus, it's Texas-Arlington. It's hard to get too excited. But it's still pretty impressive that a forgettable night for Randle ends with 22 points and 10 rebounds (five on the offensive end). The most impressive moments aren't even points. There was one time he started at the 3-point line and in about two steps bullied his way to the rim. He missed the layup, but still. It's ridiculous. Or when he absorbs contact and still get any shot off with ease. Or when he's surrounded by three people and still makes the offensive rebound look easy. Imagine a grizzly bear playing basketball. That's Julius Randle this year.
1. Jabari Parker
Opponent: East Carolina, 83-74 win
Numbers: 21 points (8-of-18), nine rebounds, six blocks
Man. This sequence from last night:
66-63, Duke: Parker barely misses a one-handed alley-oop (pictured above) that's so absurd ESPN shows three replays of the miss
66-64, Duke: Quinn Cook misses a 3, and Parker grabs the rebound
67-64, Duke: Parker draws a foul, hitting one of two free throws
67-64, Duke: Parker blocks a shot, grabs the rebound, and goes full court through the entire East Carolina team for the dunk
75-70, Duke: Parker blocks two shots, Duke scores on the other end, and East Carolina never gets within five again
Watch this Vine of the dunk from that sequence. I mean, Jesus Christ.
He's athletic enough for the one-handed alley-oop, strong enough to defend anyone in college hoops, he can handle the ball and become a one-man fast break, he rebounds on both ends, and he can score from the post or the perimeter. I know it's November, I know these are bad teams, but it's impossible to watch Jabari Parker and not come away gushing like a teenage girl. He just does everything. The debate between the top three (and maybe Smart) is still a complete toss-up, but if he plays like this all year, how can anyone possibly pass up Jabari?