Now that the Spurs have officially squeezed the life out of the Grizzlies in the West, the entire basketball world is focused on Heat-Pacers, and specifically the Miami Heat, and whether they can give us one of the best Finals matchups in years. So, if we're talking about the Heat, there are two important things to remember.
First, did you know Mario Chalmers has a daughter named Queen Elizabeth? Because we must never forget that fact. Mario Chalmers is great.
Second, and more relevant, is that even with LeBron James and Chris Bosh and the now-unstoppable Birdman, Dwyane Wade might be the most important player to Miami's title hopes.

This revelation comes at a strange time, because just as Wade's value is becoming more and more obvious, he's becoming more and more insufferable. Wade is the perfect villain for grumpy sportswriters, and fans everywhere have caught on to his dirty tactics. I mention this not to criticize the criticism; it's all pretty fair. He's earned it. This is the new Dwyane Wade. Or maybe this has always been Dwyane Wade, and we're just now catching on.
Either way — villain and (maybe) hero — it all makes him the most fascinating player we have left in the NBA playoffs, for three reasons.
1. Wade Is Getting Old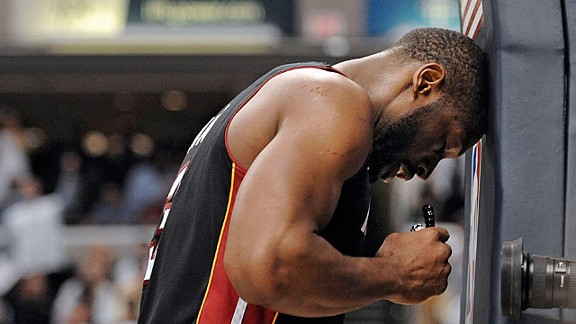 He's been nursing a knee injury for the past two months; couple that with the natural decline that comes after careering into lanes full of giants for almost a decade, and the guy who was a top-five player in the league as recently as 2009 is now closer to 2013 Manu Ginobili. He's still capable of coming up huge (like Ginobili), but he's just inconsistent enough to make the Heat a little vulnerable.
If Wade's healthy and playing well? Nobody beats Miami.
If he disappears for two or three games in the NBA Finals? Who knows?
Miami isn't a sure thing, mostly because Dwyane Wade isn't a sure thing.
2. Wade Is Insufferable
It's crazy to remember this now, but the best comparison for early-years Wade would probably be Kevin Durant. There was NOBODY who had a bad word to say about Wade. He seemed too good to be true, and his career followed that same pattern, peaking with the 2006 Finals.
Fast-forward a few years … Wade was secretly the most obnoxious Heat star of them all through that first, awful Dream Big Three year. There was his response to their loss on opening night ("Sorry if everyone thought we were going 82-0") and his helpful statistics on haters. Then during the NBA Finals, he made fun of Dirk Nowitzki's flu and then watched Nowitzki win the next two games and win an NBA title on his own floor.
Likewise, as he's gotten more truculent with the media, we've all started to realize that Wade is one of the dirtiest players in the NBA. He dislocated Rajon Rondo's elbow, broke Kobe Bryant's nose (in an All-Star Game, no less), and just last week there was the flying elbow to Lance Stephenson's head. He's had plausible deniability every time and generally escapes punishment, but that just makes it even more infuriating. This Brian Windhorst article — inspired by Wade punching a Bobcats player in the groin — provides more highlights of Wade's dirty play.
Factor in his incessant flopping, which now might be his best move on offense; whining to the refs (and getting plenty of calls for his efforts) and smug approach to criticism; giving himself a nickname that even LeBron thought was awful; and recording a documentary about himself as a fashion icon (the most Miami Heat thing of all time), and … fair or not, we've come a long way since the days of Wade as Everyone's Favorite Player.
But at the same time:
3. Wade Is Invaluable
LeBron's as dominant as anyone we've seen since at least 2001 Shaq, only he's probably closer to Michael Jordan. We know this. LeBron is great whether the Heat win or lose. LeBron is a constant. So, the catalyst that takes the Heat from good to great? That's Wade.
Remember when Miami won 27 games in a row? For the first 22 games of that streak, Wade was averaging 24 points, six assists, and six rebounds, shooting 54.9 percent. When Wade plays that well, this team goes from very good to one of the best teams we've ever seen. But then toward the end of that run he tweaked his knee, the streak ended, and the Heat haven't been quite that great again. Until Game 3 on Sunday, when Wade responded to the Pacers' challenge with his best game of the playoffs: 18 points on 8-of-14 shooting and eight assists. It's not a coincidence that this coincided with the Heat's most murderous performance in two months.
His knee is probably too mangled to get back to his February-March levels, so instead we're getting a preview of what Wade's career will look like going forward. Even if he can't dominate, his ability to create for others and pick his spots on offense makes him just as deadly, pressuring the defense in the first half and closing out games when the Heat need him at the end. This is a role that can work for the next five years. Right?
As the Heat take center stage now, it's easy to see all the flopping and cheap shots, and focus on the "insufferable" part of the new Dwyane Wade, but that "invaluable" piece of the equation is probably more incredible. Put it in context: Right now D-Wade is the guy who almost single-handedly willed the Heat to an '06 Finals win, watched a championship roster crumble around him in the years that followed, then convinced his biggest rival to leave his hometown team and join forces, then reinvented himself as a perfect sidekick, and now is clearly aging and fighting through pain, but somehow still the difference-maker for the best team in the NBA.
Every time we look at Wade and say he's done, he goes and flips everything on its head.
A year ago in Game 3 against the Pacers, Wade went 2-for-13 for five points and five turnovers, tackled Darren Collison in the open court, and cursed out his coach on the sideline as the Heat went down 2-1 after their second straight loss.
This was the first time in two years of Heat insanity that people began to criticize Wade, not LeBron, and for a few days it really did look like the Heat dynasty would end before it ever got started.
From there, Wade drove to see his old college coach, Tom Crean, on an off day. He had his knee drained (and probably all kinds of other Kobe-in-Germany types of voodoo), heard all the criticism, then came back and dropped 30 points, nine rebounds, and six assists as the Heat accidentally discovered a small-ball blueprint that won them the NBA title and is still destroying the league a year later. He's been struggling for most of the playoffs this year, fighting through this knee injury, but from Game 2 to Game 3 in Indiana, we just watched him pull off the exact same kind of comeback.
For his entire career, all Wade's done is come up huge in moments like these, especially when everyone's writing off his team. This is what's always made him great, and it's what makes him perfect for the pick-his-spots sidekick role that he's carved out for himself next to LeBron.
The last few years have put a twist on his legend, for sure. His tactics just keep getting more obnoxious, it'll only get worse as he gets older and more desperate, and he's going to drive us all insane by the end. He's already there for a lot of NBA fans. But if he's become harder to enjoy, it's also impossible not to respect what he's doing, whether it was bouncing back in last year's Pacers series or this year's.
As for the rest of this year: Maybe Wade will stop producing and the Pacers can still shock the Heat. Maybe he disappears in the Finals and the Spurs steal a title. Wade's just old enough to keep us guessing. That's what makes him the most fascinating player we have left. If he comes through with a few more performances like Game 3, Miami's not losing this year, and it'll only enhance the Wade legend a little more.
When it's all over, we may remember absolutely hating Dwyane Wade at the end of his career. But there's a decent chance we'll regret ever doubting him.