We did it, you guys. We reached college football's midseason point without having to contend with the soul-crushing threat of continued conference realignment. We made it through seven weeks without allowing the never-ending bombardment of NCAA scandal stories to break our collective spirit. We got further than Lane Kiffin and Paul Pasqualoni and Don Treadwell, and that means we get to talk about football. Real, actual football. So forget the distractions and the bullshit, tear yourself away from P.J. Fleck's latest gift to the social-media realm (if you possibly can), and enjoy some of Grantland's takeaways at the midway mark.
Georgia's Paradawg Shift
Holly Anderson: Almost since Mark Richt's arrival, Georgia football has been characterized as a program overflowing with talent but under-willing to perform up to its potential. It's an argument that's ready to hand, particularly in a community where a nine-win season is considered a galling disappointment, and in a state where recruiting is like fishing in a pond stocked with extremely well-fed trout with blistering 40 times.
There have been times when this has looked like a fair assessment. Take the 2002 squad, Richt's second, which entered that year's Cocktail Party undefeated and favored decisively over an overmatched Gators squad — a Ron Zook Gators squad — and turned in one of the most uproariously stupid performances in institutional memory, highlighted by offensive tackle George Foster dry-humping a Florida defender in a scrum and getting hit with a 15-yard unsportsmanlike conduct penalty that turned what would have been a 35-yard field goal attempt into a 50-yard miss by Billy Bennett. The Bulldogs lost, 20-13, for their only defeat of the season, and were out of the conversation that sent Ohio State and Miami to the ensuing BCS title game.
At other points on the timeline, the argument has seemed bitterly unfair, like after last season's otherwise well-executed SEC championship game, when five yards and a tipped Aaron Murray pass were all that came between the Dawgs and the go-ahead touchdown over Alabama as time expired in the fourth quarter.
There was a school of thought heading into 2013 that said that despite losing nearly the entire company of 2012 defensive starters, including John Jenkins, Jarvis Jones, Alec Ogletree, and Kwame Geathers, and despite the defense underperforming for most of 2012 even with those guys, the war machine offense of 2013 was going to be so finely finessed and prolific that it could compensate for the still-developing hotshot defensive recruits out of the past couple classes. For half a season, this almost always worked. The Dawgs were a bad field goal snap short of sending their Week 1 game with now third-ranked Clemson into overtime, on the road, and they beat then sixth-ranked South Carolina 41-30 in Week 2 and sixth-ranked LSU 44-41 in Week 5, which is about when the trouble started.
Already without the team's best receiver, Malcolm Mitchell, who sustained a season-ending ACL injury at Clemson, the Dawgs saw starting running back Todd Gurley sprain his ankle against the Bayou Bengals. They then proceeded to lose two more of Murray's top targets, Michael Bennett and Justin Scott-Wesley, as well as Gurley's backfield counterpart, Keith Marshall, in Week 6's overtime victory at Tennessee.
All of this culminated in a 41-26 home loss to no. 25 Missouri in Week 7, and all of a sudden it's not that Georgia Won't Win The Big One Because It Doesn't Apply Itself, it's that Georgia can't, not like this. Seeing Mizzou come in healthy and look very much like the team it ought to have been in 2012 was a spookily poetic reversal of fortune for the same Bulldogs who hung 41 on a battered band of Tigers in Columbia last season. And with the sizzle and flash of the Georgia offense dampened, and the Dawgs ranking 97th nationally in third-down defense and surrendering more than five and a half yards per play, it's worth wondering when the misdirected FIRE MIKE BOBO militants are going to train their megaphones on Todd Grantham.
Anyone But Bama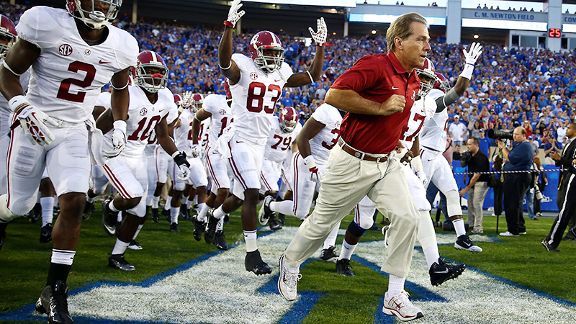 Andrew Sharp: It's happening again.
We're halfway through the season, Alabama is undefeated, and soon we'll have to worship Saban all over again. I want to strangle someone every time a TV analyst starts getting all starry-eyed talking about Nick Saban's "process." Or his team's discipline. Or his preparation. Or that one time he left his wife and kids on the side of the road during a vacation in Mexico because he had to drive to Texas to recruit and then go watch film because football never stops and winners never take a day off. This is awful.
But it's happening again.
Yes, Nick Saban may be the greatest college coach we've seen since Bear Bryant. And if we really want to have that conversation, Saban's accomplishments are probably more impressive than Bryant's, because it's much harder to be this dominant in 2013. But no.
Fuck Saban, and fuck his unstoppable, joyless winning machine. Please just let someone other than Bama win the national title this year so we don't have to keep pretending AJ McCarron is a good quarterback or continue worshiping this perpetually constipated elf genius.
It's not about the SEC. I love the SEC. I'm just sick of Bama winning every year. Three out of four and counting. The title game is in Pasadena this year, and I'll be there, and all I ask is that I don't have to watch Saban lift another crystal football.
The Tide's schedule the rest of the way?
• vs. Arkansas
• vs. Tennessee
• vs. no. 6 LSU
• at Mississippi State
• vs. Chattanooga
• at no. 24 Auburn
And … yep! Unless LSU can save us, it's probably happening again. Bama will go undefeated into the SEC championship game, probably maul some lame SEC East team unless Georgia gets there, and even then it's hard to imagine Bama losing.
Accept it.
Accept it and try to cope by watching Oregon instead, or Clemson, or A&M, or any college football team that's actually fun. But we all know how this ends.
And if you think we're not appreciating Bama here, don't worry. There is no better testament to Alabama's greatness than how much people like me hate this team and wish it would just disappear forever. That goes for the fans, too.
You know what? I hope Alabama gets to the national championship. I hope Marcus Mariota and De'Anthony Thomas drop 60 on a stone-faced Saban as 70,000 fans spend the night in dead silence. Take it as a compliment, Alabama. I hate you all so much. See you in January.
Les Is Always More
The Miracle in Waco
Bryan Curtis: The day Baylor turned into a secular-school-slaying quarterback factory was not, as the conventional wisdom would have it, the day Robert Griffin III arrived. It was the day RG3 left. That was before the 2012 season, when some dude named Nick Florence became the Bears' quarterback.
RG3 was a nationally ranked hurdler who ran a 4.41 40-yard dash. Florence was … some dude. Florence had a goofy smile and a Clayton Kershaw beard and a mildly intellectual bent. As a high school player, Florence failed to make lists of the top 100 prospects in Texas. Besides Baylor, he received only one other scholarship offer, from Purdue. After his college career, Florence was so uninterested in the NFL that he declared his love for Waco and preemptively retired. In 2012, Nick Florence threw for more yards than Griffin had during his Heisman-winning season the year prior.
When you understand Florence, you begin to understand what Baylor is up to. This year's Bears, who are 5-0, are averaging 63.4 points and 431.6 passing yards per game. They have another relatively obscure quarterback, Bryce Petty, who has an adjusted QB rating second only to Oregon's Marcus Mariota. The Bears have as good a chance at winning the awful Big 12 as anyone. They have figured something out. But what?
Well, three things. First, to win in Texas, you have to install the spread offense. Back in the mid-'80s, a handful of Texas high school coaches — like Baylor's Art Briles — started spreading their receivers across the field and using their quarterbacks to run the zone read. Briles's teams won four state titles. A lot of teams copied the blueprint. Soon, the state was producing Vince Young, Colt McCoy, Case Keenum, Kevin Kolb, Christian Ponder, Darron Thomas, Matt Stafford, Andrew Luck, Ryan Tannehill, Johnny Manziel, etc., etc., etc.
Once you've implemented the spread, you've got to innovate within the system. Briles does this better than just about any coach. For example, Briles likes to line up his slot receivers so wide that they're basically standing next to the band. This helps with wide receiver screens and foils a lot of DB blitzes. (Read the linked article for more on Briles's innovations.)
Third, you've got to pluck the right spread quarterbacks out of high school. Or, if you're Baylor, you've got to pluck the right quarterback after the bigger schools have gotten first pluck. With RG3, Briles took a chance on a guy many schools didn't see as a pure quarterback. With Florence and Petty, Briles molded the passer himself. Baylor's QB factory is reminiscent of the old University of Houston. In 1989, Andre Ware was considered a once-in-a-lifetime miracle (and, like RG3, won the Heisman). But the next year, David Klingler stepped in and threw for more yards and nearly matched Ware's yards per attempt.
By the time Petty took over at quarterback, Briles was feeling as giddy as Jack Pardee. "A reasonable expectation is to break every Baylor record there is offensively," Briles said in August. "That's what we expect him to do and what he plans to do. His expectations are to win every game and be the best quarterback in the United States of America." For his part, Petty said he planned to become a "legend."
What happened in Waco? The Bears decided not to wait for miracles. They decided to manufacture them.
A Major Identity Crisis for #GoACC
Shane Ryan: Here in ACC country, writers and fans of America's most consistently embarrassing major football conference have a favorite Twitter hashtag:
#GoACC
It's not meant as a rallying cry, the way SEC fans chant their conference's name when an SEC team beats up on a hapless outsider. Nor is it meant to inspire a group of well-meaning underachievers, the way New Age parents might cheer on their stumbling children at a T-ball game. In fact, there's nothing positive at all about #GoACC. It's 100 percent negative and demeaning, but only to ourselves. #GoACC is a symbol of self-loathing.
If we put this in terms of the British Isles — and why wouldn't we? — the SEC would be the English: powerful, self-assured, and total dicks. The ACC would be the Irish: haunted by history, hampered by insecurity, and eager to mock themselves because, in the absence of hope, a shared sense of low self-esteem is all they have left. (I can say this because I have an Irish name, I think.)
As ACC fans, our lot in life is to laugh at our own foibles. UNC loses to ECU at home in a blowout? #GoACC. Ball State destroys Virginia in Charlottesville? #GoACC. Duke and Pittsburgh play a 58-55 game in which neither one seems capable of tackling? #GoACC.
But something odd is happening in 2013. It started in Week 1, when Dabo Swinney and the Clemson Tigers charged down "The Hill" on national television, looking decidedly badass, and actually beat Georgia — an SEC team, you guys! A week later, Miami took down Florida — ANOTHER SEC TEAM HOLY SHIT — at home. Then Florida State's 19-year-old Jameis Winston emerged as one of the nation's best quarterbacks, and the Noles have decimated everyone in their path. Virginia Tech has bounced back from an opening loss to Alabama to reel off six straight and set up a Coastal Division showdown with the Canes. Even Maryland got in on the action, trouncing West Virginia 37-0.
Right now, the ACC and SEC are tied with three teams each in the top 10. That's insane. That doesn't happen. That is emphatically not #GoACC. Furthermore, the winner of this weekend's FSU-Clemson game will be ranked third in the country (Clemson is no. 3 now), hot on the heels of Alabama and Oregon for that coveted second spot. And with a potentially undefeated Miami team awaiting the Noles-Tigers winner in the ACC title game … well … hold your breath … the ACC could place a team in the BCS championship game.
On one hand, that's obviously great news for the conference. On the other, though, it does raise a question: What will happen to ACC fans' cultivated sense of inferiority? What will replace our proud tradition of self-hate? We might need to hire consultants from Boston to teach us how they coped after 2004. The whole paradigm would be flipped on its head.
In the end, though, the question will probably prove moot. Deep down, we still stink, and everyone knows we'll screw it up somehow. #GoACC.
Johnny Being Johnny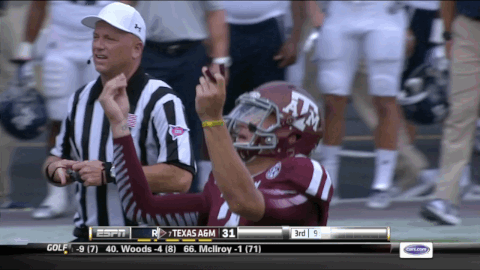 Missouri's Defense and the Nature of Fandom
Robert Mays: During my junior year at Missouri, my friends and I had a rule: If Mizzou led by 28 or more at any point in the second half, we were allowed to leave the football game. It was a decree brought about by basic human need. By that point in the day, we were usually some degree of drunk or hungover, and leaving meant pizza and a couch. When Buffalo managed to hang around all half, it was pure misery.
Typically, though, we were gone before the fourth quarter. My time at Missouri happened to be the football program's most successful stretch in its history. The Tigers tallied 39 wins in those four years, thanks mostly to a sudden and devastating offense. Four receivers from the 2007 team went on to play in the NFL. The quarterback, Chase Daniel, got a considerable amount of money to become the Chiefs' backup this offseason. If Mizzou was going to win in those days, it was going to be by putting up a ton of points; Mizzou won a lot.
I've been a bad fan in the three years since I left Columbia. I watched every snap of the win against no. 1 Oklahoma in 2010, but after both Blaine Gabbert and my friends covering the team left, my engagement dissipated. That's probably why this past Saturday was so surprising.
I knew the basics. James Franklin — of whom I'm not a fan — was still the quarterback. Dorial Green-Beckham was the program-changing recruit who hadn't changed much. Mizzou, in its second SEC season, was finally ranked and headed to Athens to play Georgia's MASH unit of an offense. The Tigers won, jumping to no. 14 in the AP poll and sending their fans to certain late-season disappointment. Franklin played well before getting hurt, which is what he does. Wide receiver L'Damian Washington was great too. But I'm not interested in that, because Michael Sam was on the field Saturday, and that's all that mattered.
Sam was a starting defensive end last year, but for the season, he managed only 4.5 sacks. This year, he's delivered two games with three sacks. He went without a sack against Georgia, but he was still the best player on the field for Mizzou. I counted four different times that Sam took Aaron Murray to the ground. Sam bothered Murray in the pocket on another half-dozen snaps. If you're looking for a comparison, Sam's 50-something number and below-average stature prove fitting: He reminds me of Elvis Dumervil.
Sam was everywhere, and he wasn't alone. The fumble he returned for a touchdown came on a sack by Shane Ray. Markus Golden added another sack. Missouri's pass rush was downright terrifying, and I loved everything about it. I watched Aldon Smith collect 11.5 sacks during his freshman season at Mizzou, but somehow, this group effort seemed different.
Watching the defensive line Saturday reminded me about the nature of college sports. As a Chicago Bears fan, the relationships I've had with Lance Briggs and Charles Tillman are two of the longest I've had in my entire life. I've watched them play every Sunday for 11 years. The Bears' identity didn't waver for a decade. But that doesn't happen in college, no matter the strength of the system or the recruiting. At some point, a blip in talent at a certain position will alter how we see a program. Just this week, Nick Saban lamented Julio Jones's season-ending injury by saying Jones "changed the culture of the receiver position at the University of Alabama."
Sam isn't quite doing that at Missouri, but he's further proof that the constant turnover in college football means that the chance to try on a different kind of team is also constant. This Saturday, I'll be looking forward to every chance the Mizzou defense gets. I like how that fits.
Stanford's Sad State
Mallory Rubin: Why, Stanford? Why don't you want to give the people what they want? Why don't you want to grab life by its student-mascot-crafted branches? Why don't you want to play for the national championship?
Are you afraid of Alabama? Is that it? Because in 2010 and '11, you lost to Oregon when winning that game would have put you on a nearly unimpeded path to the BCS title game. Last year, you didn't even wait that long before shitting the bed. You fell into the dreaded Thursday-night road-game trap, losing to Washington before stumbling against Notre Dame two weeks later. And then you BEAT Oregon. What is that all about? You don't want to play for the national championship, but you don't want any other Pac-12 team to get the chance, either? Whatever happened to conference pride?
It looks like you're sticking to that 2012 script this season, because you lost to Utah last weekend, a genuinely inexplicable result for a top-five team facing a quarterback who'd thrown six (SIX!) interceptions against UCLA the week prior. And now you'll probably go ahead and beat the Bruins this weekend and the Ducks in November, setting the stage for some sort of hideous Louisville–Fresno State apocalypse title clash after Alabama, Clemson, Florida State, and every other legit national championship contender catches your infectious disease.
Don't you get it, Stanford? This anger, this angst … it comes from a place of love. We WANT you to be good. We WANT you to win. WE WANT YOU TO BEAT ALABAMA. But you can't beat Alabama if you don't play Alabama, and you can't play Alabama unless you keep your shit together until January 6. You're the kind of team impartial fans can get behind. The stink of scandal has polluted other top-tier programs, but you guys are the genuine student-athlete articles. You're nerds who can also play sports, and that's awesome. And you don't simply play sports; you play them really, really well. Kevin Hogan may not be Andrew Luck, but he's a gamer and a winner. That Guy Tyler Gaffney missed being a part of the Cardinal so badly, he paused his efforts to make it as a professional baseball player to come back this season. Shayne Skov, one of the nation's best linebackers, characterizes himself on Twitter as a "linebacker," an "obsessive gamer," and an "engineer," and if that's not the quintessential Stanford trifecta, I don't know what is.
So, please. Stop letting fear rule you. Focus on the task at hand, because you're good enough to make it all the way if you do. Only, at this point, maybe you should wait until next year. Maybe this time you should let Oregon win. Because the Ducks … well, they'd be fun to watch against Alabama, too.
Laugh to Keep From Crying
WVU takes a 10 point lead into halftime. Dana's hair is up by 50. #okstate http://t.co/ErZRcS0TWy

— Carson Cunningham (@CarsonC5) September 28, 2013
//platform.twitter.com/widgets.js
Not Bucking the Trend
Matt Borcas: Q: When is a signature win not really a signature win?
A: When it comes against Northwestern.
Yes, by season's end, Ohio State's most impressive victory will probably still be its 40-30 nail-biter over the Mildcats, and that won't be enough to land the Buckeyes a national championship game berth. When your schedule is almost entirely composed of Little Sisters of the Poor, you can't just beat your opponents; you have to dominate them, and the Buckeyes have looked far from dominant this year.
Preseason Heisman hopeful Braxton Miller finds himself mired in a mini-QB controversy with backup Kenny Guiton, a shaky secondary hemorrhages big plays on the reg, and potential season-ending defeats (in the regular-season finale and Big Ten title game) of Michigan won't earn much respect from pollsters after the Wolverines' derpfest 4OT loss in State College. Alabama, Oregon, and the Florida State–Clemson winner will all undoubtedly top Ohio State in the BCS standings, to say nothing of lurking one-loss LSU and Texas A&M.
The Bucks need help, or else they face the very real threat of finishing undefeated in back-to-back seasons with no national title appearances to show for it. Last year's bowl ban was a blessing in disguise: It allowed Ohio State to end its season on a high note, rather than in a postseason mismatch against Notre Dame or Alabama, and surely kept the team extra-motivated during the winter doldrums.
But this year is different. While even the most ardent Bucknuts will admit that the Big Ten has regressed since the halcyon days of Woody and Bo, no one ever thought the conference's widespread mediocrity would become pernicious enough to prevent Ohio State from the rightful honor of getting shellacked by a Nick Saban team. I mean, Clemson? No disrespect, but Clemson's coach is named Dabo.
Hard-luck 2004 Auburn? Those Tigers ain't got a thing on these Buckeyes, folks.
The BCS-Busting Replacements
Ian Cohen: The Replacements were never far from my mind when I watched the Pat Hill–era Fresno State Bulldogs between 1997 and 2011. Maybe it was their brazen, "anybody, anytime, anywhere" motto when it came to throwing down. Maybe it was their tendency to get just close enough to the big time only to realize how far away they really were. Or maybe it was simply that former coach Hill's mustache made him look like the kind of guy who could probably drink Paul Westerberg under the table in his prime. It certainly wasn't because their on-field product reminded me of "Gary's Got a Boner" or anything. Those Bulldogs were the closest thing college football had to a shit-kicking, blue-collar, ill-fated punk team.
Much like the Replacements inadvertently invented "alternative rock" while failing upward, Fresno State's influential-but-doomed Hill teams showed the world how to be a BCS Buster before we even knew what that really meant. This cuts both ways: In the same way that the 'Mats are to blame for Dave Pirner's trips to the White House and Winona Ryder's bedroom in the early '90s, Fresno State has played a huge role in defining a term that now triggers little of its initial buzz. It's not unthinkable, for example, that Northern Illinois could inflict its MACtion on the BCS twice on account of finally beating Iowa.
And yet, on October 15, 2013, the Replacements were nominated for the Rock and Roll Hall of Fame. And Fresno? Fresno has carved a path to a BCS bowl. Unsatisfied no more? But truly, Fresno feels more like Paul Westerberg circa Singles, a patron saint who hung around long enough for the more conservative version of his former self to not so much succeed as to be set up not to fail.
Whereas Hill was a grizzled lifer, his replacement, Tim DeRuyter, is relatively young and fresh-faced and will be one of the leading candidates for every BCS conference coaching gig west of the Mississippi, up to and including USC. The Bulldogs' offense is led by Derek Carr, the brother of Bulldog record holder/NFL clipboard holder David Carr. The younger Carr has been great, though the Bulldogs haven't needed to tackle much while playing a weak slate: They beat lame-duck AAC squad Rutgers by one point in overtime, toppled a not-what-it-used-to-be Boise State (also by one point), and missed the chance to beat Pac-12 cellar dweller Colorado after that game was canceled on account of biblical flooding. Their biggest remaining challenge is a trip to Laramie and a potential rematch against the Broncos in the MWC championship game, which is almost assured since Utah State is a nonfactor following the season-ending Chuckie Keeton injury that made atheists of us all.
As of now, ESPN's bowl projections optimistically posit that Fresno will be Fiesta Bowl cannon fodder for Baylor, and truth be told … I wouldn't turn that down, no more than I'd turn down a 2013 Replacements reunion at a venue larger than the band ever played in its heyday.
If Fresno runs the table and DeRuyter goes, hopefully the program will do the closest thing possible to "getting the band back together" by having Hill and his mustache return to serve as the interim coach. It's within our reach.
Bliss
//instagram.com/p/e2itGHRr-e