For much of the past five years, Dana Holgorsen has helmed some of the most prolific offenses in college football. From Texas Tech to Houston to Oklahoma State, the current West Virginia coach's wide-open attack has been the premier scheme in college football. This year, that scheme has come with record-shattering results, and much of that credit goes to quarterback Geno Smith. Not only does Smith put up big numbers, but he plays the position with a rare elegance. It's the combination of these two factors, of Smith and scheme, that have resulted in Geno's unreal statistics.
West Virginia's scheme is successful for many reasons, but it's primarily a function of two elements: (1) It requires the players to master a limited number of concepts, which allows them to play without any hesitation, and (2) there's an aggressiveness — in the form of both packaged plays and deep play-action passes — that puts maximum pressure on defenses.
The limited number of plays cannot be emphasized enough. Holgorsen famously installs his entire offense in three — yes, three days. So when West Virginia does add something new, it's clear that it isn't thrown in haphazardly. It's there for a reason, and it fits within the big picture. Some of these wrinkles were evident in the Mountaineers' 70-point explosion against Baylor.

Smith and West Virginia have gotten a lot of attention for that total in the past week, but it wasn't that long ago that they dropped the same number on Clemson in the Orange Bowl. In that game, Smith threw for six touchdowns and more than 400 yards, but the most famous play was a "jet sweep" — a sweep by a receiver who goes in motion from the opposite side — that inside receiver Tavon Austin used to score three of his four touchdowns on the day. The difference between Austin's scores and many traditional jet sweeps is that instead of handing off the ball, Smith tossed it forward on a "touch pass," an adjustment Holgorsen got from his friend Bob Stitt, who coaches at the Colorado School of Mines. The play was one of the most talked about in coaching circles all offseason, and, unsurprisingly, has drawn massive attention from WVU's opponents this year. The schematic concerns are only compounded by what the dangerous Austin can do with the ball in his hands.
Against Maryland, Holgorsen and Smith used the "touch pass" to generate another touchdown for Austin — but not in the way you'd think. Late in the first half against the Terrapins, Austin lined up in the slot to the right, while true freshman wide receiver Jordan Thompson went in motion. At the snap, Smith faked the touch pass to Thompson, a nouveau play-action fake.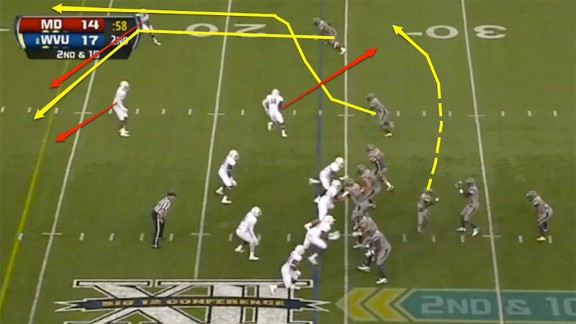 It worked. The receiver outside of Austin, J.D. Woods, ran a post while Austin ran a wheel up the sideline. The post-wheel route combination is one of the oldest in football, but it has increasingly become one of Geno Smith's favorites. A big reason is that the routes aren't static; although one receiver runs a post and another a wheel, each receiver has freedom to adjust his route by curling in between zone defenders or changing the angle of the post route. In this way, Holgorsen's Air Raid offense has taken on shades of the old run-and-shoot, a pass-first attack known for receivers' adjusting their routes and whose influence is still felt in the NFL. On this play against Maryland, no adjustments are necessary. The defense is confused by the post and fake touch pass and leaves Austin wide open in the end zone.
Against Baylor, the Mountaineers added another wrinkle. For the first time that I'm aware of, Holgorsen sent five true wide receivers onto the field. No stranger to pass-first formations and multiple-receiver sets, anytime Holgorsen had previously gone empty in the backfield, it was because he'd motioned a running back. Against Baylor, and partially out of necessity (West Virginia was down three of its top six running backs, including both its starting tailback and fullback), the Mountaineers trotted out five true wideouts 10 or so times, and four of Smith's eight touchdown passes came out of this look.
The formation created opportunities for West Virginia's receivers, primarily "outside" receiver Stedman Bailey, who moved into the slot in the five-wideout set. "We felt like moving Stedman and putting him in the slot was a matchup we really liked," West Virginia offensive coordinator Shannon Dawson explained after the game. "It's not like we ran any plays that were different, it was just a set. The only person it was different for was Stedman." For the game, Bailey had 13 catches for 303 yards and five touchdowns. I'd say it was a nice wrinkle.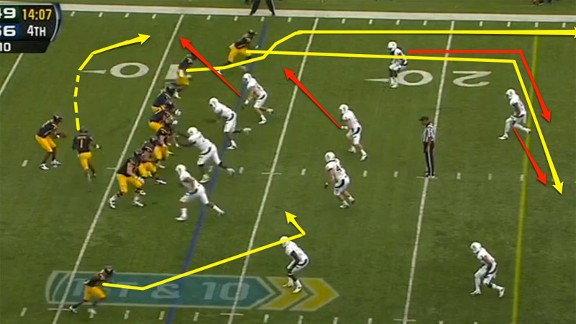 On maybe the biggest play in a game filled with big plays (certainly the longest play), Bailey caught an 87-yard touchdown pass on the wheel route of Baylor's post-wheel combination. It also came with the same fake-touch-pass setup as Austin's earlier score, only this time it was Austin carrying out the fake.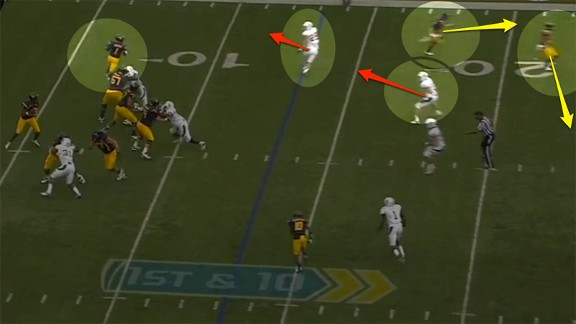 The outside receiver, Ivan McCartney, ran the post, and both the safety and corner for Baylor collapsed inside with him; McCartney did a good job flattening his route to pull them inside. Meanwhile, Baylor's underneath defenders — at least one of whom likely should have turned and ran with Bailey on the wheel — are all focused entirely on Austin's fake touch pass. The result is a wide-open Bailey, and a sight Baylor saw a lot of on Saturday — a receiver dashing for the end zone.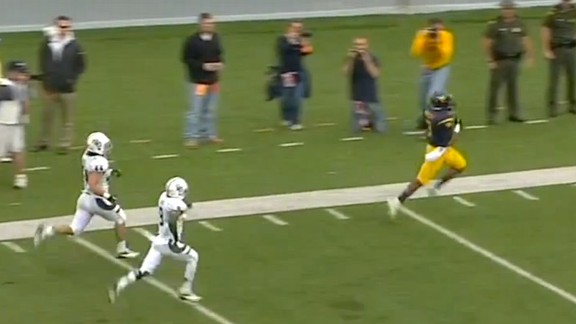 Of course, West Virginia's defense did plenty of the same on Saturday. While scoring 70 is an incredible accomplishment, giving up 63 is, to say the least, cause for concern for this Mountaineer team's ability to contend for a title. Their offense can score with anybody, but apparently, their defense can be scored on by anybody. That may or may not be a championship formula, but it's certainly a formula for something else — Smith, Holgorsen, Austin, Bailey, and the rest of West Virginia's offense are must-see TV.