Remember this, the most glorious possession from all of last season?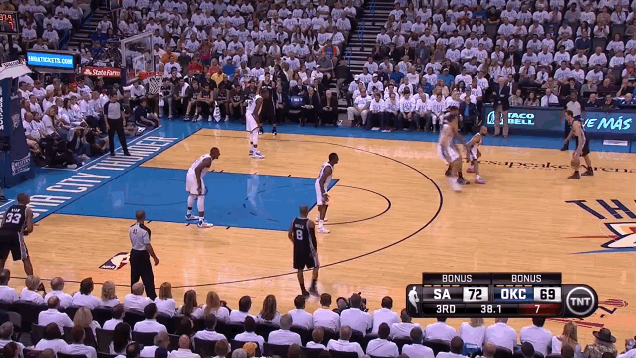 Well, check this out:
That's right: The Nets experienced a Spursgasm in their crazy Game 4 win at home Monday night! And it was fantastic.
Brooklyn can't quite cop the Spurs style, of course. The original Spursgasm just looks better. San Antonio touches the ball around so fast that it manages to squeeze three quick-hitting passes within the same half of the court. Brooklyn is bulkier and slower, and it needs to swing the rock across the floor to generate the final open dagger from Bojan Bogdanovic.
But the general trajectory is the same: ball handler, to perimeter release valve, to roll man, to corner shooter. It's beautiful. Brooklyn isn't locked with Atlanta at two games apiece because of its offense; the Nets have scored just 101.3 points per 100 possessions in this series, a mark that would have ranked 23rd in the regular season — a big drop-off from what Brooklyn produced once Brook Lopez got rolling again. The Nets are in this thing because they've tightened their defense in smart ways, but the Hawks were going to crack that shell eventually. The Nets would need to blow up at some point to steal another game, and it happened last night: 115 points per 100 possessions, a deluge of 3s, and the bimonthly return of the old Deron Williams. (Do not get fooled, Brooklyn fans. Do not do it to yourselves.)
That Spursgasm was probably the most aesthetically pleasing thing in the history of the Brooklyn Nets, but it was not an outlier last night. The Nets were diligent about moving the ball, and themselves, to the point that they barely even looked like the Nets anymore. Watch how fast, and how far, the ball moves in just a few seconds on this first-quarter possession:
Bogdanovic makes the most important play there. The initial Joe Johnson–Lopez pick-and-roll on the right side forces Bogdanovic's man, Kyle Korver, to sink into the paint and get ready to bump Lopez. Korver has to slide back out to Bogdanovic when the Nets swing it there, and Bogdanovic leverages Korver's momentum with a drive that starts almost the instant the ball arrives. Wait too long, and Korver can gather himself.
These are the kinds of plays the Nets have too often failed to make during their drab Brooklyn existence, save for an exciting half-season of small ball1 under Jason Kidd. Atlanta was banking on facing the same predictable Nets — the slowpoke team that keeps the ball on one side of the floor, dribbles it into dust, and burps up a contested midrange shot.
---
1.
Or as the Nets preferred, "long ball."
Atlanta's defense smothers that kind of team. The Hawks are fast and long, and every player has the good habit of moving around on defense with his arms spread wide. If you bring the ball to one side, the Hawks will slide all five of their players there and try to pin you. There will be arms in every easy passing lane.
The only escape is to fling a lob pass to an open man all the way across the floor, and the Hawks fly fast enough to be pecking at your face by the time the ball arrives — unless it's a LeBronesque frozen rope. Stop the ball there, and the Hawks can re-create the trap as the shot clock dwindles. It's move or die against Atlanta, and if you can keep it going, you can find an open 3 or challenge the Hawks' undersize front line at the rim.
The Nets moved it on Monday, and that is the most important reason they've managed to give us a second 2-2 series. It required some luck: a Williams bailout 3 late in regulation, and a crucial Lopez and-1 in overtime, when the ball squirted away from Williams and landed in Lopez's lap in the paint. But those things tend to even out over the course of 48 minutes. The Nets earned Game 4, and the insertion of Bogdanovic and Thaddeus Young into the starting lineup has stocked it with willing ball-movers around the Johnson-Lopez combination — a duo that can get sticky hands.
Some other notes:
• The Nets have held Atlanta's offense to just 99 points per 100 possessions, way below the Hawks' regular-season mark. The Hawks have missed some bunnies, and Al Horford's injured right pinkie is clearly messing with his jumper.
But the Nets deserve a lot of credit for a good Hawks-specific game plan. They're switching on a ton of Korver screens, both on and off the ball, and Korver has had a harder time than usual getting open. Bodganovic can't keep up with him, but switching mitigates that — especially with a speedy power forward like Young.
They've dared Jeff Teague to beat them from the outside, dialed back their pick-and-roll coverages to keep themselves out of rotation — Pero Antic can have an open pick-and-pop triple anytime — and gotten braver about letting Horford jack from midrange. A hard hedge like the one Young uses on this Teague–Mike Scott pick-and-roll could leave the Nets in a desperate scramble mode if Teague hits Scott rolling into open space:
But Teague can't thread that pass, because Lopez hangs back off Horford. The possession stalls out from there.
• Still: The Hawks found some new ways to spring Korver in Game 4, and Brooklyn will see them again in Atlanta on Wednesday. Atlanta knows now that Brooklyn will switch picks for Korver away from the ball, and the Hawks players setting those picks in Game 4 began slipping away before really setting them at all. Watch DeMarre Carroll, having a wonderful two-way series, pull the trick here:
It's a way of jumping the switch — of using the threat of Korver's shooting to get someone else open. Horford nearly got a dunk out of it later:
The Hawks are also working to run Korver off screens that are less switch-friendly — picks from Atlanta players being guarded by bigger, slower Nets. One way to do that is have an Atlanta big set a typical high screen for the Hawks point guard, and then roll right into a pin-down for Korver:
That forces a tough choice upon the Nets: Switch Mason Plumlee onto Korver, or play traditionally, allowing Korver to run ahead of Bogdanovic. The Hawks even had Korver run a pick-and-roll himself, a rare thing that had the same effect. He hit a long 2-pointer out of it in the fourth quarter.
The Nets benched Plumlee for all but 18 seconds of the second half, playing more than ever before with a super-small lineup featuring four wings and Young as the nominal center. If Mirza Teletovic can't go again, that may be the way Lionel Hollins is most comfortable resting Lopez.
• There are a lot of fun size-vs.-speed matchups in this series. When the Nets go center-less, the rangy Hawks suddenly become the big bullies, with the potential for a post-up advantage at multiple positions. The Hawks played the all-speed big-man combo of Paul Millsap and Scott against Lopez more than usual last night, wagering their edge in shooting and wheels would outweigh Lopez's mammoth size advantage.
The Nets have also used Johnson at power forward, and Millsap during those minutes has not been able to abuse Johnson in the post. The Hawks can get that matchup whenever they want; Brooklyn is switching a lot of Carroll-Millsap actions, leaving Johnson to battle Millsap down low. Atlanta didn't care much to go there until last night, and Johnson generally held his own. Still, it's a place Mike Budenholzer might look to keep Millsap revving, draw help, and open up 3-pointers:
• When the Nets go small, the Hawks keep Carroll (or Kent Bazemore) on Johnson, and their second big man on Alan Anderson. Anderson has hurt Atlanta in those setups with the kinds of catch-and-go drives Bogdanovic whipped out in Game 4. If Anderson and Bogdanovic continue to give strong minutes, the Nets have a shot to stay competitive. They have to keep the machine moving and resist the old temptations of iso-ball.