Wait, what? Blaine Gabbert threw a game-winning touchdown pass? Andy Dalton and RG3 combined for 69 real-life points? Ryan Pickspatrick had three touchdowns and ZERO interceptions? There wasn't a 50-point BQBL scorer? What the hell happened this week? Why am I asking so many questions to which I clearly know the answers? Am I ever going to get to the top scorers? Who knows?
OK, I'm sick of that "ask rhetorical questions" bit, too, but before we actually get to the top scorers, we have to clear some things up about the BQBL Failure Machine. Like the quarterbacks that we celebrate, the Failure Machine has its flaws. I want all of you to know that the Failure Machine is like Tim Tebow's throwing motion — often scrutinized but constantly improving through a combination of hard work and prayer. We have received your missives and are currently addressing all the issues you so politely point out to us. Should you be experiencing technological issues with the BQBL Failure Machine, feel free to e-mail us at glbqbl@gmail.com. Should you be experiencing problems with your reliably terrible quarterbacks having a solid week this week, feel free to e-mail him at Ryan.PicksPatrick@DidYouHearIWentToHarvard?.edu. Please don't tell Ry Ry I gave out his e-mail, though.

Three and Out
Dolphins (Ryan Tannehill), 46 points: Until he gives me reason not to, I will refer to the Dolphins rookie quarterback as Ryan TAINTehill. He earned it. It wasn't like he threw four pick-sixes, but it wasn't quantity that earned him the moniker — it was quality. After a penalty on the second-half kickoff pushed the Dolphins near their end zone, TAINTehill needed to get a little breathing room. On first down, they went conservative and tried to run the ball. No gain. TAINTehill then took to the air — with glorious results. He was attempting to throw a 15-yard out to Anthony Fasano. Instead, he threw a TAINT right to LaRon Landry, who had a much better idea of where Tannehill was going with that ball than did anyone in a Dolphins uniform. Here at the BQBL, we like our quarterbacks to throw picks because it scores us points, but we also like it because it allows us the opportunity to watch our dainty QBs attempt to bring down defensive players turned ballcarriers. TAINTehill barely made an attempt to obstruct Landry from the end zone. But what TAINTehill lacked in enthusiasm this guy more than made up for: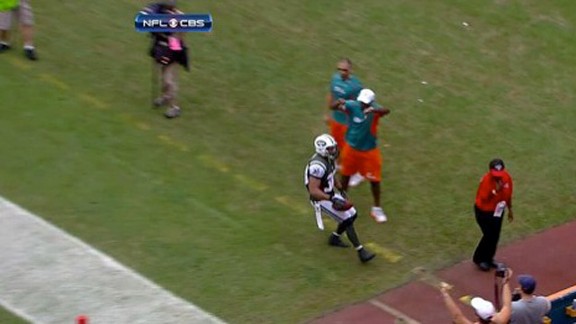 As Landry celebrated in the end zone, this dude decked out in Dolphin gear gave him the most enthusiastic double thumbs-down I have ever seen. Shout-out to you, Double Thumbs-Down Dolphin Gear Dude. I wish I could keep you around the office and use you to turn down bad lunch suggestions.
Rams (Bradford), 46 points: At the end of the first half, you, on your living room couch, had netted six more yards than Sam Bradford and the St. Louis Rams passing attack. It was that kind of day for Bradford. The Bears defense has a way of making quarterbacks look bad, but they made Bradford look atrocious. He was sacked six times, only threw for 153 yards despite trailing the whole game, and TAINTed his way onto the BQBL leaderboard. The lack of deception that Bradford displayed on the TAINT exemplified his inexperience with protecting both the football and the lives of his receiving corps. As Bradford dropped back, he keyed on his target, giving each member of the Bears defense time to plot out how they were going to react to the slanting human bull's-eye that was Rams receiver Danny Amendola:
Cornerback Tim Jennings: "Is he really going to stare this dude down like this? Fine, then, I'll tip it for Major Wright to pick off. I already have four this year."
Safety Major Wright: "Is he really going to stare this dude down like this? Fine, then, I'll just come in and decapitate this poor receiver … oh, look, ball in my hands."
Linebacker Lance Briggs: "Is he really going to stare this dude down like this? Fine, then, I will show him what it feels like to be a wasp getting crushed on a windshield."
Cowboys (Tony Romo), 37 points: NFL teams script their first dozen or so plays. They practice this first series of plays knowing that this will be key to getting off to a good start in the upcoming matchup. Often, you will see large gains because offensive coordinators have been feverishly studying tape on the opposing defense and will exploit a weakness during the first few snaps. For the Cowboys, Week 3 was not one of those times. Let's have a look at the Cowboys' first four plays from scrimmage against the Bucs:
First Play: This play was clearly meant to exploit the overaggressive, undisciplined nature of the Bucs defense. The Cowboys faked an end-around to the right before throwing back to a running back that sneaked off into the left flat. Great strategic move. The Bucs overpursued on the fake and left the running back wide open — just like the offensive coaches of the Cowboys had hoped. Then Tony Romo threw the ball about five yards behind the running back — not what the offensive coaches had hoped.
Second Play: Because these plays are scripted, the Cowboys went with a no-huddle offense to confuse the Bucs and keep them from substituting. It worked, and Tampa's D seemed a little confused. However, the Cowboys offense was also confused — false start penalty.
Third Play: Romo's pass was tipped at the line and somehow still dropped by Jason Witten. Not a great start.
Fourth Play: Bucs cornerback Aqib Talib jumps the route for an interception. Then Romo made this face: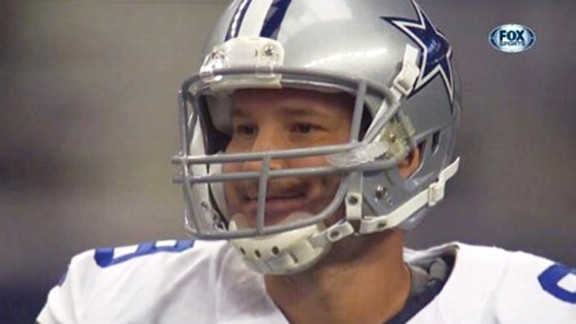 Romo's two lost fumbles were the result of missed calls on the field that were overturned in the booth. With 10:35 left in the third quarter, Romo attempted a weird gunslinger-y shovel-pass thing that the refs called incomplete, but it was overturned. With 2:07 left in the third, Romo was manwiched by Michael Bennett and Adrian Clayborn. He lived, and was ruled down by contact before he lost the ball, but Cowboy BQBL owners rejoiced when the call was overturned. Look, it was bad enough when the replacement referees were making mistakes that affected the outcome of huge games and the safety of the players, but this week the replacement referees attempted to keep down BQBL scores. That shit isn't to be messed with, replacement referees.
Quick Slants
Buccaneers (Josh Freeman), 34 points: Josh Freeman had the fewest completions of his career in this game. Guess how many that was? Ten. He had 10 completions. My favorite part of that exercise was me saying to myself, "Really? I swear he had seven like two years ago," and then fact-checking the stat.
Chiefs (Matt Cassel), 30 points: "We kept fighting, it was a huge team win, and I'm just really excited to have had a part in it." That quote was from a team leader who personally accounted for 18 of the Chiefs' 27 points. That quote wasn't from Matt Cassel; it was from kicker Ryan Succop.
Eagles (Mike Vick), 30 points: Andy Reid in the postgame presser: "Right now we're with Michael (Vick), and that's what we're doing. We'll evaluate as we go." Andy Reid on Monday: "Michael's our quarterback. Period. Michael's our quarterback." I can't decide who did more scrambling to avoid the impending attack: Vick or Reid?
Panthers (Cam Newton), 27 points: I know you wish we had, but we didn't forget about that three-pick gem you threw last Thursday, Cam. And don't think we forgot the fact that you have 2.5 interceptions for every touchdown pass so far this season. And don't think we don't see the red-hot Falcons on the schedule for next week. We have our eye on you, Cam Newton, and we are wishing you the worst. Sorry, buddy — that is just what we do around here.
Chargers (Philip Rivers), 26 points: Whenever Rivers has a bad game, I wish I was the PA at NFL Films who's asked to screen the reel with the sound from Rivers's mic. How much would you pay for that tape? I would go up to $200. The only guy's tape I would pay more for after a bad game is Jay Cutler …
Bears (Jay Cutler), 21 points: Speaking of …
http://public.tableausoftware.com/javascripts/api/viz_v1.js