One of the most interesting questions in the NBA right now is, What will the Orlando Magic look like next season? The Magic just lost their superstar center, they have new management, and they've got a first-year head coach in Jacque Vaughn. Here's what Vaughn told the Orlando Sentinel about his offensive philosophy: "I don't think I'll pigeonhole myself into a certain style … I've been kind of inclusive about the different styles I've played against. Coach [Jerry] Sloan had a style that he used for 20 years. Pop [Gregg Popovich] has been extremely innovative … For me, it's about putting guys in a position to make plays. I will not call a play every single time down the floor. My demeanor on the sideline is more calm, not garish at all, and I think players will be receptive to that and want to play. As long as I can teach them, and they're receptive to teaching, then I'll let them make plays."

What can we take from this? Vaughn is a Popovich guy (he was an assistant under Popovich the past two seasons), and he's going to try to emulate the Spurs coach a little. That means that the Magic will be doing things a little bit differently next season.
There will likely be the 3-point shooting. Under former coach Stan Van Gundy, the Magic liked to run a four-out, one-in system that gave Dwight Howard space to work inside while the rest of his teammates spotted up along the 3-point line. Essentially, Howard freed up Orlando's 3-point shooters and vice versa. With Howard and Van Gundy gone, you can expect the Magic to no longer lead the league in 3-point rate (which they did last season, shooting 3s on 34.6 percent of their total shots). But they will still shoot 3s (the Spurs were seventh in 3-point rate, shooting 3s on 25.7 percent of their total shots), and still shoot them at a relatively high rate.
The big difference is where these shots will come from. In terms of 3-point locations, Van Gundy's Magic didn't discriminate. If they were open (and even times they weren't), they would let it fly, no matter where they were standing. This was important, because the offense had to make defenses pay by doubling Howard, and to do that they needed to shoot these open shots. Here is where the Magic's 3-point shots last season came from.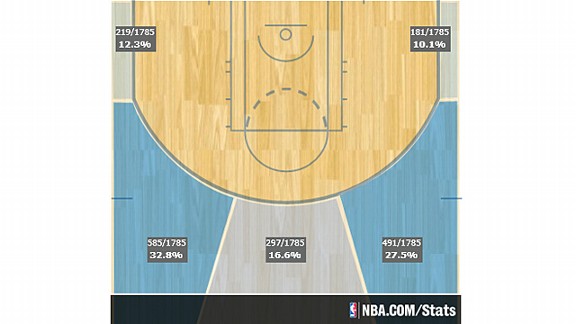 As you can see, a good chunk of the Magic's 3-point shots came from the top of the key and the wings. That's going to change next season, if you believe that Vaughn will be running a Spurs-style offense. San Antonio love to use corner 3s out of pick-and-roll situations. Here is their shot chart.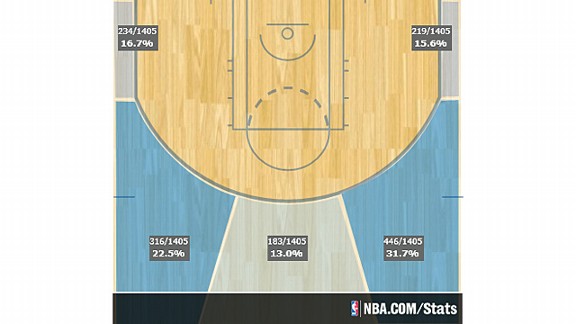 As you can see, 3-point shots at the top of the key are minimized; it's the toughest spot from which to knock down 3s. Corner 3s are maximized. It's shorter than 3s on the wings/top of the key, but it is still worth three points. Here is a look at the Spurs in action, running pick-and-rolls, setting up their shooters for catch-and-shoot opportunities in the corner.
They're always looking to put someone in the corner, fill that space, and then get them the ball, at times even passing up open shots from the wing to do so. Who is going to fill that Danny Green role for Orlando? Arron Afflalo. He's one of the few pieces that the Magic got back in return for sending Howard to the Lakers, and if Vaughn wants the Magic to run a Spurs-like offense where they focus on shooting more corner 3s, getting Afflalo back for Howard does make sense. Throughout his career, Afflalo has been a fantastic 3-point shooter, knocking down over 40 percent of his 3s every year since his rookie season. Last season, while that number dropped to 39.8 percent, Afflalo was still money from the corner.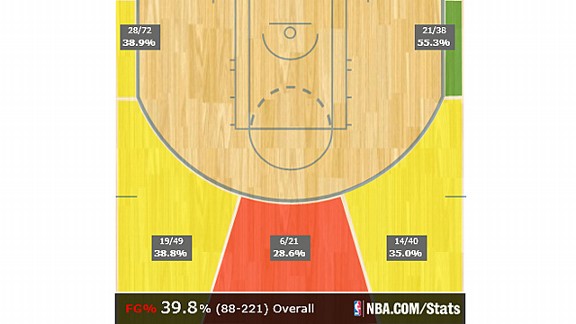 That's a knock-down shooter from the corner, especially the right corner, hitting 44.5 percent of his 3-point shots from that spot. Add his defense to the mix, and that's something that fits into how Orlando is going to want to play. You can expect his next season to have a bounce-back in terms of 3-point shooting.