Welcome to the first Major League Baseball Beard Awards, where we honor the most unique and terrifying beards worn by professional baseball players in the 2013 season. No sport exemplifies the multifarious qualities of the beard better than baseball — not even playoff hockey — and we've gone too long without recognizing the hirsute men who bravely ignore their razors each morning in order to showcase a wide array of exciting facial hair. No longer! Today, these men will receive their long overdue praise. Please have a seat as we reveal our Base-Beard recipients and hear their acceptance speeches.
Note: The ceremony is called the "Major League Baseball Beard Awards," but the award itself is called the "Base-Beard." Please don't get the two confused. You attend the MLB Beard Awards, and you win a Base-Beard. It's not difficult, guys. Also, we never say the word "winner." As long as we have beards, we're all winners.
We start with a familiar, mostly covered face:
COMEBACK BEARD OF THE YEAR
And the Base-Beard goes to …
Brian Wilson, Los Angeles Dodgers!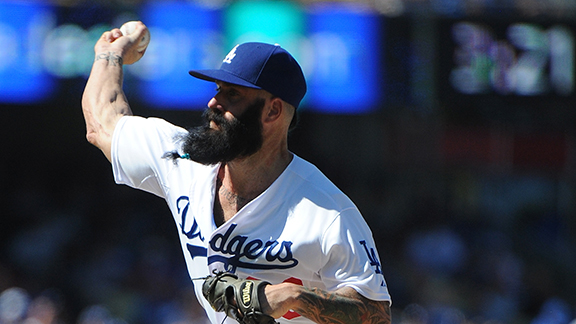 Wilson: Wow. This is … this is really satisfying. A lot of people out there said I shouldn't be eligible for a Base-Beard since I dye my beard black and it's not "natural." This award is not for those people. You know who you are, with your backward, conservative ideas about grooming. Maybe you think we should ban the Rolling Stones from the Rock and Roll Hall of Fame because Keith Richards used an electric guitar. How about that? Or maybe we should take away all Picasso's painting awards because his humans didn't look realistic. Is that what we've come to as a society? Taking away Picasso's painting awards? Fact: There are three elements that go into a great beard. First is growth — a physical gift beyond our control. Number two, maintenance. That's just trimming. A monkey could do it if you trained it long enough. But third is presentation. And that, ladies and gentlemen, is ART — a product of creativity and inspiration. I may have gone down with Tommy John surgery, but my beard stayed raven black. New city, new uniform, same beautiful artistic beard-spirit. For my fans, never settle. Always find the edge, and grow beyond. Thank you.
---
The Amish Padded Chinstrap Beard of the Year
And the Base-Beard goes to …
Edward Mujica, St. Louis Cardinals!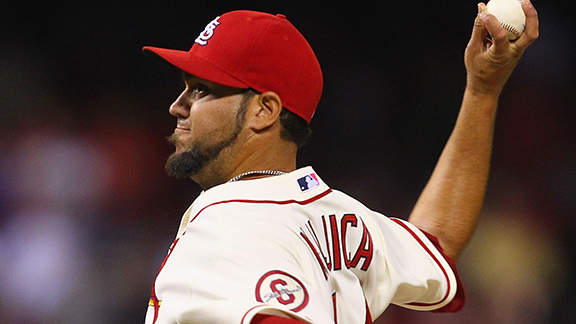 Mujica: In tribute to all the fine men and women in Pennsylvania Dutch country, I say to the rest of you English: I reject your award! Heathens! Money-obsessed sodomite heretics! Ungodly idolatrous pagans! Ahem. As a follow-up, though, I love this award and I thank Major League Baseball for paying me lots of money. Also, I think sex is great. Thank you!
---
The Tortured Indie Folk Singer Making a Melancholy Album in the Woods Beard of the Year
And the Base-Beard goes to …
Jayson Werth, Washington Nationals!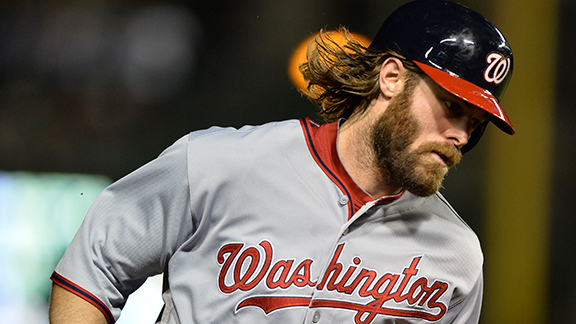 Werth: I am my mother's only one. It's enough. I wear my garment so it shows — now you know. Only love is all maroon; gluey feathers on a flume. Sky is womb, and she's the moon. [Tears begin to fall.] Good-bye.
---
The Impish Psychopath Beard of the Year
And the Base-Beard goes to …
Dustin Pedroia, Boston Red Sox!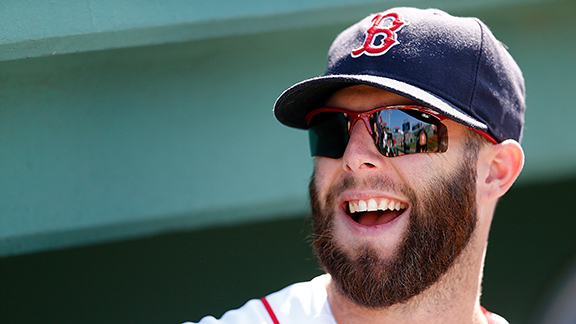 Pedroia: OK, well … I also won the Impish Psychopath category at the normal baseball awards, so I almost feel like the beard is irrelevant here. Like it's just an excuse to call me an impish psychopath again. And that's offensive, guys. I'm honestly not sure why I even came down to accept it. If they had told me it would be another impish psychopath-themed thing, I would have stayed home. But here I am, innocent as a lamb, thinking, Hey, Dustin, why be cynical? Maybe they'll tell you what a great job you're doing at second base. Instead, nope. Impish psychopath, yet again. It's aggravating, gang. IT'S FUCKING AGGRAVATING, AND I MUST SAY I AM BECOMING MORE AND MORE INTERESTED IN GUTTING EACH AND EVERY ONE OF YOU WITH A SACRED STAFF AND PLACING A SINGLE ROSE IN YOUR MOUTHS AS I ARRANGE YOUR CORPSES IN A STRIKINGLY REALISTIC TABLEAU OF DA VINCI'S LAST SUPPER! Ahem. Oh … oh, OK. I get it now. Fair enough.
---
The Messianic Cult Leader Beard of the Year
And the Base-Beard goes to …
Josh Reddick, Oakland A's!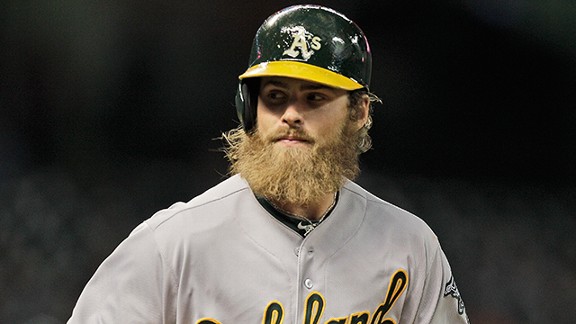 Reddick: Hey, uh, before I get started, does anyone want some Kool-Aid? I've got a whole batch I just made up in my subterranean school bus. I'm kidding! I'm kidding, gang. But I do want to give a super-quick shout-out to the Oakland Apostles of the Rebirth. Did I not prophesy that I would appear to you one day through your televisions outside of the baseball field? Have you doubted me? Tomorrow is the blue dawn, when we will shut our eyes to open them forever. Prepare the magical mystery machine. And, Franklin, if any of the blades are rusted, I swear I'm going to be really upset.
---
The Terrifying Appalachian Hillbilly Beard of the Year
And the Base-Beard goes to …
Mike Napoli, Boston Red Sox!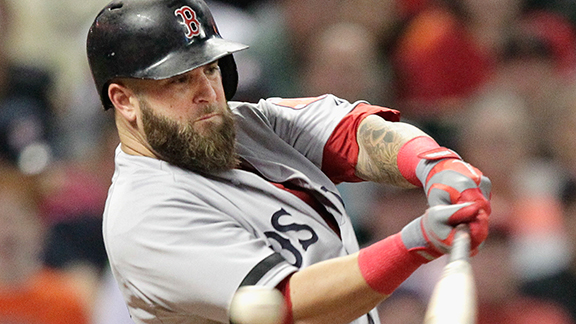 Napoli: Man, this is just unbelievable. Growing up, they said, "Mike Napoli, you're an Italian American from Florida. You'll never look like an Appalachian hillbilly who might take Deliverance-style liberties with someone. It's just not in your DNA." Well guess what, America? I didn't listen, and today, I would terrify a white-collar tourist who took a wrong turn in the Tennessee hills and had to ask me for directions as I caressed a shotgun on the porch of a dilapidated shack guarded by four bone-thin, barking dogs tied to rusted chains. That's the power of believing in yourself, gang. This award is for every kid out there with a dream. Thanks so much to the Beard Academy, to my true friends, and to my beautiful wife, Gina. Oh, and one last thing: EVERYBODY SQUEAL LIKE A PIG! I'M SERIOUS! DO IT NOW OR I'LL DOUSE THIS ENTIRE PLACE IN TRACTOR OIL!
---
Beard of the Year: Alternate Meaning
And the Base-Beard goes to …
Our apologies. Due to a cease-and-desist order filed by attorneys for Alex Rodriguez, containing accusations of slander and intentional infliction of emotional distress, we are not legally able to issue the award at this time.
---
The Awkward Eastern European Chess Prodigy Beard of the Year
And the Base-Beard goes to …
Josh Reddick, Oakland A's!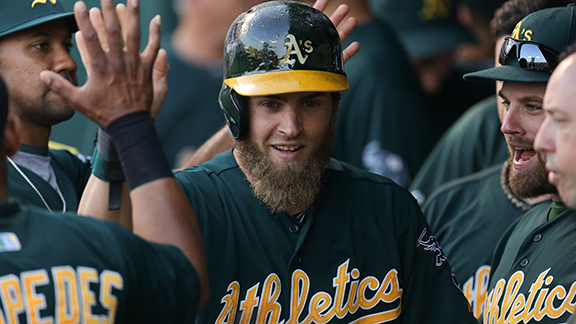 Reddick: Whoa, me again! They're going to have to start charging me rent if I stay up here any longer, am I right? I'm kidding! What an honor, Awkward Chess Genius. Great stuff. Who thinks this up, you know? Wild. And, Franklin, truthfully, bro, if the blades are not sharp and rust-free on the magical mystery machine, I'm looking at you. That was your one job, and I put a lot of trust in you, but every time I walked by your hut at the commune, you were playing on your damn iPhone. I just want you to know that the blue dawn is coming, and if you're the one who screws it up, you're out of the gang. Simple as that. Oops, my time's up! Thanks, everyone! Hope you don't have to see this ugly mug again! Ha ha!
---
The Please Grow a Bigger Beard Award
And the Base-Beard goes to …
John Lackey, Boston Red Sox!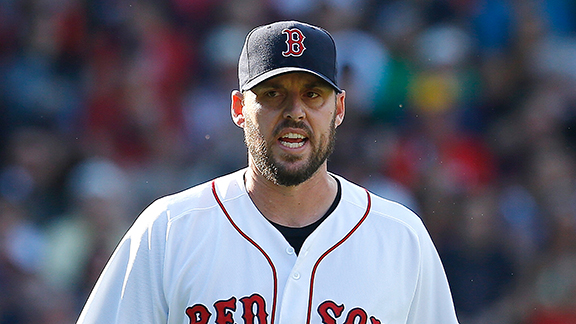 Lackey: Oh, I get it: I'm ugly. Thanks! Thanks so much for using this award to mock me. Because middle-aged men aren't sensitive, right? No, not at all. We have emotional immunity to everything. We're the safe target for you snarky liberal Internet shits! Easy pickings, right? Well hear me now, cyber-dorks: Don't be mad when you get trampled by the status quo! Remember this moment, you hear me?! Also, I'm going to bean A-Rod next time he's up. Thank you.
---
The Jeff Bagwell Epic Beard Memorial Award
And the Base-Beard goes to …
Eric Thames, Minor Leagues!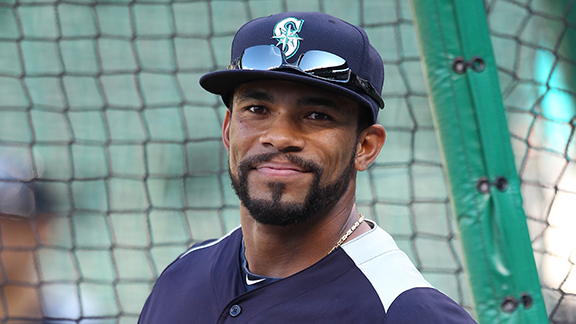 Brian Wilson, guest speaker: We lost a wonderful beard in Eric Thames this season. As you see from the picture behind me, Eric's beard was impeccably groomed, and could look friendly and quirky or dark and villainous, depending on the light. It was truly a beard that reflected the spirit of the beholder, while also revealing so much about the wearer. There's only one word for that: art. When Thames was sent down, we lost an artist.
Thames: I'm not dead, you know.
Wilson: I like to think Jeff Bagwell, looking down, would be proud that the award named after him is going to a pure, bearded soul like Eric.
Bagwell: Also not dead.
Wilson: Let us observe a moment of silence.
---
The Scruff Award
And the Base-Beard goes to …
David DeJesus, Tampa Bay Rays!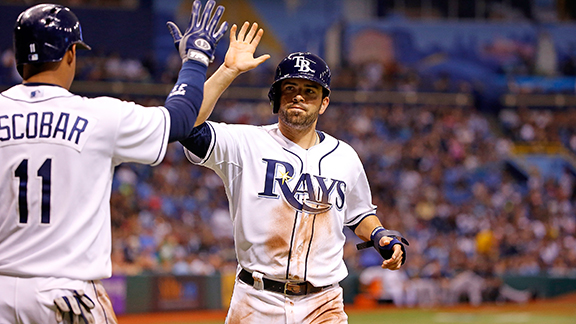 DeJesus: Tonight is about breaking down barriers. For years, my people have heard that we don't belong in this world. "Either shave your beard or grow it out," they said. Yet we refused society's pressure. We are the children of the scruff, and to the scruff we have given our lives. The battle is not over, my friends. Look, even tonight, how scruff is given just one award while the bearded are showered in plaudits. And yet, this is a step. A line has been crossed, and a wall has crumbled. Tonight, the world is learning what we have ourselves known for years: Scruff is sexy. God bless you. Never shave all the way! Never grow it out! Fight for the scruff!
---
The Villain in a Spaghetti Western Beard of the Year
And the Base-Beard goes to …
Sergio Romo, San Francisco Giants!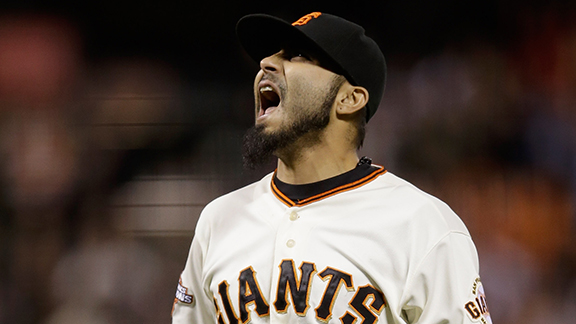 Romo: [Whistles eerily.] Wahhhh wahhh wahhhhhhhh … [Whistles eerily.] Wahhh wahhh wahhhhhhhh … [Whistles eerily.] Wah, wah-wah-wah … [Whistles eerily.] Wahh-wah.
Thank you.
---
Separatist Militia Member Beard of the Year
And the Base-Beard goes to …
Jonny Gomes, Boston Red Sox!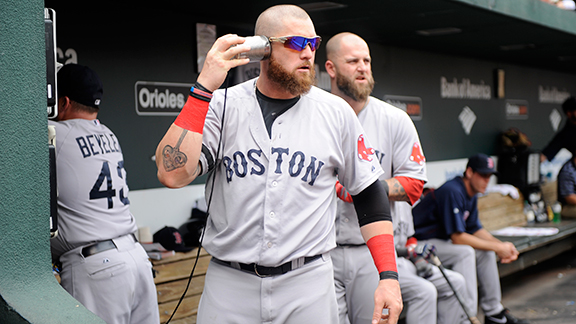 Gomes: Not what I was going for. At all, guys. At all. Like, I wish somebody would've checked with me before making assumptions about my beard. Militia member? That's what people think? Come on! I'm going home and shaving immediately. But guess what. I'm not shaving all the way. You have moved me with your words, David DeJesus. I want to be a child of the scruff!
[Loud murmuring, rising to a roar.]
Gomes: My life for the scruff!
---
Gandalf the Grey Meets an Impish Psychopath Award
And the Base-Beard goes to …
David Ross and Dustin Pedroia, Boston Red Sox!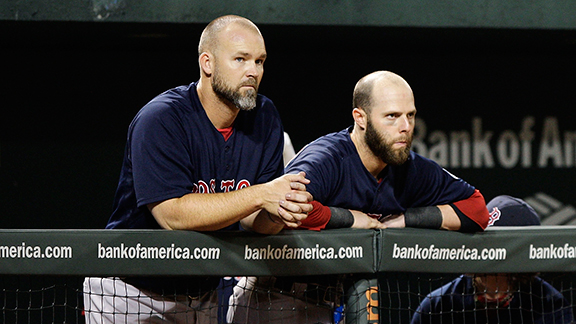 Pedroia: Seriously, guys, what the fuck? You're basically asking to be filleted while I hum classical music. You know that, right?