What a weekend for bad quarterbacks!
From start to finish, Sunday brought us an orgy of awful. The RedZone Channel could barely keep pace. You had games like Browns-Dolphins and Titans-Steelers that were overflowing with awful quarterbacking. At one point, the Lions and Vikings traded a Matt Stafford fumble for a Christian Ponder interception in about three plays. And there was that one play in Bears-Bengals where Jay Cutler threw it five yards behind his receiver and straight to Vontaze Burfict. This is why we watch.
Eli Manning wasn't quite horrible enough to make the BQBL rankings this week, but his performance Sunday night was a perfect way to cap the first full day of bad QBs.
(GIF via @cjzero)
Between Angry Old Testament Coughlin and upset first-grader Eli, I don't know how anyone can ever root for the Giants to win. They are 100 times more fun when they're losing. Anyway, here's your top five for this week's horrible quarterbacks.
---
5. Ben Roethlisberger and Jake Locker. TIED. Remember last week's Bad QB preview when we were talking about how Roethlisberger is the worst good quarterback of all time? Well, a whole bunch of Steelers fans got upset about that in the comments and on Twitter, because of course they did. And then Sunday happened.
Roethlisberger was 21-for-33 for just 191 yards (+6 points) and an interception (+5). He added a garbage-time touchdown, but only after the Titans had held the Steelers offense scoreless for 58 minutes. He also didn't complete a pass for more than 25 yards (+12), giving him a score of 21 Bad QB points on the afternoon. Locker scored 22, which is technically worse, but no, come on. These two were equally terrible Sunday.
Big Ben earned his spot on this list.
(Now he'll probably throw for 400 yards this week. Whatever.)
4. Christian Ponder. Three interceptions (+15), one fumble lost (+5), and a 12-point bonus for his total turnovers on the day. Another Vikings season, another Vikings season when we spend all year wondering when a Vikings skill player will just snap and start a fistfight with Ponder on the sidelines.
3. Brandon Weeden. Weeeeeeeeeeeeeds. My favorite Weeden sequence of the afternoon came toward the end of the early games, when everyone started flipping over to Dolphins-Browns as Cleveland was driving for a comeback. Weeden actually looked pretty solid. When he threw a touchdown pass, we all did a double take. Maybe things would be different this year?
But no.
It was called back on a holding penalty, and the game ended a few plays later with Weeden scrambling for his life and then desperately heaving the ball to nowhere. Because God hates Cleveland. Weeden's stats on the day were three INTs (+12, +15 bonus for three turnovers), one fumble kept (+2), 49 percent of his passes completed (+5), and no passes of more than 25 yards (+10). All for a grand total of 44, which puts him at second in the points standings for the week. But then, just when you thought he was done, his head coach pops up to give him a vote of confidence. After Week 1. The vote of confidence is worth an additional 10 Bad QB points, bringing the overall total to a 54.
Asked whether he's keeping his quarterback on a short leash this year, Rob Chudzinski said, "I don't look at it as a leash. … I thought Brandon had some ups and downs. I know there are some throws and some reads he'd like to have back. I think the one thing you saw yesterday, you saw his resiliency and toughness. If anybody had questions about that prior to this game, you look at the game and he's pretty tough and kept bouncing back."
That quote makes me so sad.
Pray for Cleveland.
2. Philip Rivers. He was technically outscored by Weeden and Ponder, but he leapfrogs them both, because this is just incredible.
Philip Rivers' passer rating when Chargers were up 28-7 with 10:46 left in 3rd quarter was 134.8 … Thereafter, it was 0. Zero.

— UTKevinAcee (@UTKevinAcee) September 10, 2013
//platform.twitter.com/widgets.js
Philip Rivers is a fucking god.
1. Blaine Gabbert. BUT THE KING STAY THE KING.
The song is good, the interviews there are definitely the best part.
"I'm gonna make every throw," he said at the draft combine. "There's no throw I'm gonna shy away from. Deep balls, slants, digs, deep outs, bang eights. It's gonna be the whole spectrum of throws."
For the record, I swear Gabbert could've been good if he'd just been a third-round pick and gotten a chance to sit on the bench for two years on a decent team. None of this is his fault. Maybe there's still time for a resurrection somewhere else. But not in Jacksonville.
Anyway, he had a lot of hype to live up to here. Last week we said no player in the NFL inspires less confidence than Blaine Gabbert. But then he went and exceeded everything on Sunday. Two interceptions, including a pick-six (+30), no touchdowns (+10), less than 150 yards passing (+12), and a 46 percent completion percentage (+5). The Jaguars offense also failed to score a single point and made the Chiefs defense look like the '86 '85 Bears. And Gabbert was sacked six times. He finished with a QB rating of 30.8, which actually seems a little high.
It was an ugly day for Blaine Gabbert, NFL quarterback.
It was a legendary start for Blaine Gabbert, King of Bad Quarterbacks.
BUT WAIT.
Blaine Gabbert will not play this week due to laceration on his hand. #Jaguars

— Jacksonville Jaguars (@jaguars) September 9, 2013
//platform.twitter.com/widgets.js
BLAINE GOES DOWN. DOWN GOES BLAINE.
That's right, no matter what happens, we're getting a new King next week. Gabbert is tagging Chad Henne to come in and join the royal rumble of awful. We'll see if Henne can live up to the legend.
Oh and also.
HONORABLE MENTION: Mark Sanchez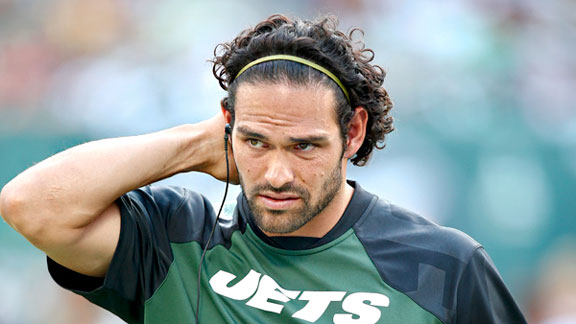 Sanchez has a torn labrum and may not play for a while this year, but I wanted to put him in the top 5 to celebrate the sheer sleaziness of his sideline look on Sunday. Sadly, there were too many bad quarterbacks to fit him in there. Nevertheless, Sanchez is doing great, and it's good to see him staying relevant. Keep him away from your sister.
STATS: Major thanks to Danny Savitzky for tracking all of Week 1's action for us. If you'd like to check out the Bad QB stats for all 32 quarterbacks, head over to the very awesome Fantasizr, where you can sign up to play in your own league. To see how it's all scored, click here. Otherwise, everyone have a great day. Henne is taking snaps with the first team all week, and it's almost Sunday. Can't wait.
---
Here's the score sheet for this past week's bad quarterbacking:
[googleapps domain="docs" dir="spreadsheet/pub" query="key=0AgEkOd29s2GAdDl0STdONzZEMXh4RmhhclhCNVNKR3c&output=html&widget=true" width="500" height="300" /]