On Sunday night, YouTube held its first annual music awards show. They were called the YouTube Music Awards. And to view said awards, all you had to do was go on YouTube.
Unfortunately, during the time of the YouTube Awards, I was nowhere near a YouTube. The archaic device known as "television" was my medium of entertainment during the live broadcast, so I missed the entirety of YouTube's YouTube Music Awards on YouTube. But then they showed the YouTube Music Awards again on YouTube, so for Round 2 I found a YouTube on which to distractedly watch the proceedings.
It's really difficult to explain what happened over the 90-minute program. As in, it wasn't bad, certainly wasn't good, and something somehow in the orbit of entertaining, if you're the type that finds B-roll to be high art.
The knee-jerk reaction is to compare it with MTV's Video Music Awards. The acronyms (VMAs vs. #YTMAs) only fuel that side-by-side comparison, but the two events hardly resemble one another.
Essentially, it was the Nickelodeon Kids' Choice Awards starring co-opted adults who happened to be in New York City on Sunday. The way you stare in confusion as Will Smith hosts an awards show aimed at kids who know him as "Jaden and Willow's dad" is the way you glance at the #YTMAs, stunned, thinking, Wait, why is Lady Gaga on stage performing at these awards, I know she has something else better to do.
The hosts of the YouTube Adult Choice Awards were the star of 1998's Rushmore, Jason Schwartzman, and comedian Reggie Watts. Lena Dunham wrote the script for an Avicii "live-action music video" costarring Michael Shannon, Dree Hemingway, and Vanessa Hudgens, and it ended with a "choose your own adventure" scenario, à la dubstep-Goosebumps. Eminem performed, as did Tyler, The Creator and Earl Sweatshirt, but a considerable portion of the lyrics were censored out, because of parental controls. The night's big winner was K-Pop girl group Girls' Generation for Video of the Year with "I Got a Boy," beating a collection of artists you certainly have heard of. And finally, the hosts ended up covered in paint, presumably because the budget for slime was too high.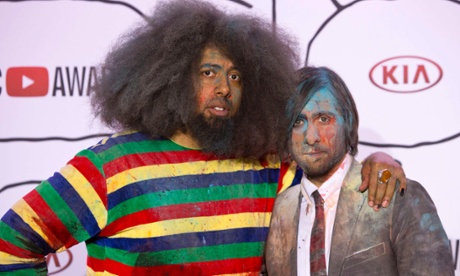 I want to tell you more, but that's actually all I've got. The show wasn't without a highlight, though. Unfortunately, that highlight was the opening act, Arcade Fire performing "Afterlife" from its new album, Reflektor. Great song, but turned up to 11 with four minutes of Greta Gerwig dancing like a combination of Danny Zuko, "Weapon of Choice" Christopher Walken, "Like a Prayer" Madonna, and Liz Lemon at Electric Daisy Carnival.
With all this said, the #YTMAs will probably replace the VMAs in only a matter of years, since televisions have exactly 500 days until extinction. I just hope by then they've upgraded to the YouTube Teen Choice Awards.