Maya Angelou died this morning, 86 years young.
The news is devastating for innumerable reasons, one of which is that she was a teacher to so many, in so many different ways. Whether through her autobiographies, her poems, her speeches, her private conversations, or as an actual professor at Wake Forest University, she always seemed to be teaching. And advising. And guiding.
A less intuitive avenue for her teaching was in her occasional acting stints. Maya was a good actress, convincingly transforming (see her on the The Richard Pryor Show in 1977), but even with the chops to carry a part, it was always hard for Maya Angelou to fully turn off the Maya Angelou. And that was for the better. Such was the case when Maya took on the role of Aunt June in 1993's Janet Jackson–Tupac Shakur coming-of-age tale, Poetic Justice.
Aunt June starts a speech in this film with, "I want to talk to you about morals." It's Aunt June, but it's also Maya Angelou. And somehow, even in full respectability politics mode, it's not unbearably patronizing, because — again — it's Maya Angelou. And that's not what she's about.
This is only amplified upon hearing Maya talk about her time on the set of Poetic Justice. And meeting Tupac. And how he cried right in front of her.
Maya told Tupac, "When was the last time anyone told you how important you are? Did you know our people stood on auction blocks, were sold — bought and sold — so that you could stay alive today?" Of course he wept.
One of Maya Angelou's greatest gifts was breaking people down to their core, often with just one line. She seemed to know exactly what to say, when to say it, and how to say it so that it would register as the most necessarily emotional gut punch imaginable. Interestingly enough, this typically happened with some of the more idolized men of their respective generations. Powerful men, often trapped by their own machismo, shunning emotions. On numerous occasions, she's mentioned the people who have visited her — people who wanted to make the pilgrimage and talk to her, people like Richard Pryor and Chris Rock. People who needed to have a conversation with her, with the intentions of leaving cleansed. And clear-headed. And most importantly, talking with someone who will listen, impart wisdom, and will not judge. That nonjudgmental nature, mixed with Maya's calm and Maya's knowledge, is one of the many reasons she exists on an island of importance, even after her death.
This was certainly true when another of Maya's admirers came to visit. It was taped in 2006 for the Sundance Channel's Iconoclasts series. It was Dave Chappelle.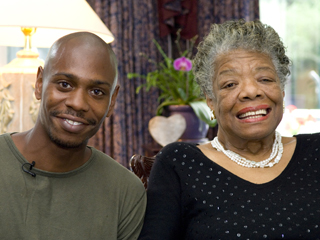 Their initial exchange:
Chappelle: I was nervous to come see you.
Angelou: I'm so understanding of that. I was nervous a little bit.
(Here's Part 2, Part 3, and Part 4.)
The conversation is beautiful, with each listening intensely to the other, Chappelle clearly looking for answers in his own life and Maya wanting to steer him in the right direction. And telling stories that pertained to his own life and current situation.
Angelou: At Martin King's request, I rejoined the Southern Christian Leadership Conference. Because I'd left him to go to Malcolm.
Chappelle: Was it really separated movements like that?
Angelou: Oh, oh my goodness. When Malcolm was in the States it was so separated. Malcolm even made Martin look like a Tom until he understood what was happening. But that's the wonderful thing about the icon; you continue to grow and you develop courage. The most important of all the virtues. Because without courage, you can't practice any other virtue consistently. If you've seen another truth and had enough courage to change your way of thinking, to say, "Hey, everyone, you know what I said last week? I don't believe that anymore, this little child straightened me out." This was the mark of Martin and of Malcolm. So when Malcolm X came to Africa and came to us in West Africa and Ghana, he said, "I have met blue-eyed, blond-haired, white men at Mecca and I can call them brother. And I've learned not all whites are the devils."
Chappelle: It's important for you to talk about these people and remind me of the humanity because as icons the level of virtue they have seem impossible.
Angelou: This is why it's dangerous to make anybody seem larger than life.
She says this and looks directly into his eyes.
It's a moment. A moment we all wish we could have with someone.
She had a similar moment with Common, who felt similarly honored and bewildered by the chance to speak with her.
Angelou: The truth is we make a mistake when we think generations can be separated. The truth is you need me. So that I have shoulders you can stand on. And you need me so you have shoulders somebody else can stand on. We are one. And to separate us and decide that we'll be polarized is ridiculous. It's stupid. And it's dangerous. I am responsible to that 5-year-old, that 15-year-old, that 30-year-old, that 55 — I'm responsible to you. And I try to live my life as a responsible teacher, giver, yes. I try to live my life that way.
For many, talking to Maya was like getting an audience with the Pope. You're nervous leading up to the moment, but within seconds she disarms you, leaving you vulnerable in a way you didn't know (or simply forgot) you could be.
The legend of having a one-on-one with Maya Angelou even carried through in fictional scenarios. Even characters on TV shows needed Maya Angelou. Because when the already-existing characters in a sitcom can't be the voice of reason to convince Moesha to go to college, you should probably bring in Maya Angelou.
https://www.youtube.com/watch?v=7u2g3ZV-Z0g
Moesha, intent on becoming a journalist instead of going to college, pretends to be someone she's not at Vibe to get the chance to talk to Maya Angelou. The big mistake here: She tried to trick Dr. Maya Angelou. Which is impossible, as Moesha quickly learns. Also, how dare you, Mo to tha, E to tha.
Moesha comes clean, and then talks about not wanting to go to college. Maya's response:
My dear. Elders all over the world do their best to gain some wisdom so they can tell you young people something wise and wonderful to do, which we know you're going to ignore.
Moesha freezes up. Because there's no way she was ready for that.
And then Maya brings it home.
Well, I'm not going to tell you, but rather I'm going to pose something for your consideration. I'm suggesting more than any other place, college can offer you a chance to know human thought over human centuries and thereby garner some preparation for your own life.
Exactly. And yes, Moesha ended up going to college.
Maya will not be forgotten. Because her words will live on, as will the generations impacted by her, all with strong, supportive shoulders to stand on. But she will be terribly missed.