The true Captain & Tennille of our time, Jay Z and Beyoncé Knowles, are going on tour together. This summer. Billed as the On the Run Tour — a reference not only to their song "Part II (On the Run)" on Jay's Magna Carta Holy Grail but also the track that arguably began their public courtship, "'03 Bonnie and Clyde" — the spectacle will include 16 dates throughout the United States and Canada.
Many are excited about this, the idea of America's third-most important couple (Barack/Michelle, Oprah/Stedman) finally diving headfirst into the magnificent gumbo that is their love and their music, the concert equivalent of a joint checking account.
But how will this show play out? Will there be fire? Feminist gnomes? What songs will they do? What songs won't they do? Will there be special guests, or will this just be about the couple, alone, proving their true world dominance by having it be only about them?
These questions have not been answered, but I think I know what's going to happen. Because I know Bey and Jay. I get them. Which gives me the authority to assume it will happen exactly like this.
♦♦♦
A giant video screen turns on. It's Blue Ivy Carter. She's sitting down, wearing a sundress and Timberlands, tracing sandpaper cursive letters with her finger because that's what you do in Montessori school. She looks up and says, "Mama." (One-fourth of the crowd dies.) At that moment, a spotlight shines on the rafters. It's Beyoncé. She begins to glide down to the stage. (I say "glide" because there genuinely aren't any wires — I can't explain this.) With the crowd focused on the Queen, the 50-foot Blue Ivy looks up again and says, "Where is my father?" It's terrifying, but incredibly eloquent. And just like that, Jay emerges from the floor of the stage, perfectly positioned to catch his floating wife. Once she lands in his arms, he takes the crown he was wearing (Jay came out in a crown, forgot to mention this) and places it on King B's head. And then Jay suddenly disappears.
Because the first song of On the Run is "Yonce."
Immediately, 50 models run onto the stage. They're all dressed like Black Panthers. As the song continues, you learn that Jay has not left the stage — he's just on the side, sitting in a large chair, enjoying a small glass of D'usse. Every time Bey says "Yonce all on his mouth like liquor," Jay nods his head, as if to assure us what Bey says is true.
After this, all the models leave and Bey goes through a medley of hits from 4. "Countdown" into "Love on Top" into "Party" into "End of Time." For the first two, Bey is wearing a yellow Kill Bill jumpsuit and a Marcus Garvey commander hat. And then "Party" comes on and she removes it to show a swimsuit. The unveiling has distracted the crowd so much that they've failed to realize that six kiddie pools have been wheeled out onto the stage for "Party." Beyoncé and all her friends immediately get into the pools. Five are filled with water. The sixth is filled with D'usse. Dancing in the D'usse pool: The TWINS.
After "End of Time," in which Chick-fil-A sandwiches are dropped via mini-parachute, the lights dim and you hear that Jay throat-clear "ah-a-ha-ah-ah" thing. And then the giant screen comes on, revealing a PowerPoint of Picasso paintings in Jay and Bey's house. As we pass the 40th slide, Jay comes on stage for the first note of "Picasso Baby." At the line "Sleeping every night next to Mona Lisa, the modern-day version with better features," a light shines on the side of the stage. It's Beyoncé. Now it's her turn to have a drink while her spouse performs. She's also repainting one nail, which suggests Jay might have about 20 minutes before Bey comes back.
In an amazing turn of events, instead of playing more of Magna Carta or a medley from Blueprint 3, he launches into "Hey Papi." Just incredible. And then "Feelin' It." And then "Thank You." And then his verse from Scarface's "Guess Who's Back." He's clearly showing off his range. And that he has more than 100 songs to pick from. Finally, after testing his crowd, he launches into "Tom Ford." Also, Jay announces that he's wearing Tom Ford. Everyone claps, a noticeably weird moment — until Jay starts throwing Tom Ford suits into the crowd. People lose their minds. Jay chuckles. Sideline Bey — suddenly gone.
After this song ends, Jay asks the crowd if he can talk for a while. The crowd obviously loses it. He welcomes everyone to the On the Run Tour. He thanks the crowd for coming out and supporting both his and his wife's careers. It's an amazingly warm moment, especially as Beyoncé walks out in an evening gown and holds Jay's hand (6,000 people faint). Bey begins talking, reiterating his thanks, as well as occasionally respecting their privacy. And then she asks people if they like her Tumblr page?
Forty-five seconds later, the room is again quiet and Jay asks the crowd if they want to hear some music. The crowd responds with a resounding "Yes," and then we're given "'03 Bonnie and Clyde." While they're performing it, the video plays in the background. After that, "Déjà Vu," "Upgrade U," "Lift Off," "Crazy in Love," and "Part II (On the Run)." The crowd is obviously preparing for the ultimate Jay-Bey song, but then they both suddenly leave the stage.
And it's quiet. And dark. For a while. And then a baby starts crying. And then:
https://www.youtube.com/watch?v=qGFAFvV4dpI
Jay walks out and starts doing "Glory." But halfway through the first verse, he cuts it off. Claims he messed up and wants to start over. So he starts over, but as he begins, Bey walks out. With Blue Ivy. But not in her arms, BECAUSE BLUE IVY CAN WALK NOW. (The remainder of the crowd dies.)
And then Bey leaves. Because this song is Jay ft. BIC. And he raps the rest of the song, to his daughter. And as the song trails off, he walks off the stage holding his daughter's hand. He gives Bey a pound and passes her the mic.
She watches as her family leaves the stage, soaks in the moment, and puts on this very cute face. But then it changes. Quickly. To this: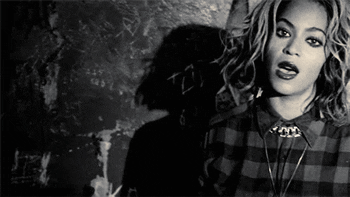 And then, the words of Chimamanda.
And then, finally, "Flawless." She performs this song for eight minutes. Fans are invited to come on stage and do that "I woke up like this" hand thing with Bey, an event that is worth the hefty price of admission for 97 percent of Earth's women (and 65 percent of everyone else).
And just when you thought Beyoncé had peaked, "Get Me Bodied." EXTENDED. Many of the humans who had previously died come back to life, but most promptly die again upon hearing the "9-4-81" countdown. As soon as the song starts, the stage is flooded with dancers dressed in cocktail garb. The crowd has lost their minds, flooding into the aisles to dance. And that's OK. Because there's no security at On the Run. Because to enter you had to take a pledge that you would have only love in your heart.
The song ends, and we're now well into the second hour of the show. Bey passes the mic back to Jay. Because it's time for Jay to reach into his bag of anthems. This becomes Fade to Black all over again.
"Hard Knock Life" into "Izzo (H.O.V.A.)" into "Big Pimpin" into Beyoncé's Drake diss into "Can I Live" into "Public Service Announcement" into "99 Problems" into "Encore" into "December 4th." It's heaven for Jay fans. As for Jay, he's having the time of my life, especially since Beyoncé has come into the crowd to watch. (She's wearing an Hakeem Olajuwon jersey-dress.)
As the concert goes on, it's clear what's happening: They're playing each other's favorite songs. That's why they're spectating as much as they're performing. It's almost too beautiful of a concept.
This only intensifies as he does "Beach Is Better." She's in the front row, dancing like the Ms. Third Ward she is, while her man raps at her like the Lucky Lefty he is.
Once he's done with the sub-one-minute song, he asks the crowd if they want Bey back onstage. She obliges, and then asks him to take her spot in the crowd. As he begins to shyly walk away, the first notes to "Ego" begin. The crowd and Jay begin to laugh, since this song is about Shawn Carter's penis. (Backstage, someone is going earmuffs on Blue Ivy.) After "Ego," Bey launches into a string of King Bey hits, from "Diva" to "Check on It" to "XO" to "Irreplaceable." And then there's "Single Ladies." As typically is the case, Bey is joined by an army of 150 women. Before the song starts, however, Bey takes off her Red Octobers (she's been wearing Yeezys the entire show) and throws on four-inch heels. And then the Emperor's march begins.
After this exercise in exercise, Bey slows it down and gives a speech. A beautiful speech about the making of her last album, Beyoncé. And says that she wants to sit on the edge of the stage and sing an important song from that album, "Pretty Hurts." And she wants to do it a cappella. And with the lights up, because she wants everyone to see her cry. And she wants to see everyone else cry. So she sings it and everyone cries.
After this revival, she stands up and launches into her most beautiful song, "Halo." Before starting, she thanks Michael Ealy for being in the video and wishes him the best in Think Like a Man Too. 
This is a wonderful moment in the concert, now well into its third hour. Because this song is perfect.
Once "Halo" is over, she asks the crowd if they've ever been in love. People cheer. And then she asks if they've ever been drunk in love. And, again, everyone dies. Because, finally, we've reached the reason this tour exists: "Drunk in Love."
As the song starts, Jay comes out in a white T-shirt, D'usse drunk, carrying a surfboard. He spends the entire first verse trying to balance on the surfboard, exactly the way you would if you were drunk off D'usse onstage at your concert.
Also, this is looping on the screen behind the couple.
During Jay's verse, Bey grabs whatever's left of the D'usse and sips it while lying on the surfboard. And then Jay hands her the mic and reminds her there's more in the song and she still has to sing that "watermelon" part. And then, hilariously — before the song is even over, with the track still playing in the background — they hold hands and bow. It's incredible. It's like tens of thousands of people crashed their slumber party.
And then they walk off stage. But the crowd is begging them to come back. So, after three minutes and a clothes change, they return to the stage, wearing matching Nets "Carter" jerseys. Again, they thank the crowd so much for coming. And they thank the crowd for letting them be themselves: a goofy couple, madly in love with one another.
And they do a final number, the 40th of the show, Jay's "Young Forever," with Bey singing the hook. They've done this before. And when it happens, only good comes of it.
https://www.youtube.com/watch?v=OamKRaHTngY
While not the greatest song in history, everyone's crying uncontrollably. Because it's clear the message of this song is directed toward the crowd and the couple. Also: a slideshow of never-before-seen pictures from their early days of dating scroll through on the big screen. And when Bey sings the chorus at the end, fireworks go off. It's just too much.
As the fireworks continue to go off, Bey and Jay bow one final time. And then they kiss. And then they hold hands and walk off. And then it's over. The greatest concert on North American soil is over.
So yeah. It'll be something like that.