The annual White House Correspondents' Dinner — a.k.a. "Nerd Prom" — went down in D.C. last night and gave us its usual range of cringe moments, minorly awkward bipartisan bonhomie, and straight-up room-erupting big laughs. Who shone? Who whiffed? Who crushed all competition in a yellow Corvette? To Grantland's highly official WHCD Awards!
Best Attempt at Colbertian Edge: Joel McHale
Thanking the White House Correspondents' Association for "not being able to book Jimmy Fallon," McHale filled the traditional comedian spot with a good amount of comforting, usual late-night shtick, with Rob Ford — the "bull in a crack pipe shop" — getting it good. But he intermittently flirted with material a bit more on the subversive side of things.
On Hillary Clinton's likely 2016 run: "As our first female president, we could pay her 30 percent less!" On Jeb Bush's possible contention for the White House: "Is it already time for our every-ten-years surprise party for Iraq?" And to Obama, who seemed to be masking some discomfort with the classic "better go ahead and pour myself some water here" trick: "My favorite bit of yours was when you said you'd close the detention facility at Guantánamo Bay. That was a classic. Still going!" Also, he gave us this new definition for a more grimly worldly understanding of the word "spoilers": "Hey, I haven't been back to the village yet, so don't tell me who survived the drone strike!"
Biggest Easy Target: Chris Christie
During his time at the podium, Obama only let one or two Christie jokes go: "Gridlock has gotten so bad in this town you have to wonder — what'd we do to piss off Chris Christie?" McHale made him more of a punching bag, setting one line up — "Governor, do you like bridge jokes or size jokes? I can do half and half? I know you like a combo platter" — only to apologize for the low blow, take responsibility for it, then explain that he would establish a blue-ribbon commission to locate any wrongdoing on his part, before quickly clearing himself: "I just looked into it. It turns out I am not responsible for it. Justice has been served." The best part of it all, though, was McHale's genuine bafflement that Christie had actually shown up.
Best Explanation As to Why There Were Less Celebrities at This Year's Dinner Than Usual: Ben Affleck Boob Trauma
As The Hollywood Reporter reported, fewer movie stars showed up this year, apparently because they are getting tired of being swarmed, poked, and prodded by everyone in the room. Most importantly: "A few years ago, one drunken guest actually bared her breasts to Ben Affleck as he was walking to the men's restroom. (That was the last time he attended the dinner.)"
Best Conjuring of the Underlord: tie, Obama/McHale
"Mr. President, your harshest critics have compared you to Joseph Stalin, Adolf Hitler, and even Satan," quoth McHale. "And I just have to say those comparisons are outrageous. You look way older than those guys." Also, earlier, Obama had made good use of Photoshop, showing a shot of himself and Ted Cruz co-signing a bill while the Devil shivered in the back in a parka as hell froze over. Totally adorable.
Best Cameo by a VP in a Yellow Corvette: Joe MF'ING Biden
In a strange but mesmerizing short, Joe Biden and Julia Louis-Dreyfus — in character as Veep vice-president Selina Meyer — bombed around the neighborhood in Biden's yellow Corvette, blazing through the Oval Office, the Amazon'd Washington Post headquarters, and even the White House kitchen, where hulking buckets of ice cream are apparently always at the ready.
McHale got to Biden as well, noting, "The vice-president isn't here tonight, not for security reasons. He just thought this event was being held at the Dulles airport Applebee's. Yes, right now, Joe is elbow-deep in jalapeño poppers and talking to a construction cone he thinks is John Boehner" and "He talks about his motivation for a presidential run as if he's deciding to finish a meatball hoagie." This is all, for the record, the natural endpoint of a trajectory jump-started by The Onion, which should get credit for manufacturing the idea of Joe Biden — in reality, a teetotaling family guy — as the drop-top-driving madman that by now we all know and love so well.
Most Elegant Reference to Dick Pics
"Biz Stone, the founder of Twitter, is here. If any of you congressmen wanna cut out the middleman, just show him your penis." —McHale
Best Nods to the Only Thing We All Care About
TV references were strong last night, with Netflix in particular representing. At one point during her runaround with Biden, Louis-Dreyfus looked into the camera and did her best creepy Frank Underwood. Also, what sounded like the biggest laugh of the night came with this bit from Obama: "I'm feeling sorry, believe it or not, for the Speaker of the House as well. These days, the House Republicans actually give John Boehner a harder time than they give me. Which means orange really is the new black." Best of all was Obama waving away critics that call him an "imperial president" — "the truth is, I just show up at the office every day and do my job" — while flashing the below on the screen.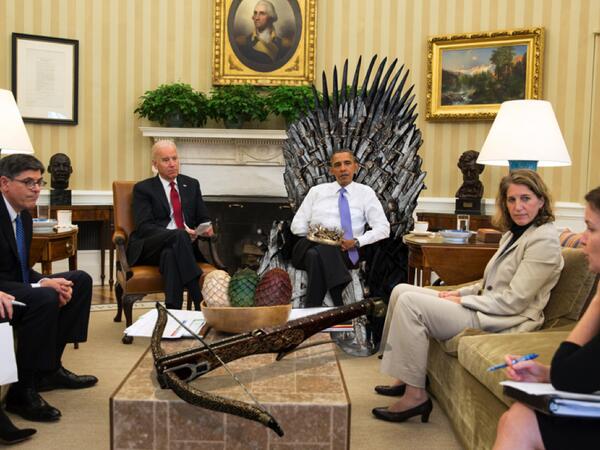 Winter might be coming, but the White House Correspondents' Dinner has zinged and gone.