Suburgatory — for our money, the best of ABC's Wednesday-night comedy block &#8212 returns for its second season tonight at 9:30 Eastern. Creator and executive producer Emily Kapnek agreed to share a day in the very hectic life of a showrunner on the eve of her season premiere. We also probably need to mention that ABC and Grantland are both owned by Disney.
Tuesday, October 16, 6:45 a.m. Wake up thinking about Hershel and the amputation and why, in my mind, that really shouldn't work. I mean, it's not a fucking snake bite, right? Look over at my husband. He's up too, mulling over his 36-point loss in the NBA 2K13 game he played last night. We spend some time talking about what went wrong and identify the wireless controller/possible lag time as a culprit in his loss. "I'm sorry for your loss."
7:15 a.m. Watch my older son eat Cinnamon Life cereal and Mucinex. Try to think about what might make it a more well-rounded breakfast. Sausage? Turkey sausage? He asks, "Mom, did kids wear 'Jesus pieces' when you were little?"
7:35 a.m. Google-image-search "Jesus pieces." Nope, kids didn't wear these when I was little.
7:45 a.m. Give my 3-year-old a bottle even though he is way too old to be drinking from one. He's too weak to quit and I'm too weak to make him. I go to the front door and grab my two packages. One is a cut of Suburgatory's Christmas episode, which I owe notes on. The other is a "statement necklace" that I ordered online, which I will have to open while hiding in the bathroom. All my "statement" necklaces make the same statement: You are spending too much money on necklaces.
8:19 a.m. Shower before I watch the cut.
9:01 a.m. Drive to the office and watch the cut there.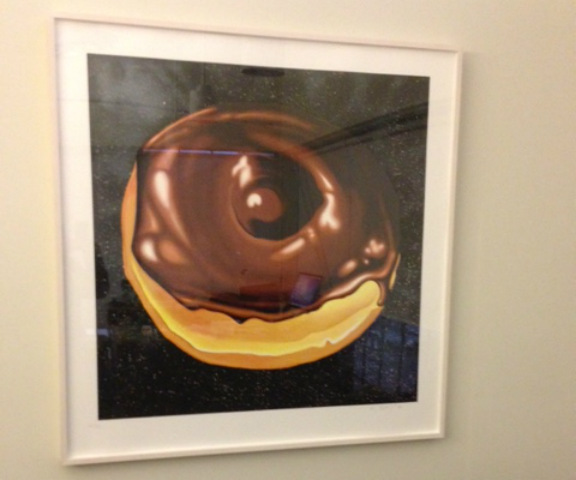 Inspirational art that hangs in my office. It's why all writers write. For the doughnuts.
9:03 a.m. Acknowledge that I am avoiding doing cut notes. There is roughly one hour until the writers land in the room.
9:59 a.m. Finished writing up notes on Christmas cut but need to pop down into editing to make sure they are interpreted properly. This cut needs to go out to the studio today. The writers are now gathered in the room. I ask them to discuss a potential story line in which Tessa must confront the idea of going off to college and how her new relationships and growing affection for Chatswin challenge what would seem like an easy choice. "Discuss amongst yourselves, be right back!"
10:15 a.m. Deal with my inbox while in editing. Delete an old message from a writer that says: "Are you cool with that horse line I e-mailed you last week?"
10:20 a.m. Look at pictures of props that need approval and watch a video for rehearsal of our "dad band." (The episode we are currently shooting has Fred, George, and Noah starting a dad band.)
11:49 a.m. Done with editing. The Christmas cut is ready to go out to the studio. Still to be done: digital F/X that make 101-degree Toluca Lake look like winter in New York state.
11:59 a.m. Back into the writers' room to hear how the story-breaking is going. I am armed with brain food (Diet Cherry Pepsi and Twizzlers).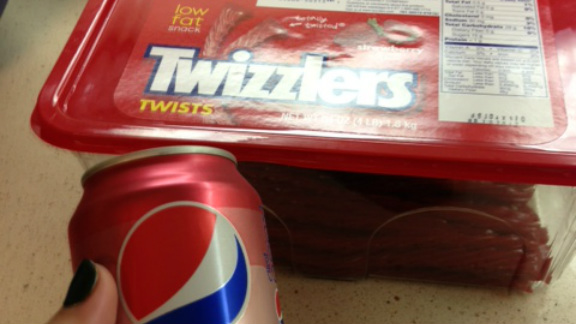 Brain food.
12:41 p.m. Lunch arrives. Cheryl was on Conan last night, so we watch that while we eat.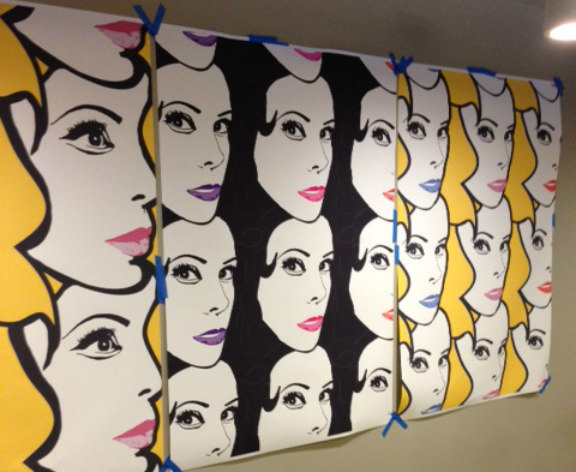 Cheryl Hines/Dallas Royce–inspired wallpaper.
1:30 p.m. We cast up the roles for our table read, which is happening in less than an hour. The writers read the parts of the actors who aren't here or haven't been cast yet. Jeremy Sisto is away on a press tour, so our casting agent Tim is filling in reading as George.
2:15 p.m. Table read! Episode "Body Talk," written by Brian Rubenstein (one of the new writers this season), goes great. Very few notes and lots of laughs. Best of both worlds. Cast talks about the press they have been doing for our big premiere on Wednesday night. Everyone seems really excited.
3 p.m. Back up in the room, we address the few notes from the table read. We also discuss a potential trip to Las Vegas that some of the single guys are planning and why this might be a bad idea.
3:45 p.m. Order my sister a necklace for her birthday on my iPhone.
4:15 p.m. Screen the Christmas episode for the writers and drink Jamba Juice.
4:45 p.m. Continue discussing beats from this morning's story. We will revisit this again tomorrow.
5:30 p.m. Break the writers' room and head to my office. Have a few e-mails to return. Tonight's homework is prepping an outline for the studio and doing my pass on the next script that tables. This will take several hours, so I head home to see the kids first. I will start working again after I put the 3-year-old down for the night. He called me "Emily" instead of "Mommy" when I left for work this morning, so I want to make sure he's not holding a weird grudge or trying to become emancipated or something.
5:45 p.m. Ready to leave the office, but no shoes. Where did I take them off? Did I leave them in the writers' room? I did. I find two other pairs of my shoes in there, too. Plus two more in my office equals five pairs of shoes at work. Almost every day I take off my shoes at some point and leave them somewhere. I often walk to my car in socks when I am too tired to look for them.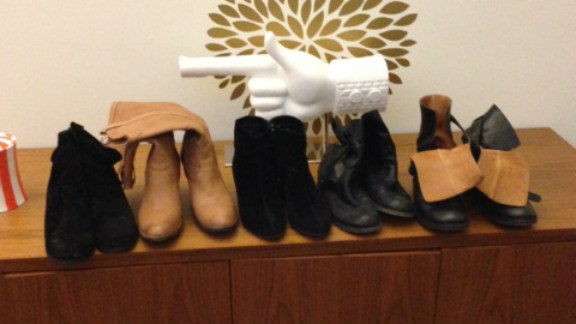 Office shoes.
6 p.m. Get in the car. On the way out, I am given another cut to watch tonight.
7 p.m. Walk through the door. The baby is running around in pajamas and the boys are ordering dinner.
8:30 p.m. Baby is asleep and I am settling in to watch another cut and then move on to the writing I need to do.
9:23 p.m. Work gets interrupted by my older son, who comes in to inform me that he MIGHT have to stay home from school tomorrow due to a stomachache he is experiencing. We make some mint tea and I give him a heating pad.
9:30 p.m. Settle back into work at the computer. Glance at the clock. It's exactly 24 hours before Season 2 premieres. Since I don't rock a Jesus piece, I pray to my statement necklace that our numbers are good.