It's back.
In just two days, MTV will graciously save your television summer by unleashing the latest iteration of The Challenge franchise. That means just two days until Paula Walnuts, Johnny Bananas, and Frank the Alcopsychoholic are all up in your living room exchanging insults, punches, and venereal diseases. That also means you only have two more days to draft your official GRTFL Challenge team.
Look, we realize that we here at GRTFL headquarters have not been very helpful in helping you tally up your own coitus denial and concealed erection points at home. But all that has changed. In anticipation of Wednesday's Challengholiday, we have teamed up with the homies at Fantasizr to provide you with a way to create your league, draft your teams, and play along as you watch CT cannibalize his castmates. Just click on this here link to set up your league — but before you do, let's review the show-specific rules:
The Official Challenge GRTFL Rules
• Making T.J. say "You killed it": 25 points
• Making T.J. verbally express his disappointment in your behavior: 35 points
• Making T.J. dramatically break character: 20 points
• Cross-dressing: 10 points
• Winning elimination challenge: 10 points
• Winning final challenge: 50 points
• Leaving show because of injury: -50 points
• Announcing you are "in control of the game" (or something close to it): 5 points
• Slandering someone's sexual performance: 25 points
• Cannibalism: 100 points
• Causing the arrival of a vehicle with a siren: 20 points
• Assault of an inanimate object: 10 points
• Cold sore possession: 15 points
• Wearing another contestant's name jersey in support: -10
• Misspelling a single-syllable word during the spelling challenge: 25 points
• Throwing a challenge: -25 points
• Being the target of PED accusations: 25 points
Before you get to gathering your friends and Mel Kipering your prospects, we can't let last week's GRTFL scoring go without being properly recorded. So, alas …
This Week's Top Scorers
Juan Pablo (Bachelorette, Lisanti), 35 points: Professional footballer Juan Pablo was sent off the proverbial pitch in tears this week (20 points), even though you could win a rose BY PLAYING SOCCER (15 points). Methinks the reason Des showed him the red card instead of the red rose was his lack of flirtability. Or, more specifically, his over-high-fiving. Now, at times, we are all over-high-fivers. I swear, 90 percent of my interaction with children between the ages of 2 and 11 is high-five-driven. The problem for Juan Pablo? Des is not a child between the ages of 2 and 11. Let's review his football flirting awkward high five by awkward high five:
High Five No. 1: This is the "I am not going to hug you but want to acknowledge you physically upon approach, so here is a high five" high five. This high five is totally acceptable: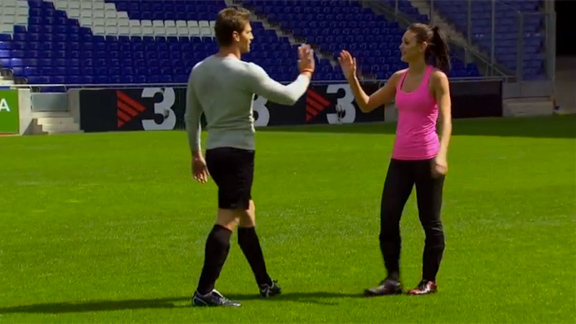 High Five No. 2: This is a "Thank you for bringing me to a soccer field because I love soccer fields" high five. This is an unacceptable high five. Hard to tell exactly how quickly it came on the heels of high five no. 1, but the closer to high five no. 1, the less acceptable. Proximity of high fives is important when multiple high-fiving.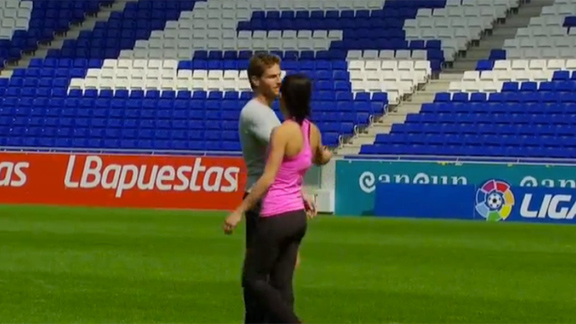 High Five No. 3: This is a "good one" high five. Normally a "good one" high five is the most acceptable of all high fives, but after high five nos. 1 and 2, his high five quota has been reached and all high five privileges have been revoked: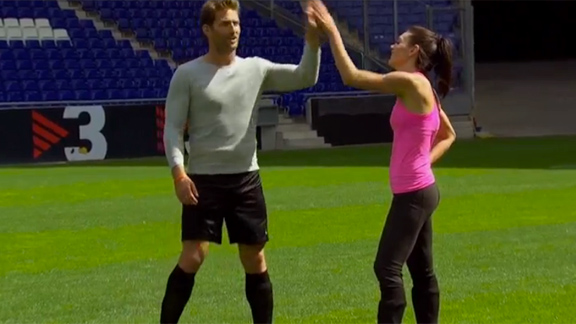 High Five No. 4: What? High five number fucking 4? What the hell are you doing, Juan Pablo?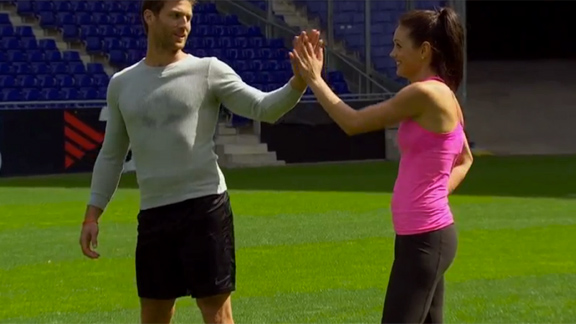 If you ever find yourself doling out a fourth high five in a single setting, you have to own it and joke your way to high five freedom. The only play is to drop a, "Wow, I think that was my fifth high five of this conversation, sorry, I tend to over-high-five when I am intimidated by beauty" and minimize the high five damage.
Chris (Bachelorette, Kang), 10 points: This week, Chris argued with James (5 points) and Des returned Chris's poetry fire with a ditty of her own. Of course it rhymed. Of course it was dripping in cringe sauce. And of course the two of them loved every second of it and made out like prom dates (5 points). Des and Chris make Waka Flocka Flame look like Walt Whitman. The latest from Des:
From the first night when you were on the ground
Charming and handsome instant attraction was found
At the dodgeball game it was apparent, no shame
On top of that roof overlooking that view
That was the moment I knew sparks grew
Dancing in the streets the moments of bliss
Solidify my feelings with every little kiss
As the clock tic timing never late
For the connections to form with each and every date
And the rose to one day grant us our fate
I look forward to the unknown appreciate the emotion you have shown
And hopeful to see if in your heart I have found a home
Des is his to lose. No one spends an hour writing that skidmark of a poem for someone they are going to break up with. I really like Chris for Desiree: They're boring and beautiful and will have those fights where halfway through they try to acquiesce and end up arguing the opposite points. Good for them.
Michael and Kasey (Bachelorette, House and Connor), 5 points: Blah blah blah, "James isn't here for the right reasons," blah blah blah, "He wants to be the Bachelor," blah blah blah, "He told Mikey they were going to bring girls to INTIMATE SETTINGS," blah blah blah. (5 points)
There is something extremely unlikable about the "right reasons" snitches on these shows. So what if James wants to be the Bachelor — WOULDN'T ANYONE WANT TO BE THE BACHELOR AFTER SPENDING TWO MONTHS WITH DESIREE?
James (Bachelorette, Connor), 30 points: James needs to learn the first rule of denial, "Ain't no such thing as halfway deniers." When the guys confronted James about his lack of desire for Desiree and his intention to be the Bachelor, this idiot goes with:
If I said anything about being the Bachelor it was, "Hey, Mikey, if it's me and you and you become, you know, Desiree's husband, the worst thing that could happen is me being the Bachelor.:
James, quick tip: It hurts your case when you confess in the middle of a denial. Confusing, I know.
Drew (Bachelorette, Simmons), 20 points: I am willing to wager that a large majority of those who have watched The Bachelorette this season have had the same thought. It's a politically incorrect, presumptive, and unfair thought — but I promise I am not alone when I confess that while watching this show I have thought to myself, These guys are kind of—
[Ed.note — section deleted to comply with the taste standards of Grantland, ESPN, The Walt Disney Corporation, and humanity at large.]
OK, let's move on before I get fired.
Zak (Bachelorette, Jacoby), 10 points: Zak somehow won a rose, made out with Des twice (2 x 5 = 10 points), and did little to convince me that he has any chance at winning this thing. Zak will make it deep into competition, entertain you a bit, but has ABSOLUTELY NO SHOT at winning it all. He is the Denver Nuggets of Bachelors.
Check back on Friday for the full The Challenge GRTFL scoring. I am intimidated just writing that sentence.
http://public.tableausoftware.com/javascripts/api/viz_v1.js