Another Comic-Con sailed into the sunset on Sunday, but not before giving us all manner of sneak peeks and preview thrills. What should the responsible pop culture nerd be geeking out about this week? To the recap!
Puff Daddy Feat. Jimmy Page
The biggest surprise announcement of the weekend was the reveal of a brand-new Godzilla. Legendary Pictures rolled out a secret teaser clip from the building-chomping monster's latest return, and people sounded pretty psyched. Says Wired, "Showing scenes of a dusty metropolis crushed into a pile of rubble complete with hollowed-out buildings, the less-than-a-minute clip's voiceover — by J. Robert Oppenheimer — intoned, 'We knew the world would not be the same … A few people cried. Most people were silent. I remembered the line from the Hindu scripture … Vishnu takes on his multi-armed form and says, 'Now, I am become death, destroyer of worlds."' Once the line was completed, the screen flashed to a brief look at a terrifying-looking Godzilla in profile." (By the way, just in case there's any confusion, Oppenheimer was talking about creating the nuclear bomb, and not referencing that rad jailhouse scene from Michael Clayton). The new movie is directed by Gareth Edwards, who blew minds with his alien flick Monsters — a movie he more or less made on his laptop. After, Legendary Pictures' head Thomas Tull said, "I've loved Godzilla since I was a kid, and frankly we just wanted to see a kick-ass Godzilla movie." (Weirdly, that was exactly Billy Madison's motivation for seeing a blue duck). Anyway, as of publication, no word on whether Diddy will get to ruin a Led Zeppelin song for the new Godzilla's soundtrack.
RDJ, Rich Asshole
There weren't as many surprises as the Iron Man 3 team took the stage. Mostly, Robert Downey Jr. continued to be a charming jerk. Says CNN, "Wearing an Iron Man glove, Downey introduced a trailer for the half-finished film, which revealed (SPOILER ALERT!) that Tony Stark's home is attacked by fan favorite villain the Mandarin, played by Sir Ben Kingsley. [Later,] director Shane Black said that Downey basically is his flamboyant character Tony Stark."
"You're saying I'm an asshole?" Downey joked.
"A rich asshole," Black replied.
Also, via Vulture:
Downey Jr. was asked whether he'd continue making Iron Man films after the third installment was finished. "Don [Cheadle's] and my deal runs out after Iron Man 3, and then we're going to figure out exactly what Brinks truck [of money] we want to continue."
Adorable!
Son of Django
You can always count on Quentin Tarantino to be Quentin Tarantino. Vulture reports from the Django Unchained panel: "[Brunhilda Von Shaft] and Django will eventually have a baby, and then that baby will have a baby, and that baby will have a baby, and that baby will have a baby, and that baby will have a baby … and one of these days, John Shaft will be born," Tarantino said, gesturing excitedly to Washington and Foxx. "John Shaft started with this lady here and this man here! They're the great-great-great-grandparents of 'Shut your mouth!'"
Superman Lives
Director Zack Snyder was onboard for the hard sell on Man of Steel, the Superman movie that will, say the people in power, finally get the ultimate superhero right for this generation of brooding, messed-up crime fighters. Says Snyder, "Even though we love the films that have been made, we had to approach it as this is the first Superman movie." As to the footage shown, EW says, "We see Clark as a bearded adult (Henry Cavill), working, it seems, as a fisherman or longshoreman (perhaps off the coast of Alaska?). As a school bus plunges into a river, we hear a woman say 'my son was in the bus — he saw what Clark did,' before we cut to a young Clark, who appears to have lifted the bus out of the water. We hear, then see, Jonathan Kent (Kevin Costner) warn Clark that 'people are afraid of what they don't understand,' before showing him the ship that delivered Clark to the Kents. 'It's not from this world, Clark,' says Pa Kent. 'And neither are you.'"
And if all that hella intense dialogue doesn't convince you that things are getting dark around Metropolis, just look how sad Supey looks on this new poster: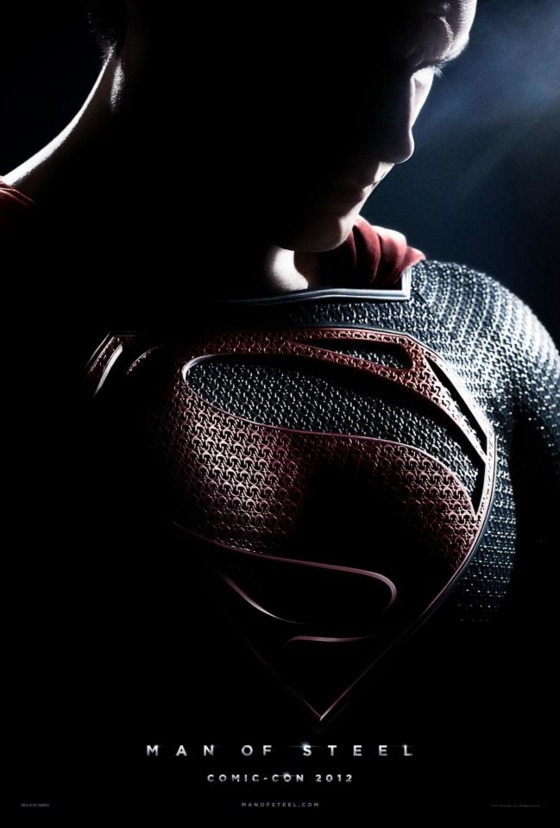 Ant-Man Lives, Too! Well, Sort Of
Director Edgar Wright (Hot Fuzz, Shaun of the Dead) has been talking up his Ant-Man movie for six years. And at this Comic-Con, finally, the world saw … test footage as to how the character might move, if this movie is ever made. (There's no actor cast as Ant-Man). EW explains: "The scene began with speck-sized Ant-Man emerging from a ventilation grate to do battle with two guards in a white hallway. As he pops back and forth from the size of an insect to the size of a normal man, the shifts give him extra oomph as he throws punches and kicks into them. When they counterpunch, each swing cuts through thin air as he slips back to microscopic size. As they fire at him, Ant-Man leaps, shrinks, and runs across the barrel of a gun to knock out the guard's tooth." Considering Wright's recently signed up for The End of the World, which will team him back up with Nick Frost and Simon Pegg, the whole thing still sounds decidedly stalled. But whatever happens, we'll always have you, Ant-Man test footage.
Boobs. Three of Them
Will there be a three-boobed woman in the new Total Recall? Of course there'll be a three-boobed woman in the new Total Recall. Via Vulture:
"The three-breasted woman!" enthused director Len Wiseman. "Honestly, you can't have a Total Recall that doesn't have them. There are too many fans out there [that want that], me included." He added, perhaps superfluously, "I was fifteen when I saw the first movie."

Before long, the whole cast was moved to weigh in on the chesty topic, and how could they not? "It's hard to avoid a third mammary gland," Farrell piped in cheerfully.

"By the way, anyone who shows up with an implanted third breast gets into the movie for free," said Bryan Cranston, who plays the film's villain. "Pass that around."
Thank you, Len Wiseman. You are a wise and true man.