Can you think of an NFL Championship Sunday more worthy of a mega-mailbag? Me neither. Screw the foreplay, let's get right to it. As always, these are actual emails from actual readers.
Q: You know what this weekend is right? It's the G.O.A.T. Bowl between Brady and Manning. If Brady beats Manning and plays spoiler to Evil Manning's sensational season, can the Brady v. Manning debate finally be over? Manning can't be the best ever if he is 1-3 against Brady in AFC championship games and 4-11 overall. It's the final nail in the coffin of Manning's playoff legacy. Isn't beating Brady crucial for his career credentials?
—Peter, Saratoga Springs
SG: Well, we know Manning already pulled a Wilt and clinched the "greatest regular-season QB ever" title. We know he shed any and all legacy baggage after the Colts rallied from 18 to beat the 2006 Pats, and that — short of totally self-destructing on Sunday, throwing six picks, having a nervous breakdown and being carted off the field while deliriously screaming "Omaha!" over and over again — nothing could change what you would write about Manning 30 years from now. After that 2006 comeback, I wrote that he only needed a Super Bowl victory "to enter the John Elway Zone — loosely translated to mean, 'All right, here's my ring, now you guys can all shut the hell up and leave me alone.'" And that's how it played out. You win the ring, everyone shuts their trap. Meanwhile, Brady could lose on Sunday, retire to become a full-time Uggs spokesman and own this legacy: three rings, five Super Bowls, eight AFC title games in 12 years, one of the most memorable QB seasons ever (2007). And that's not changing, either.
OK, so let's say one of them shines and wins the next two games. Could you really say that earns him GOAT status? Manning's career has been marred by a steady slew of playoff collapses; Brady hasn't won the title for nearly a decade. That has to mean something, right? I don't see us ever solving the Quarterback GOAT question — it's not like basketball, where the best player in the Finals almost always wins. Football has too many variables: defense, coaching, special teams, home-field advantage, weather, lucky bounces, unexpected fumbles … too much happens that a quarterback can't control. Brady came within two plays of winning five Super Bowls and one first down in Indy of battling the immortal Rex Grossman in a sixth … but any fan of the 2001 Raiders, 2001 Rams, 2003 Panthers and 2011 Ravens would stomp their feet in disbelief if you played the "If only Brady had better luck!" card. Shit happens in football — for you and against you.
So my vote for QB GOAT goes to nobody, regardless of what happens these next two rounds. It's more like, "Did that dude crack the conversation or not?" And you can't have the "Best QB" conversation without these five guys being involved: Brady, Manning, Montana, Elway and Unitas. (Every other candidate comes with a "But … ," whether it's Marino, Favre, Young, Bradshaw, Luckman, Graham, Baugh or whomever.) Year after year, those five guys gave you the best chance to contend — of anyone — as long as you surrounded them with a half-decent team. I don't think someone like Aaron Rodgers cares about being remembered as the GOAT; he just wants to win some titles, make some money, stay healthy and turn that list from five to six.
One other thing to remember: I'm 99 percent sure that Manning and Brady don't care about this head-to-head stuff (and wrote as much in 2011). There's a weird kinship between quarterbacks; they're almost like famous brain surgeons or something. Only THEY know how hard that job is. They get along off the field, work out together, support each other and pick each other's brains. When Manning and Brady suffered major injuries, each called the other to lend their support. And they both assumed that I just keep plowing along, I just care about the next game mentality years and years ago. There's no other way.
When I called Brady about his "rivalry" with Manning in 2011, I gotta admit, it was mildly disappointing to find out that he didn't care. Only one thing mattered to him: that playing Manning was always a challenge, something you couldn't take lightly. That's it. We want these guys to care about legacies and rivalries and all of that 24/7 talking head/sports fan/message board bullshit, but at least in football, you can't think that way. They're concentrating on staying healthy, outsmarting opponents, remembering playbooks, competing, working out, brainstorming … there's just too much to do. That's the reality.
The best thing about Sunday's AFC title game? That we're running this thing back. Bird and Magic clashed in three out of four NBA Finals, at the peak of their powers … and then it never happened again. Brady and Manning battled in three AFC playoff games in four years, right as they were hitting their primes … and then it never happened again. So this is cool. Everyone wins, I say.
Q: We need to be prepared for the very real possibility that the two teams playing in the Super Bowl will be representing the only two states that legalized marijuana. I think before we go any further, don't we need to come up with a name ASAP? The best I could do is the Smoke-A-Bowl. I know you and your readers can do better.
—Scott M, Chicago, IL
SG: I narrowed it down to five choices that would definitely be sponsored by Taco Bell, Sour Patch Kids and Cheetos: The Weed Bowl, the 420 Bowl, the Pot Bowl, the Smoke-A-Bowl, or the Doobie Bowl. (Thinking.) Wait a second, why am I narrowing this down? What could possibly be better than the Doobie Bowl?! Could somebody make sure Michael McDonald and Patrick Simmons are on call minute by minute just in case?
Wait, I don't think you're excited enough about this yet! Lemme tell you something … only one thing could soften the blow for me if the Pats didn't make it to the Meadowlands: listening to the reunited, freezing-cold and stoned-out-of-their-mind Doobie Brothers performing at the Doobie Bowl in 8-degree weather. Who needs Bruno Mars????
Q: So, let me see if I've got this right. Someone sacks Colin Kaepernick, gets up and kisses his bicep in mocking celebration, and it's fine. NaVorro Bowman sacks Cam Newton, breaks out Cam's trademark Superman celebration, and we talk about him as a class act and defensive player of the year candidate. Kaepernick runs into the end zone, does the aforementioned Superman celebration, and we have a full blown "Kaepernick is too immature and a total d-bag" controversy. FOR MOCKING A GUY WHO CALLS HIMSELF SUPERMAN.
—Jesse McGrath, San Francisco
SG: Yup … you nailed it. And you almost turned into Talking Head Guy! That reminds me …
Q: I'm a bit worried Talking Head Guy is going to explode with how excited he gets when he realizes how little love has been lost between the 49ers and Seahawks. In fact — it's none. It's zero love lost between these two teams Bill. (if I take a shot every time that phrase is uttered this week I'll be full of bullet holes or really drunk — depending on what types of shots it motivates me to take).
—Adam Roberts, Chicago
SG: "Guys, I wanna tell you something right now — there is no love lost between the 49ers and Seahawks. THESE TWO TEAMS DO NOT LIKE EACH OTHER! And I wanna tell you something else, guys — I like it! You don't see this stuff enough in the National Football League! Gimme a break with all the buddy-buddy crap, fellas — it's football! When I played, either you were my teammate, or you were IN MY WAY. That's what we have with this game — THERE IS NO LOVE LOST HERE, FELLAS. You will NOT see these two teams grabbing dessert after the game!"
Q: I've been amused by your "Aaron Hernandez coming in last place for Sportsman of the Year joke" and got to wondering what that list would actually look like. Here's what I came up with before getting bored: 2013: Aaron Hernandez; 2012: Lance Armstrong; 2011: Jerry Sandusky; 2010: Ben Roethlisberger; 2009: Tiger Woods; 2008: Marvin Harrison; 2007: Michael Vick; 2006: Albert Haynesworth; 2005: ???; 2004: Ron "Melee" Artest. Also, nothing will ever top 1994 (OJ beating out Tanya Harding), but don't sleep on 2007 when Vick's runners-up included Tim Donaghy, Todd Bertuzzi, Pacman "Strip Clubs" Jones and Barry Bonds for breaking (Hank Aaron's record). Finally, Ben Roethlisberger seems a little weak in 2010. Is it possible Tiger Woods won back to back awards? We found out about like 300 additional floozies that year!
—Jason, Harrison, NJ
SG: First — incredible email. Second — I'm all for Tiger winning back-to-back. That was a two-year scandal and should be treated appropriately. Third — congratulations to Kellen Winslow for being our 2014 rabbit. Fourth — I need more time to marinate on this concept and/or travel down a 20-hour Google rabbit hole. There's no reason we can't rip through history and come up with the last 40 Anti–Sportsman of the Year winners.
Q: If I had told you our best players in the most important win of the Pats season would be LeGarrette Blount and Jamie Collins, would you have actually believed it? And now we get Brady and Manning again??? This is easily the most extraordinary NFL season since Saving Private Ryan.
—Trent Chabot
SG: Even more amazing: All four Round 2 favorites advanced for the first time since January 2005, and only a few days after I warned everyone, Whatever you do, don't throw the favorites in a three-team tease BECAUSE YOU WILL GET BURNED. I'd like to meet the one guy who went against every piece of gambling advice I dispensed these past four months. Wait, check that — I'd like to fly to Kahua or St. Barts and check out that guy's new beach house. Could I stay there twice a year? That seems fair.
Q: If the Patriots make the Super Bowl, wouldn't you say Bill Belichick has done the most extraordinary coaching job since Saving Private Ryan?
—Jake, Boston
SG: I'd rank it third behind 2001 (prevailing as double-digit underdogs in back-to-back playoff games to win the Super Bowl with a first-year starting QB, plus sticking with the ballsy Brady-over-Bledsoe decision) and 2006 (coming within one first down of playing Rex Grossman in the Super Bowl with a banged-up defense and Laurence Maroney, Kevin Faulk, Jabar Gaffney, Reche Caldwell, Ben Watson and a just-about-washed-up Troy Brown as the skill position guys). But it's been a great exclamation point season for him and any Belichick defender has to brag about the following things:
• Three titles, five Super Bowls, eight AFC title games, 11 straight 10-win seasons.
• Only coach to go 16-0, 17-0 and 18-0.
• Gave us Spygate, the best coach-related NFL scandal (at least until Bountygate happened).
• Only coach to finish at least 100 games over .500 (163-61), over 10 playoff games over .500 (18-7) and over .700 as a winning percentage (.728 and .720) with the same team.
• Most successful NFL coach ever who dressed for games like a hobo.
• One of nine guys in the 200-Win Club (at least 200 regular-season and playoff wins combined).
• Career record for most boring press conferences, as well as the career record for most jokes about how boring the press conferences were.
• Most polarizing NFL coach ever, and the guy most likely to provoke the response, "Wait, you like him? (Incredulous pause.) I HATE THAT GUY."
• Extracted the best possible football out of everyone ranging from talented head cases (LeGarrette Blount, Corey Dillon, Randy Moss) to low-talent overachievers (Mike Vrabel, Tedy Bruschi) to lovable goofballs (Rob Gronkowski) to future alleged double murderers (Aaron Hernandez).
• If we narrowed the list of "most successful football coaches ever" by two variables — had to coach at least 10 years, and had to win at least two titles — then the final list would feature Bill Walsh, Vince Lombardi, Bill Parcells, Curly Lambeau, Don Shula, Paul Brown, Joe Gibbs, George Halas, Chuck Noll, Tom Landry, Belichick and Rob Chudzinski in some order. Of those 12 coaches, only the pre-1960 guys (Halas and Lambeau) won titles at least 13 years apart. Of the "modern" guys, only Gibbs won titles 10 years apart (1982 and 1991), and only Parcells (1986, 1998) and Landry (1966, 1982) played in conference championship games at least 13 years apart.
Of course, if Belichick somehow wins two more games? With THIS team? Then it's probably his greatest coaching job. And not just because of the ongoing Hernandez distraction, all the injuries, or the sheer ridiculousness of re-inventing an offense built around two do-everything tight ends and a defense built around an all-world run-stopper into two totally different entities. Doing it after all these years — in his early sixties, carrying all those coaching miles already, when he's the longest-tenured NFL coach by six solid years, with the history of what's happened to the other great football coaches at that same point — that's what would push it to another level. But again, he'd have to win two more. Either way, I look forward to him finishing fifth or lower in the Coach of the Year balloting.
Q: Simmons — can you rank the four possible Super Bowl matchups from "I'D DEFINITELY WATCH THIS" TO "THIS WILL BE THE MOST EXTRAORDINARY SUPER BOWL SINCE SAVING PRIVATE RYAN"?
—DT, Hamden, CT
SG: Absolutely! I'll even include the actual Vegas odds …
4. Seattle vs. New England (+350)
Pete Carroll's Revenge! The Brady-to-Wilson Heady QB Who Just Wins Football Games torch pass! Spygate vs. Adderall! Richard Sherman's "U MAD BRO?" clip getting played 2 million times! The Pats going for history (their fourth) vs. the Seahawks going for history (their first, as well as Seattle's first title in 35 years since the R-I-FUCKING-P SuperSonics That Eventually Got Hijacked And Relocated To Oklahoma City). That's a fantastic Super Bowl. And it couldn't crack the top three.
3. Denver vs. San Francisco (+275)
Manning tries to complete his storybook season (and finish off a pretty unassailable football résumé), while Jim Harbaugh's Niners try to become the best team of this decade (at least so far). Really good football game — it would be fascinating to see if the Niners could pull a 2003 Pats and just throw Manning around like a rag doll. My fear would be that, for two weeks, we'd only be hearing about (a) Peyton Manning!, (b) how both teams have a healthy respect for one another, and (c) PEYTON MANNING IN COLD WEATHER?!?!?!?? Then again, what's more compelling right now than Peyton Manning playing a big football game in freezing-cold weather?
2. San Francisco vs. New England (+625)
Belichick trying to pass Walsh's Super Bowl total; Brady trying to catch his idol Montana (and beat his favorite boyhood team); the 1981-95 Niners/2001-13 Pats parallels; Belichick going against The Next Belichick; Old-School QB Brady vs. New-School QB Kaepernick; East Coast vs. West Coast; Beacon Hill vs. Pacific Heights; some really fun football-related subplots (the best one: San Francisco's brutally physical defense going against a New England team that keeps falling short in the playoffs against brutally physical defenses). Love the history with this one. It FEELS slightly bigger than Seahawks-Pats.1
---
1.
No offense, 206 — in the words of Jalen Rose mangling the lyrics of Heavy D, "I got nothin' but love for you baby!"
1. Denver vs. Seattle (+125)
Either Seattle gets over the hump (with titles) or Manning becomes immortal. (Also at stake, as reader Pepper in Missoula points out: Pete Carroll and John Fox battling for the "Gnarliest Gum Chewer In Sports" title.) But wait — you know how everyone treats Manning with respect these days and says nice things about him? I don't think this Seahawks team would do that. I think they'd spend two weeks insinuating that he's an old man, repeatedly bringing up the cold weather and vowing to pound the crap out of him; they'd happily throw on the black hat and allow Manning (and Denver) to wear the white hat. Throw in Wilson, Sherman, Beast Mode, the Wes Welker/concussion subplot, and Von Miller's incredible comeback from a torn ACL in one month, and this has a real chance to become our most extraordinary Super Bowl since Saving Private Ryan. I shall name you … THE DOOBIE BOWL!
Q: Is it time to just update "God hates Cleveland" to "God hates Ohio?"
—Loftur Kristjansson, Reykjavik, Iceland
SG: We're a year away. On the 25th anniversary of the 1990 Reds winning the World Series, I'm ready to make the move. In the meantime …
Q: As I sit here and listen to CBS gush over the Patriots in the last two minutes of the game, I can't help but wonder if Patriot fans are bored with divisional round games. Being a Cleveland fan I can't imagine this idea. But at some point, Patriot fans must realize there's a 90% chance they're going to win? Does it get boring or less exciting? I'd like to know, because I know I will never experience anything like it.
—Jim — Disgruntled Cleveland Fan
SG: OK, so maybe we're another 10 years away …
Q: Gun to your head, is Johnny Football going to be great, average, or a bust if he goes #1 overall? I have a very strong 'bust' vibe, but I don't know anything. Of course I'd argue that nobody really knows anything.
—Ian, New York
SG: I believe Johnny Football's NFL destiny depends on where he gets selected. Not the team, but the actual draft spot. Our worst-case scenario: He goes first to Houston, immediately becomes the savior/local hero/Texas Football Jesus, gets a steady stream of smoke blown up his butt, and invariably feels like he's become a roaring success before ever playing a down. We need Johnny Football to succeed. We need fun NFL players. Turning him into an everything-came-too-fast-too-soon possible cautionary tale — like the Shia LaBeouf of football or something — isn't helping anybody.2 And having that unfold in Texas is even more frightening. Within five years, he's out of the league and doing interviews for a 2020 30 for 30 called Dazed and Confused: The Legend of Johnny Football, directed by Matthew McConaughey.
---
2.
Don't come after me on Twitter, Shia! Don't do it!
Your best-case scenario: Starting at the combine in April, the experts start picking apart Johnny Football for being too short/too immature/too big of an injury risk. The league cools off on him. Just a little. But there's no way he's getting past the Vikings on draft night, right? Well, Houston (no. 1), Cleveland (no. 4) and Minnesota (no. 8) all pass on him for other QBs, an especially stinging sequence because one of those other QBs had the how-can-anyone-ever-become-a-famous-QB-with-this name of "Blake Bortles." So Johnny unexpectedly falls out of the top 10, launching a Rodgers-like tailspin because nobody from no. 11 through no. 19 needs a QB. Arizona grabs him at no. 20, followed by a chastened Johnny Football dedicating himself to haunting every team that passed on him — à la Brady, Rodgers, Brees and Wilson before him. Oh, and Larry Fitzgerald is prominently involved! Manziel shifts into Eff You Mode and unleashes a big rookie season, followed by a slew of "How did all of these teams stupidly pass on Johnny Football?" stories and Johnny admitting that it motivated him and made him a better football player.
We've seen this movie before, we'll see it again. I am rooting for Arizona at no. 20. It's our best chance for 15 years of Johnny Football.
Q: During pregame of Broncos/Chargers announcers pointed out Welker's special helmet and according to the brief comments made on tv it is supposed to be safer and reduce his risk of being reconcussed … uhh if that's the case why doesn't the NFL make everyone wear these helmets before they get concussed?
—Ryan, Virginia Beach
SG: This is the new version of the "Why don't they just make the entire airplane out of the black box?" email.
Q: I just saw the twitter pic of Kim Kardashian and Blac Chyna showing their butts and stretching their yoga pants to within a few fibers of exploding. Seriously, Bill, has there EVER been a better example of how money cannot buy class?
—J Taylor, Los Angeles
SG: I showed that picture to my wife just to get her unedited reaction. Here it was …
"What's that? (Looking.) What IS that? What's the deal? That's disgusting. (Short pause.) I HATE HER."
Q: The NFL's version of Jose Canseco. That sentence should scare Roger Goodell to death. The discussion of concussions and life impacting injuries in the NFL is growing louder and will continue to do so as players continually become bigger, stronger, and faster. The NFL will love it as long as their game stays on top and rakes in money. More games? A team in London? Football on every Thursday? Whatever it takes. A former player so desperate for the limelight (and money) is going to burst this bubble. My bet for who that player is and when it will happen? Chad Johnson within the next five years. Who would you predict?
—Josh Hanson, Eau Claire
SG: If we're using the Canseco model, it needs to be a troubled attention hog who can't be taken seriously and has no problem making outlandish accusations, only he's so troubled that nobody takes him seriously right away. It also needs to be someone shameless enough NOT to be afraid to break "The Code." It has to be a big enough name. And it has to be someone who probably needs money, and may have even been imbalanced enough to (a) change his name to honor his uniform number, (b) change it back, and (c) propose to Evelyn the Gold Digger from Basketball Wives. So Chad Johnson checks every box here. Great pick. My runner-up choices: Tiki Barber, Terrell Owens, Aaron Hernandez.
(Speaking of Evelyn: She was engaged to Antoine Walker and Chad Johnson, now she's engaged to Carl Crawford. She's America's first-ever three-sport professional fiancée!)
Q: How did you miss this great quote from Andy Reid following the loss to Indianapolis? "They had their hearts ripped out. I can work with that." Is that the new "We can build on this"? I think so. Andy Reid, Manager of Clocks and Doctor of Ripped-Out Hearts.
—Eric, Indianapolis
SG: You missed the closer: "They should hurt. That'll make us better." Yeah, because things got so much better for the 1987 Browns, 1992 Oilers and 1998 Vikings. The good news: Andy's quote just laid the groundwork for a new TNT football drama called The Heart Repairerer.
Q: Do you realize Michael Crabtree tore his Achilles on May 22nd 2013, and played a major role in an NFL playoff game on Jan 12 2014? That's less than eight months! This yet again confirms my theory that the NFL runs sports, and produced the A-Rod suspension announcement and 60 Minutes piece strategically so people wouldn't bring up Crabtree's miraculous recovery.
—Matt Brady, Louisville
SG: This should be a daily ESPN2 afternoon show: Conspiracy Talk! Look, I wrote approximately 20,000 words about it last February: I don't trust the words "miraculous recovery" with professional sports. Not after everything we witnessed these last 20 years. In 2012, Terrell Suggs returned within FIVE MONTHS of tearing his Achilles, chopping the expected recovery time in more than half. Did you think that was miraculous? Ridiculous? Hilarious? Specious? Pick a word that ends with "ous" — it probably fits.
It's just funny that the NFL makes such a big deal about head-hunting and concussion safety, yet their players continue to bend all reasonable expectations of recovery time from major injuries as bystanders use words like "amazing" and "baffling." You know what was amazing? Jim Abbott pitching with one fucking hand. That was amazing. Someone chopping the time of a torn Achilles recovery in half — that's not amazing. That's something else.
But let's keep sticking our heads in the sand with the current guys, then spending our outrage on retired baseball players trying to get into Cooperstown — while moaning How could we not have known? and all the other baloney from last week. You know, because God forbid some enterprising creatine guzzler affected the most broken institution in sports. Instead of caring about whether Mike Piazza's back pimples should prevent him from getting a bronze plaque, shouldn't we care about our current athletes (a) bending all realistic expectations of how a human body recovers from a traumatic injury, and (b) how they happen to be doing said bending?; and (c) in the case of football, bulking up to impossible sizes/speeds to cause even more of these injuries (that lead to more miraculous comebacks). Just so we know for sure that it's happening on the level? Why don't we care more? Why doesn't every sport use biological passports? Why don't they test more? Why do the Olympics seem to care more than every professional league combined?
True story: When Lindsey Vonn wrecked her knee in a ski accident last February, just a few days after I wrote that PEDs column, a sports industry friend emailed me (I'm paraphrasing), Here you go … you wanted to see how a normal athlete could recover from a severe injury while being monitored under strict Olympic drug-testing rules. You got your wish. Vonn returned to the slopes in September even though her recovering knee never felt right. She thought it felt unstable. A little wobbly, even. She kept pushing it … and in November, she crashed and tore her ACL. So long, Olympics. My friend emailed me shortly after: "Lindsey had the best resources in the world and couldn't come back within a year. Turns our your theory was spot-on. At least in this case." I don't know if that's right or wrong — we're talking about a one-person sample size. But had that February knee injury happened to any player on any of this weekend's football teams, would they be "recovered" and playing this weekend? You tell me.
Q: To add more suspense to Sunday night's game, what would make for a better halftime than the NFL announcing the results of every player's drug test in the game? Couldn't you see multiple Seahawks suspended for the second half, only to have their lawyers convince the NFL to overturn the rulings midway through the 4th quarter, allowing the players to return to the game. Even though your dream of seeing players pee in a cup won't come true, this is the next best thing.
—Eddie Rein, Columbus
SG: Or, you could go this way — during every NFL playoff game, both teams nominate one player from the other team to pee in a cup. That way, they could discuss it in the pregame show — "Terry, which Niner would you pick to pee in the cup if you were Pete Carroll?" — then the halftime show would pretty much revolve around the two drug tests. Tonight's Urine Test Challenge is brought to you by State Farm … let's go to Erin Andrews with our results!
Q: I'm really looking forward to a Simmons article on the AFC championship game. I hope it contains the following: 1. How awesome Tom Brady is while not mentioning that his superbowl wins have all come while stealing the opposing team's defensive calls. 2. that Manning who holds most signifigant passing records and has done it without stealing the opposing defenses signals can be caught with strange expressions on his face sometimes. 3. Completely ignoring the fact that the Patriots are Duke in the '90's and Brady is widely detested, just like Christian Laettner. 4. focusing on the "manning face" while ignoring Tom Brady's long hair phase, and his teammate's leaving him hanging for fives on the sidelines. It should be a great instance of twisitng reality to fit your fantasies ever! Can't wait!
—Mat, OKC
SG: How am I doing so far? I'm right on pace, right?
Q: You're a horrible homer but honesty answer this question: How many Super Bowls does each win if they have to play for each other's teams? If Manning is the starting quarterback of THAT Patriots team from 2001 until present with Belichick as his coach, how many does he win? Four? Five? At least three and you know. And Brady, on those Colts teams, playing for Jim Caldwell at some point? You need to take a good hard look in the mirror if you think he wins one.
—Thomas, L.A.
SG: Is it just me, or is this mailbag starting to get a little chilly?
Q: You on the cold: "Take it from a lifetime New Englander who spent the last 12 years in Southern California … " Why didn't you just say, "Take it from a SoCal sellout pussy"?
—Jack, Cleveland
SG: OK, I'm gonna put on a jacket.
Q: Doesn't it drive you crazy that everyone thinks Manning only won fewer titles than Brady because of the difference in quality of their defenses? I looked up the data: if you compare Manning's defenses to Brady's defenses since 2001 (the year Brady took over), they are almost EXACTLY the same. The average DVOA league rank for the Pats defense over that time frame is 15.769. The average DVOA for the Colts/Broncos (starting when Peyton went there) is 15.923. So people can take the "Manning's better, he's just had a worse defense" argument, put it in their pipes and smoke it.
—Josh, Chicago
SG: YEAH! Stick that in your pipe and smoke it!
(Uh-oh, I feel a run of homer emails coming up … I'm starting to get fired up for this game.)
Q: Koji Uehara has morphed into LeGarrette Blount. Think about it.
—Chet, Atlanta
SG: Well, nobody has seen Koji since the World Series parade (one day after Halloween); all we know is that he celebrated pretty heartily, and that there's a decent chance he passed out that night, then woke up in someone's basement in the Bronx two days later dressed like the Gimp. But if Koji DID morph into LeGarrette Blount, these stats would certainly help the cause:
Blount pre-parade: 8 games, 265 rushing yards, 1 TD
Blount post-parade: 9 games, 673 yards, 10 TDs
Q: 2004: Red Sox win the World Series; Pats earn the 2nd seed; beat the Colts at home in the divisional round; travel to the #1 seed and beat them on the road to a Super Bowl title.
2013: Red Sox win the World Series; Pats earn the 2nd seed; beat the Colts at home in the divisional round; travel to the #1 seed and … ???
—Evan, Washington, DC
SG: Keep 'em coming! The more analogies to this year's Pats with successful Red Sox teams and players, the better I feel about Sunday. Let's do this!
Q: Interesting new look for Grantland, and you even got your own tab! But instead of "Simmons" shouldn't it just say "Homer"?
—S.K. O'Hare, Sorta Houston, sorta Chapel Hill
SG: I probably deserved that.
Q: I'm a die-hard 49er fan and my office mate likes to give me a hard time about my 49ers … especially Jim Harbaugh. He mentioned the Seahawks should have someone raise the 12th man flag that would really piss off the 49ers. This lead to a half-hour discussion on who would piss off the 49ers/Jim Harbaugh more to raise the 12th man flag. This is the list we came up with:
1. John Harbaugh
2. The police officer who arrested Aldon Smith
3. Colin Kaepernick's real mother who he doesn't talk to
4. Jim Harbaugh's ex-wife
5. Jerry Rice
As a 49er fan I wouldn't put it past Seattle to actually pull this off.
—Shaun McDonald, Fredericksburg, VA
SG: I vote for Kyle Williams sauntering out flanked by Harbaugh's ex-wife and Joe Montana's ex-wife on each arm, and being trailed by everyone who worked in the MV massage parlor on February 26, 1998 (the night police were shutting it down for being a suspected brothel and found Jerry Rice coming out of the bathroom).
Q: I opened up your latest write-up on the NFL playoffs to see what you had to say. As a Lions fan I started to read the Chiefs fan tale of woe and in my head was saying, "OH BOOOO-HOOOO" until I got to a certain line: '(Of the 32 NFL fan bases, only Vikings fans, Bills fans and Browns fans could fully identify with that email.)'
I was about to throw my laptop across the room until a wave of confusion hit me. Are the Lions seriously SO bad that Bill friggin Simmons forgot to even mention us? OR … Are the Lions so bad they have not had enough playoff heart-break to "identify" with the Chiefs fan? I will take it as a slight against the Lions. Sorry Vikings, Bills, and Chiefs fans. You guys suck too, but when it comes to Gary Busey bottom-of-the-barrel bad … Cleveland is the only team that can compete with Detroit. Silver linings though … the Lions are the BEST at sucking.
—Parker, Royal Oak
SG: You should absolutely take it as a slight. I apologize. My honest explanation: I forgot to include the Lions, realized it after the column went up, then made the in-the-moment decision, "Well, it doesn't matter, they haven't had enough playoff heartbreak to identify with what happened to the Chiefs, anyway." So you actually should have thrown your laptop across the room twice. There's only one way things could get worse for Lions fans after the Jim Caldwell hiring: if the Lions hired Joe Dumars as their new GM. That reminds me …
Q: The Lions just went outside the box and hired a guy who makes you wonder whether he's dead on the sidelines, who commanded an offense that finished 29th in total yards and 25th in scoring in his first full season as coordinator — an offense mostly identical in personnel to last year's Super Bowl winning unit (which someone else called the plays for for 90 percent of the season).
Could the Browns, Redskins, Bills, and Vikings fans kindly step aside? 0-16, zero Super Bowls, and our last playoff win happened in 1992. We write the book on ineptitude in Detroit.
—Noah, Washington, DC
SG: (Shaking my head sadly.)
Q: Jim Caldwell's coaching resume.
2013 Ravens Offense: 29th in yards, 25th in scoring.
Record as college head coach: 26-63.
NFL Head Coaching Record without Peyton Manning: 2-14.
Pulse: questionable.
Ladies and Gentlemen, your 2014 Detroit Lions!!!
—Noah Kaufman, Kalamazoo, Michigan
SG: I mean … you could always gamble against Jim Caldwell, right?
Q: Just when you thought it couldn't get any worse for the Lions.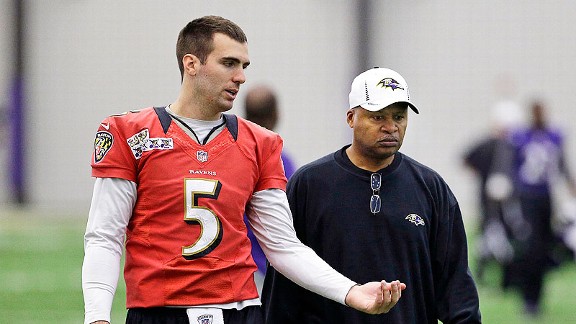 Ladies and gentlemen, your 2014 Detroit Lions!
—Michael S., San Francisco
SG: OK, I have some silver linings for you. First, we only introduced the concept of the Jim Caldwell All-Stars in this column four weeks ago — to cover all the head coaches with a historically lifeless sideline demeanor — then we lost Leslie Frazier just two weeks later, leaving us without a single All-Star. What happens? Jim Caldwell himself returns! I feel blessed. Second, I watched Caldwell's introductory press conference and thought he seemed borderline vivacious. Maybe he's one of those guys who seems unemotional/flat-lining/decomposing on the sidelines, only he's not actually like that behind the scenes? Third, he can't be worse than Rod Marinelli or more unlikable than Jim Schwartz. So that's an upgrade. And fourth, 80 percent of the NFL's coaches range from "mediocre" to "awful" — year after year after year — only we've had fewer than 20 African American NFL head coaches. Which is embarrassing. So even if we're importing a more diverse group of mediocre-to-awful coaches, that's a start, right? In the words of Herm Edwards, WE CAN BUILD ON THIS!
Q: I read every word you every write — including your NFL picks. I just couldn't help but laugh when I got to the end of your Division Playoffs column this week right after you picked the Broncos to win by 20 — and saw your season record for this year. OMG, what a great country! You totally sucked all season at picking games and yet I just read about 5,000 words from you on this weekend's four games and hung on every frickin word.
—Pete Nellius, Philadelphia
SG: That was the "Backhanded Compliment of the Month" for January.
Q: Holy hell. So Manning misses a year, comes back to Broncos, and gets Ray Lewised in the playoffs, morphs in Evil Manning, breaks every record ever probably including the record for most records, and hows it going to end? BY WINNING A SUPER BOWL IN HIS BROTHER'S STADIUM! Finally, we get to the root of why Peyton turned evil. His master plan, retribution against Eli to reclaim and end any doubts of which Manning is better. He may lose the more rings argument to Brady, but Evil Manning be damned if he loses it to Eli Effing Manning!
—Seth Hester, Indianapolis
SG: Here's the Evil Manning section of the mailbag that you knew was coming. It's really just a convoluted excuse to run the Evil Manning picture again. Hold on.
Q: Was there any doubt in your mind after Chargers-Broncos that Evil Manning made a deal with the devil? That game was taylor made for him to lose, just like all the years past — orchestrate a wonderful three and out with 3 minutes left, make the Manning face, then watch Rivers march down for a game-tying touchdown, followed by the eventual Chargers win in overtime after Peyton throws a pick. That's his history. Nobody can deny it. Honestly, I think the deal went down like this:
Satan: Peyton, what can I do for you?
Peyton: I will do anything for one more Super Bowl victory … last year about killed me.
Satan: Well I could arrange that. Anything else you desire?
Peyton: Well … um … Mr. Devil sir, I would really like to stick it to Tom Brady. Say maybe I take his touchdown record but even better, beat him for the AFC championship.
Satan: What about Brees's most yards in a season? I can throw that in.
Peyton: Yah, that sounds good. Bastard …. oops I mean jerk beat me in the Super Bowl.
Satan: All of this will be arranged.
Peyton: Thank you Mr. Devil … (cut to Evil Manning face).
Manning's entrance for Sunday's game should feature him busting through the gates of hell wearing a Bernard Karmell Pollard jersey. Be scared Simmons, very scared.
—Mike Ferguson, Indianapolis
SG: My only consolation from an admittedly frightening email: Didn't Brett Favre have our last clearly-sold-his-soul-to-the-devil quarterback season? And look how that turned out! Regardless, let's just remember what we're dealing with here.
Q: Like everyone else, I was hoping that Dierdorf wouldn't leave us by not going out in a double-negative blaze of glory. He didn't disappoint. In case you missed this gem from after Ridley's 2nd TD in the 4th quarter: 'You can't be around these Patriots where they don't say, we are a running football team.' With Dierdorf (and Greg Schiano) now gone, who will carry the torch of grammatically incorrect soundbites in the NFL?
—Chris, Birch Hills, SK Canada
SG: I vote for Troy Aikman — he needs to add another wrinkle to his arsenal after a solid decade of saying, "You're exactly right, Joe." Could we send him to Dierdorf Camp? Maybe a three-day seminar called "I'm Not So Sure You Shouldn't Take This Class"? Could Aikman eventually learn to tweak his arsenal so it includes staples like, "I'm not sure you're not exactly right, Joe" and "You're not not right, Joe"? Where can I purchase "TEAM BURKHARDT AND LYNCH" T-shirts?
Q: Roger Goodell said in an interview he's in a fantasy league with his daughter. What do you think they named their team? I was thinking "18 Weeks" or "The Road to Hell is Paved With Goodell Intentions"?
—Dan, Endicott, NY
SG: Personally, I think he picked something super-vanilla and non-controversial like "Roger That" or "Roger's Dodgers." But that's no fun. I loved this question so much that I opened it up to everyone who follows me on Facebook. Just when you thought this column couldn't get lazier — that's right, I'm answering reader emails with Facebook replies! Could I reach a point where I don't even write this column myself? I say yes! Anyway, the best non-mean suggestion was "Commiss&her." Great play on words. Feel free to use that one next season, Rog. You might not want to check your inbox or use these other ones (my favorite suggestions based on a convoluted formula of cleverness, actual usability, genuine venom and line-crossing): Roger & Me; The Father/Daughter Slaughter; Team of Denial; Jacked Up; Ozymandias; The Acceptable Racial Slurs; Tabootleg II; Beauty and the Ass Hat; Concussion Junction; and my personal favorite, "I Settled For $750 Million And All I Got Was This Lousy T-Shirt."
Q: In baseball, specifically Moneyball, they learned that a walk is as good as a hit. "He gets on Base!" We have not learned that in football. I am admittedly a Peyton Manning fan, and I get sick of hearing about his miserable playoff record. So I thought — why is not making the playoffs at all almost better for a QBs legacy than losing in Round 2 after going 13-3? Earning a first round bye should be considered just as good as winning a wild-card game — the result is the same. And not making the playoffs should be just considered just as bad as losing a wild-card or any other playoff game. Better to have loved and lost right? Ok, so when you figure missed playoffs and first round byes as losses and wins respectively, you get a TRUE PLAYOFF WIN percentage.3
---
3.
I had Patricia Lee, a.k.a. the Queen of Grantland, tweak Micah's numbers just a little — we only included seasons with eight starts or more.
It is interesting what happens when you tell the whole story! Why don't we use this stat?
—Micah Kormylo, Dallas
SG: That's an early contender for Mailbag Email of the Year. You're right — why don't playoff byes ever get factored into playoff record? Even if we just said, "Brady is 18-7 in the playoffs with seven byes," that information is so much more enlightening than "18-7." But the concept of "true playoff percentage" is really good. And simple. Good work, Micah. I'm dedicating this next email in your honor.
Q: I will bet every cent I have ever made and will ever make that you can't make it through this video without laughing your ass off. When you are running "The Ocho" one day, can you bring this show back?
—Pat, Watertown, Wisconsin
SG: The bigger question: How does that clip (as of this posting) only have 329,000 views? That's impossible! This Justin Bieber video has ONE THOUSAND TIMES as many views as the 1987 Crystal Light Aerobic Championships? What's wrong with you, America?
Q: I can't think of anyone more appropriate than you to answer this question.
—Eric, New Orleans
SG: I'm excited!
Q: At what age does a man: 1) Realize he can't drink like he used to, 2) Realize he can't eat like he used to, 3) Realize he is more attracted to younger women than older, 4) Realize an athlete he has long hated is an all-time great and begins to respect the hell out of him? I just turned 26, and with Tom Brady on the verge of a sixth Super Bowl I think I have finally reached all four stages. Thanks bud!
—Eric, New Orleans
SG: My answers: 33, 38, 31, 17. I say "17" for the last one because that's the year (1987) when I began to begrudgingly respect how great Magic Johnson was. And that's someone who, before the 1987 Finals, I probably would have tried to run over in my car if nobody was looking. Also, you left out the following realization tipping points: (5) the age when you're peeing in a urinal at a game next to a little kid and get jealous of the velocity of his pee stream (42); (6) the age when you fall asleep before midnight as you're watching TV even if you're not drunk or tired (40); (7) the age when farts stop being funny (never). Regardless, I think we might be in range.
Q: Good news: I totally aced your Patriots' Defensive Starters vs. Porn Star mix up (in Round 2's column).
Bad news: I am not a Patriots fan.
Worse news: I follow James Deen on Twitter.
—Tim, Rochester, NY
SG: Yup, we're in range.
Q: With Tiffani Thiessen turning 40 next week, do you think it hurts her chances of being inducted into the Diane Lane All-Stars4 because she came into prominance during the "Plastic Surgery Era"? It's true her breasts mysteriously became larger between her Saved By the Bell and 90210 years, but she was destined to be a future Diane Lane All-Star with or without it. I mean, anytime you can get a horny teenage kid glued to the tv during scenes with Dustin Diamond you know you have that "it" factor. I gotta figure she's gonna get the Maddux treatment here, however if 16 people do not vote her in then they shouldn't have their ballots revoked.
—Eric H, Brooklyn.
---
4.
That's an All-Star team I made up back in 2006 for women who still look amazing after they turn 40.
SG: Getting closer …
Q: Every afternoon when I roll out of bed, there are two things I need to do: Check out Grantland and poop. I always read Grantland on my phone while pooping, and my leg always ends up falling asleep. A couple of days ago, I'm reading your column, I get up, and I fall down immediately because my leg is fast asleep. I limp into the living room, fall down again, and then my girlfriend says "What the hell is the matter with you?" I tell her "I just read Bill Simmons' column, and now I can't walk." She says "He must be one hell of a writer."
—Bryan M, Brockport, NY
SG: Yup, these are my readers. Let's hit the Championship Weekend picks …
(Home teams in caps.)
Niners (+3.5) over SEAHAWKS
We're making this one quick …
Why You Eventually Regretted Taking the Niners: Because you bet against Russell Wilson at home. Because the Seahawks were overdue to play an A-list game, and a super-physical, frightening violent game was more in their wheelhouse than anything. Because the Seahawks wiped out Vernon Davis just like they wiped out Jimmy Graham last week. Because if anyone is running the ball against this Niners team, it's Marshawn Lynch at home. Because the Niners looked better than they were last Sunday thanks to Mike Shula more than anything. Because you took Kaepernick on the road — the same guy who started out super slow in Super Bowl XLVII and Carolina last week, only in Seattle, he couldn't recover. Because you assumed Kaepernick couldn't be rattled after winning in Lambeau and Charlotte (and you were wrong). Because night + loud + road + scary defense + young QB = two dumb turnovers and four wasted timeouts. Because home-field advantage matters sometimes … and this was one of those times.
Why You Eventually Regretted Taking the Seahawks: You forgot that the 49ers were the best and most complete team in football right now, and if there was one team that could win a Sunday nighter in Seattle, it'd be them … You forgot they'd already played two other times … and the Niners hadn't really played their A-game against Seattle yet. You forgot that it's so much harder for Seattle to throw the ball without Percy Harvin and Sidney Rice. You forgot that it would be a hellaciously violent game, and that if there's ever going to be a bruising playoff game decided by three points or fewer one way or the other, it was this one. You forgot that you were taking Pete Carroll over Jim Harbaugh. You forgot that Seattle's trash-talking/woofing/intimidation routine straddled the line all year between "boisterous" and "reckless," and that it was bound to haunt them one of these days. You forgot that you should have just grabbed the points. That's what you're supposed to do with games like this. But since we came this far …
The Pick: San Francisco 20, Seattle 19
Patriots (+5.5) over BRONCOS
Key Player: This isn't a typical Manning-Brady game. Both offenses will have more success running the ball than anything. Stop it. The key player in the 2014 AFC title game plays quarterback. We just don't know his name yet. (I hope and pray it's not "Ryan Mallett.")
X Factor: "Warm and breezy weather is in store for this weekend, according to a Colorado weather forecast." So much for Manning struggling in cold weather. Meanwhile, it's going to be 32 degrees with wind and a chance of rain in Boston on Sunday. If the Broncos win the Super Bowl, they should make two extra rings for the officials who called the "illegal shove at the line" in Pats-Jets and never threw a pass interference flag at the end of Pats-Panthers. It would be the right thing to do. Hold on, I have to take two more anti-homer pills.
"Nobody Believes In Us" Edge: It's been 12 solid years since Belichick and Brady were getting more than five points from Vegas in a playoff game. Then again, the Broncos cracked 600 points this season, they're home, they're getting good weather, they're going against a defense filled with no-names, overachievers and unproven backups, and they're not even laying two field goals??? That's a draw.
Possible Tragic Figure: Could Wes Welker wear the goat horns in both Pats-Broncos games? Could he secretly be "The Mole"? Is he going to pull a Hollywood Hogan swerve if Denver loses, rip off his Broncos jersey and start tugging on the Pats jersey underneath it? Throw in the unfunny concussion subplot and there's no other answer.
Generic Talking Head Point That You'll Definitely Hear: "I don't think you can take away anything from their first meeting, guys — these are two very different teams! These are two VERY DIFFERENT TEAMS! Gronkowski and Miller and Chris Harris played in that one! The weather was terrible! The Patriots weren't running the ball like they are now! These are very different teams. VERY DIFFERENT TEAMS. And guys, when you're out there, you're not thinkin' about what happened eight weeks ago, you're thinking of right now — that's the only way to survive in the National Football League!"
Possible Omen That Can't Be Discounted (But Isn't Peyton Manning Possibly Selling His Soul To The Devil): Maybe the "Pats at Denver" playoff history isn't extensive (Denver prevailed both times), but it includes two emotionally scarring moments: Rulon Jones's game-altering sack/safety of Tony Eason, and the Champ Bailey/Ben Watson fumble/non-touchback play that was replayed Zapruder-style roughly 390 straight times before the refs decided that they didn't know what the hell happened. For the past 27 years, I heard the words "Pats at Denver" and thought of Eason turtling in the end zone like a traumatized rescue dog. So there's that.
Relevant WWE Entrance Song: I always thought the New Age Outlaws had the second-greatest WWE entrance ever. (Why second-greatest? Because I actually wrote an entire column about this once and they came in second.) And then … they broke up. And seemed destined to live on only on YouTube. But then something crazy happened recently … the WWE brought them back! As far as improbable reunions go, I think I'd rank it slightly ahead of Manning and Brady meeting in another playoff game. Oh, you didn't know? Your ass better callllllll some-boddddddyyyyyyy!!!!!
Possible Playoff Manifesto 5.0 Theories In Play: Amazingly, none. Not a single one. Can't remember that ever happening before. Maybe that's how this line ended up in "The Vegas Zone."
Relevant Email: Matt in Providence writes, "Is it just me, or are there shades of the 2001 season all over this Pats playoff race? Everyone counted us out, we had veterans go down and rookies step up, we nabbed a first round bye, yet STILL everyone keeps saying the same thing: 'They won't win the next one.' In 2001, we pulled off the stunner in the Snow Bowl and all anyone could say is, 'They won't win on the road in Pittsburgh.' We beat Pittsburgh as double-digit underdogs, then Vegas set the line at -14 in the Rams' favor in the Super Bowl. MINUS 14! This weekend we're getting 5½ in Denver, and we'll be getting around the same against Seattle or San Francisco if we make the Super Bowl. I'm tellin ya, there's something magical about this season. I can feel it."
Why You Eventually Regretted Taking the Patriots: Because it turns out that the Colts were worse than you thought, and the Chargers were better than you thought. Because you took a patchwork defense against the greatest regular-season offense of all time. Because you thought history didn't matter. Because the weather was a bigger factor than you thought. Because you didn't think it mattered that the Pats have no receiver depth in the high altitude after Amendola and Edelman, or that Denver's rush defense looked pretty terrific against San Diego last week, or that any decent running attack has been able to rip through the post-Wilfork Pats. Because just getting to this game was an incredible achievement by New England. Because it's been Denver's year from start to finish.
Why You Eventually Regretted Taking the Broncos: You really thought Brady wasn't going to be able to move the ball against a Denver defense that just lost Chris Harris and Von Miller? You really weren't scared of the Manning Face, or the Belichick–John Fox matchup, or the Brady-Belichick playoff record whenever they're getting more than four points (3-0 before Sunday)? You really thought the last Manning-Brady playoff battle was getting decided by any margin more than four points? Come on.
The Pick: New England 33, Denver 30
Last week: 2-2
Playoffs: 3-3-2
Season: 111-143-10