The NFL's Imminent Problem
Chuck Klosterman: There will be a high-profile, game-changing, visually violent concussion to a major player in the Super Bowl. The incident will push the NFL's concussion issue to the breaking point, forcing President Obama to address the problem in public. Obama and Roger Goodell become rivals.
Previewing the Best Beefs of 2014
Andrew Sharp: In no particular order —
1. Roc Nation Sports will be involved in at least one major scandal, hopefully involving a football player, hopefully leading to a public feud between Jay Z and Roger Goodell.
2. Cowboys fans turn on Tony Romo, then forgive him, then turn on him again, and Jerry Jones gets richer the whole time. (Repeat in 2015.)
3. James Harden turns on Dwight Howard, KG and Pierce turn on Deron Williams, Simmons turns on Jordan Crawford, and Chris Paul turns on Blake Griffin.
4. The Pacers and Heat rivalry will resemble an actual war in May, and Mario Chalmers will be killed by his own troops (R.I.P.).
5. Music beefs. Kendrick Lamar vs. Drake: never actually happening. Kanye vs. Jay: definitely happening soon. T-Swift vs. Miley: can't believe this hasn't already happened.
6. Also: Rick Ross beefs with copyright lawyers after inventing his own South Beach Diet centered on lobster and crumbled blue cheese. Supreme Court sides with Rozay.
7. Greg Schiano challenges his players to take him on in the Oklahoma drill during mini camp, dies in June 2014 (R.I.P.).
8. Gregg Popovich gets into a fistfight with a helpless sideline reporter, who sobs on national television. We all laugh. Classic Pop.
9. Johnny Manziel continues his eternal war against haters and ends up in Cleveland, resurrecting the Browns, starting a sports agency with Drake, and pissing off the entire universe.
10. Russell Westbrook plays the Rockets in the playoffs again, ends the series standing on the scorers' table soaked in blood, breaking Patrick Beverley's back over his knee in front of a horrified Oklahoma City crowd.
Three Other Predictions
Worldwide Wes beefs with no one, continues quietly taking over the world.
Bradley Beal wins MVP (of my heart), gets elected king (of my universe).
The St. Louis Cardinals teach us What It's All About, just like every year.
The New York Yankees Will Have a Perfect Year, As Usual
Mark Lisanti: The New York Yankees will win 87 games, then miss the playoffs for the second straight year. New outfield acquisition Carlos Beltran will undergo season-ending double-knee replacement surgery on the right field grass during the seventh-inning stretch of a late May game. Jacoby Ellsbury will suffer a season-ending head injury when he vaults the center field wall to make an amazing catch, but fails to stop himself before crashing skull-first into Joe DiMaggio's Monument Park plaque. A-Rod plays the entire season after beating his suspension when it comes to light that Commissioner Selig is a secret partner in Biogenesis, which he founded for the explicit purpose of entrapping Rodriguez in a career-threatening scandal. The ongoing drama surrounding Robbie Cano's replacement at second base ends as Brett Gardner is traded just before the beginning of spring training for Roberto Alomar and a giant sack of illegally harvested cadaver kneecaps, a price universally considered well below market value. Ivan Nova's right arm is consumed by a flesh-eating disease, which also claims the pitching arms of Michael Pineda, David Phelps, and Japanese superstar Masahiro Tanaka. Mark Teixeira hits 48 home runs, but registers a .210 OBP and pops out in the infield a record 459 times. CC Sabathia forgets how to wear his hat at a jaunty angle, sometimes even coming to the mound with the cap on his left elbow. Brian McCann is chewed to death by Bartolo Colon after running into him in the bathroom of the Times Square Olive Garden. Alfonso Soriano grounds into a double play once every 1.3 at-bats and often plays the outfield sitting on a ball boy's chair in foul territory. New closer David Robertson is murdered by a crossbow bolt on the Kansas City warning track while shagging flies before a game, in emulation of his predecessor's old pregame habit. Roger Clemens returns from retirement and insists on delivering all his pitches from a Civil War cannon. Joe Girardi quietly dies of sadness on the end of the bench, hugging his binder.
Derek Jeter bats .403, plays all 162 games at shortstop, and ascends into heaven following the final out of the season. He is MVP of the Celestial Series, batting in the two-hole behind leadoff man St. Peter, beating an All-Hell team composed entirely of 2004, 2007, and 2013 Boston Red Sox. He gives Jesus his Series ring. God is moved by the gesture and names Jeter captain of His kingdom. Jeter responds by leading His team to 5 million consecutive championships, a record that stands for all time. Amen.
The Year of Rachel McAdams
Juliet Litman: Jennifer Lawrence is getting a little too comfortable in her position as America's sweetheart. Someone needs to challenge her in 2014, and I know just who it will be. Rachel McAdams is making a comeback! Do you remember when we all loved her? She was so strong over the Mean Girls–The Notebook–Wedding Crashers stretch. It's all been downhill since then — including her breakup with Ryan Gosling — but I think she'll be staging a revival in 2014. She has four movies coming out next year:
1. A Most Wanted Man, costarring Philip Seymour Hoffman, Robin Wright, Willem Dafoe, and the zeitgeisty Daniel Brühl. This is the most questionable of the four, but I'm never willing to count out Philip Seymour Hoffman.
2. The Cameron Crowe movie that also stars Bradley Cooper, Emma Stone, John Krasinski, and Danny McBride. Sure, Crowe probably needs a hit even more than McAdams. But that's a lot of charm for one movie. I'm hopeful.
3. Project 1 of 2 involving James Franco: They're both doing voice work for The Little Prince adaptation. At least she'll be getting paid.
4. Project 2 of 2 involving James Franco: Wim Wenders's 3-D movie. This is a wild card. But good for you, Rach, taking chances and everything.
One of these four has to stick. Perhaps more importantly, Gosling is back on the market. Don't be surprised when you see McAdams on some glossy magazine covers.
The Atlanta Hawks Will Make the Eastern Conference Finals and Get Jabari Parker or Andrew Wiggins
Rembert Browne: I don't believe in jinxes. Only in accurate predictions. And so when I get a whiff of something far-fetched on paper that will happen in the future, I have no choice but to say it aloud. The first involves the Atlanta Hawks being a sneaky-good team in the East (the equivalent to being a contender in the 2003 California gubernatorial recall election). Most of the teams are horrible, the Miami Heat and Indiana Pacers are great, and then there's the Atlanta Hawks. What a perfect setup for the Hawks to sneak into the Eastern Conference finals, with a huge upset over the Pacers only to be destroyed by Battier and the rest of the Miami Heat.
And while a loss to the Heat would be sad, it's not the end of the world, because the Nets will probably end the season with one of the NBA's worst records and, as part of the Joe Johnson trade, the Hawks get to trade first-round draft picks with Brooklyn in 2014 (and in 2015).
So if the Nets get either the first or second pick in the draft, the Hawks get the first or second pick in the draft. Meaning the Eastern Conference finalist Atlanta Hawks pick Jabari Parker or Andrew Wiggins in the 2014 NBA draft.
It's all going to happen. What a great year 2014 will be for the Atlanta Hawks.
Jay Z and Beyoncé's Sporting Life
Bill Barnwell: Having lost interest in the entire project, as he often does, Hov subtly slips away from Roc Nation Sports by the end of the year, having not signed a new client in months. The contracts are folded into CAA's broader portfolio. Meanwhile, Bey suddenly announces early one December morning that she has become a sports agent, signed the entire 40-man roster of the New York Mets to her new agency, and gotten them all contract extensions.
12 Predictions for the NHL Season
Sean McIndoe:
1. The "advanced stats vs. old school" debate undergoes a twist when it's revealed that at least one of the teams that has been publicly anti-stats has actually been spending significant resources on modern analytics all along, but was denying it to throw the competition off their trail.
2. We start to get our first hints at a schism in the NHLPA over player safety, with some players publicly criticizing the union's instinct to always defend its own, even when they've injured a fellow member.
3. At the Winter Olympics, Canada faces Russia in a gold-medal game that one side will spend the next several decades insisting was decided by crooked officiating.
4. The biggest names dealt in the lead-up to the trade deadline: Thomas Vanek (to Minnesota), Ryan Miller (to St. Louis), and James Reimer (to Calgary).
5. The gap between conferences becomes less pronounced as the season goes on, but the 10th-place team in the West still finishes with more points than the eighth-place team in the East.
6. Meanwhile, as the regular season ends and the playoff matchups are finalized, it becomes painfully clear that most fans, much of the media, and even some team officials didn't realize how the crossover wild-card system worked.
7. The Buffalo Sabres finish dead last by almost 20 points. They lose the draft lottery.
8. A playoff series is directly decided by a clearly accidental puck-over-glass penalty. The rule is finally changed during the offseason.
9. The L.A. Kings beat the Pittsburgh Penguins in six games to win the Stanley Cup.
10. Jaromir Jagr retires.
11. The first "Jaromir Jagr could be mulling a comeback" rumors appear by Halloween.
12. Teemu Selanne also retires. The Ducks raise his number to the rafters in a mid-November ceremony. After a 20-plus-year NHL career, Selanne shows up for that ceremony weighing 300 pounds and gives his speech while crushing three milkshakes and a large poutine. This just makes you love him more.
Sports Will Be Changed Forever
Dan Fierman: A major non-NFL sport will face an unexpected, massive, likely-business-destroying class-action concussion lawsuit led by a world-class litigator like David Boies. It's probably hockey, but it could be something as obscure as the CFL or even pro lacrosse. The sport will lose the case and appeal before the end of the year.
At the time, the media will focus on the wisdom of the NFL's preemptive settlement, the economic impact of the loss of this sport, and the potential for other fringe sports to be destroyed by litigation. But the true historical impact will be the codifying of the legal standard that will ensure that football looks radically different 15 to 20 years from today.
Ryan Gosling Will Direct Christina Hendricks to Movie Stardom
Zach Dionne: With limited info about Ryan Gosling's writing and directing debut, the noir fantasy How to Catch a Monster, it's too soon to say something as blasphemous as "the best Gosling movie will somehow be the one he doesn't even appear in." What seems more likely is that Christina Hendricks's single-mother character will steal the shine from Eva Mendes, Matt Smith (Doctor Who), and Saoirse Ronan and use it to propel herself into the great Mad Men afterlife set to open its pearly gates in 2015. Why? For starters, Gosling told the New York Times that How to Catch a Monster was inspired by a Cannes screening of Drive, when the audience creepily gave a standing ovation the moment Hendricks's brief performance ended in a slo-mo shotgun brain-blast. "It was the strangest thing I'd ever been a part of, and in some way my movie is a bit about that experience," Gosling says. Hendricks has five other movies that could all conceivably land in 2014; if Gosling's is the best — or even just the first — it'll be the moment we remember Hendricks beginning her ascent from TV to film.
The Wu Shall Rise Again
Amos Barshad: When I spoke with RZA, just a few days before the exact date — November 9 — of the 20th anniversary of the release of Enter the Wu-Tang (36 Chambers), he had one particularly nice thought that I'd like to run back now real quick, if you don't mind:
"What I feel spiritually is that that day is gonna trigger a change. I don't know if it's gonna trigger a change in everybody but it's definitely gonna trigger a change in me. I've been really refocusing the last few days, refocusing my energy on the legacy of what we created, and what's gonna come in the future, [in order] to uphold what we said, to uphold what it meant to us and to uphold what it meant to the fans … I'm gonna live out the legacy of Wu-Tang forever."
And so, here goes, my two-part prediction:
1. The Wu-Tang album will actually come out.
2. It'll be incredible.
I'm actually, illogically more sure of no. 2. It's unlikely that since November 9, the Wu have re-formed like Voltron. But maybe a little bit of a spiritual triggering has gone down. Maybe they've pulled it together enough. Maybe RZA will actually have enough to put together a completed product. And if he does, it will be incredible. Fuck it. Wu-Tang forever.
Commune Culture Will Gain Power
Tess Lynch: The other day, I was talking with Molly Lambert about communes. I like the idea of them, but I personally find them impractical. (As Molly reminded me, I don't even like restaurants with communal tables.) After a period of cultural fascination with supernatural horror, I think it's time we got back to our roots: the scariness of other people. What better template than a commune? After our conversation, Lambert forwarded me a New York Times fashion piece titled "Bay Area Millennials Are Flocking to Communes." These are new-wave experiments in cohabitation, requiring "rigorous application processes for prospective residents, with questions like: 'If you had a superpower, what would it be?'" and rent payments equivalent to the cost of a studio apartment.
What does this mean for 2014? Giant, unfinished wood tables à la Le Pain Quotidien; flowing maxi dresses, scarves, and lace; the invention of new drugs more social than Krokodil (if you want to learn more about that, please finish your lunch first); freak folk replacing straight folk music; and plenty of movies (like Ti West's The Sacrament) and TV shows that explore charismatic leaders and their concubines. Time to start perfecting your macrobiotic, vegan Crock-Pot recipes. We'll be passing around the oat loaf in no time.
The Voice of the SEC Retires
Bryan Curtis: Predictions make us all sound as buffoonish as the Amazing Criswell, but … I predict Verne Lundquist will retire as voice of the SEC, and tears will flow, and they may even be mine.
Texas Will Appoint a Piece of Brisket Interim Head Coach
Mallory Rubin: The Texas Longhorns are engaged in a coaching search. You might have heard. There's a committee! A committee of eight people! Eight people, hired and paid to find someone willing to take on the ghastly, unpalatable challenge of accepting what's widely considered to be the best job in college football. Why is it considered the best job? Well: Coaching Texas football is incredibly lucrative. Mack Brown was making $5.45 million per season before he "retired," second only to Nick Satan. Forbes says Texas's program is the most valuable in the sport. The Longhorns can afford to let a prospective hire name his price:
Red McCombs asked if Texas can get Saban if Mack leaves: "There's no question. All the money that's not under the Vatican is at UT."

— Mike Finger (@mikefinger) December 12, 2013
Coaching Texas football is also pretty chill. Texas is a true top-tier program, one of a handful of teams nationwide that rightfully expects to contend for the national title every year. And as Mack knows, Texas fans aren't super forgiving when those expectations go unmet. But it's all relative, and Texas fans also aren't as bloodthirsty as their SEC brethren. Remember, Mack got through four subpar seasons before he was booted — er, allowed to boot himself? — off the job. And coaching Texas football is easy. Texas's head man barely has to move to recruit: Along with California and Florida, the state of Texas produces more blue-chip recruits than anywhere else in the country; the kids literally line up to play for the Longhorns, swinging by on Junior Day, offering a solid verbal, and allowing Texas to all but lock up a top-10 recruiting class a year ahead of schedule. Texas's boss has a clear path to the national title every year: The Big 12 is tough, and it's getting tougher, but the Horns don't have to face the annual gauntlet that SEC contenders do; as Baylor proved this season, a loaded Big 12 squad can pretty much waltz to the conference crown and a BCS berth. Texas's coach also doesn't have to deal with the Steve Spurriers and Urban Meyers of the world: Bob Stoops is pretty much the Riddler to Meyer's Joker, as far as rival coaching villains go. Yes, it's been a rough few years in Austin, but Texas is as well positioned as any team to bounce back and win consistently. Maybe the Longhorns will realize this. Maybe they'll run over to Franklin Barbecue, grab a particularly savory slice of brisket, name it interim coach for 2014, and compete. And hey, maybe that's not such a bad idea. At least the smoked meat won't get miffed when Texas goes after Saban again next December.
A New Death-Metal Star Will Emerge From the Ashes
Brian Phillips: It will be a black night in Finland. Inside the stadium — normally used for soccer, repurposed for a darker end tonight — the air will sledgehammer with the pulse of a bass guitar. In the crowd, a sea of black leather jackets, blood-vial medallions, pentagram T-shirts, and white-guy sadism-dreadlocks will thrash and sway to the shrieking evil that pours forth from the instruments of the tiny figures onstage. For this night will be Haskunää Pääffenwiif, the Finnish Samhain, Festival of the Damned, and they will have come — the rejects, the pale ones, the disillusioned denizens of a bleak and broken land (Denmark) — to watch their favorite band mount an assault on the keepers of the heavens.
Suddenly the music will drop to a low drone. A spotlight, seething with smoke, will shine down from the rafters and fall upon the masked figure in the center of the stage. He'll stalk from one side to the other, his black guitar slung around his neck, a fixed sneer upon his twisted demon's face.
"Hey," he'll say. "I just want to thank you all for coming to our death-metal show tonight." An appreciative roar will sound from the throats of his 60,000 acolytes.
"No, seriously," he'll say. "It means a lot. You know, a lot of people have doubted me over the course of my career." A furious roar. "Too small to be a Scandinavian death-metal star. That's what they said. Not technically proficient as a singer." An outraged roar. "A good death-metal musician at the college level, but not ready for the big time! That's what Ron Jaworski said!"
He'll stroke the neck of his guitar. "Well, a lot of people have told me a lot of things in my life, and a lot of those things have been wrong. But I've learned the hard way that if you just put your trust in Lord Satan, if you serve him as a minion of darkness and water his garden with tears — well, everything's gonna work out for the best. And that's the truth, you guys!"
The stage lights will flare back to life. A storm of guitars will overtake the air. The man in the spotlight will rip the mask from his face, revealing a square, all-American jawline, and gesture toward his bandmates. "You know who we are!" he'll cry. "We. Are. Têêbøøw!!!!!"
"Têêbøøw!!!!!" the crowd will wail.
"Happy Haskunää Pääffenwiif, team!" the devil's newest servant will cry. "Let's keep it classy!"
The NBA's Defensive Metric Revolution Awaits
Kirk Goldsberry: By the end of the year, there will be a new ensemble of metrics that evaluate defensive performance in the NBA with unprecedented clarity. The results will reveal for the first time which players are the most and least effective individual defenders in the league. As a result, they will also motivate scores of NBA players to suddenly burn a few more calories on the defensive end. In a related story, James Harden will lose 15 pounds.
#KesselsBest
Sarah Larimer: America! The Sochi Games are almost upon us. It's nearly time to pick our new, two-week sports heroes, and once everyone in the U.S. puts together that we have a brother-sister duo on our hockey teams, the choice will be fairly obvious, right? Rosters aren't final yet, but I'm confident this nation will not be denied the Olympic tandem of Phil and Amanda Kessel, which is pretty rad. Do you know about big brother Phil, star of the Maple Leafs, and his dope sister, Amanda? If not, let me introduce you!
This is Phil Kessel. He's really good at hockey and less good at weird posed photos, but no one is super good at that, if we're being honest.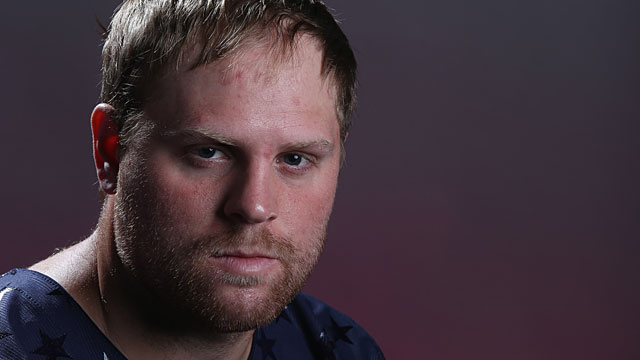 I've always liked him, even though he's sorta awkward. Let's all just focus on hockey and enjoy this weird tribute video, which is set to Kelly Clarkson's "Breakaway" because of course it is.
During the last NHL lockout, Phil Kessel hung out and watched his sister play hockey a lot. Because she's really good, too.
They seem to get along OK.
Say heyyyy! Funnny face! Reception time babyyyy. @BSPerlman @PKessel81 #operationgetpkdrunk pic.twitter.com/asBGSaa

— Amanda Kessel (@AmandaKessel8) July 21, 2012
And now look! She's gonna be on the Olympic team and he's gonna be on the Olympic team, and they both get to wear awesome hats.
From playing rock band to posing for awkward family photos, Women's @usahockey just crushed it on set! #MediaSummit pic.twitter.com/kHT3NiGsG9

— NBCOlympics (@NBCOlympics) October 2, 2013
Anyone who has a dorky big bro and/or cool kid sister can get behind these two. I'm trying to remember that last great thing I accomplished with my siblings and I honestly think it was a cat puzzle over a Christmas break or something. Sorry, Mannings, but the Kessels are definitely going to become our new Superfamily (sports division) in 2014. Team Kessel(s) forever!
Chris Pratt: The Game
Dan Silver: With The Lego Movie in February and Guardians of the Galaxy in August, Chris Pratt is positioned to become the face (or voice) of two new megafranchises (with a possible third in 2015, as he's rumored for the lead in the Jurassic Park reboot). And I predict that at some point during the afterglow of his second 2014 film raking in $100 million–plus at the domestic box office, some cunning film school undergrad, in the early-morning haze of collegiate iniquity, will travel down an IMDb Pro rabbit hole and come out the other end with the realization that Hollywood's new "It" guy has a filmography varied in a way only comparable to one other — Kevin Bacon. And thereupon we will see a rebooting of the treasured cine-geek libation-soaked battle of knowledge known at one time as "Six Degrees of Kevin Bacon." I love me some Chris Pratt. Not many characters have been able to make me laugh as regularly, or as hard, as Andy Dwyer. So this prognostication has nothing to do with his aptitude as a performer (or Bacon's, just to be clear). Quite simply, Pratt's professional work has provided him with the opportunity to build up a vast, and one could even say extremely respectable, Russian nesting doll of costars. Even this early in his career, with films like Zero Dark Thirty, Moneyball, Take Me Home Tonight, The Five-Year Engagement, and, lest we forget, Movie 43, Pratt has accumulated a solid bunch of Baconesque sprawling-cast "catch-all" films. Nothing to the extent that Bacon has scraped together in his enduring career — Animal House, Diner, JFK, A Few Good Men, Sleepers, Apollo 13, Mystic River, and of course 2005's Beauty Shop, to name just a few — but certainly enough to make him the obvious successor to the nerd competition throne. Skeptical this game will work? I asked a random selection of three ESPN Films coworkers for starting points. They said Dame Judi Dench, Jack Nicholson, and Orson Welles.
• Dame Judi. Far too easy. She was in Die Another Day with Halle Berry, who was in Movie 43 with Chris Pratt.
• Nicholson. Also easy, but I had fun with this one. Jack was in A Few Good Men with KEVIN BACON, who was in Sleepers with Brad Pitt, who was in Moneyball with Chris Pratt. (And Nicholson will become even easier once The Lego Movie is released. Jack was in The Bucket List with Morgan Freeman, who voices the role of Vitruvius in The Lego Movie.)
• Orson Welles was a little trickier. Welles voiced the animated character of Unicron in The Transformers: The Movie, and Peter Cullen voiced the character of Optimus Prime in that movie, as well as the first two Michael Bay–directed Transformers "films." Those films starred Megan Fox, who top-lined Jennifer's Body, a film in which Chris Pratt had a supporting role.
So step aside, Kevin Bacon. Our universe's impending heir to Han Solo doesn't need six steps to be connected to everyone and anyone in movie history. 2014 is going to be a huge year for Chris Pratt.