Your Weekend Olympic Viewing Guide
Antonin Thuiller/AFP/Getty Images
As a veteran Olympic spectator, I've seen a lot of young hotshots come along who think they can swing with the top dogs. They roar out of the gate with guns ablaze over the first weekend, showing off by watching obscure events like the sailing qualifiers, thinking they've got the whole damn world by the short hairs. And sure, maybe they put in some good hours over the first few days, and maybe they've got some style, but let me tell you something about those people: They're all burnouts. Most of them start to show signs of Olympic fatigue by the end of the first week — glazed eyes, distracted attention, the dreaded Sport Confusion Syndrome — and watching them hit the couch on the Second Saturday is like watching a drugged lamb stumbling into the slaughterhouse.
Because let's be clear — Second Saturday is the desert where the weak patriots go to die. It's the last day of swimming and the first major day of track and field, and there will never be more golds at stake, and more simultaneous events, in the entire two-week program. It's enough to wear down the strongest viewers, and only the real grizzled lifers, like myself and hopefully you, will make it through. It's not easy, but when we watch that final event, and pass the ultimate test, they'll be singing our names forever. So brace yourself, my fellow Americans, for the glory of Second Saturday.

(You can follow along with one Internet-capable computer and one TV with cable. Our goal is to see every gold-medal event and every team-sport game featuring Americans. It's all live — no tape delay. For scheduling beyond today, use this complete timetable as a cheat sheet. All times below are Eastern.)
Saturday
4 a.m. — Women's Triathlon — NBC Sports Network
The iron women are the heralds of the greatest Olympic day. Will you rise with them?
4:30 a.m. — Rowing — Women's Single Sculls Finals — Computer
Starting at about the two-minute mark of the race, put on your most expensive headphones and listen to this song. It should time out nicely. You'll be weeping like a child.
4:40 a.m. — Rowing — Men's Light Double Sculls Finals — Computer
Since there are so many events, you'll notice my comments on each are often spare. My comment for this one is: No Americans.
5 a.m. — Rowing — Women's Light Double Sculls Finals — Computer
No Americans, but there is an Australian named Hannah Every-Hall. I'll be rooting for her, just because her name seems really Australian for reasons I can't quite pinpoint.
5:30 a.m. — Rowing — Men's Four Finals — Computer
YES, AMERICANS. In fact, we were the fastest qualifiers. This is arguably the biggest event besides the eights, and a gold here would be a sweet way to see out the last rowing race of the Olympics. And for the record, I think I've legitimately seen every single rowing final of the Games so far. It's deceptively awesome. Even better? We'll be going head-to-head with the Brits here.
7:45 a.m. — Shooting Women's 50m Rifle, 3 Position Finals — Computer
The three positions are (1) jumping out of a moving car, (2) spinning around in a swivel chair in front of a giant picture window, and (3) attached to a rope, dropping from a hole in the ceiling.
9 a.m. — Tennis — Women's Singles Gold Medal Match — NBC
I know I haven't been gung-ho about tennis this past week, but there is no better matchup for gold than Serena Williams vs. Maria Sharapova. Arrogant American vs. Haughty Russian? That's my scene.
9:15 a.m. — Badminton — Women's Singles Gold Medal Match — Computer
Not my scene. China vs. China, for anyone interested.
9:30 a.m. — Basketball — Men, U.S. vs. Lithuania — NBC Sports Network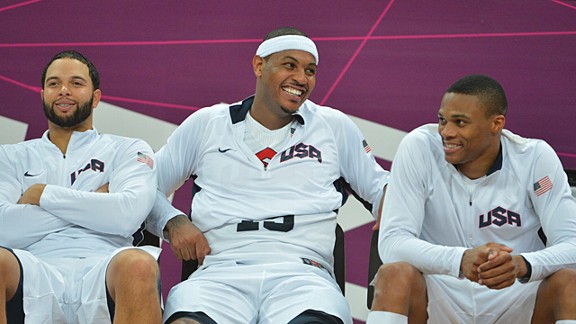 Wasn't Lithuania sponsored by Ben & Jerry's once, and they wore tie-dye uniforms? No, I just looked it up and it was the Grateful Dead who sponsored them in '92. Even cooler. They won bronze by beating the Unified Team, were led by Arvydas Sabonis, and looked like this.
10 a.m. — Shooting — Women's Trap Finals — Computer
I finally watched a shooting event, and unlike the greatness of archery, they don't show the target in the non-trap/skeet shooting events. They give you a graphic with red and green circles to symbolize hits and misses instead. There's got to be a better way, right? What about having tiny cameras in the targets that shatter if the bullet hits them? Expensive, yes, but so compelling!
10:15 a.m. — Badminton — Women's Doubles Gold Medal Match — Computer
China vs. Japan, and the only reason it's not China vs. China is because of the four badminton teams who were kicked out for intentionally trying to lose.
10:26 a.m. — Trampoline — Women's Final — Computer or NBC at 11 a.m.
Again, Joba Chamberlain is the favorite.
11 a.m. — Tennis — Men's Doubles Gold Medal Match — NBC Sports Network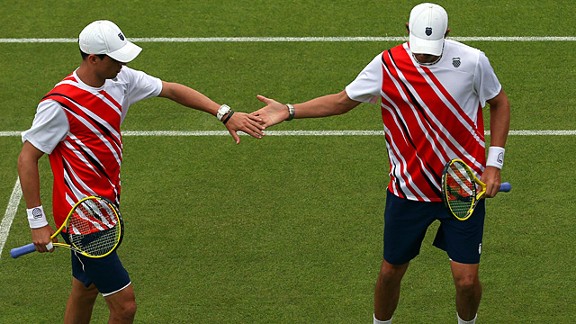 The Bryan brothers! I love these guys, but they don't get a ton of hype. To catch you up, here's a 60 Minutes feature on them from 2010, and here's a New York Times Magazine article from '09.
11:45 a.m. — Volleyball — Men, U.S. vs. Russia — NBC
Russia's one of the top teams in the group and the defending bronze medalist, and the Americans are undefeated and coming off a thrilling win against Brazil in a rematch of the '08 gold-medal match. I will absolutely be watching this. Gold-star event.
Noon — Track — Men's 20k Walk — Computer
Hey everyone, come look, it's a 100 dudes who really, really look like they have to go to the bathroom! Use the speed-walk as comic relief. You'll need it by this point.
12:42 p.m. — Cycling (Track) — Women's Team Pursuit Finals — Computer
You can also watch this at 2 p.m. on NBC. What I like about this sport is that there's something called a "death pull," where the lead rider exhausts herself setting the pace and creating drag for the third rider to win the event.
2 p.m. — Weight Lifting — Men's 207 lbs Finals — Computer
Here's a quick list of 10 events I'd rather watch than weightlifting: cup stacking, tree chopping, pig chasing, plate spinning, wood eating, beach lying, moon howling, donkey teasing, color identifying, and advertising.
2 p.m. — Field Hockey — U.S. vs. New Zealand — NBC Sports Network
We know that field hockey is played on a field, and ice hockey is played on ice, but where is normal hockey played?
2:15 p.m. — Fencing — Women's Team Epee Finals — Computer
Fencing has charmed me completely, despite the fact that I can never tell what happened until the announcer told me. I guess I'm captivated by the lighted piste in a dark arena. If we didn't have music, fencers would be our rock stars.
2:30 p.m. — Swimming — Women's 50-Meter Freestyle Finals — Computer
I know I'm in the minority on this one, but I think swimming is far more entertaining than track and field, and it's always a little sad for me when the first week comes to an end. Jessica Hardy is the lone swimmer in the finals. What I originally meant to type there is that she's the lone U.S. swimmer, but really, what's the difference?
2:30 p.m. — Field — Women's Discus Finals — Computer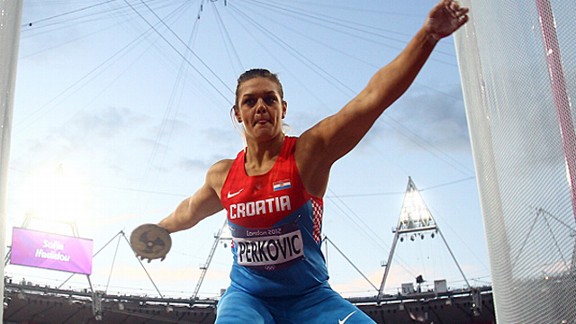 Hopefully none of them accidentally throws it into the stands and kills a man they never knew was their father in fulfillment of a prophecy, like that one Greek myth. But I think we're probably safe.
2:36 p.m. — Swimming — Men's 1,500-Meter Freestyle Finals — Computer
Connor Jaeger is our man here, trying to duplicate 15-year-old Katie Ledecky's amazing win in the women's 800 free on Friday.
2:40 p.m. — Water Polo — Men, U.S. vs. Serbia — NBC
The winner here wins Group B. Again, gold-star event, and I'm definitely onboard. I like water polo so much I might start live-streaming the European leagues at like 4 a.m. on a Tuesday. Or I'll just say I do, for some serious sports credit, and say things like, "I don't get how anyone can call themselves a sports fan if they didn't watch Sparta FC against Leverkeusen in the UEFA water polo final." In case you didn't notice, I'll just be using soccer terms and hoping they somehow apply.
2:55 p.m. — Field — Men's Long Jump Finals — Computer
The main difference between men and dogs is that in our long jump, we don't need anyone to throw us an object as encouragement.
3:07 p.m. — Swimming — Women's 4×100 Freestyle Finals — Computer
U.S., Australia, Netherlands. As with the men, this is typically the most dramatic race of the program.
3:25 p.m. — Swimming — Men's 4×100 Medley Relay Finals — Computer
The last Olympic race of the great Michael Phelps. Does anyone doubt, after his ridiculous final 50 in the 100 fly final yesterday to finish his individual swimming career with gold, that he'll be going out in style?
3:35 p.m. — Track — Women's Heptathlon Finals — Computer
There's a British woman in the lead after four events, and an American in fifth. If anyone's interested, I'll be giving sports analysis workshops online for $100/hour starting in September.
4 p.m. — Beach Volleyball — Women, Misty May-Treanor/Kerri Walsh vs. Netherlands
GOD FINALLY. I was completely bummed out when Todd Rogers and Phil Dalhausser, defending gold medalists, went out to an excellent Italian team after playing nervous and possibly injured. I entertained fantasies of two all-American finals, but that's out. Treanor and Walsh are still in, though, and my emotional investment here will be just slight degrees below stalker level.
4:15 p.m. — Track — Men's 10,000-Meter Race — Computer
The women's race finished Ethiopia-Kenya-Kenya on Friday, and that seems like a good prediction here.
4:55 p.m. — Track — Women's 100-Meter — Computer
Nice! The trademark event of the track and field program. Did you know Flo-Jo still has the world record in this? That surprised me. Anyway, I'm rooting for American Carmelita Jeter just in case she's related to Derek Jeter. That would be a huge win for the Yankees.
5 p.m. — Beach Volleyball — Men, Jake Gibb/Sean Rosenthal vs. Russia — NBC
The best way to finish Second Saturday. Gibb and Rosenthal dropped a group stages match, but they looked amazing in recovery, and they're now our last medal hope on the men's side. If enough Americans survive the rigors of First Saturday, you have to believe the karma gods will throw us a bone for our effort.
Sunday
Time TBD — Women's Beach Volleyball — April Ross/Jen Kessy vs. TBD, Quarterfinal
This one goes up top, because unfortunately the draw for Sunday isn't quite set, and Ross and Kessy's opponent (either Brazil or the Czech Republic) won't be determined until Saturday. The time will be either 2 p.m., 5 p.m., or 6 p.m., though, so keep an eye out. Go here late Saturday or Sunday morning to see. Ross and Kessy played their best match of the tournament in a convincing Round of 16 win, and now they're just one win away from getting into the medal round.
6 a.m. — Track — Women's Marathon — NBC
At this point, shouldn't we give non-Kenyans some kind of advantage to make it more competitive? Like, you can ride a bicycle for any two miles during the race. "Oh my God here comes the American on the bike, and it's going to be an epic finish!!!" I'd love that.
7 a.m. — Tennis — Men's Singles/Women's Doubles/Mixed Doubles Gold Medal Matches — NBC Sports Network, NBC at 9
They won't list the times beforehand, but you can be reasonably certain Federer and Murray will be playing for gold at 9 or 10 a.m. Hmmm, Federer and Murray at a final at the All England Lawn Tennis and Croquet Club … where have we seen that before? This might be the match during which all of Great Britain finally turns against Federer.
— Shooting — Men's 50-Meter Pistol Finals — Computer
I didn't even know they made pistols that long! (Hey, this is event no. 40. Don't you dare judge me! Plus, the long pistol joke is gold and you know it.)
8 a.m. — Sailing — Men's Star Final — Computer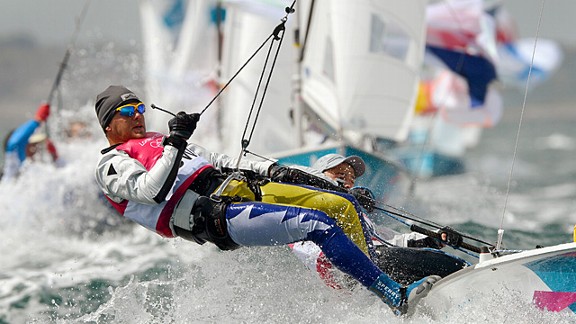 All I can say is that I remember as a kid ESPN had the America's Cup on over a couple of days in the summer, and I really got into it. Can I recapture that magic? I guess we'll see.
8 a.m. — Badminton — Men's Singles Gold-Medal Match — Computer
Apparently there's a really good rivalry here between Malaysia's Lee Chong Wei and China's Lin Dan. They met in '08. This final is a rematch, so it might be fairly interesting.
9 a.m. — Sailing — Men's Finn Final — Computer
Seems unfair to have an event where only Finns are allowed to compete.
9 a.m. — Men's Gymnastics — Floor Final — Computer
Event finals! I love the event finals. Much less pressure, and a chance for some extra American gold. Jacob Dalton is the U.S. hope for this one, but he'll have to face down Zou Kai, the Chinese phenom who took gold in the floor at Beijing and was the top qualifier here.
9:15 a.m. — Badminton — Men's Doubles Gold Medal Match — Computer
Final four are China, Denmark, South Korea, Malaysia. Semis on Saturday. Unfortunately, doubles badminton means that each team has two players, not that there are two shuttlecocks going at all times.
9:50 a.m. — Gymnastics — Women, Vault Final — Computer
McKayla Maroney's Haughty Stare would be a great name for a fantasy gymnastics team, if they had fantasy gymnastics. She's awesome, her vault is awesome, and if she nails it like we expect she'll win gold. If she doesn't nail it, she'll still have a fighting chance based on her powers of intimidation. Never bet against America's ice princess.
9:50 a.m. — Water Polo — Women, U.S. vs. Italy, Quarterfinals — MSNBC
Elimination stages! The U.S. is undefeated, though the last two games have been too close for comfort, and the Italians are 1-2 with only a win against Great Britain to their credit. It should be a win for the Americans and a trip to the medal round. Gold star event all the way.
10 a.m. — Synchronized Swimming — Duet Technical Routine — NBC Sports Network
Did you know that most synchronized swimmers started out as mimes?
10:30 a.m. — Weight Lifting — Women's 165+ lbs Final — Computer
Here are 10 more events I'd rather watch than weight lifting: grass tossing, chimney sweeping, lamp making, burden sharing, iPod muting, dirty talking, jaywalking, shoplifting, bird calling, old people free-form narrative speaking.
10:41 a.m. — Gymnastics — Men, Pommel Horse Final — Computer
I never knew this before London, but it turns out the pommel horse is super un-American.
11:45 a.m. — Basketball — Women, U.S. vs. China — NBC
Beatdown alert!
1:47 p.m. — Cycling (Track) — Men's Omnium 1K Time Trial
Named after the omnium robot who famously beat Gary Kasparov in cycling. (Oh my God, can you tell I'm getting loopy heading toward the finish line?)
2 p.m. — Diving — Women's 3m Springboard Finals — Computer
China.
2:03 p.m. — Wrestling — Greco-Roman 55kg Final — Computer
Here's some trivia about Shane. Shane knew and loved Aleksandr Karelin, the Russian Greco-Roman wrestler who had never lost an international event in his career heading into the 2000 Olympics. Shane looked forward to seeing him every four years, and he began to take on legendary status in Shane's mind. Shane resented NBC doing a little video tribute where they made him out to be an evil Soviet. And while everyone else celebrated, Shane despaired when Rulon Gardner won the gold medal against Karelin, in the Russian's last match, by being too fat to lift.
2:15 p.m. — Fencing — Men's Team Foil Gold Medal Match — Computer
Sure, I'll watch. This is the end of the fencing program, by the way. Nice work, fencing. Good, yeoman's work in London. You weren't spectacular, but you got the job done, and now I can't imagine the Olympics without you. See you in Rio.
2:35 p.m. — Field — Women's Triple Jump — Computer
Thank God there's only one overlapping day where we have to switch back and forth between crappy swimming and crappy track streams in the early afternoon. That's almost too much tape-delay frustration, even for the most resilient fans.
2:48 p.m. — Wrestling — Greco-Roman 74kg Final — Computer
Why is there no women's Greco-Roman wrestling? I've been looking for a cause for a long time now, and my friends, I think I just found it.
3 p.m. — Volleyball — Women, U.S. vs. Turkey — NBC
We've already won the pool, so this is just icing on the cake. Elimination play starts early next week, and I love, love, love our chances for gold. The team seems unbeatable right now.
3:20 p.m. — Field — Men's Hammer Throw — Computer
No joke, I think there should be an accuracy hammer throw too. Or an ax throw, maybe, along the lines of archery. I know you all think I'm joking right now, but I'm not. I'M NOT JOKING, GUYS! WHY IS EVERYONE STARING AT ME?! SECOND SATURDAY GOT TO ME, OK?! IT GOT TO ME! [*Pathetic weeping.*]
4:10 p.m. — Track — Women's 400-Meter — Computer
American Sanya Richards-Ros has the lowest personal best of anyone in the field, and is a favorite for gold. This is the start of a really great evening track program.
4:25 p.m. — Track — Men's Steeplechase — Computer
I get a huge kick out of this event, because I associate it 100 percent with horses. It almost seems demeaning to the athletes, like if you led the sprinters around the track with an electric rabbit or something. But it's amazingly fun to watch. Let's be serious, though; if we got our best 400-meter hurdles guy to train for steeplechase for like a week, he'd win, right? I get the feeling that steeplechase is kind of like handball, in the sense that it's got to be largely populated by people who failed in something more popular. I know I'll probably get yelled at for saying that, but whatever. I'm close to passing out anyway. I hope the last event is good …
4:50 p.m. — Track — Men's 100-Meter Final — Computer
USAIN THE LIGHTNING BOLT! THE GATLIN GUN! "MIKE" TYSON GAY! This is only the best event of the whole track program, and yes, you are obliged to root for the Americans no matter how cool Usain Bolt may be. When you close your eyes at night, you should be seeing stars and stripes.
5 p.m. — Congrats, you made it through the weekend. Get some rest and maybe call your loved ones. You're in the home stretch.
Filed Under: Olympic Games, Olympics, Shane Ryan